Free Editable Graphic Organizer for Writing Examples
A graphic organizer for writing is a teaching and learning tool used for creative writing, comprehension, and literary activities. It uses both text and graphics to make reading comprehension and creative writing more manageable.
1. What is a Graphic Organizer for Writing
A graphic organizer for writing is a teaching and learning tool used for creative writing, comprehension, and literary activities. Graphic organizers help students to organize information and ideas to make them easy to understand and comprehend. Graphic organizers use both visuals and text to show relationships and connections between the flow of events, concepts, and facts. Graphic organizers have many benefits, for example
Graphic organizers for writing help visualize and present information and ideas by breaking down complex text and ideas into smaller chunks.
Opinion writing graphic organizers help students participate in the learning process through a better understanding of the text.
Develop cognitive skills required for creative writing and comprehension, including brainstorming, critical thinking, classification and prioritizing content, idea presentation and categorization, etc.
Help connect and make relationships between different aspects of information.
Graphic organizers for writing also develop skills for note-taking, listing down essential points, analyzing information, and picking up critical issues.
2. The Graphic Organizers for Writing Examples
The following list gives you ideas of different types of graphic organizers for writing and also for opinion writing graphic organizers. You can use them in suitable conditions according to your requirements.
Different graphic organizers can be used in various grade levels depending on students' skill levels and the course requirements. These organizers are suitable for book clubs and personal reading and writing endeavors too. Let's have a look at the examples for a better understanding.
Example 1: Opinion Writing Graphic Organizer
Opinion writing graphic organizer and planner is a powerful tool for opinion writing. It has the topic and both the favorable opinion and also the opposing opinion. Now, the students need to ponder on both opinions and provide reasons along with supporting information. In the end, they describe their opinion and evidence in more detail and propose an action course. It is a comprehensive document that enables the kids to think on both sides of opinion and understand the underlying reasoning without bias.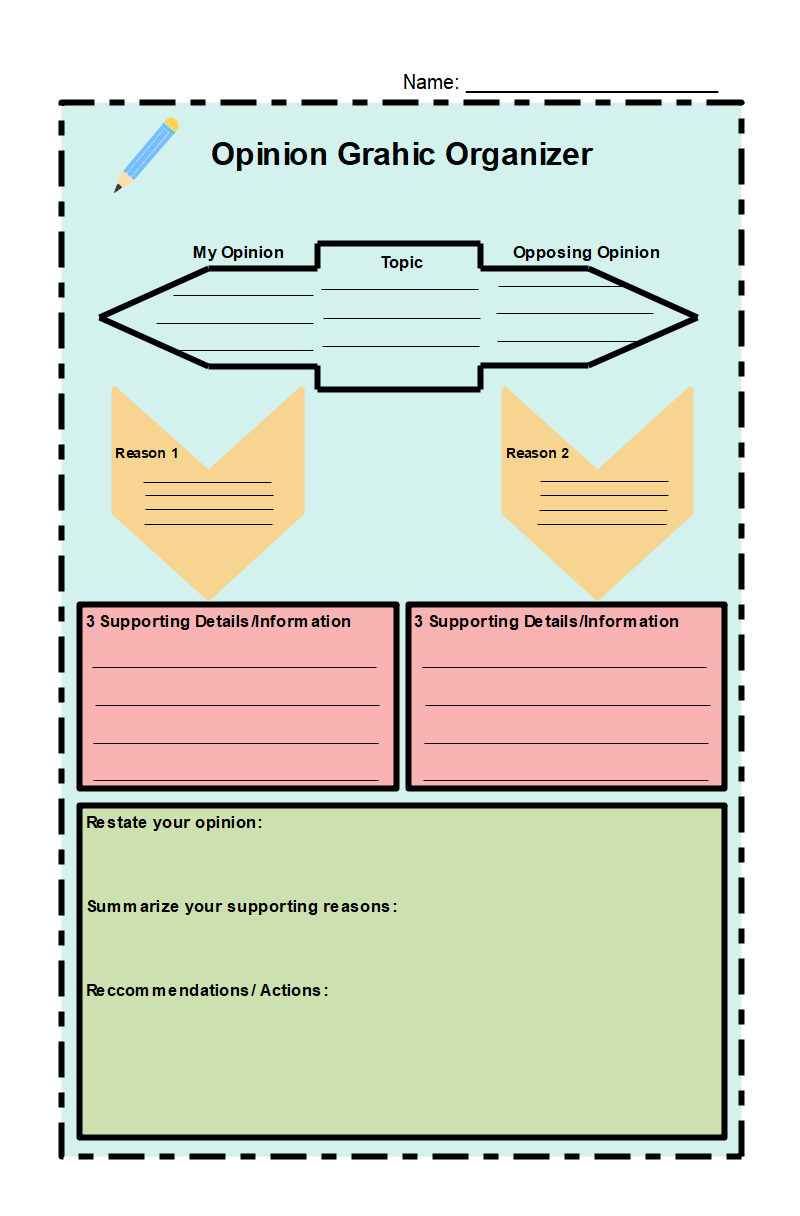 Source:EdrawMax Online
Example 2: Persuasive Writing Graphic Organizer
This opinion writing graphic organizer is also a comprehensive and detailed document that uses colors and graphics to add attraction for kids. It is a perfect template for kids to analyze a topic and present their thoughts in a precise yet well-supported manner. The organizer needs students to fill in their opinion and topic sentences supported by three persuasive details. This organizer is based on the divide and conquer strategy. The enormous task of persuasive writing is broken down into small manageable pieces.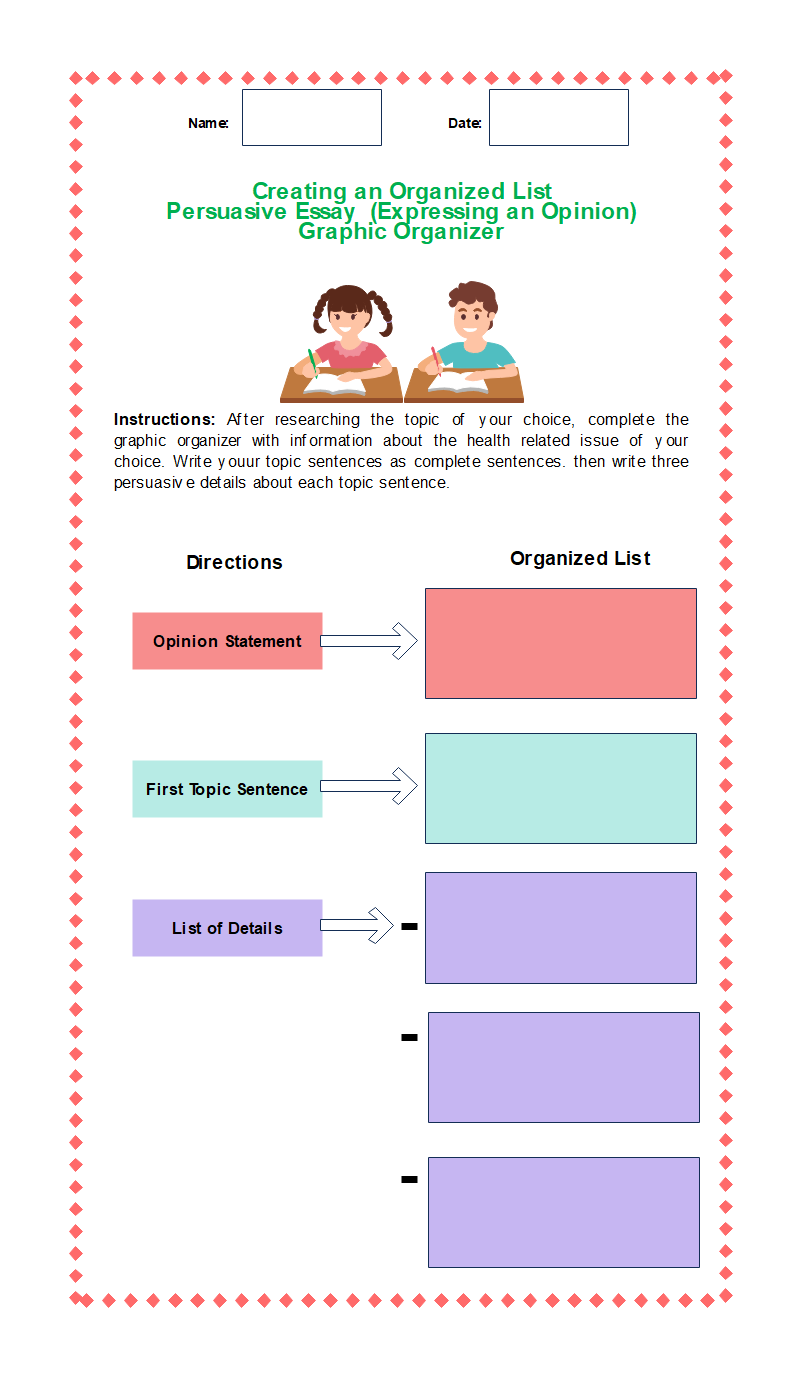 Source:EdrawMax Online
Example 3: Writing a Paragraph Graphic Organizer
This PowerPoint template is a compact graphic organizer for writing. It is more suitable for young students who are just starting their writing journey. It is based on the topic of holidays. It gives four pointers to the writer to generate and present their ideas for writing. The pointers are; who do I go with? Why do I like holidays? Where should I go? And What do I like to do?
The lower part is for writing the paragraph. Once the students answer all these questions, they can develop a well-structured piece of writing.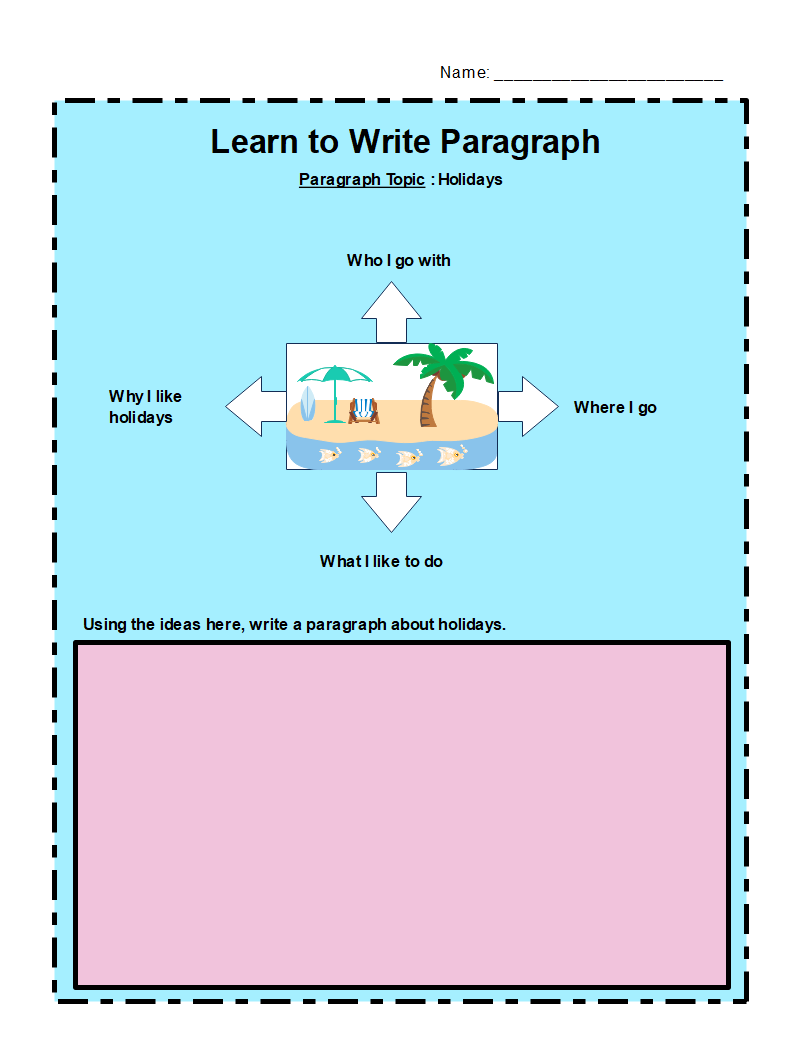 Source:EdrawMax Online
Example 4: Hamburger Writing Graphic Organizer
A hamburger writing graphic organizer is a visual tool for the organization of ideas while writing a creative piece. It has a place for the title of the writing, and later the rest of the blocks can be used for describing different ideas related to the topic. Small and separate blocks allow better organization of information and may result in a more defined structure. It can also be used to supplement reading exercises when the reading material is long and needs more than one session. Each block can be used in one session, and at the end of the activity, the complete structure is formed. This way, students can connect their new knowledge with the previously acquired knowledge.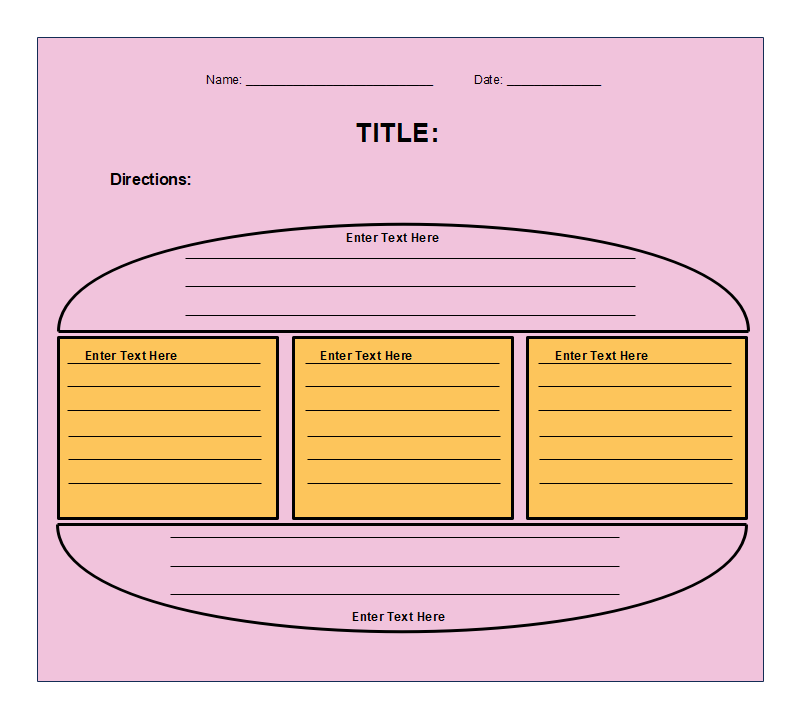 Source:EdrawMax Online
Example 5: Informative Writing Graphic Organizer
This informative writing graphic organizer supports the students in structuring their creative writing through guidelines. It divides the complete body of the topic into three main parts. '
Introduce the topic

Here, the student will introduce the main topic. The instructions are about grabbing the audience's attention through an interesting fact, question, or a quote.

Develop the topic

This is the most detailed part of creative writing. The students will develop facts to support the main idea. Initially, the writer may even list the supporting vocabulary terms and definitions.

Write a conclusion

Last but not least, the conclusion must contain the gist of the whole write-up in a precise and focused manner.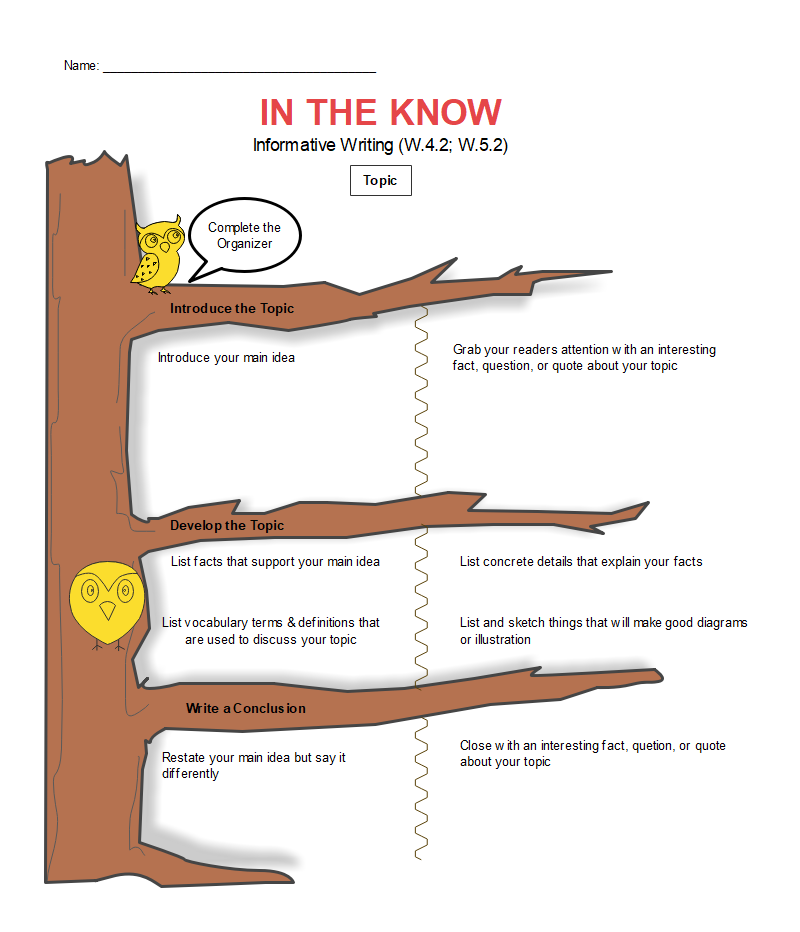 Source:EdrawMax Online
Example 6: Argumentative Writing Graphic Organizer
The first paragraph of this Argumentative writing organizer contains a brief explanation of your topic and some background information. The second part is about the reasons and supporting details. With each reason, you will provide evidence to support the claims. The exciting part is to give counterclaims and provide facts or examples to refute them. The template ends with the conclusion, where you will also call for action. This is a template of an opinion writing graphic organizer.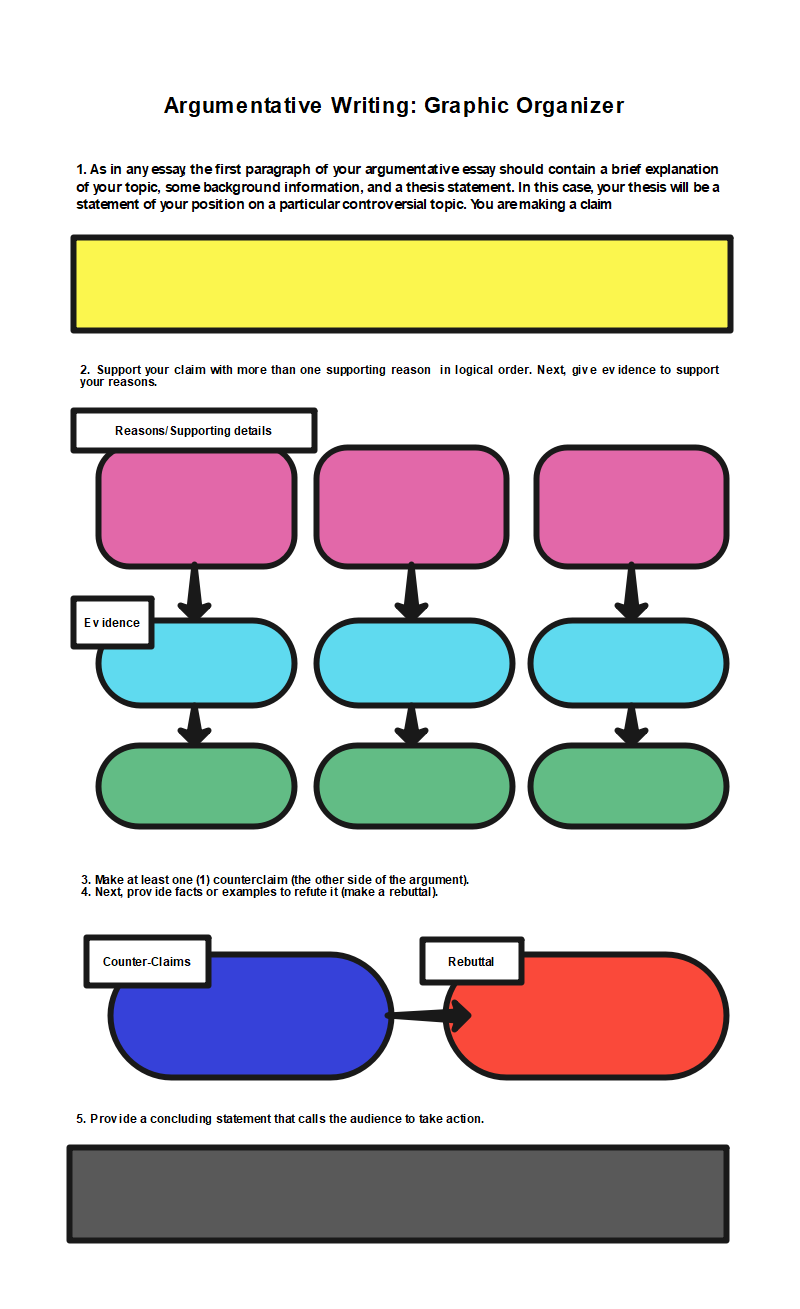 Source:EdrawMax Online
Example 7: Details Hamburger Writing Graphic Organizer
This is a graphic organizer for writing that is more suitable for the younger lot. It asks some questions related to the topic of writing exercises. The students will answer these questions to help them brainstorm and connect their information pieces, which can later be used for creative writing. The first part is about visualizing, and the following questions are who? Why? What? Feelings? Where? When? And finally, they will discuss more details.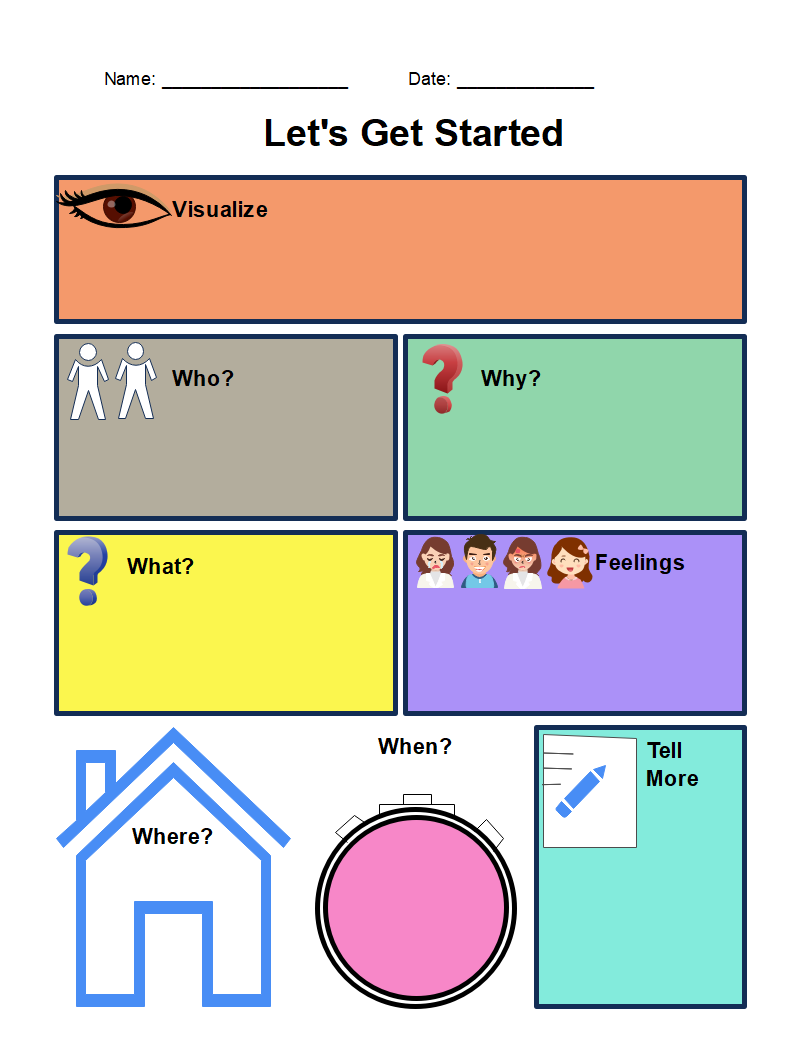 Source:EdrawMax Online
Example 8: Graphic Organizer for Writing an Essay
This graphic organizer is a very detailed essay writing aide. It consists of eight pages, with each page in a particular format. The main parts of the organizer presented in rainbow colors are
Topic and planning
Introduction
Main ideas 1, 2, 3
Conclusion
Final Draft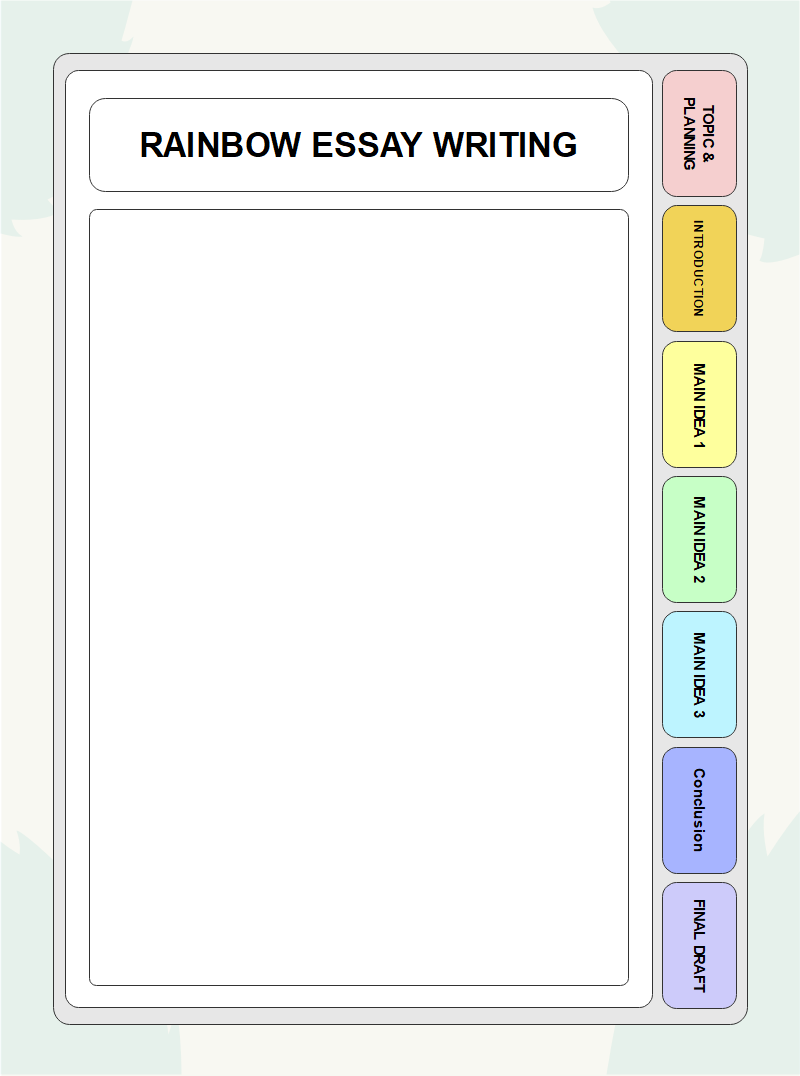 Source:EdrawMax Online
Example 9: Writing Process Graphic Organizer
The writing process graphic organizer concisely summarized the complete writing and reading process very effectively on one screen. According to this organizer, there are three stages of the reading process, i.e., preactive, interactive, and reactive. Writing exercise has five steps, i.e., prewriting, drafting, revising, editing, and publishing. Further details of all stages are also included in the organizer.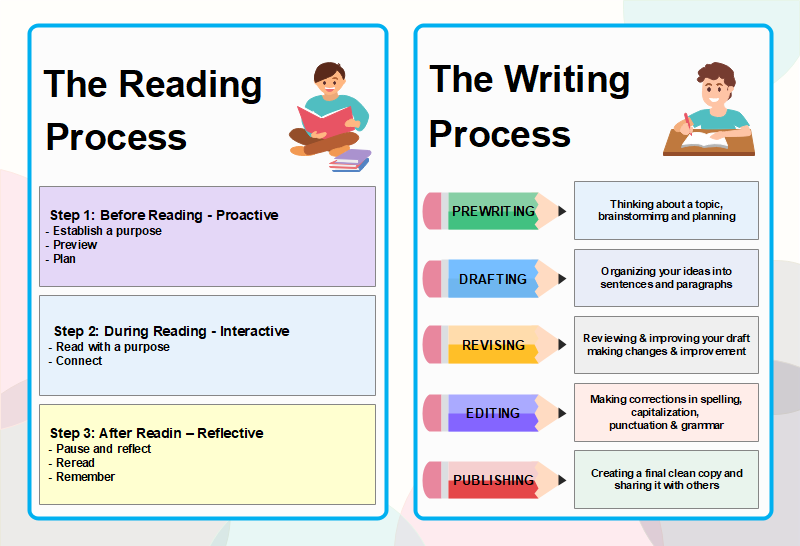 Source:EdrawMax Online
Example 10: Oreo Opinion Writing Graphic Organizer
This graphic organizer for writing uses a very interesting acronym for students. It says the OREO acronym can be used for writing opinion pieces.
O: Opinion about a topic
R: Reason supporting the opinion
E: Example supporting the opinion
O: opinion restatement in conclusion.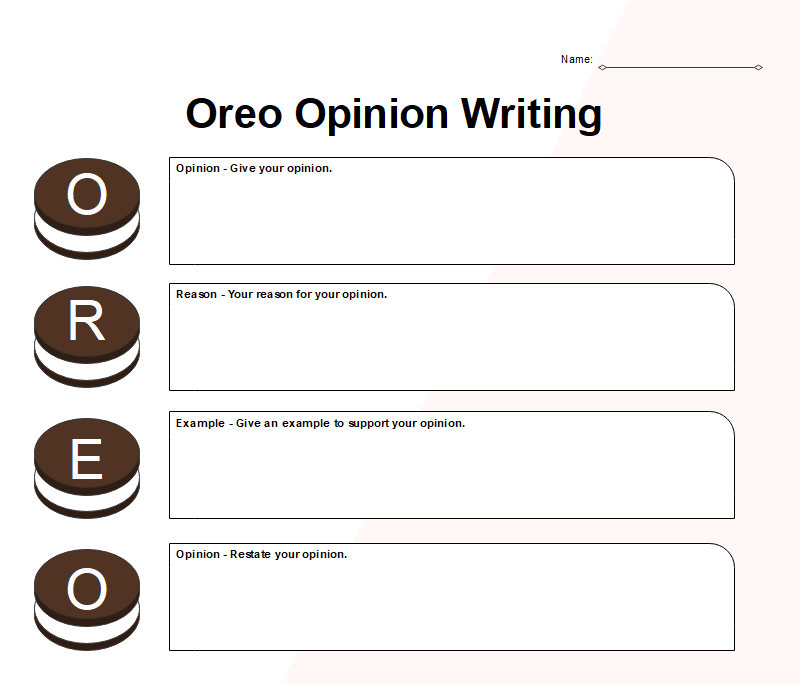 Source:EdrawMax Online
Example 11: Writing A Summary Graphic Organizer
This graphic organizer for writing is specifically for summary writing. Students sometimes face difficulty when they cannot provide a complete summary because of the length of the text and either miss essential points or make it too long. This organizer helps them organize their thoughts and focus on the most critical details coherently.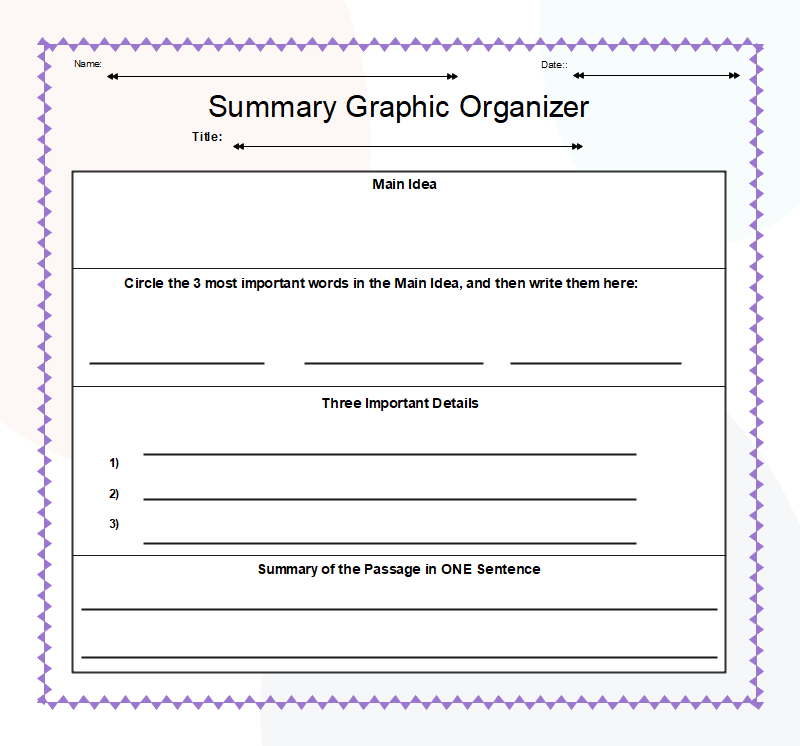 Source:EdrawMax Online
Example 12: Graphic Organizer for Expository Writing
The graphic organizer for expository writing includes the topic in the center, and the write-up is divided into sub-topics resulting in separate paragraphs. The purpose of an expository essay is to present a balanced, objective description of a topic without proving a point or personal opinion. It allows for a clear and logical explanation of complex information.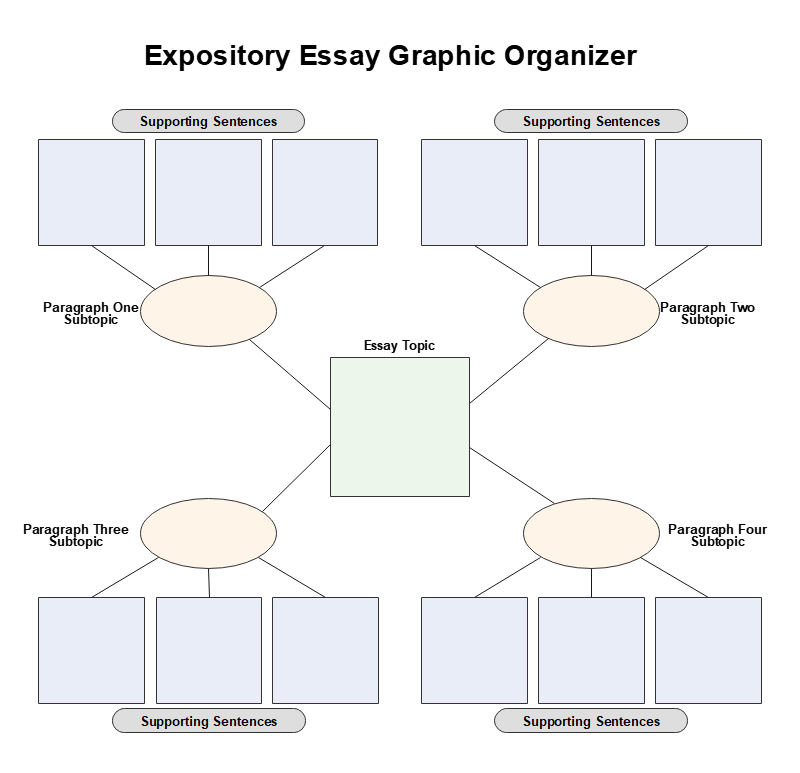 Source:EdrawMax Online
Example 13: Graphic Organizer for Nonfiction Writing
This graphic organizer for nonfiction writing guides the students through the process by helping them to write the main idea first, followed by three key details. This is like a part of the planning process. The last feature allows students to take the critical information one by one and then develop a comprehensive piece of writing.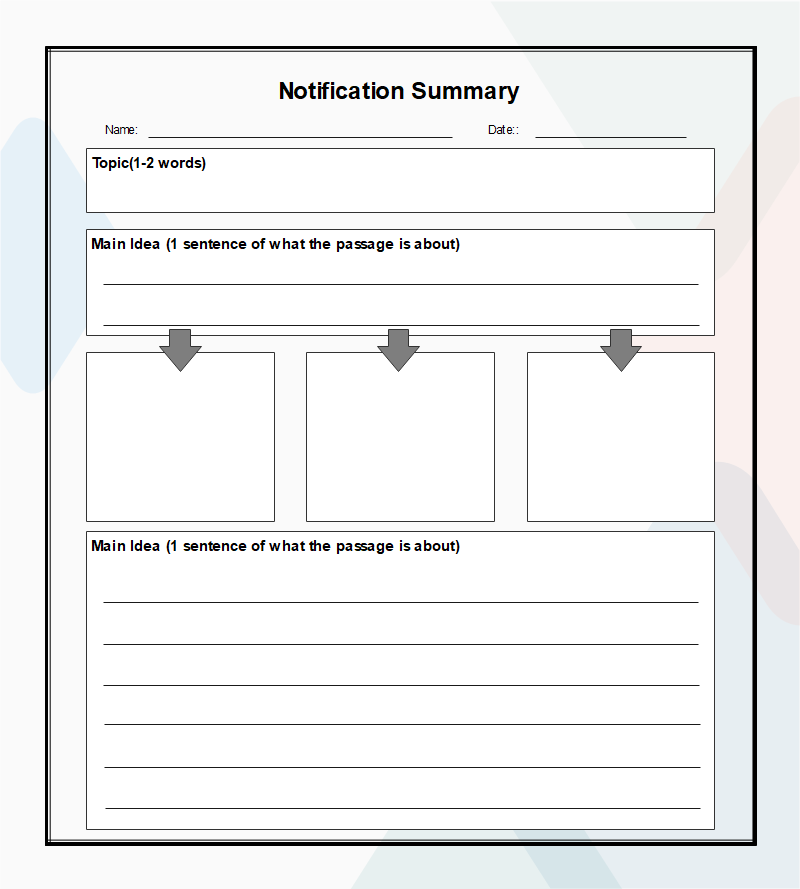 Source:EdrawMax Online
Example 14: Letter Writing Graphic Organizer
In the world of SMS and WhatsApp, this letter-writing graphic organizer teaches the classical skill of writing letters. It is divided into main parts of the letter so that students know where they need to put what details. The use of graphics makes it attractive.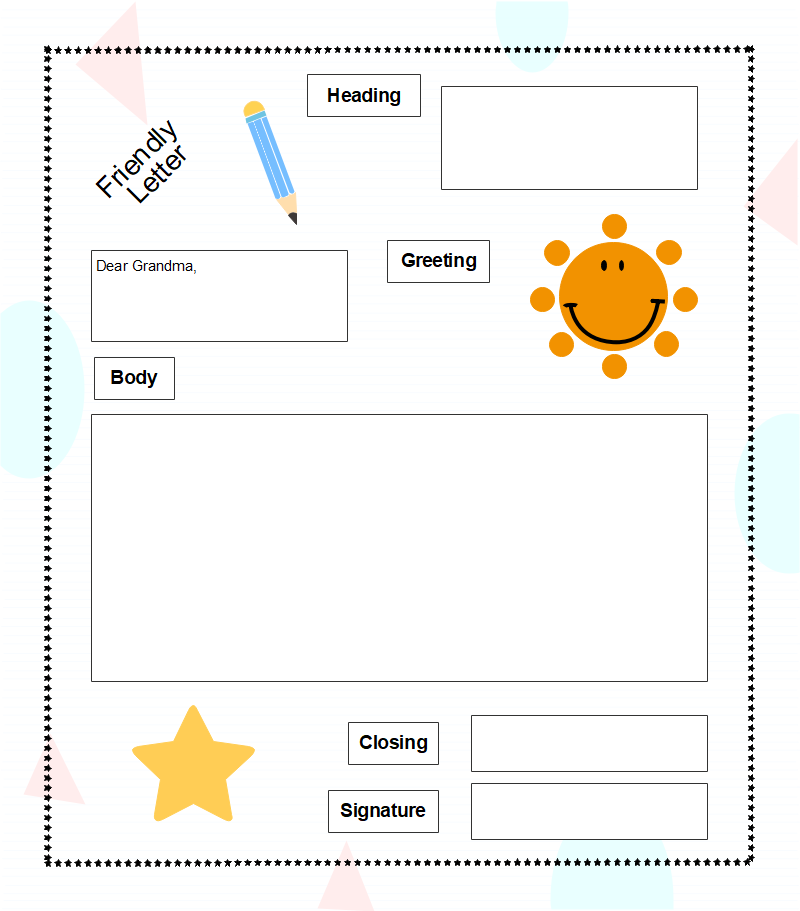 Source:EdrawMax Online
Example 15: Narrative Writing Graphic Organizer
One of the narrative writing graphic organizers is like this. It has a format that is similar to a flowchart. The first box is the title box. After it, there is the box for the settings or characters of the story. The next box consists of the problem of the story. Then, there is the space for writing feelings which the reader gets after reading the story. After the feelings box, there are three subsections that illustrate the story into three events. The last box is for writing the resolution or ending of the story. This graphic organizer will enhance the thinking and writing skills of the students. They will be able to understand the stories easily and can analyze them on their own.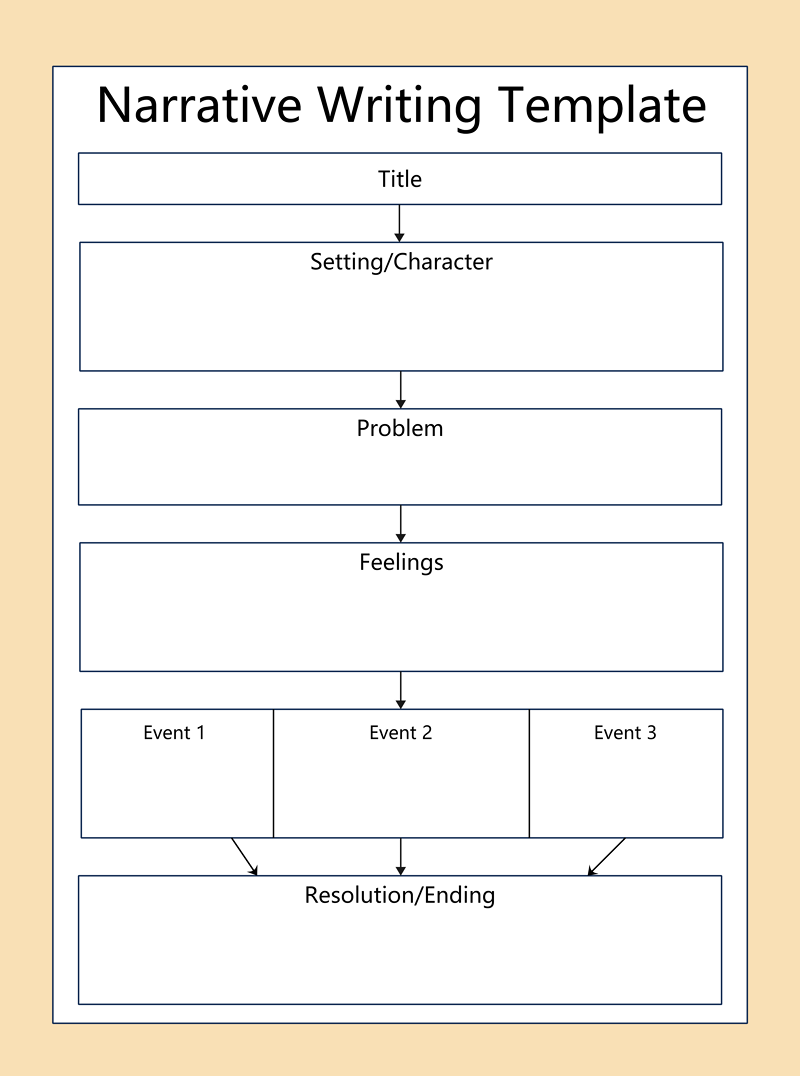 Source:EdrawMax Online
Example 16: Story Writing Graphic Organizer
The starting includes the beginning of the story that is the characters and setting of the story. Then three boxes represent three events that happened in the story. The specific details for each event will be written under each of the respective boxes. The first event will tell what happened at the beginning of the story. The subsequent events will be in the second box. The third box will describe the final events of the story. At last, there is one box for writing the end of the story, what happened as a result.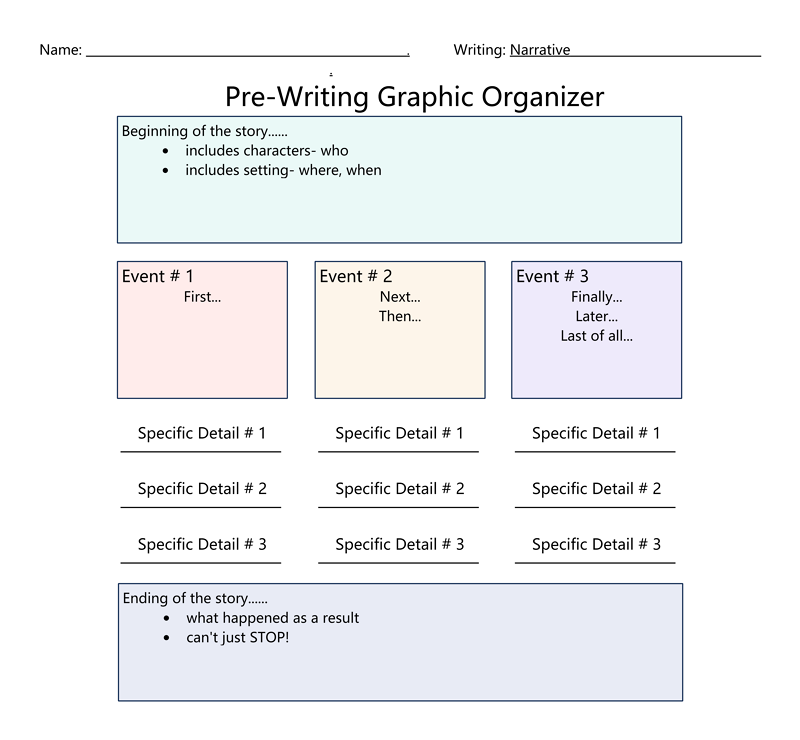 Source:EdrawMax Online
3. Online Graphic Organizer for Writing Maker
Making graphic organizers in word processing and presentation software has been a norm for a long time. Fortunately, we have access to dedicated drawing tools available online for creating different types of graphic organizers quickly and more efficiently. One such example is EdrawMax Online that can be used online, and its downloadable version is also available. You can use it for graphic organizers for writing along with 280+ different types of other drawings. The cherry on top is their vast library of templates available at templates gallery. You can use the templates right away and can also customize them according to your requirements.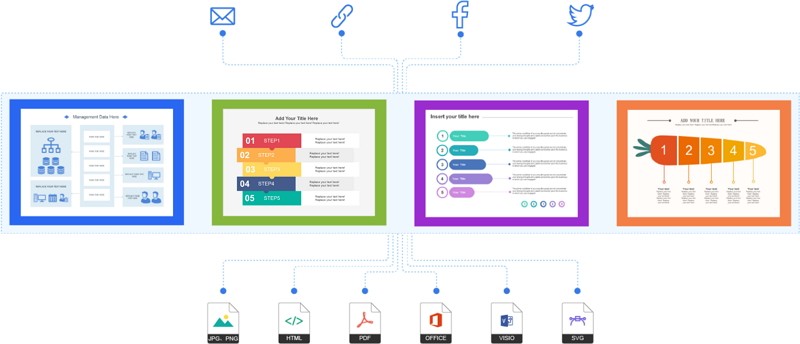 EdrawMax Online
Create 280+ types of diagrams online
Access diagrams anywhere, anytime
Everything in desktop + Templates Community
Team management and collaboration
Personal Cloud and Dropbox Integration
4. Key Takeaways
Learning should not be a stressful practice for both the students and teachers. Using tools in the classes such as graphic organizers for writing allow both the stakeholders to focus on the positive outcomes and the learning journey rather than the logistics of carrying out the lesson. Using an online drawing tool makes the process even more accessible and saves a lot of time and effort. You can find out more graphic organizer examples in the Template Gallery.