4 Best ChatGPT Mobile Apps
Following up on professional and personal queries has become more convenient with the use of Android chatbots. For startups and content creators, there are some great options available beyond the popular ones.
Also available for
Windows, Mac, Linux, iOS, Android, and Web.
All options >>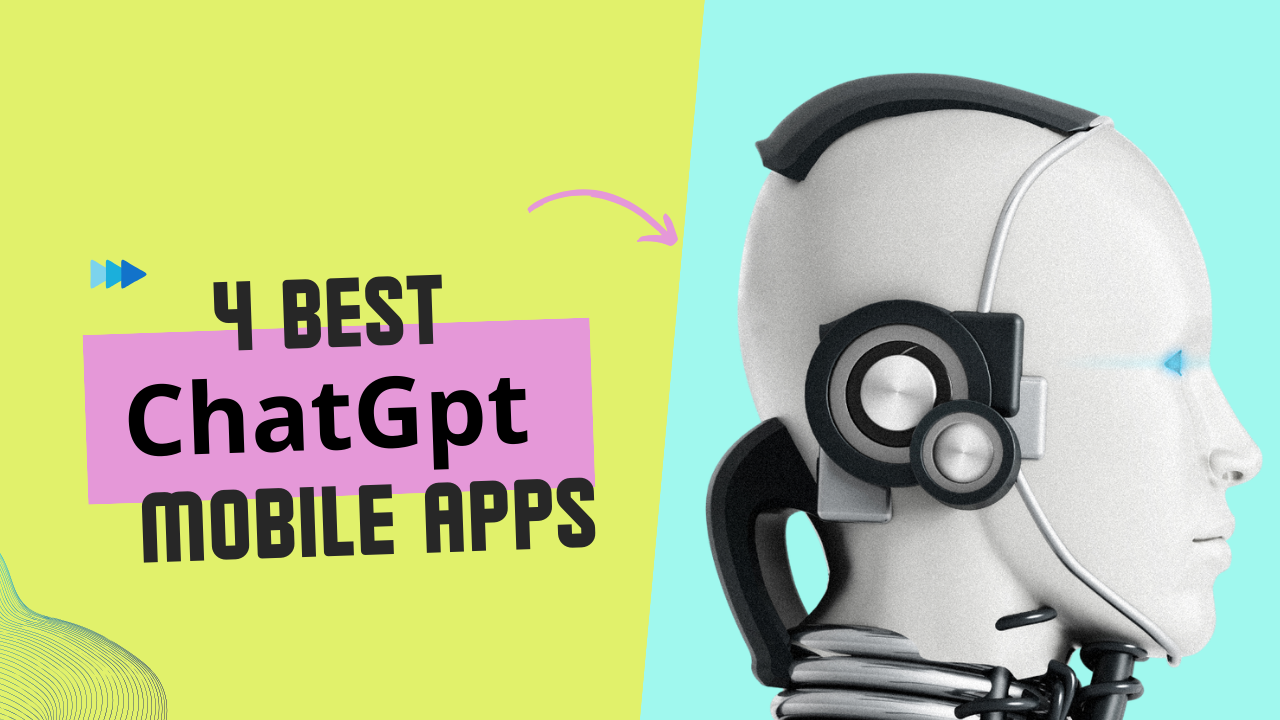 Imagine having an intelligent friend right beside you every time in your pocket. Who can help you with your movie or book recommendations? Help you with problem-solving questions or play the role of a teacher to help you learn or virtual assistant to your business. Sound fun? This is how AI ChatGPT apps are playing a role in this era.
As technology keeps moving ahead, these smartphone chatbots are becoming even more popular. Besides ChatGPT, there are so many open AI ChatGPT apps out there now. Different chatbots are best for different purposes. So, you must understand all of them to choose the one that you need.
Keep reading to find the best ChatGPT apps for your phone and make things easier for you.
EdrawMax AI: Versatile Diagramming Assistant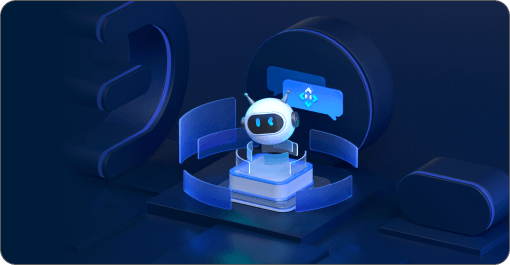 Want to increase your productivity and automate your day-to-day tasks? EdrawMax AI, a built-in AI assistant of EdrawMax might be the right option for you. Analyze Gantt charts and flowcharts, generate visual content, and extract text seamlessly - experience the boundless possibilities of AI-driven innovation. This AI is best for businesses and individuals tackling diagramming problems. For example, they can use AI diagramming to speed up brainstorming sessions and make mind maps.
Similarly, EdrawMax AI is best for inquiries. It provides a pre-written suggestions box for your inquiry. Unlike many other AI tools, this one provides a very simple interface, making it worth your shot. But why use this bot when there are other choices? Check out these incredible benefits of EdrawMax AI.
AI Diagramming: Within a second of your input, the Edraw AI ChatGPT app will convert your inquiry into your desired diagram need.
AI Chat: Edraw AI chatbot provides accurate, prompt conversion in less time due to integration with ChatGPT.
AI Drawing: Edraw AI will assist you in making diagrams like flowcharts, mind maps, UML diagrams, etc.
AI Analysis: Edraw AI helps analyze your diagram to gain a professional look by detecting, optimizing, and describing your diagram.
AI OCR: It will help you get text from pictures used to make maps.
Pre-scenario AI: This feature will help you change the tone, amount of paragraphs, and text based on how you align your diagrams.
It's different from other ChatGPT-powered bots because the outputs can be exported and shared directly in PDF, Graphics, Visio, and other forms. As a result, you do not lose your search inquiries in case you need it later.
Alissu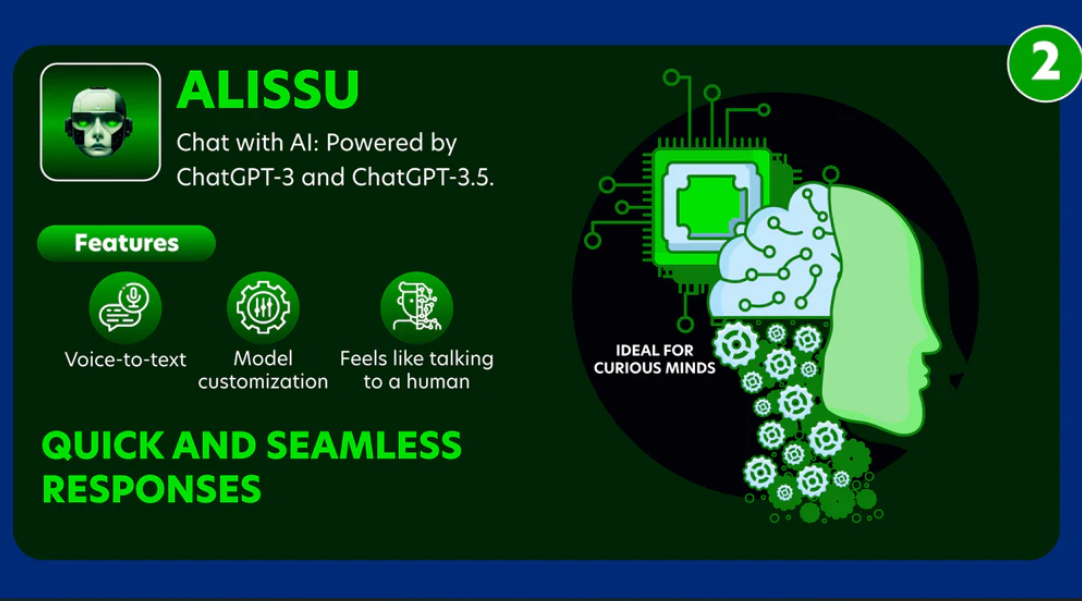 Want help with your coding journey or in academics? Alissu is famous for solving SQL queries and Python code into simple English and also instant and fluent prompt results to any of your questions in seconds. It is an AI chatbot based on ChatGPT-3 and ChatGPT-3.5, designed for your mobile device.
Here are some incredible benefits of Alissu that might help you in choosing.
Voice-to-text conversion: Alissu's voice-to-text conversion makes it possible to have conversations with the chatbot using only your voice.
Based on ChatGPT 3 and ChatGPT 3.5: Alissu utilizes two advanced language models to provide accurate and thorough answers to different questions.
Translating Ability: Alissu offers a unique spin on the standard Android app by translating from English to French, Spanish, and Japanese.
Let's dive into the user cases of Alissu.
Preparing for your job interview or finishing an assignment can also be made much easier with the help of Alissu. You can get writing advice, interview tips and preparation, or a solution to your organic chemistry quiz.
If you're working with code or learning how to use it in your education or career, the Alissu app can convert SQL queries and Python code into natural English. It will help pinpoint your errors and make coding a piece of cake.
Discover the answers to your burning questions! Alissu is designed for both educational and entertainment purposes. It can be used to extract meaningful information from large amounts of text and create tabular results.
Alissu is one of the most known ChatGPT apps on the Google Play Store and gives you the same superpowers as the real thing. You are just an installation away from talking to the Alissu AI chatbot.
Nova AI
The third one is Nova AI. It is an incredible ChatGPT-powered chatbot. Its sophisticated, cutting-edge language model is created to help you find the solutions to your simplest to hardest prompt answers. It can be a movie recommendation or help in your thesis research – You name it.
Nova AI is built on research into the human mind and cognitive abilities to produce more human-like responses, giving the impression that you are conversing with your intelligent friend.
Check out these incredible benefits of Nova AI.
Speech-to-text conversion: Nova AI has simplified it and allows you to interact with the chatbot through voice prompts.
Pre-Written Prompts: Nova AI has a solution if you struggle with writing the correct prompt. It supports over 140 languages and provides rewritten prompts to get you started.
Multiple device logins: Nova AI allows multiple device logins for a single account, ensuring a seamless experience no matter the device.
Let's dive into the user case for Nova AI.
Nova AI can respond with detailed and insightful information to any question or concern.
Nova AI can create TikTok captions, automate tedious activities like email sorting, and manage social media accounts.
Whether you're a student looking for extra help in math or chemistry or a company owner needing a virtual assistant or customer service representative, Nova AI is here to help.
Nova AI has made ChatGPT available for download on Android, iOS, Apple Watch, Wear OS, iPad, and web browsers. Its free version is limited to 3 prompts per day.
Genie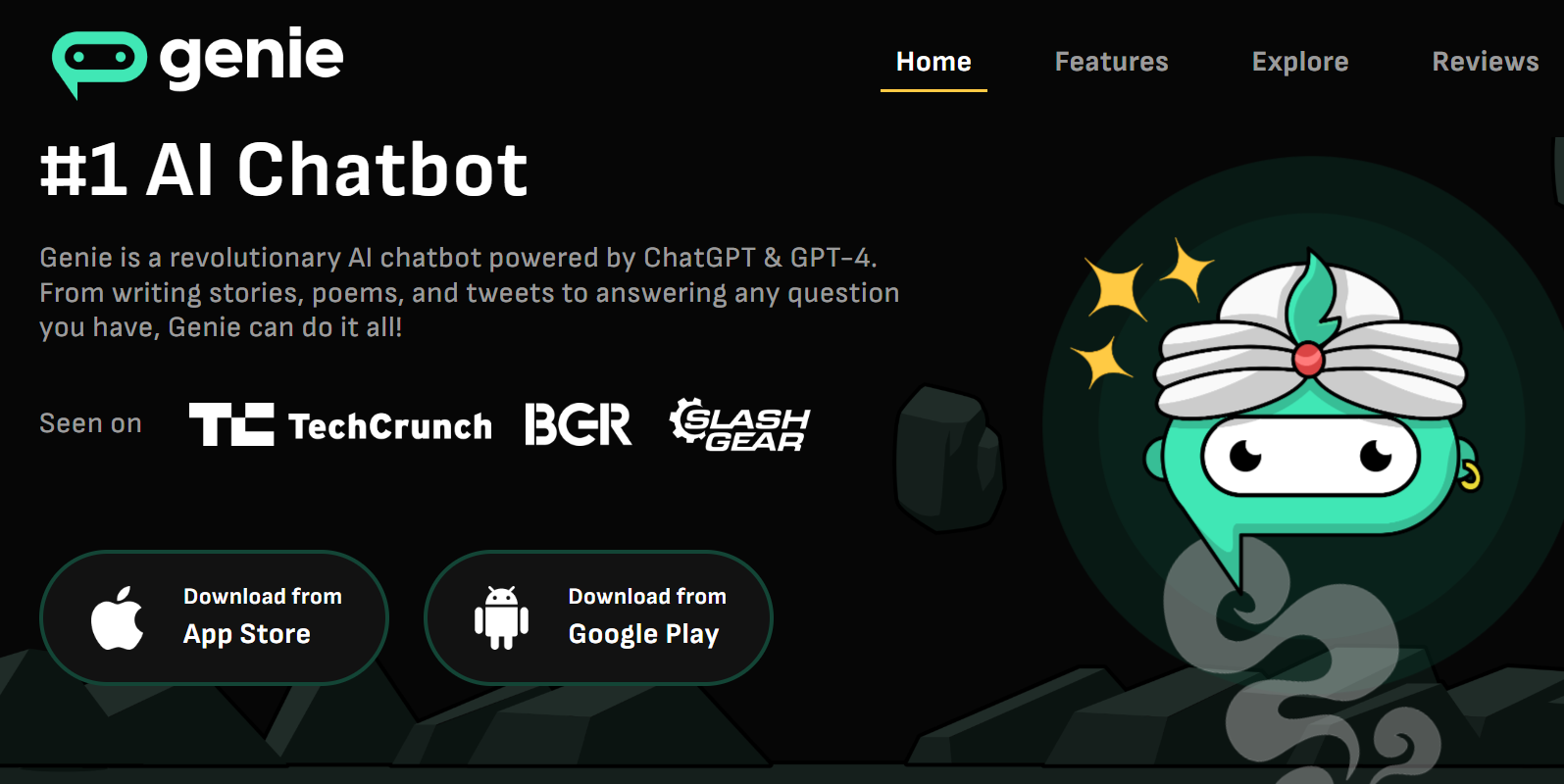 Do you also struggle with robotic-like answers from AI chatbot apps? Genie is here to provide you with the most human-like responses. You can select from 22+ personalities according to your purpose to get the best expertise-level answer. This feature of Genie AI ChatGPT makes it stand out from other apps, giving the most natural experience.
Genie lives up to its name. It advises phrase queries, interprets user intent, and processes data. Moreover, it is available as a ChatGPT app on both the App Store and Play Store.
Check out these incredible benefits of Genie.
Images as Prompts: Genie now takes image inputs from your camera, giving you more ways to begin a discussion.
Previous Chats and Voice Responses: Genie will keep track of your chats in its history section. You can go through that anytime. That's not it; it will generate voice responses for more natural interaction.
Easy to use: Genie is the app for those who want the smoothest, most natural experience and interaction possible.
Let's dive into the user case for the Genie AI ChatGPT App.
Consider Genie as your writing assistant. You can use it for short articles, lengthy research papers, or copywriting projects. You also have complete control over your tone.
It will help you summarize your long and complex PDFs into the simplest and easiest ones.
If you are a content geek, it can help you with your SEO, optimization, and marketing. Doesn't it sound great?
Why wait any longer? Discover the incredible features of the Genie AI ChatGPT App and enjoy the most realistic responses that feel just like talking to a human. However, the basic version of Genie allows 10 messages per day.
Conclusion
Chatbots have simplified several commercial processes, including problem-solving, information gathering, and content creation. Even more intriguing, they can be accessed with relative ease on modern cell phones. This means you don't have to wait to start your computer to find your queries when you need one-to-one help. That's why we have selected 4 best chatGPT apps for you.
Alissu got you covered for your coding and academic journey. Nova AI will assist you in the best possible way in crafting your social media posts and emails. At the same time, Genie has your back as your writing assistant and time savior for content-crafting geeks.
With EdrawMax AI, you can create automated diagrams easily. Inquire, transform it into a chart, and effortlessly share it with teams, even while on the move. Give them a try and experience how they can streamline both your personal and work life.
EdrawMax Desktop
Create over 280 types of diagrams
Windows, Mac, Linux (runs in all environments)
Professional inbuilt resources and templates
On-premises software for business
Enterprise-level data security
EdrawMax Online
Create over 280 types of diagrams online
Access diagrams anywhere, anytime
Team management and collaboration
Personal Cloud and Dropbox Integration
Related Articles