DoorDash SWOT Analysis
SWOT analysis by EdrawMax is a critical tool for Doordash to determine its strategic competitive position in the market.
1. Lead-in
SWOT Analysis is a compilation of all the strengths, weaknesses, opportunities, and threats a company has or faces. With the help of the SWOT analysis, companies try to develop a business based on statistical data. Thus, everyone is fully aware of all the factors involved in making the company. It is a mandatory task to prepare a SWOT analysis before committing to any action related to a company. Firms can frame apt strategies with the help of SWOT Analysis that will lead to the company's successful future.
DoorDash is a food delivery company that helps its customers order the food they like from their chosen restaurants or food joints so that a doordasher can go and collect the order and deliver it to the customer on time. In this article, we have done a DoorDash SWOT analysis to determine the strengths, weaknesses, opportunities, and threats that are related to this company. Considering these crucial factors related to the company's future decisions will be easier to make. In this article, we will introduce EdrawMax Online that helps in creating DoorDash SWOT Analysis diagrams with free templates.
2. About DoorDash
2.1 Introduction of DoorDash
DoorDash is an American company that works to deliver food and take orders online. They have a connection with thousands of restaurants, eateries and food joints, pet stores, and grocery stores, and their customers can avail of their services with a simple touch. DoorDash has worked its way up the business ladder. At first, it took the place of Uber Eats and became the second most popular food delivery service. However, recently it has also gained Grubhub's position successfully. It pushed its ranking to the number one position among its competitors.
DoorDash's market share is about 59 percent, thus dominating the online food delivery market. The DoorDash business model is the Y-structure business model as it works to keep everyone related to them, like their customers, the eateries they work with, and the people who work under the company together. DoorDash SWOT Analysis works with such data and helps form an overview of what is going on with the company or sometimes predict what might be the organization's future. It helps them to make planned, strategic, and dedicated decisions.
2.2 Overview of DoorDash
| | |
| --- | --- |
| Name | DoorDash, Inc. |
| Founded | January 2013 |
| Founder | Tony Xu, Andy Fang, Stanley Tang, Evan Moore |
| Industries served | Online Food Ordering and food delivery |
| Geographic Area Served | Australia, Canada, Germany, New Zealand, Japan, and United States |
| Headquarters | San Francisco, California, United States of America |
| Revenue (US$) | DoorDash earns around US$4.88 billion |
| Total Asset (US$) | US$ 6.8 billion |
| Employees | Over 6000 |
| Main competitors | Grubhub, Postmates, Uber Eats, Deliveroo |
2.3 History of DoorDash
| | |
| --- | --- |
| 2013 | Launch of PaloAltoDelivery.com in Palo Alto, California |
| 2013 | PaloAltoDelivery was later incorporated as DoorDash in June |
| 2018 | Became the second most used app for food delivery in the US after Grubhub and after beating Uber Eats |
| 2019 | DoorDash became the largest food delivery company in the US |
| 2019 | Opened its first ghost kitchen in October called the DoorDash Kitchen |
| 2020 | Surfacing of news like DoorDash had lied about skimming their delivery tips |
| 2020 | Some upgrades in their services like contactless delivery during the pandemic made DoorDash the fastest growing food delivery company |
| 2020 | In November they opened their first physical restaurant |
| 2020 | In December the company transformed itself into a public company |
| 2021 | It was noted that 55% of the drivers working for DoorDash were women |
3. SWOT Analysis of DoorDash
Strengths
Possesses the number one position in the market: DoorDash already holds the number one position. Thus, giving it a massive benefit compared to its present and future competitors. Customer loyalty is there due to the high brand reputation, which allows them to have higher control over the market, which results in higher revenues and profits.
Focused marketing in specific areas: In this era where nearly all big companies from different industries are going for a worldwide market, DoorDash has always, from the start, focused on a specific area for marketing which includes countries like the United States, Japan, Canada, Australia, and more. They are coming up with newer ways to satisfy their customers as their market focuses on a specific region, which in return is helping their company to grow.
The network plays an important role: When your service is related to giving door-to-door services, the best thing a company can do is create a strong network. DoorDash has done precisely that. Its strong network has benefitted them and gives its customers a superior experience with the brand. It has established a massive network with around 450,000 restaurants and eateries. Today it has more than 1 million dashers.
User-friendly interface: It is impossible to handle complicated apps when you require food immediately, so DoorDash provides an easy-to-use app making users happy and satisfied.
Weaknesses
The focused region for marketing is too small: The brand has a focused market based on only three areas presently, the US, Canada, and Australia. Only this much marketing is not enough for a company that occupies the number one position in the market. This situation makes them lose a massive clientele and a bigger market with more profits and revenues.
Losses faced: The immense losses the company has incurred in recent years have put a toll on many things. These continuous losses can scare away potential investors. It can be a factor that causes the customers to slowly lose their faith in the company, which results in further loss.
Delivery charges are costly: Eating outside food can be pretty expensive, and adding a high delivery charge disappoints the customers. DoorDash has high delivery charges, a weakness in the company's business mindset.
Not enough information on the company background: The history of a company is needed to assure its consumers of its legitimacy, and DoorDash has a very vague history which can be a deal breaker.
Opportunities
Scope to explore more markets: As the company is presently active in only three areas, namely the US, Canada, and Australia, it has a massive scope to show its impact on the industry in other regions.
Convenience stores can be helpful: DoorDash has collaborations and partnerships with convenience stores like 7Eleven, Walgreens, CVS, and more. DashMarts are convenience stores under the company, which they announced to launch in 2020. Taking over the convenience store industry is a fair opportunity for the company.
Ghost Kitchens: Ghost kitchens are nothing but virtual kitchens and restaurants. In ghost kitchens, customers can order different foods from different eateries altogether. It is an opportunity to grow the company, even more, getting into newer industry territories.
Merging with companies to help growth: Opportunities will come by themselves if an already successful company merges with another company from a different industry, thus gaining more popularity everywhere.
Threats
Substitutes are strong: If the market does not have any monopoly, then the presence of competition is quite natural. DoorDash has quite a few strong competitors like GrubHub and UberEats. Though it has already taken the number one position from GrubHub, the threat remains.
Legal mechanisms: Regulatory frameworks can pose a threat to DoorDash as it is the reason behind the increase in cost. In severe cases, these regulations can shut the company down.
Recession due to pandemic: The current inflation worldwide has limited everything and is a threat to every business, no matter how successful they are.
Hike in oil prices: Due to the ongoing ill relations between Ukraine and Russia, the oil prices have increased a great deal, and this directly affects DoorDash as it has direct links with its delivery. The delivery charges might go up to make up for the delivery cost, which will cause them to lose customers, which results in a loss.
DoorDash SWOT Analysis Diagram
You can use EdrawMax to create a SWOT analysis of DoorDash. The free templates and symbols ensure that your SWOT analysis diagram stands out from the rest of the submissions.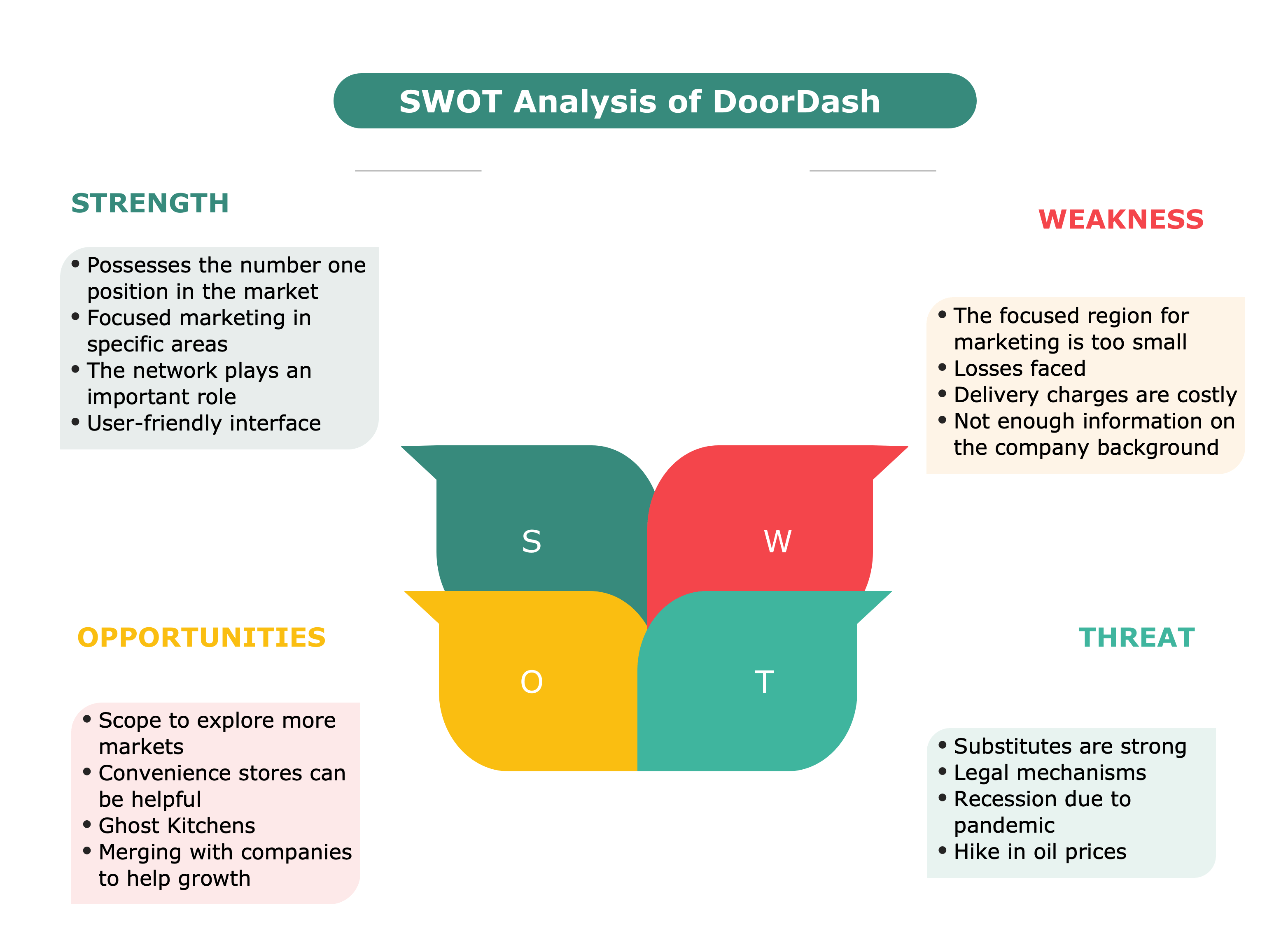 4. Free SWOT Analysis Diagram Creator
You might have heard that you do not need a computer tool to design a diagram! Well, in most cases, it can be correct. However, once you start using tools like EdrawMax, you realize that you can save time and money with this free SWOT analysis diagram creator and get amazing results. There are several great features of EdrawMax, like:
With EdrawMax's template community, you can easily create a SWOT analysis, PESTEL analysis, Venn Diagram, and more in one canvas.
This free SWOT analysis diagram creator is designed by professional experts. So when you work on the design and customization parts, you do not have to worry about accuracy.
EdrawMax has an online version allowing you to access your files from anywhere.
Unlike other tools that take up much space on your system, this free SWOT analysis diagram creator is very user-friendly for your system.
The amazing feature or element of using EdrawMax is that it is free to use.
With this free SWOT analysis diagram creator, you can export the file in multiple formats depending upon your requirement.
EdrawMax Online
Create 280+ types of diagrams online
Access diagrams anywhere, anytime
Everything in desktop + Templates Community
Team management and collaboration
Personal Cloud and Dropbox Integration
5. Key Takeaways
The highlight of this article is DoorDash SWOT Analysis, with the help of which the company will make pre-planned decisions when needed. The SWOT Analysis in detail in this article, plus some additional information about DoorDash, some history related to the company, and its position in the market. Through DoorDash SWOT Analysis, the strengths and weaknesses of the company, opportunities given to the company, and the threats that the company might face in the future are discussed.
EdrawMax Online is a perfect SWOT analysis diagram maker because of its amazing features for all registered users. As you saw here, creating a SWOT analysis diagram with EdrawMax does not require any technical expertise, all thanks to the pre-built templates and customization options. Download the copy of EdrawMax today and start working on SWOT analysis diagrams per your requirements.
Reference
Related Articles