Sony SWOT Analysis
Sony has a powerful brand thanks to its history of creating new, unique, and high-quality products. SWOT analysis of Sony by EdrawMax analyzes the brand by its strengths, weaknesses, opportunities & threats.
1. Lead-in
SWOT analysis is a managerial tool used by organizations to track their progress and identify their weaknesses that are negatively affecting their success. A detailed and objective SWOT analysis can determine a brand's main strengths and underlying weaknesses. At the same time, spot future opportunities and threats.
Sony is a conglomerate corporation and one of the top technological companies based in Japan. The brand is a crucial player in the technical market and holds a 55 percent share in the image sensor market. SWOT analysis of Sony can identify its strengths and weaknesses that have helped them achieve its present position in the market. Management can use the Sony SWOT Analysis to decipher future opportunities and threats impacting their growth. In this article, we will help you create Sony SWOT analysis using EdrawMax Online's templates and customization features.
2. About Sony
2.1 Introduction of Sony
Sony is a worldwide company and has successfully penetrated the highly competitive USA market. It earned the 88th rank on the 2021 Fortune Global 500 list as the oldest Japanese company on American Exchange. They are one of the dominating technological device manufacturers. The company was founded by Akio Morita and Masaru Ibuku in 1964 as Tokyo Tsushin Kogyo and started operating in the US and Europe during the 1960s-1970s. It changed its name to Sony in 1958 and is currently widely recognized. Their innovative ideas, high-quality modern technology, and cooperative post-sales support have made them a consumer-favorite brand.
2.2 Overview of Sony
| | |
| --- | --- |
| Name | Sony |
| Founded | 7 May 1946 |
| Industries served | Electronic, Games, Financial services, Imaging and sensing, Music, Pictures, etcetera |
| Geographic areas served | Worldwide |
| Headquarters | Minato, Tokyo, Japan |
| Current CEO | Kenichiro Yoshida |
| Revenue (US$) | 82.98B (in 2022) |
| Net income (US$): | 10.77B (in 2021) |
| Employees | 109,700 (in 2020) |
| Main competitors | Microsoft, Samsung, Apple |
2.3 History of Sony
| | |
| --- | --- |
| 1946 | Ibuka Masaru and Morita Akio established Tokyo Tsushin Kogyo. |
| 1950 | The first Japanese design tape recorder was introduced. |
| 1952 | Ibuka visited the US to make contracts for licensing the transistor. |
| 1957 | Sony's pocket-sized TR-63 earned international recognition. |
| 1960 | Creation of Sony Corporation in America. |
| 1968 | The company shipped their first Trinitron color television. |
| 1988 | Sony bought CBS Records Group. |
| 1994 | Sony Playstation Video Games introduced. |
| 1999 | Robot dog AIBO was introduced. |
| 2013 | Sony sells its US headquarters. |
3. SWOT Analysis of UPS:
A detailed SWOT Analysis of a company deals with four primary ideas—strengths, weaknesses, opportunities, and threats. The Sony SWOT Analysis gives an apt knowledge of their strengths and weaknesses that are significant for figuring out their present position as a technological manufacturer. At the same time, the Sony SWOT Analysis allows you to find the opportunities which can add to their robustness. You can also find out the threats that may slow down their progress in the business.
Strengths
Brand Reputation: From the very beginning, Sony has always targeted to fulfill the customers' demands. Over the years, they have successfully built themselves as an ethical, strong brand that works to offer quality products to its customers. This image supports their growth. Though Sony products are slightly more expensive than its competitors, that does not impact their sales as the customers trust their image and product quality.
Variety of Products: Though Sony mainly started its journey in the market as an electronic manufacturer, currently, they have divided the business into five different segments; they are, Game & Network Services, Pictures, Music, Imaging & Sensing Solutions, and Electronic products. Due to their diverse product portfolio, while there is a decrease in product demand, their sales graph does not see a stiff downfall.
Loyal Customer Base: Sony has a strong brand image, helping them to garner a loyal customer base. Their quality products and affordable rates have earned them a set of customers that trust the brand. They have a dominant image in the global market with customers interested in their services like electronics, music, movies, games, and more.
Innovative and quality product: One of the primary strengths of Sony is its creative ideas that drive the brand to bring out new electronics. The electronics quality and longevity help them to compete with other brands in the competitive market. Whether it is their TV, camera, or Playstation, most customers equate their products to quality and high performance.
Weaknesses
Decrease in PS4 Sales: The brand is very much dependent on the sale of their PlayStation. In recent years, the demand for PlayStation has dropped, thus, impacting their overall sales. Nintendo, Xbox, and others are also evolving as strong competitors against PS4.
Lack of Marketing: Sony pays more attention to bringing new products to the market, but there is less to almost no attention to marketing and campaigning. They do not appropriately strategize their marketing efforts and use social media as a marketing tool. The competitors of these brands are considering multiple marketing means to highlight what they are offering.
High Price: Sony's products are comparatively pricey compared to its competitors' brands. Though the brand has a loyal customer base, many potential customers avoid considering the high price. Many other Korean and Chinese companies are offering gadgets with similar features at a lower price because of their access to cheap labor and resources. It is also driving away customers resulting in a decrease in sales.
Over-dependence on Electronics items: Though Sony has a diverse product portfolio, they are dependent on their electronic products like cameras, TVs, Smartphones etcetera. As there was a decline in demand for those electronic items, Sony suffered a 57% drop in profits.
Opportunities
Latest technology: Sony has a maximum number of skilled employees whose innovative minds work tirelessly to bring ground-breaking technologies to the customers. They can do thorough market research and work on the electronics and games that need some improvements.
Social Media Marketing: The brand may consider working on planned marketing ideas and opting for strategic campaigns. The brand's lack of advertising is not allowing them to reach a maximum number of customers. They can choose the traditional advertising modes, such as TV and Print Ads. As the number of people on social networking sites increases, they may also select certain social media to reach their target audience.
Finding Better suppliers: Sony can create a smooth supply chain from countries that can offer them resources at a lower price. Then they will be able to cut down the rate to sell their products at a competitive rate. Sony may also target the emerging economies with this competitive market price where the demand for their products is still very high.
Concentrating on their other services: The brand needs to explore its diverse product profile and improve the services that have the potential to earn better revenue. They can invest in those products and services and plan acquisitions. It will decrease their dependency on electronics for the primary revenue portion.
Threats
Instability of Economy: The pandemic and economic instability in the post-pandemic world threatens Sony's business. As a global company, Sony is undergoing the rough changes the economy is facing as many people become jobless and the economy is yet to attain stability.
Hacker Attacks: Sony deals in Games, electronic gadgets, films, etcetera, and they are vulnerable to malware and hacker attacks. It can be a threat to the growth of the company.
Over-saturation of the market: The big markets worldwide are experiencing an over-saturation. The demand is lesser than the product supplied into the market. Thus the brand is not only losing its customers to the competition, but at the same time, they are facing a loss in revenue.
New Technology: In recent years, technological advances have interested many new companies introducing their products. Those devices have some incredible features and have comparatively lower prices than Sony. It can decrease the sales of the company.
Sony SWOT Analysis Diagram
Now that you have understood the SWOT analysis of Sony, here is a visual representation of the same. You can use EdrawMax to work on the SWOT analysis diagrams as it gives templates and symbols that ease your efforts in creating them.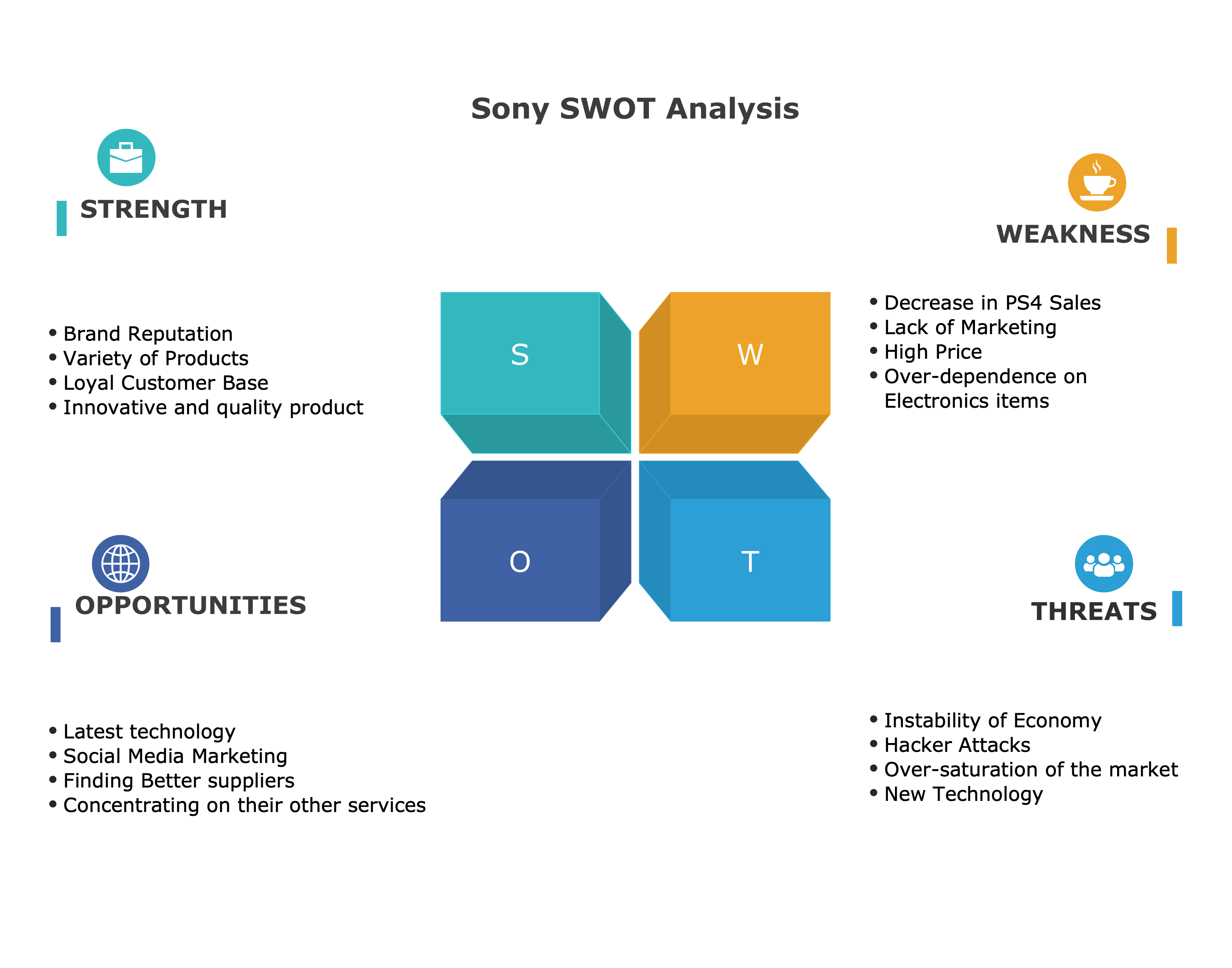 4. Free SWOT Analysis Diagram Creator
As you learned in this guide to understanding SWOT analysis, EdrawMax is undoubtedly the best free SWOT analysis diagram creator. With in-built templates, symbols, and a rich template community, you can create over 280 types of different diagrams. Some of the other important features of this free SWOT analysis diagram creator are:
With EdrawMax, you can easily import and export MS Visio files, making it one of the best alternatives to MS Visio.
This free SWOT analysis diagram creator comes in multiple languages.
With the dark and focus mode, you can work on your SWOT analysis without getting distracted.
All the symbols present in this free SWOT analysis diagram creator are vector-enabled. If you want to create your symbol, EdrawMax offers you the elements for the same.
Unlike other SWOT analysis software, EdrawMax is completely free to use.
With EdrawMax Online, you can remotely work on any SWOT analysis as per your requirement.
EdrawMax Online
Create 280+ types of diagrams online
Access diagrams anywhere, anytime
Everything in desktop + Templates Community
Team management and collaboration
Personal Cloud and Dropbox Integration
5. Key Takeaways
Sony is one of the top market players in technology, and with their popularity and worldwide dominance, they have also started to offer other services. The Sony SWOT Analysis hints at its current position in the Asian and the US market. Though there are many strong competitors of the brand, Sony is consistently maintaining its position as the crucial dominator of the market. An objective Sony SWOT Analysis can spot the brand's strength that has helped them maintain its position against its competitors. The company can also figure out its weaknesses to remove them strategically. The SWOT Analysis of Sony can point out the opportunities that may give them the chance to expand their business while eliminating the threats that may prevent them from reaching the desired growth.
EdrawMax Online is considered the best SWOT analysis software for various reasons. As you saw in this article, if we create a diagram to represent Sony's SWOT analysis, the readers will be able to retain the information for a long time. With the built-in templates, symbols, and export options, a student or a professional can study the SWOT analysis of different companies.
Reference
Related Articles