Nintendo SWOT Analysis
EdrawMax's Nintendo SWOT analysis will identify the internal and external factors that impact the world's top gaming console manufacturing company's growth.
1. Lead-in
The SWOT from SWOT Analysis stands for Strength, Weakness, Opportunity, and Threat. A particular company goes through a detailed analysis by experts through this analysis. It is nothing but fact-based, realistic, and solely company data-dependent. The company's position in the global market compared to its competitors will be analyzed with the help of Nintendo SWOT Analysis.
Nintendo has a mission that says they want to make everyone using their product smile. Thus, they have always worked hard to produce surprises that their customers can appreciate. The company just started as a gaming card production company, but they have walked a long path that has helped them create an entirely different world with their ideas and characters. Nintendo SWOT Analysis will analyze whether these new ideas and surprises allow the company to gain a good position in the market. Whether there are too many weaknesses to deal with, or will the company use the opportunities to grow? Or lose its focus because of the threats they will face? However, before having an answer to all those, first, all must have a brief introduction to the company. How they operate, and the history of how they evolved. In this article, we will introduce EdrawMax Online that helps in creating Nintendo SWOT Analysis diagrams with free templates.
2. About Nintendo
2.1 Introduction of Nintendo
Nintendo is a multinational company of Japanese origin. The company works to develop video games and consoles for video games. Mario, the mascot of Nintendo, is famous all over the world. The Game Boy, the Super Nintendo Entertainment System, the Nintendo DS, the Wii, and the Switch are just a few of Nintendo's most popular video game consoles. Numerous well-known franchises were developed by it, such as Mario, Donkey Kong, The Legend of Zelda, Pokémon, Kirby, Metroid, Fire Emblem, Animal Crossing, Splatoon, Star Fox, Xenoblade Chronicles, and Super Smash Bros.
2.2 Overview of Nintendo
| | |
| --- | --- |
| Name | Nintendo |
| Founded | 23rd September 1889 |
| Industries served | Video game industry and consumer electronics |
| Geographic Area Served | Worldwide |
| Headquarters | 11-1 Kamitoba Hokodatecho, Minamiku, Kyoto, Japan |
| Founder | Fusajiro Yamauchi |
| Key People | President Shuntaro Furukawa and Fellow Shigeru Miyamoto |
| Revenue (US$) | US$13.71 billion as of 2021 |
| Total Asset (US$) | US$ 19.07 billion as of 2021 |
| Employees | 6,547 as of 2021 |
| Services | Nintendo eShop, My Nintendo, and Nintendo Switch Online |
| Competitors | Sony, Xbox, BenQ Corporation, Electronic Arts, and Activision Blizzard |
2.3 History of Nintendo
| | |
| --- | --- |
| 1889 | Was founded with the name Nintendo Karuta. |
| 1902 | First western-style card deck was launched. |
| 1907 | Agreement with Nihon Senbai. |
| 1929 | Sekiryo Kaneda was chosen as the second President of Nintendo. |
| 1933 | Nintendo was established as a general partnership. |
| 1947 | A distribution company was founded. |
| 1951 | Name changed to Nintendo Playing Card Co. |
| 1952 | Centralized card production in the Kyoto factories. |
| 1964 | Earned ¥150 million |
| 1972 | First commercially available video game console |
| 1980 | Created multiple arcade games, like Donkey Kong and Sky Skipper |
| 1989 | Release of Game Boy |
| 1993 | Announced to develop a new 64-bit console |
| 1996 | Nintendo 64 sold 500,000 units |
| 2001 | Released Game Boy Advance in Japan |
| 2005 | Opened Nintendo World Store in New York City |
| 2011 | Project Cafe was announced |
| 2019 | Released Nintendo Switch Lite |
| 2021 | Announced Nintendo Switch - OLED Model |
3. SWOT Analysis of Nintendo
The Nintendo SWOT Analysis will put all the crucial details that are helping to run the company properly in front:
Strengths
The distribution network is well-spread: The network connection of Nintendo is pretty dominant. Thanks to the goods they manufacture for countries worldwide.
Well thought out Partnerships: Partnerships can play a huge role when you want a successful business. Nintendo's partnership with Disney was a great collaboration. It helped the company boost its popularity.
A long history of experience: With a long period of experience, a company learns from its past mistakes and gains a lot more knowledge that will help them in its future endeavors. So, Nintendo's long history of experience will come in handy when the competition is with new companies.
Offering a massive spectrum of games: Brands offering diversity attract maximum customers. Thus, the more varied your product collection, the more diverse your consumer. Thus, Nintendo gets a mileage here because they have a diverse product range.
Weaknesses
Developed countries being the main focus areas: Nintendo tried to focus more on developed countries like America, Australia, Canada, and others. Though getting hold of a massive number of customers from such countries is maximum, making these countries your sole focus might not be the best thing to do.
No property rights established: Due to its lack of property rights, the chances of its products getting copied is massive and might cause a loss of reputation.
Failure to supply products on time: During and after the pandemic, the company failed to have enough goods in its supply chain, thus, causing a lower rate of income.
Product-related issues: A consumer relies on a company based on the product they receive. Thus, if Nintendo faces a problem with the said product, it is kind of given that the company will face backlash.
Opportunities
Show interest in mobile games: In this era of mobile games, if you know how to produce good mobile games, you might have a monopoly over the market. It will ensure a fair opportunity for the brand's growth.
Offer diverse products: With a diverse collection of games, Nintendo also has a diverse gaming console collection and other game-related products. It may attract gamers. They may get lured by the massive variety of products the company offers its customers.
Adopting Virtual Reality: Only card games will not make a gaming company gain popularity and help them earn money in this era when kids are used to virtual games. So, adopting games related to virtual reality may give the company the attention they need.
Put more focus on developing countries: Countries like China and India have a higher consumption rate than developed countries. Nintendo should also focus on such countries because their massive population and economic development can be a primary opportunity for the company.
Threats
Availability of better substitutions: The competition in every industry is high, and the situation is similar in the gaming industry. There are more popular substitutions like Xbox and Sony, so gaining attention in such a market might be challenging.
Technology is facing revolutionary changes: With the new Gen Z in the market, the technologies used by the generation are also going through revolutionary changes. Thus, the company should try to keep up with it all.
The increase in piracy rate: Piracy, is going on for a very long time, which is why people are getting a hold of games for free. Hence, losing interest in spending massive sums of money to buy the same games, thus, posing a threat to the company's survival.
Change in the demographics of its consumer countries: For instance, youth in Europe has dwindled, so even though Europe used to be a significant customer of the company, now the company needs to switch to a country with a higher rate of youth who plays video games. Otherwise, they will find it challenging to survive.
Nintendo SWOT Analysis Diagram
You can use EdrawMax to create wonderful SWOT analysis diagrams. With the help of templates and symbols, you do not require technical knowledge to create detailed SWOT analysis diagrams.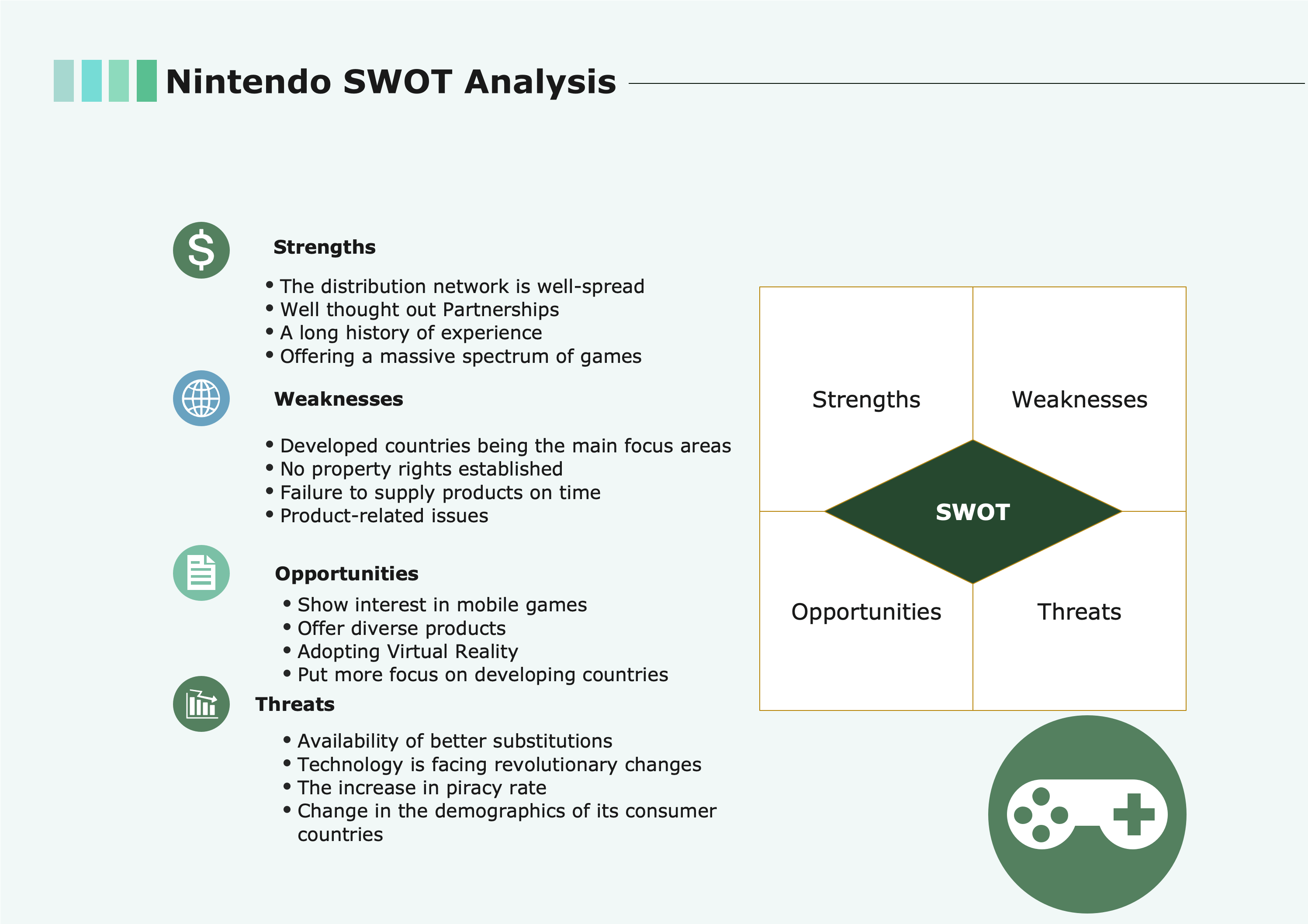 4. Free SWOT Analysis Diagram Creator
As you understood from this guide, EdrawMax is the best software for creating a SWOT analysis diagram. From templates to symbols, this 2D free SWOT analysis diagram creator is equipped with everything required to create a technically correct business-related diagram. Some of the amazing features of EdrawMax are:
EdrawMax comes with over 20,000 symbols that help create over 280 different types of diagrams.
With this free SWOT analysis diagram creator, you can make other important diagrams, like flowcharts, swim lane diagrams, org charts, building plans, etc.
Every account user of EdrawMax comes with a free online version, which is best for those who prefer to work online.
From changing the background color to updating the symbols, you can fully customize the free SWOT analysis diagram templates as per your requirements.
With this free SWOT analysis diagram creator, you can easily share your design with your business manager via email or social media platforms.
You can go ahead and export the SWOT analysis diagram file in multiple formats, including graphics, Microsoft formats, and more.
EdrawMax Online
Create 280+ types of diagrams online
Access diagrams anywhere, anytime
Everything in desktop + Templates Community
Team management and collaboration
Personal Cloud and Dropbox Integration
5. Key Takeaways
Throughout the whole article, there is a detailed discussion of the SWOT analysis of Nintendo, how well they are doing or the threats they have to face, their weak points, and the opportunities they have to make their progress smoother. The Nintendo SWOT Analysis does all of that. Moreover, it helps to recognize the companies' capabilities and power over the industries they are working for, which will help them to construct strategies required for their growth.
When it comes to creating SWOT analysis diagrams, EdrawMax Online is your go-to tool. This SWOT analysis diagram creator comes with so many customization options that no two SWOT analysis diagrams would look the same. Download EdrawMax today and start working on different SWOT analysis diagrams of your choice. 
Reference
Related Articles