The Ultimate Dutton Family Tree
Build and explore your Dutton family tree with our all-in-one diagram tool. Discover your roots and learn about your ancestors with our comprehensive family tree resources. Dutton family tree is there to help you most easily understand character observations regarding one another!
1. The Dutton Family
Yellowstone is an American drama television show that first aired in June 2018. The neo-Western series revolves around conflicts between a bordered and shared cattle ranch, land, and Indian reserved area. The Paramount Network television series stars Luke Grimes, Kevin Costner, Kelly Reilly, Wes Bentley, and Gil Birmingham. The show exhibits the story of the Dutton family, who owns the Yellowstone Ranch, one of the largest ranches in Montana, United States.
The large ranch was founded by a Tennessee farmer named James Dutton, who relocated to Montana with his family during the western expansion. The story reveals how the farm goes to different generations of the Dutton family and how John Dutton (the protagonist) helps his family through difficult times such as internal family conflicts and issues between the communities because of the shared border between them. Filled with murder, drama, unexpected events, and secrets, the Dutton family is an all-time entertainer on the TV screen and has gained massive popularity over the years. The television series Yellowstone is set to air its fifth season in November 2022, making fans eager for what the show may have to offer. EdrawMax can help you create interactive family trees for free with easy-to-edit templates and symbols. With this free family tree maker, you can easily create and share your visualization ideas about Dutton.
What Makes the Dutton Popular?
Although Yellowstone's storyline may not seem as exciting as today's television series, the show exhibits a unique classical story plot in an interesting American way. Even though the story's main issues are set on a ranch, the story is not only historically depicted but helps the audience connect to their own households to a great extent. The show manages to show different time spans with anecdotes and historical moments of different generations, making it highly unique since it keeps its audience well engaged. Yellowstone's target audience is the older population, and the show streams live on cable through a network, making it popular amongst most of its audience.
The unique classical story reflected in an attractive American style
The audience connects and relates to internal family drama
Covers moments of different generations, making it interesting
The comparative advantage of being aired live on cable
Spoiler Warning: Spoilers are also included in multiple places in this article.
2. The Dutton Family Tree
The Dutton family tree may seem complicated because of how extensive it is, but you can learn everything you want about Yellowstone's Dutton family from here.
Beginning with the family origin, James Dutton and Margaret Dutton end up in Montana on Yellowstone ranch at the time of the western expansion with their three kids, Elsa, John, and Spencer. On the other hand, Margaret's sister Claire has one daughter named Mary Abel. The story proceeds for the next generations from one of the kids, John Dutton. John Dutton II and John Dutton III are amongst his successors.
Successors to John Dutton III and Evelyn Dutton are Lee, Beth, and Kayce. John Dutton III also has an adopted son Jamie Dutton (Biological father: Garret Randal), who has a baby with Christina. Likewise, Kayce has a child, Tate Dutton, together with Monica Long. You can make your own Dutton Family tree from scratch using the powerful and easy-to-use EdrawMax.
3. How to Draw Dutton Family Trees Online?
If you want to make your own Dutton family tree from scratch, we recommend you use EdrawMax Online, developed by a well-known software industry called Wondershare. The application is so powerful and lets its users make a perfect diagram in minutes with drag-and-drop functionality. The application allows users to make over two hundred and eighty diagram types. The application has more than five thousand diagram symbols.
The application's best feature is its templating feature, which allows users to choose any template from the EdrawMax template community and start editing it. With this feature of EdrawMax, you can boost your diagram-making speed and avoid potential errors. EdrawMax allows users to import their projects, edit them, and export them in multiple file formats. You can take the Dutton Family tree templates from this article or EdrawMax template gallery and start editing them and exporting them in SVG, PNG, PDF, HTML, and other formats.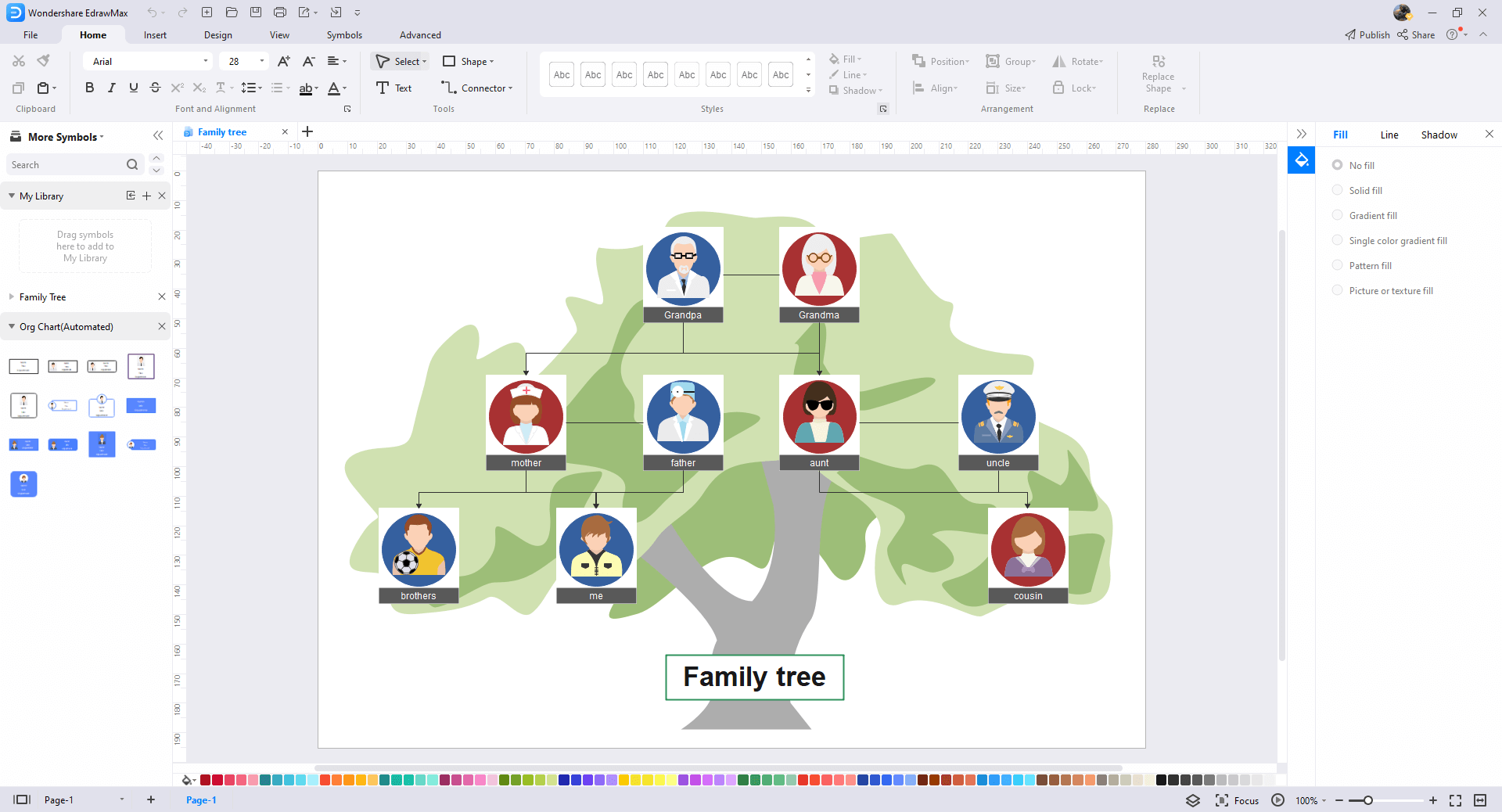 EdrawMax Online
Create 280+ types of diagrams online
Access diagrams anywhere, anytime
Everything in desktop + Templates Community
Team management and collaboration
Personal Cloud and Dropbox Integration
Related Articles