The Ultimate Encanto Family Tree
The all-time favorite Encanto family tree gets even more interesting when placed on an easy-to-understand flowchart!
1. The Encanto Family
Encanto is a musical fantasy animated movie that is a 2021 American production. The Walt Disney Animated movie is the 60th one produced by the studio. The musical's plot revolves around a multigenerational Colombian family based in a rural setting where they are blessed with magic through a miracle that helps them help the larger community known as Encanto. However, the family starts losing their charm. The story then revolves around how the protagonist (Mirabel) sets out to discover the happenings and how she can save the family's magic by herself.
The comedy computer-animated film is applauded for its remarkable animation, characterization, music, emotional depth, culture, and voiceovers. The film's concept of magical realism and today's family dynamics from the real world together weaves to create a reality shaped by fantasy itself. Such realistic yet magical connections brought relatability to the audience worldwide, making Encanto one of the best Disney movies of the recent decade. Although one may think the animated movie targets young children, the movie is a perfect watch for people of all ages. Rich with traditional cultures and modern elements, the film was able to bag multiple awards for its storyline and beautiful songs.
What Makes the Encanto Popular?
Apart from Encanto having well-developed computer animation, the movie is remarkable and is one of the most attractive Disney movies of all time. With a well-balanced mixture of fantasy and realism, Encanto stands as one of the few animated movies that are a watch for all ages. The movie is rich with emotional depth and traditional cultures, helping the audience connect deeper. Even the movie's protagonist was quite relatable since she had no powers but was shown as a strong individual regardless of that. Encanto's music is highly catchy and impressive, competing with one of Disney's best soundtracks over the years.
Well-developed computer animation
Balanced perfectly with fantasy and realism
A perfect watch for all ages
Rich with emotional depth and culture
Relatable Protagonist
Catchy music and soundtracks
Spoiler Warning: Spoilers are also included in multiple places in this article.
2. The Encanto Family Tree
There is the Encanto family tree. Encanto's story revolves around a girl whose entire family has magic except her and how she goes on a journey from feeling ordinary to becoming the savior of her family's magic. Although the story has a central protagonist, Mirabel's family plays a vital role in her journey and reflects the movie's themes. The following is a brief explanation of Mirabel's family tree:
Starting with Mirabel's siblings, Isabela and Luisa are two of her sisters who possess magic like the rest of the family. Parents to these young ladies are Augustin and Julieta, who are a couple of ordinary (Mirabel's father) and magic.
For Mirabel's extended family, Aunt Pepa and her husband Felix are another pair of magic and ordinariness. Their children include Camilo, Dolores, and Antonio. Interestingly, Dolores's current boyfriend was once Isabela's (Mirabel's sister) fiancé.
All the characters mentioned above are children and grandchildren of Abeula and Pedro. Abuela was a member of the magic receiving family. You can make your Encanto Family tree from scratch using the powerful and easy-to-use EdrawMax.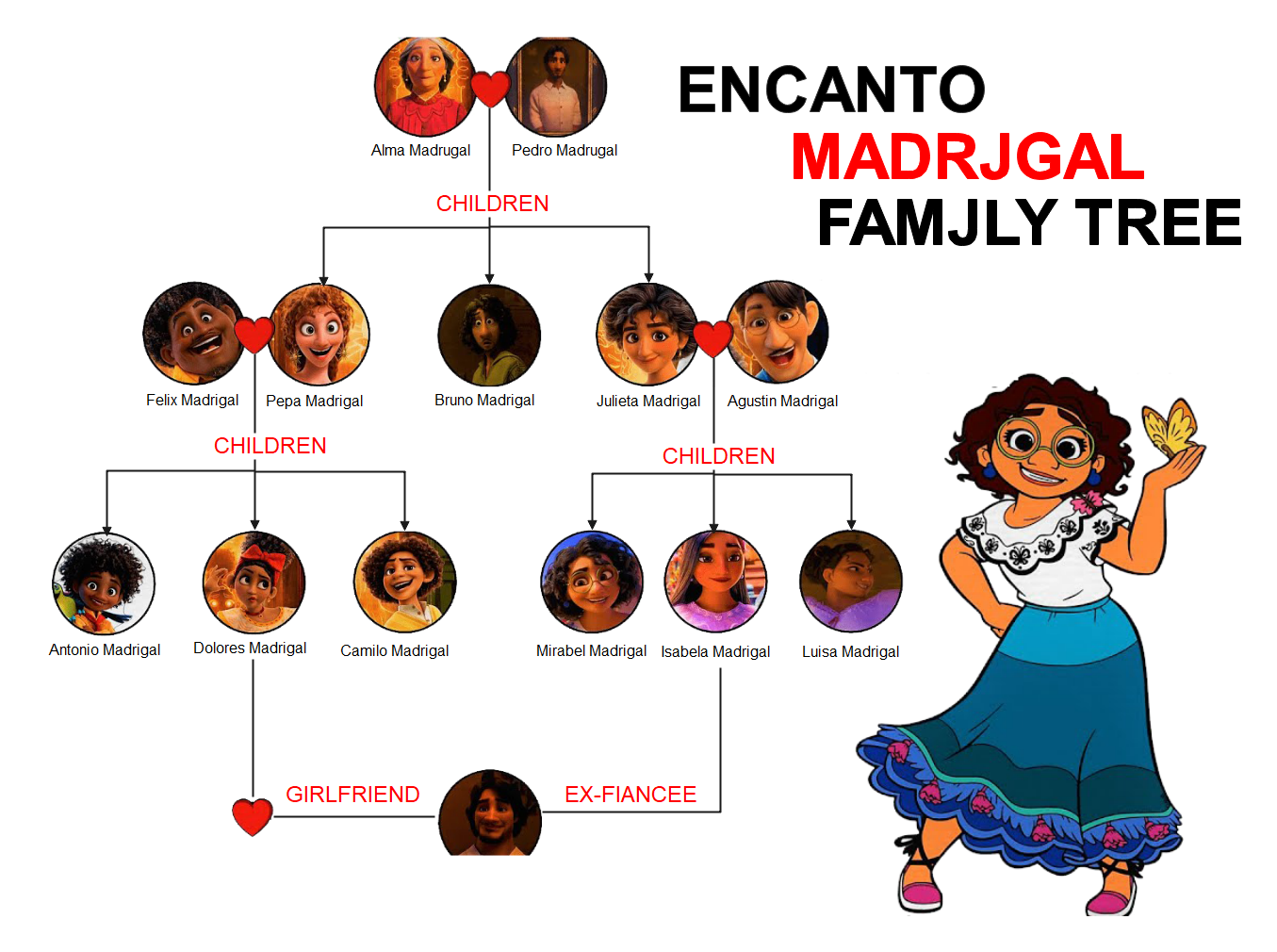 3. How to Draw Encanto Family Trees Online?
If you want to make your own Encanto family tree from scratch, we recommend you use EdrawMax Online, developed by a well-known software industry called Wondershare. The application is so powerful and lets its users make a perfect diagram in minutes with drag-and-drop functionality. The application allows users to make over two hundred and eighty diagram types. The application has more than five thousand diagram symbols.
The application's best feature is its templating feature, which allows users to choose any template from the EdrawMax template community and start editing it. With this feature of EdrawMax, you can boost your diagram-making speed and avoid potential errors. EdrawMax allows users to import their projects, edit them, and export them in multiple file formats. You can take the Encanto Family tree templates from this article or EdrawMax template gallery and start editing them and exporting them in SVG, PNG, PDF, HTML, and other formats.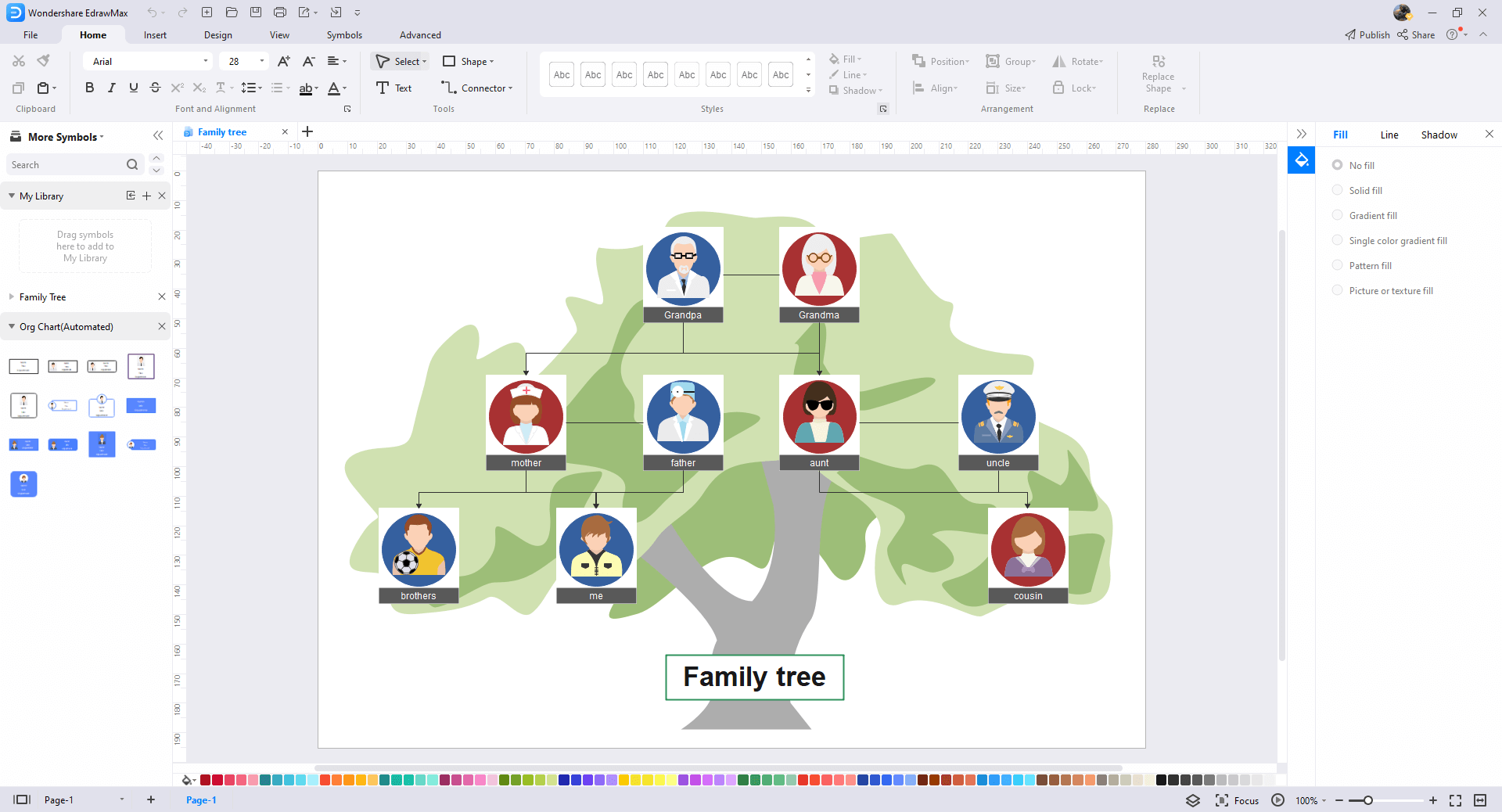 EdrawMax Online
Create 280+ types of diagrams online
Access diagrams anywhere, anytime
Everything in desktop + Templates Community
Team management and collaboration
Personal Cloud and Dropbox Integration
Related Articles