Free Editable Genogram Examples
Do you know what a genogram is? If not, here are some of the family genogram examples to help you understand genograms. The examples include Hemophilia Pedigree genogram, family genogram, and several other examples.
1. What is The Genogram
A genogram is a detailed display of data on relationships among individuals using a family tree graphic representation. You can also define it as a pictorial display of a person's medical history or a family relationship.
A genogram is an essential pictorial display that comes with several beneficial features. For example, one can analyze family psychological factors as well as hereditary patterns that intersperse relationships between family members. One thing to note is that a genogram actually goes beyond a traditional family tree since it emphasizes an individual's emotional family connections.
With it, you can improve one's life by determining someone's behavioral patterns and whether someone needs medical attention. However, genogram may look quite complex at first, you can learn more about what is a genogram. Also, check the genogram examples here, you can, therefore, understand it easier.
2. The Genogram Examples
Here are some of the best genogram examples that will show different conditions, relations, and achievements with an individual's family.
Example 1: Family Genogram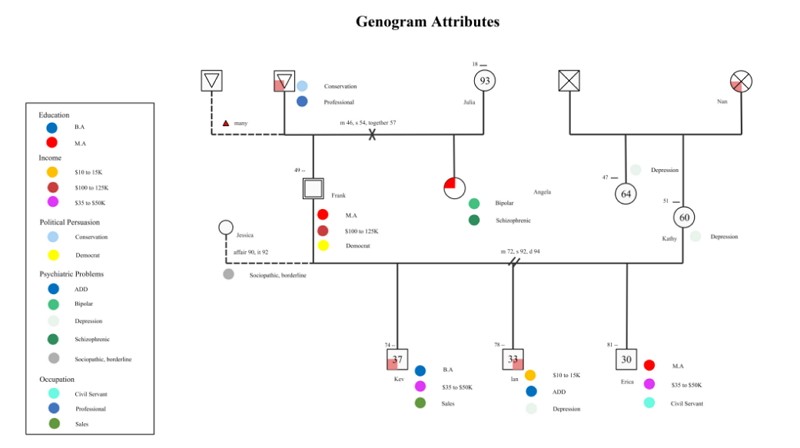 Source:EdrawMax
This genogram example includes a family genogram that showcases several family genogram attributes. One visible thing about this genogram is that it is a detailed genogram that shows more than just a basic family tree relationship. Here you can see several emotional states, medical conditions, educational achievements, political persuasions, and even their occupation. For example, for Frank:
He is a democrat fan with a Masters in Arts and has an income of between $100-125K. Franks was engaged and married to Kathy but now divorced and in a serious relationship with Jessica. As shown in the genogram, you can also notice that Kathy has a psychiatric condition, which is depression.
Despite it looking rather complicated, this genogram is quite simple to understand since everything is well illustrated. A broken line between two individuals in a genogram can show their relationship. Using the same example, Frank and Jessica, you can notice a broken affair that shows an affair between them.
Example 2: Hereditary Blood Condition Genogram Example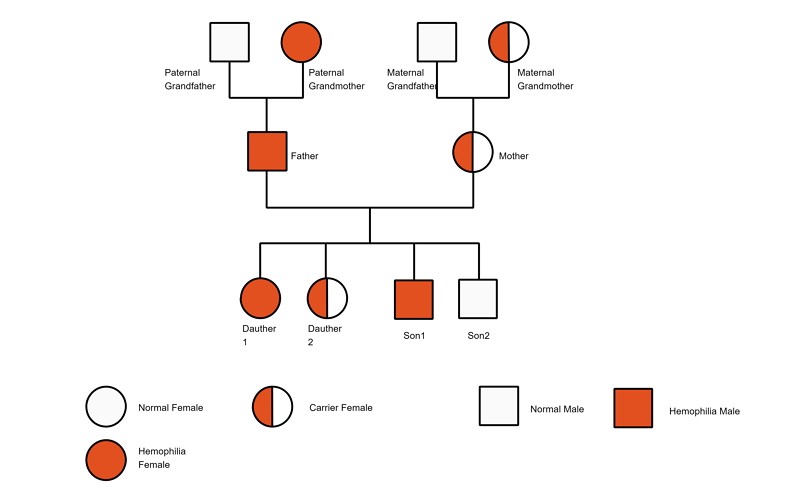 Source:EdrawMax
This example illustrates how this hemophilia pedigree condition has transpired throughout the family generations. The great thing with this type of genogram representation is that you can be able to know whether a person has it or not, or even whether he or she is a carrier.
This genogram example is more self-explainable, unlike our first example, which is probably due to the fact that it has fewer details. Family relations, achievements, occupation, and several other details are negated by this genogram and only focuses on the main factor, which is hemophilia.
Example 3: Family Generation Example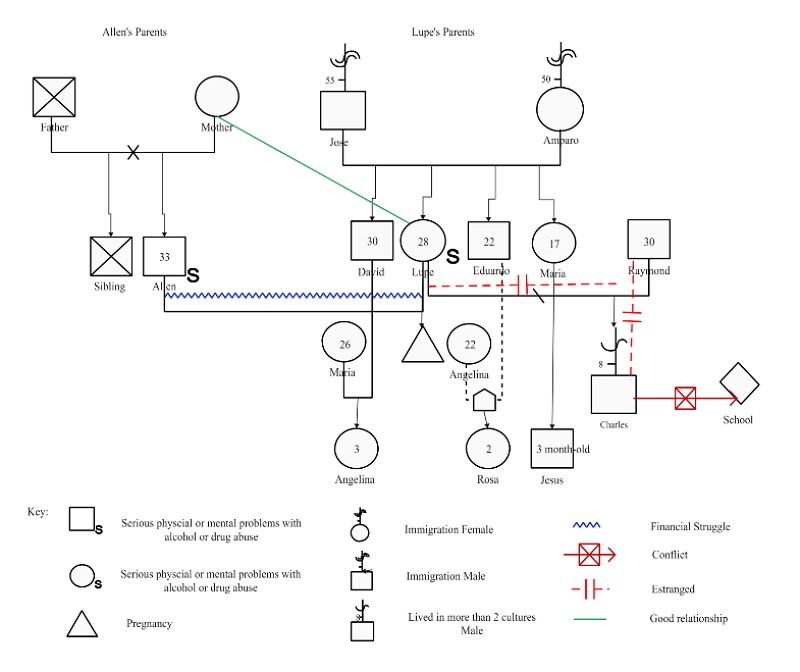 Source:EdrawMax
Now here comes a more complex family generation genogram example that illustrates several conditions or details.
Several notable and defined relationships and mental conditions in this genogram are physical and mental conditions, conflict, and financial struggles. For example, the relationship between Allen and Lupe leads to pregnancy and features a financial struggle, but besides that, Lupe and Allen's mother have a good relationship.
Within this one cycle, you have four different relations shown. This is also visible within Lupe and Raymond's relationship. We notice here that Lupe and Raymond have a son (Charles), but both have an estranged relationship and are separated, and Lupe has moved on with Allen.
You will also notice other information about these families, like immigration and living in more than three cultures.
Example 4: Emily Family Genogram Example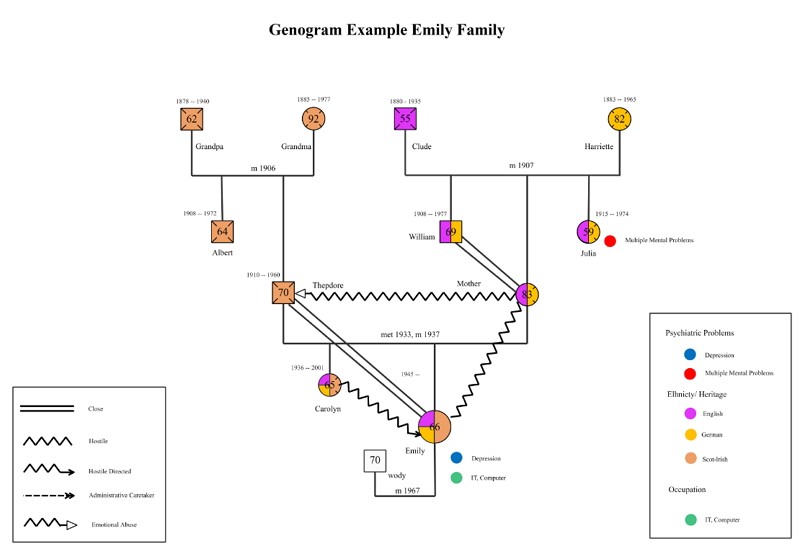 Source:EdrawMax
Here is another family genogram example that has included different relations, unlike the other ones. In this example, you will notice different types of relationships among different family members.
For example, Emily and Theodore have a close relationship but Theodore gest emotionally abused by the mother. Each line shows the relationship between two individuals. But a few have even gone a step further to show the kind and direction of that relationship.
Example 5: Gene with Heart disease Genogram Example
Source:EdrawMax
Several medical conditions are hereditary, but that doesn't mean everyone in that family will inherit them. Some carriers, some inherit, and some don't.
So, to give an ideal representation of a particular hereditary medical condition within a family, you can use a genogram. Here is an ideal example gene with a Heart disease genogram and different other conditions.
3. Online Genogram Maker
EdrawMax Online not just a family tree maker, it is an incredible online tool to visualize hereditary patterns and psychological factors that influence relationships. Use EdrawMax online to create your genogram without efforts, just grab a genogram template or choose one genogram template from EdrawMax Template Gallery and keep customization as your preference, and your genogram is ready.
Our online genogram maker keeps your data safe and sound. EdrawMax's built-in feature can hide sensitive data and prevent unauthorized access. Except that, the substantial genogram symbols and templates make your creation easier and easier. Furthermore, it supports to export your file in multiple formats, such as Graphics, PDF, HTML, Visio and more.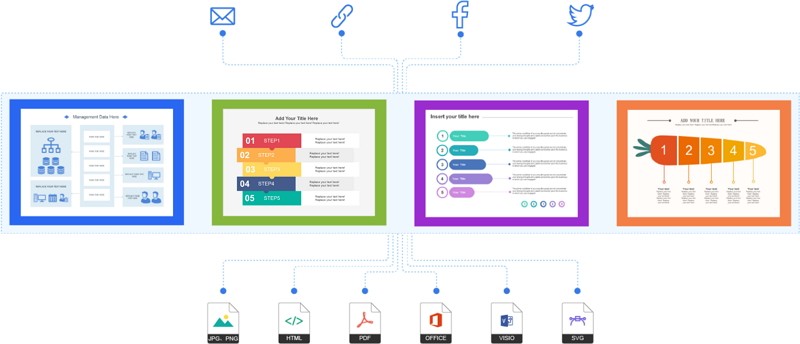 Why Choose EdrawMax Online
Create over 280 diagram types
Supports team collaboration
Personal cloud & data protection
Print, share and download
Powerful template community
4. key Takeaways
Overall, we have provided detailed information concerning different genogram examples, including a family genogram and hemophilia genogram, a gene with heart disease genogram, and a family generation genogram. Therefore, you have learned a lot and now know enough to create or read a genogram by yourself. But if you are still confused by making a genogram in EdrawMax online, here is a detailed genogram guide to lead you step by step.
If you are looking to create a genogram, the best place is EdrawMax Online. They offer more templates, all grouped and arranged in a template center, and are available whenever required. Check it out now for the best deal as well as free trials.