What is a Genogram?
First, think of a genogram as a more robust and detailed version of a family tree. A genogram surpasses the conventional family tree because it is an in-depth schematic diagram that depicts the relationships, hereditary and behavioral patterns shared by members of a family and how these patterns impact the lives of the family members.
Counselors, therapists, and health professionals use genograms to trace and understand the gene of a person's family. Understanding these patterns can prove useful in predicting an illness or treating a condition.
What to Do Before Making a Genogram
As an individual, a genogram can help you make sense of your ancestry and discover patterns in your family that can affect the quality of your life. A great way to get started with genograms is to create a genogram online using an online genogram maker. Don't know how to make a family genogram? This article will guide you step by step on how to make a genogram online.
When creating a genogram, it is essential to know and understand the symbols used in making genograms. These genogram symbols describe and give meanings to the various elements used in a genogram.
Below are the categories of symbols used when creating a genogram.
Basic symbols: These are fundamental symbols that describe the demographics of members of a family, including gender, age, date of birth, or date of death. These symbols can even provide information on immigration and whether a family member has had a miscarriage, abortion, or stillbirth.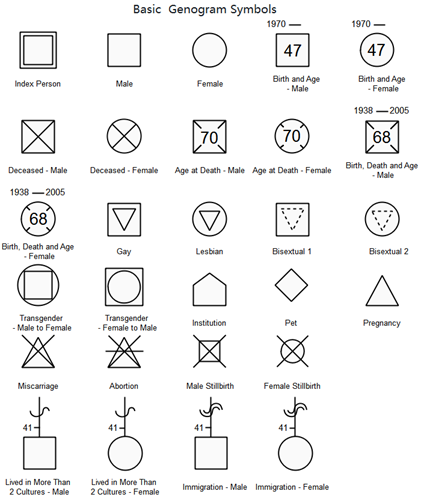 Family Relationship symbols: The symbols in this category are used to indicate the nature of relationships shared by members of a family. These symbols highlight whether a family member is married, engaged, separated, or divorced.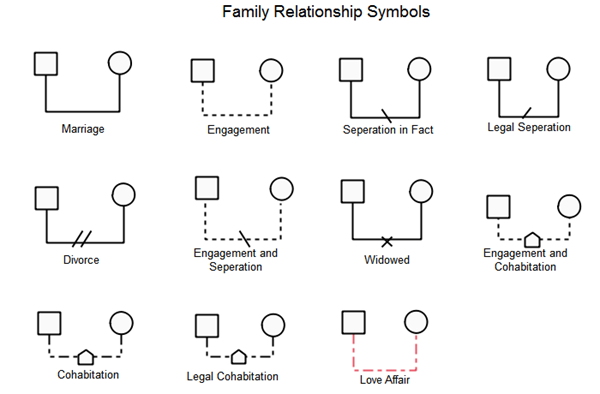 Emotional relationship symbols: The symbols in this category indicate the quality of the relationship and emotional attachment shared between family members, highlighting the presence of love, harmony, hostility, hatred, abuse, or violence in a familial relationship.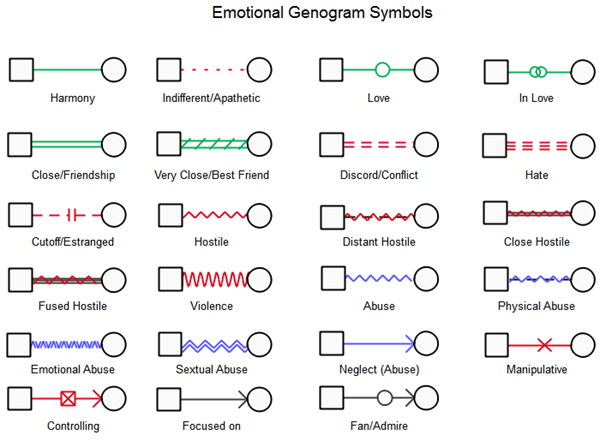 Medical symbols: These sets of symbols illustrate family members with medical conditions and diseases. These symbols are also used to point out lifestyles/habits that impact the health of family members, for example, if a person is a smoker or an alcoholic.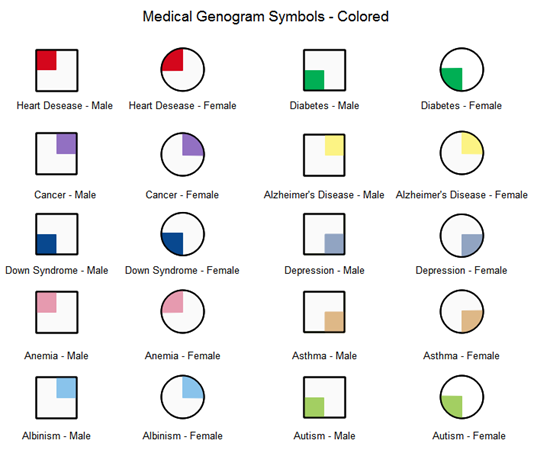 How to Make a Genogram Online:
EdrawMax is a versatile and beginner-friendly tool that you can use to create a genogram online or on desktop. Follow the steps below to use this easy online genogram maker and start making your very own genogram now.
Step 1: Decide the purpose for making a genogram
A genogram can be used for different reasons—for finding patterns, traits, and predicting conditions. Determining the basis for making your genogram will inform the elements you'll use when creating one.
Step 2: Decide the number of generations to include
Usually, genograms span not less than three generations. Decide how far back into your family line you're willing to go when creating your genogram.
Step 3: Gather information
Search out information on the members of your family, such as demographic data, information on marriage, habits, health and psychological data, etc. Using a questionnaire or interviewing family members is a great way to get these data. Once you have all the necessary information, it'll be time to assemble it all in a genogram diagram.
Step 4: Sign up on Edraw Max Online:
Sign up on Edraw Max Online website  for free using your email address or Facebook/Twitter account to get started with making a genogram.
Step 5: Open the genogram maker
Inside Edraw online software, click New, scroll down the pop-up menu, select Organizational Chart, and click the blank square.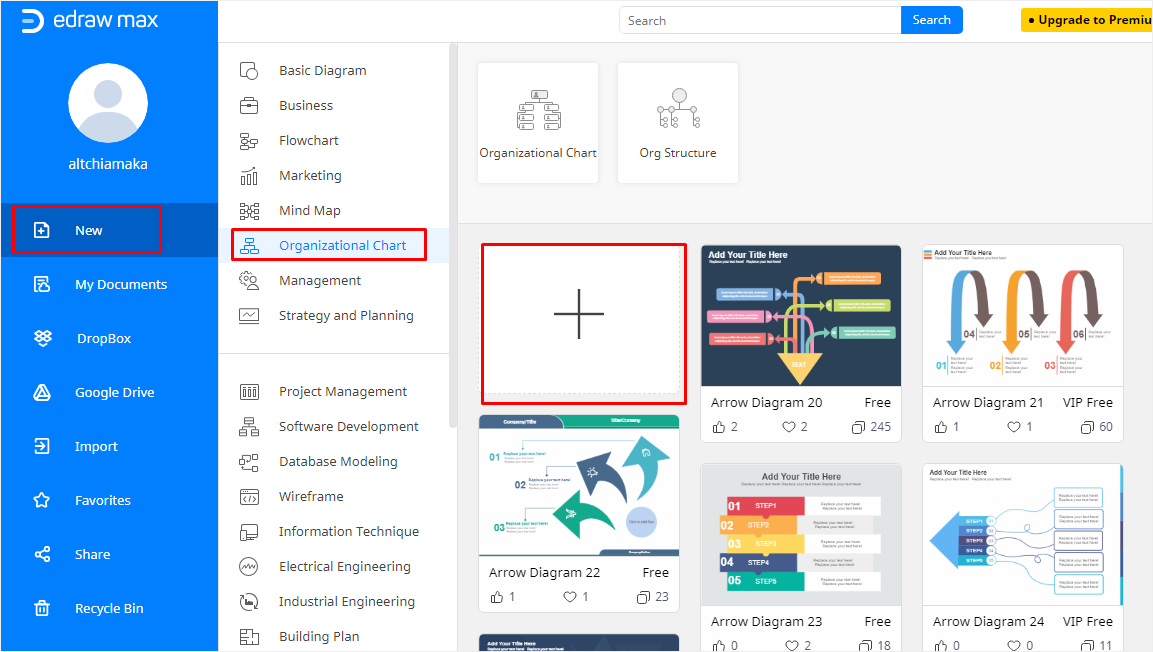 Once the blank canvas is open, navigate to the Search Library section on the left side of the screen, scroll down and click Family Tree, then select Genogram.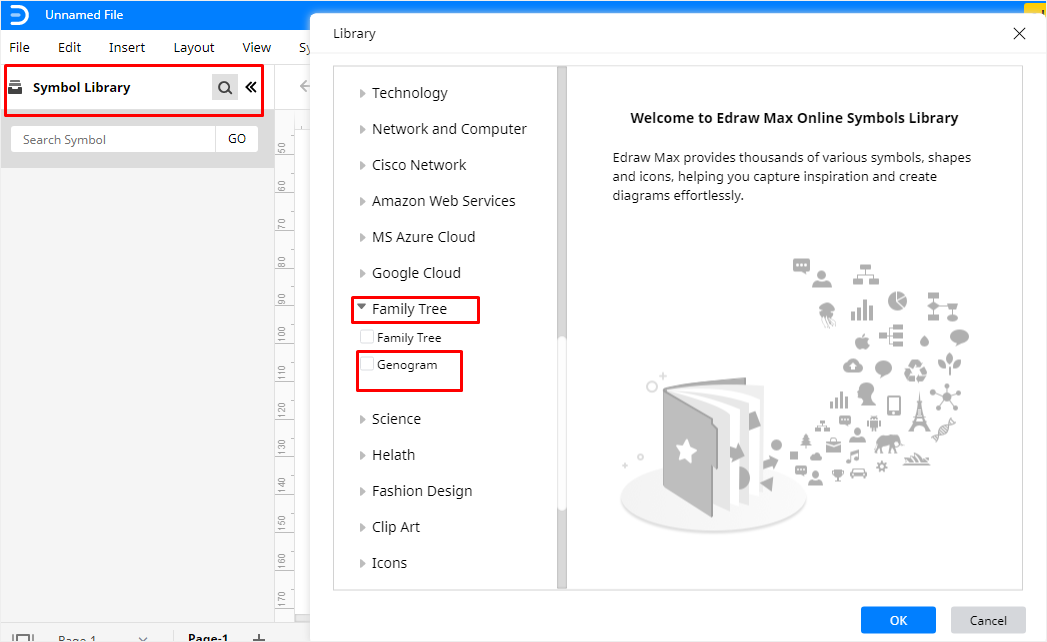 Step 6: Draw the members of your family in each generation
Use the family relationship symbols in the Symbol Library to represent the members of your family and the relationships they share, starting with the oldest generation.
Drag the appropriate symbols onto the canvas. Squares and circles indicate males and females, respectively. A marriage or a separation is depicted using a single horizontal line or two slant lines, respectively. Use the Connector to link shapes. Add text to name the shapes by clicking the Add text button.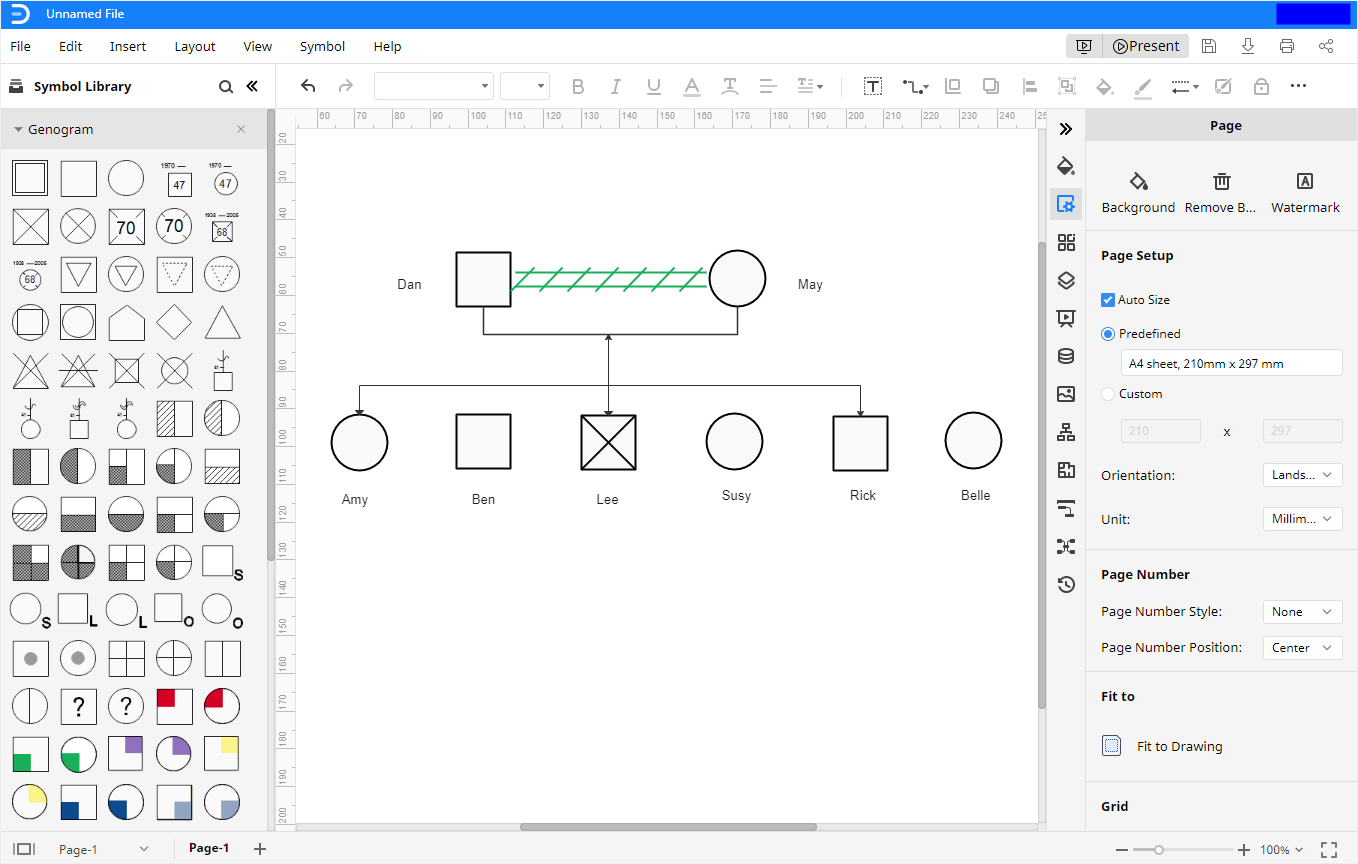 Step 7: Depict the types of relationship between family members
From the Symbol Library, select emotional relationship symbols to depict the quality of relationship or bond between family members. Drag and drop symbols to illustrate the existence of stress, abuse, love, harmony, or hatred between family members.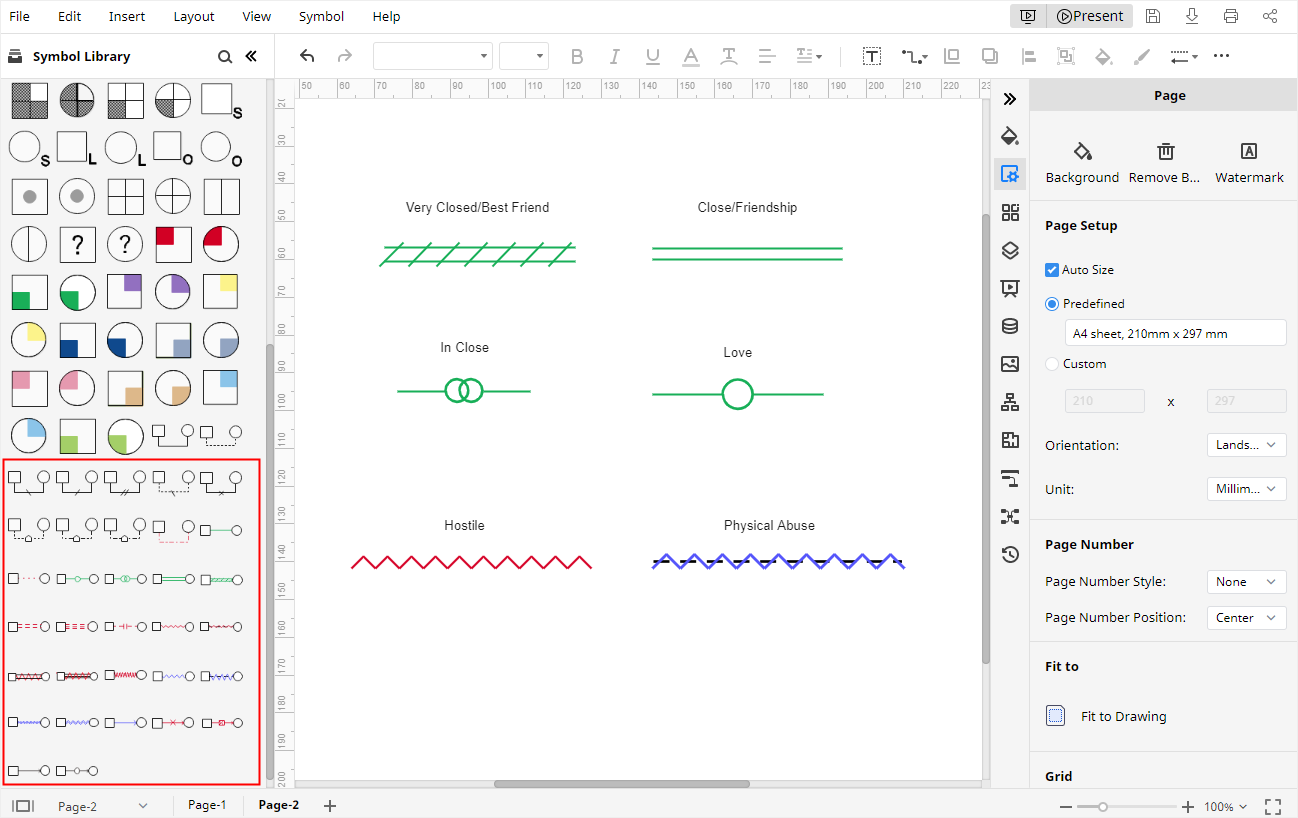 Step 8: Add more details
Besides, you can drag and drop symbols from the Symbol Library onto the genogram to illustrate more in-depth information about the members of your family, for example, presence of medical conditions, or habits like substance abuse and smoking, etc.
Step 9: Save, print and export
Download and export your genogram by clicking the download icon. This option is not available to free accounts, so consider upgrading. Premium users can export work in different file formats like PNG, JPG, PDF, Word, and SVG.
Click the printer icon to print the genogram. On the print section are options to edit page size, orientation (portrait or landscape), scaling, and preview.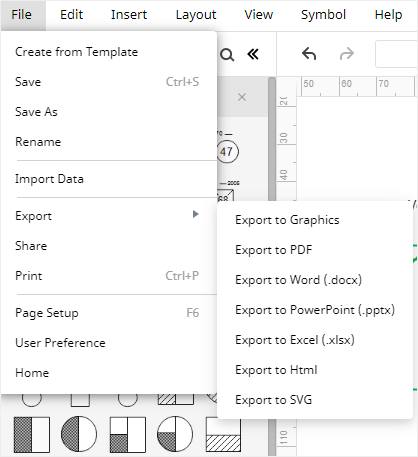 Free and Editable Genogram Templates:
Medical Genogram Template: Get inspired by this free medical genogram template useful for tracing medical conditions and patterns in your family line.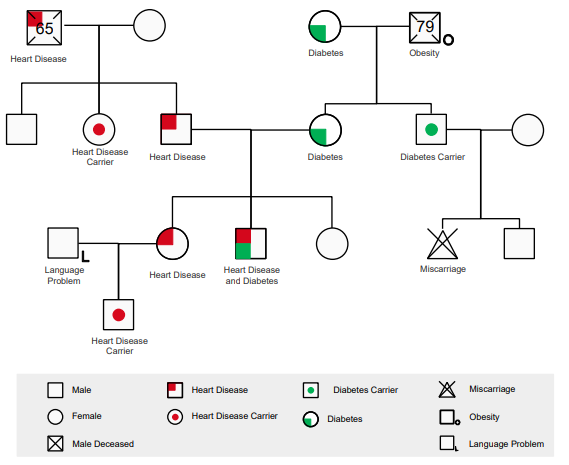 Alzheimer Medical Genogram Template: Trace your ancestry for signs and occurrences of Alzheimer's disease with this easy to analyze genogram template.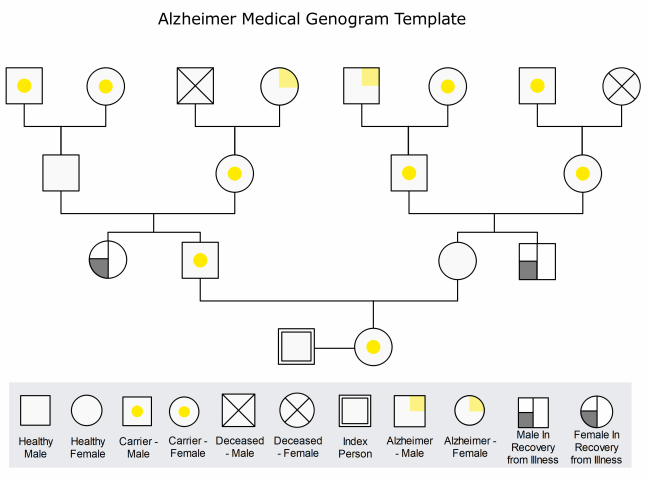 Family Relationship Genogram with Age Template:
Make sense of what's happening in your life by using the family relationship genogram template to find and trace patterns, habits, and emotional states among members of your family.