How to Create a Birthday Card
This article talks about birthday cards. Why are they important in peoples lives, as well as a step-by-step guide on how to make a birthday card on EdrawMax and tips to create it.
1. Introduction
Birthday cards are a great way to say connected with people that you love but live far away. It's a physical display of affection that even when separated by long distances can bring people together. It could also be a sentimental item to remember someone, just like photographs. In this article, we'll tell you how to make a birthday card using EdrawMax in a few simple steps.
2. How to Create a Birthday Card?
The way you create birthday cards depend on the person it's addressed to. For instance, if it's a friend or a family relative, or even a co-worker.
Step 1: You should address your card to the intended person. Make it clear on the face of the card.
Step 2: If you are going for an image, make sure it captures the spirit of the day and the person in question.
Step 3: Think about the structure of the birthday card. Where all the elements combine.
If the video doesn't play, please visit it at YouTube.
3. How to Create an invitation diagram with EdrawMax Online
In this part, we will talk about how to make a birthday card using EdrawMax software.
Step 1.
Sign up or log in
You can start as a free user by default and access the basic features. To sign up, click on EdrawMax Online, and select the 'Create Account' option.
Step 2.
Diagram Type or choose a template
Then, click on "New", then on "Design" and pick "Birthday cards". You can also choose from the many templates EdrawMax has to offer. They are all professionally made templates so you don't have to worry if you don't want to create a new one from scratch.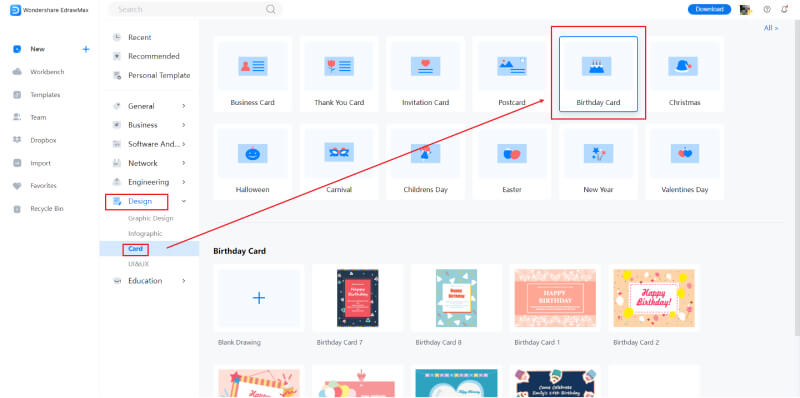 Step 3.
Customize your card
On the left side of the screen, you have a dropdown menu containing the library. Scroll through the vast variety of symbols and text that you can choose from and customize your birthday card the way you see fit.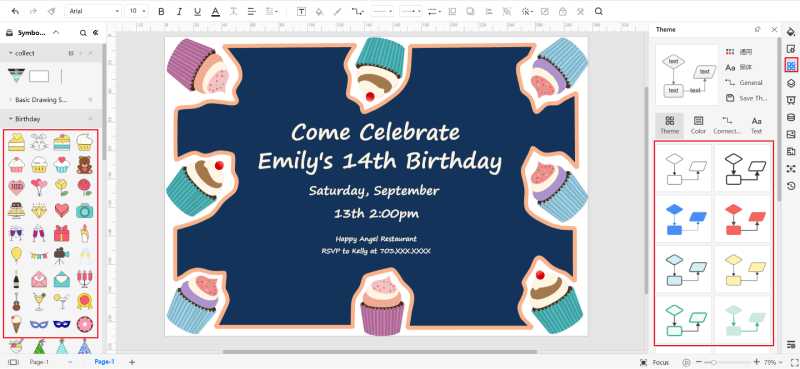 Step 4.
Save and export in other formats
Once you're done with your birthday card, go to "File" and then "Save" to keep your card. If you need it to export in other formats, EdrawMax supports JPEG, HMTL, PDF, PPT, and more.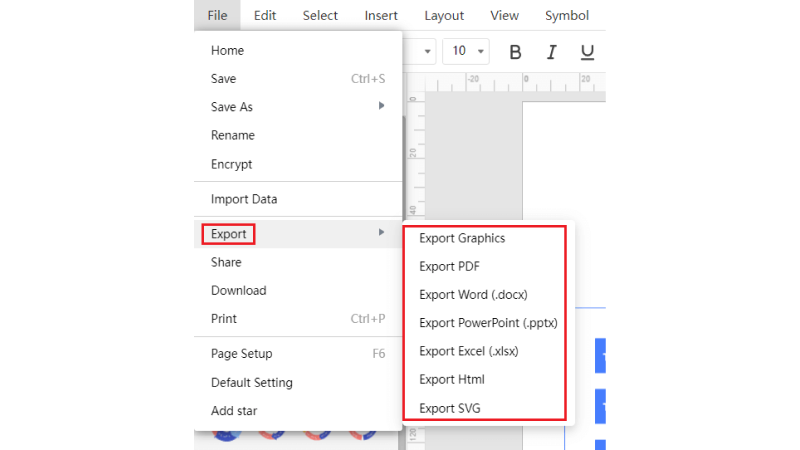 If you need to see a preview of your birthday card, EdrawMax can change to presentation mode while online.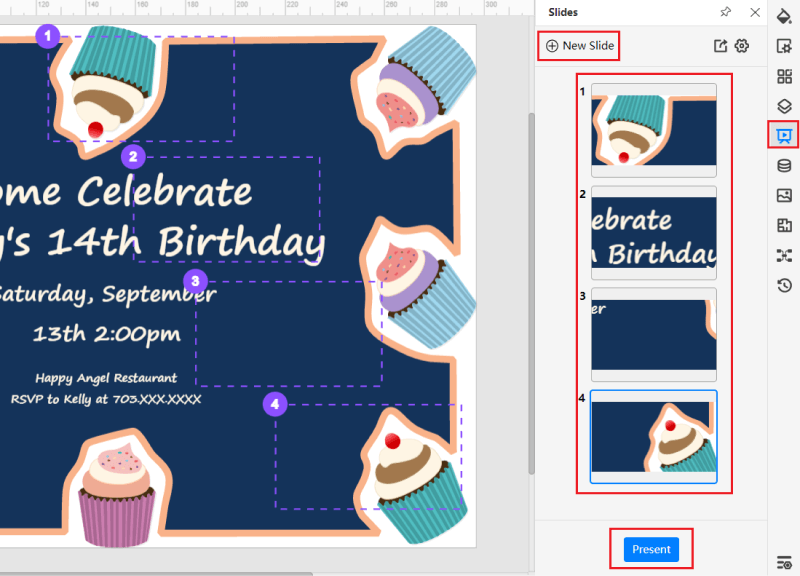 4. Expert Tips for Making Making Birthday Cards
Tip 1: Customize the card according to the person
Birthday cards are unique, they are tailored to suit one person, and so it is your job to understand what type of style you want for your card. The range can vary from goofy to a more serious tone, it's entirely up to you.
Tip 2:Take ideas
EdrawMax comes with thousands of professionally created templates so you can waste less time doing it from scratch. Even if you decide to do one yourself, you can always take ideas from existing examples to inspire you.
Tip 3: Birthday cards should be festive
When preparing a birthday card, you should go for one color scheme. Especially with this type of card you want to go for something happy and fun, so strong colors work well.
EdrawMax Online
Create 280+ types of diagrams online
Access diagrams anywhere, anytime
Everything in desktop + Templates Community
Team management and collaboration
Personal Cloud and Dropbox Integration
5. Key Takeaways
You can easily make a birthday card by following a few basic steps above. Birthday cards are important for people to know who matters in their lives. Even if there's a long-distance separating people, with a simple gesture you reconnect. Learn With EdrawMax Online you have a variety of tools to help you create your personalized birthday card, all you have to do is be creative. Find more cards templates.
Related Articles