How to Create a Swimlane Diagram in PowerPoint?
A swimlane diagram is a visual representation of the structure of any process; it states who will perform what throughout the process. It comprises several lanes or boundaries that distinguish one department's or person's duty from another. Multi-department corporations widely use the swimlane diagramming technique to illustrate or structure a business process. The diagram resolves conflicts and confusion around who is responsible for what part of a process.
1. How to Create a Swimlane Diagram in PowerPoint?
Microsoft Powerpoint is a powerful tool that empowers its users to create slides with recordings, narrations, transitions, and other features to present information. Besides this, you can also create a swimlane diagram for a business process in PowerPoint, and later on, you can show it in front of your team and other department members. Before moving forward, let's look into the essential components of a swimlane diagram.
1.1 Components of Swimlane Diagrams
Start/End: The oval represents any flow or process's starting and ending point.
Process: The rectangular box signifies any action, process, or step. The rounded rectangular shape represents automatic events or any unexpected happening requiring subsequent action.
Decision: The diamond shape symbolizes the question; it is also known as the decision shape.
1.2 Swimlane Diagram PowerPoint Tutorial
Now when you are familiar with the main components of swimlane diagrams, let's learn how to create one in Microsoft Powerpoint.
Step 1: Add Swimlane Boxes/Containers
Navigate the Insert tab and click on shapes, add a large rectangle container to act as the body of the swimlane diagram, place another box to the top of the body for the title. Group both boxes and then change the color as per your requirement. Copy the Swimlanes on the page depending on the participants of the process.
Step 2: Label the Swimlane
Since swimlane diagrams are composed of multiple participants or departments working together to achieve any objective, label them to be familiar with their task or role.
Step 3: Add Shapes
From the PowerPoint's shapes library in the Insert tab, add shapes and connectors in your swimlane diagram as per process needs.
Step 4: Format the Diagram
To format the diagram add colors and fonts to the flowchart, making your diagram more appealing and understandable.
2. How to Make a Swimlane Diagram Online Easier?
You can not create an Ideal diagram for your process with Microsoft Powerpoint because of its limited diagramming functionality. To use some more advanced features, you need excellent diagramming software like EdrawMax Online. It is a sophisticated diagramming application that works on Windows, Mac, Linux, and Web. Its visual solutions for creating flowcharts, organizational charts, floor plans, teaching diagrams, and over 280 various types of diagrams. The application is trusted by over 25 million users and reputable companies.
Step 1: Choose a Template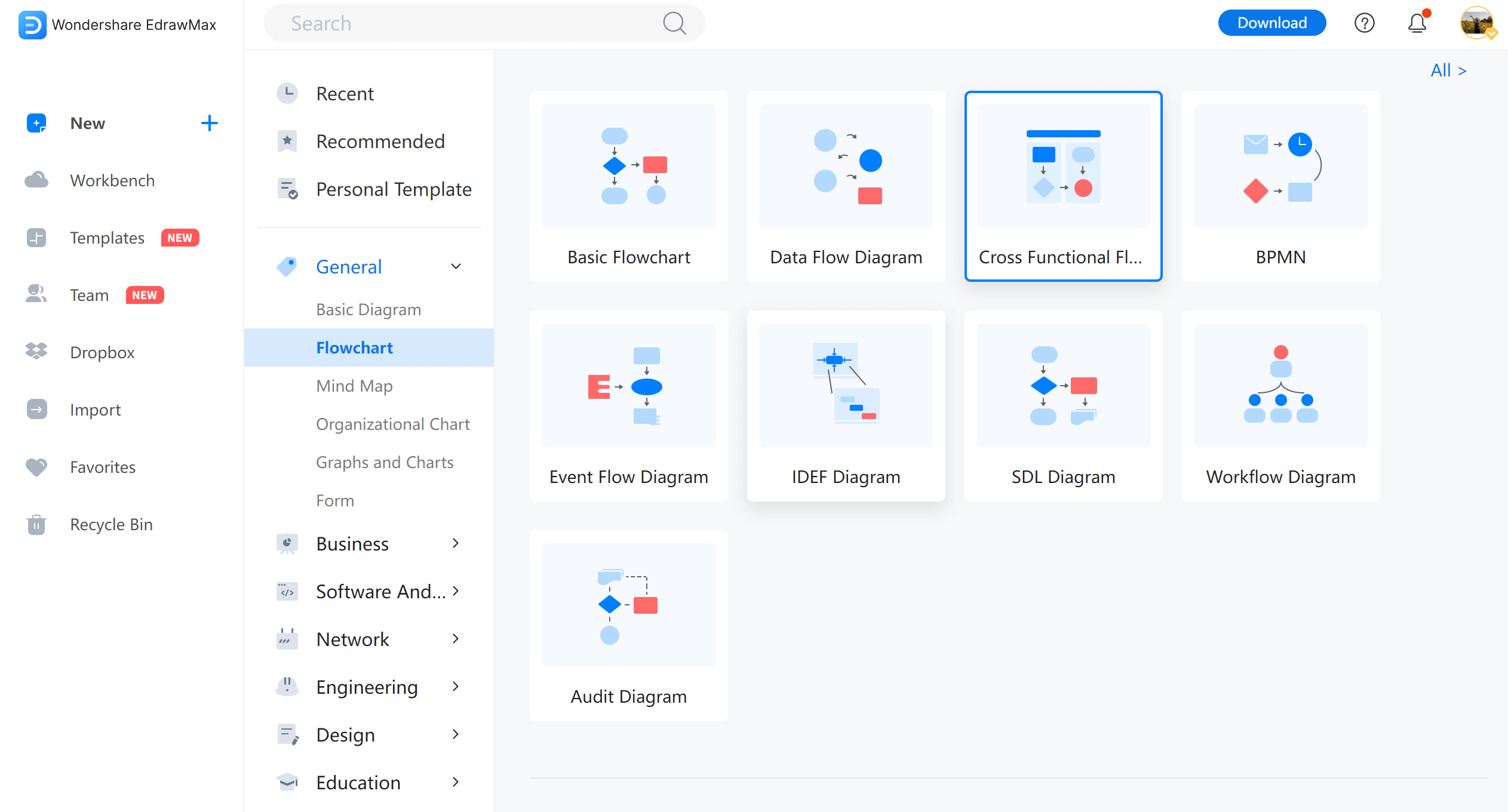 Browse EdrawMax Online and begin by login into your registered email. Select a template that best fits your process needs. You can customize the template as per your process requirements. If you want to create your diagram from scratch, click on "+." You can find and use all the flowchart and swimlane diagram symbols in the left symbol library.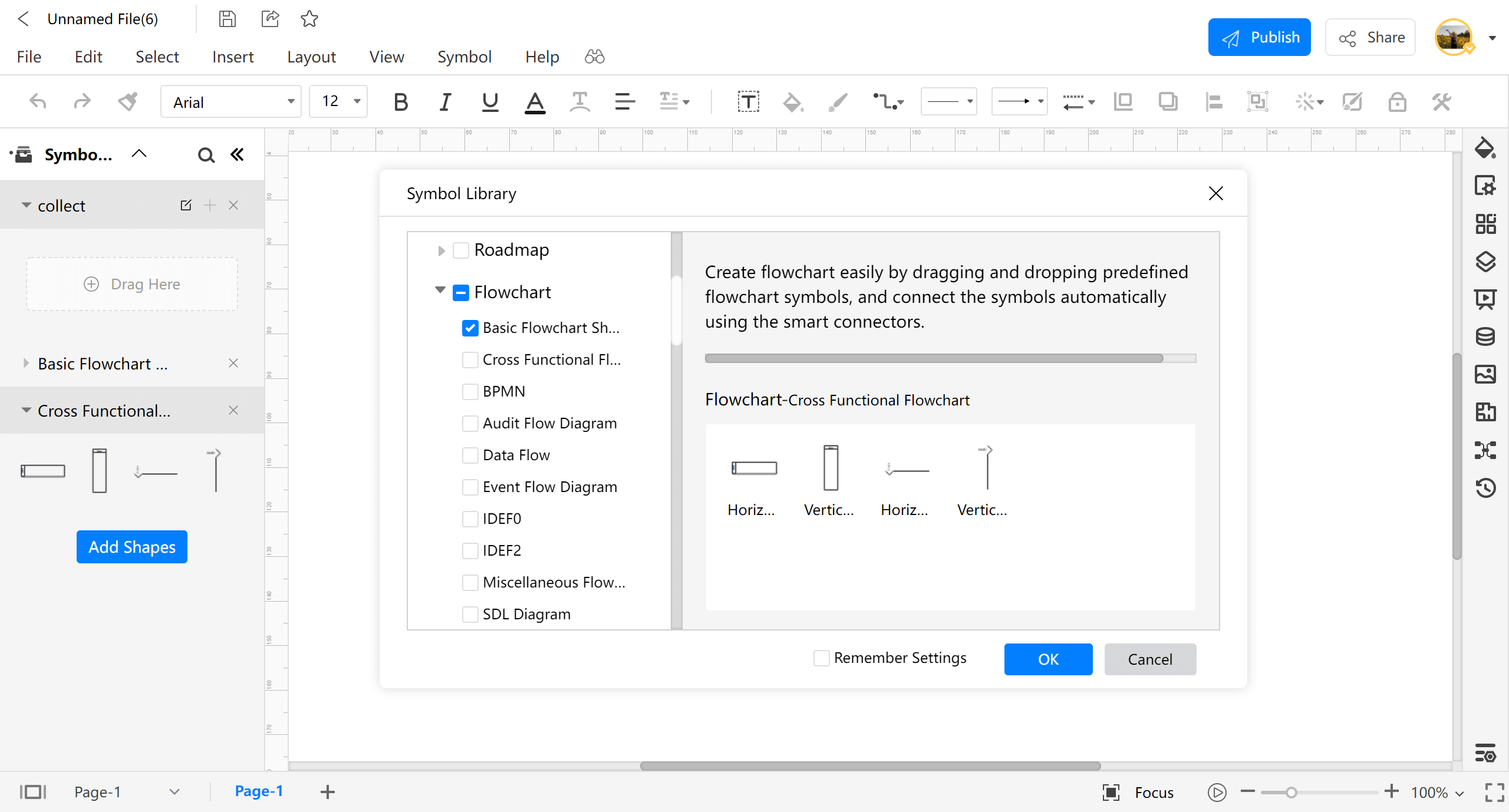 Step 2: Customize the Template
From the sidebar of EdrawMax Online, you can easily add shapes, texts, colors, and connectors to your diagram, customize the diagram in the best way to give it an appealing look as per your process requirements.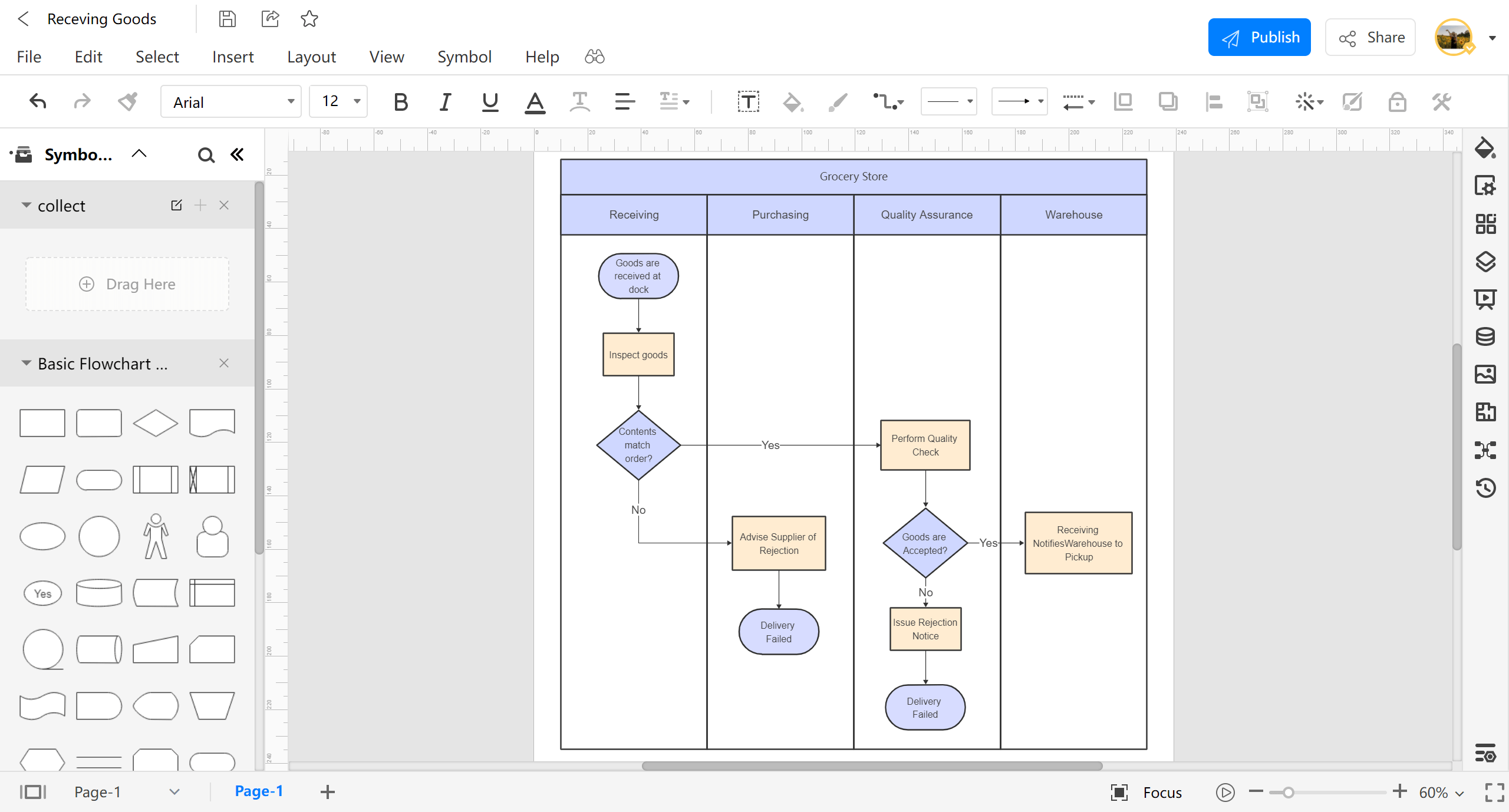 Step 3: Export a Document as a PPTX File
Once you have customized the template and added all necessary shapes and connectors, it's time to export your finished swimlane diagram. You can export your swimlane diagram in multiple formats, including PNG, PDF, etc. You can even export your swimlane diagram in PPTX format to later showcase it with your team.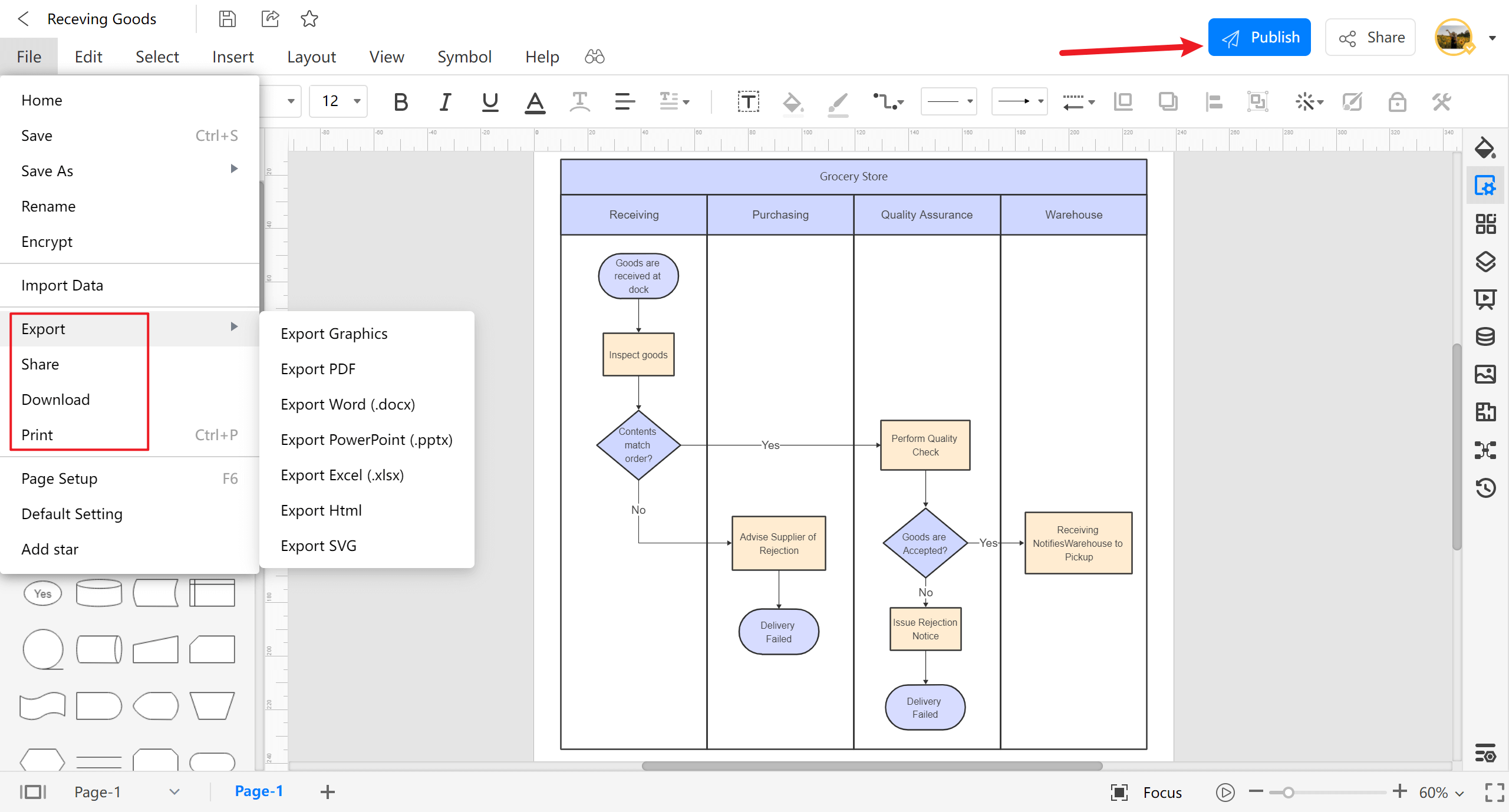 3. Swimlane Diagram PowerPoint Templates
We will look at some swimlane diagram templates to better understand it.
Example 1: Swim Lane Process Map
Let's take an example of the online shopping process to understand the Swimlane process map. Here in this diagram, three participants (the client, online shop, and courier company) interact with each other to place an online order. When the end-user places an order and pays for it in the initial stage, the online shop will get an invoice for that purchase. Now the shop will contact the courier company and send all the details of the order to be dispatched. After receiving all the information, the Courier company will now deliver the product to the customer's doorsteps.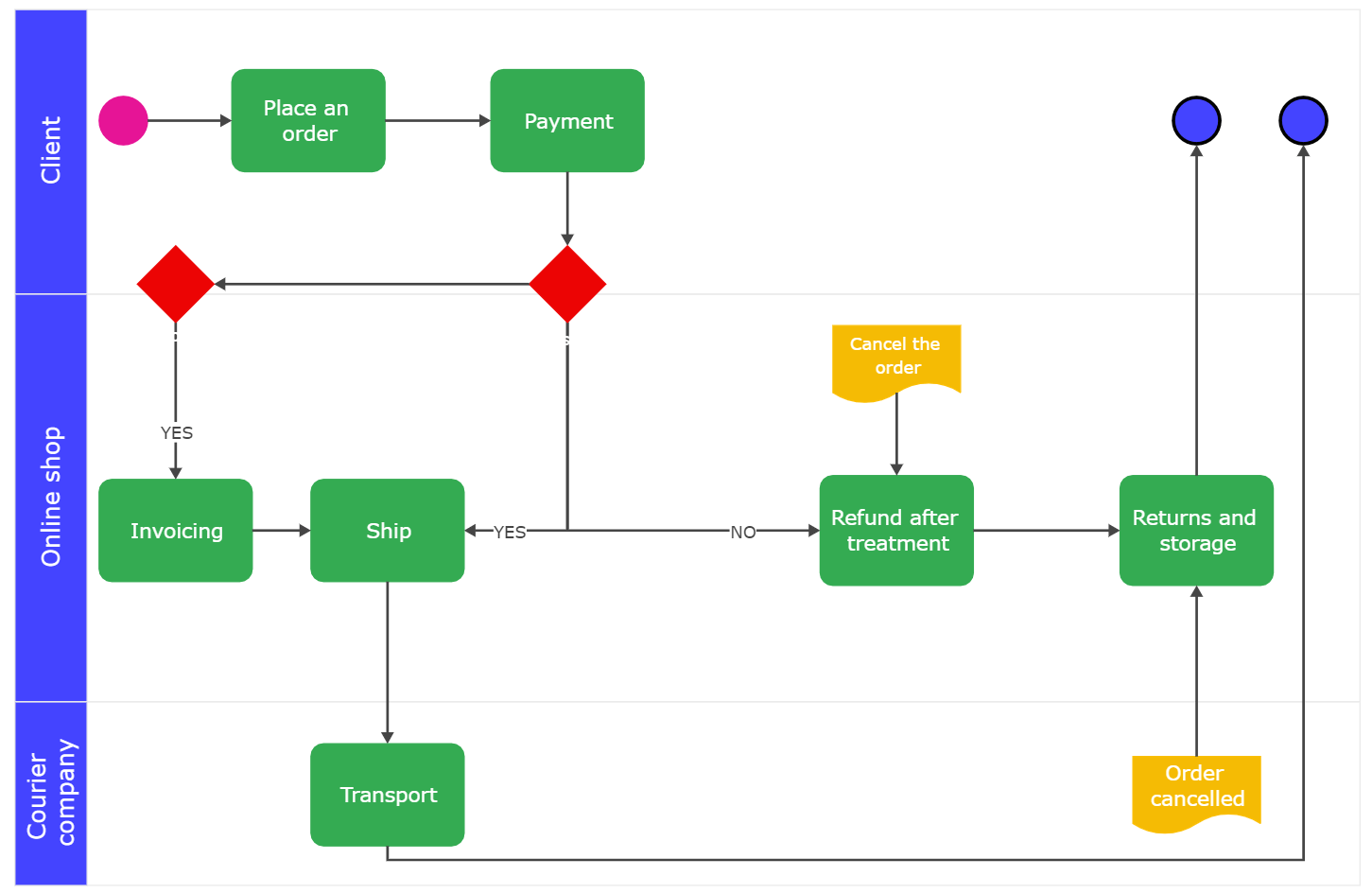 Example 2: Activity Diagram with Swimlanes
This example is a wonderful activity diagram with swimlanes; the diagram represents all the activities in a College management process. There are four participants included in the activity diagram: the admin, SIS system, teacher, and the student. As shown in the picture, the admin section is responsible for all the administrative tasks; the SIS system has all the necessary information and is interlinked with the teacher's section accountable for scheduling the class, displaying notices, and tracking attendance.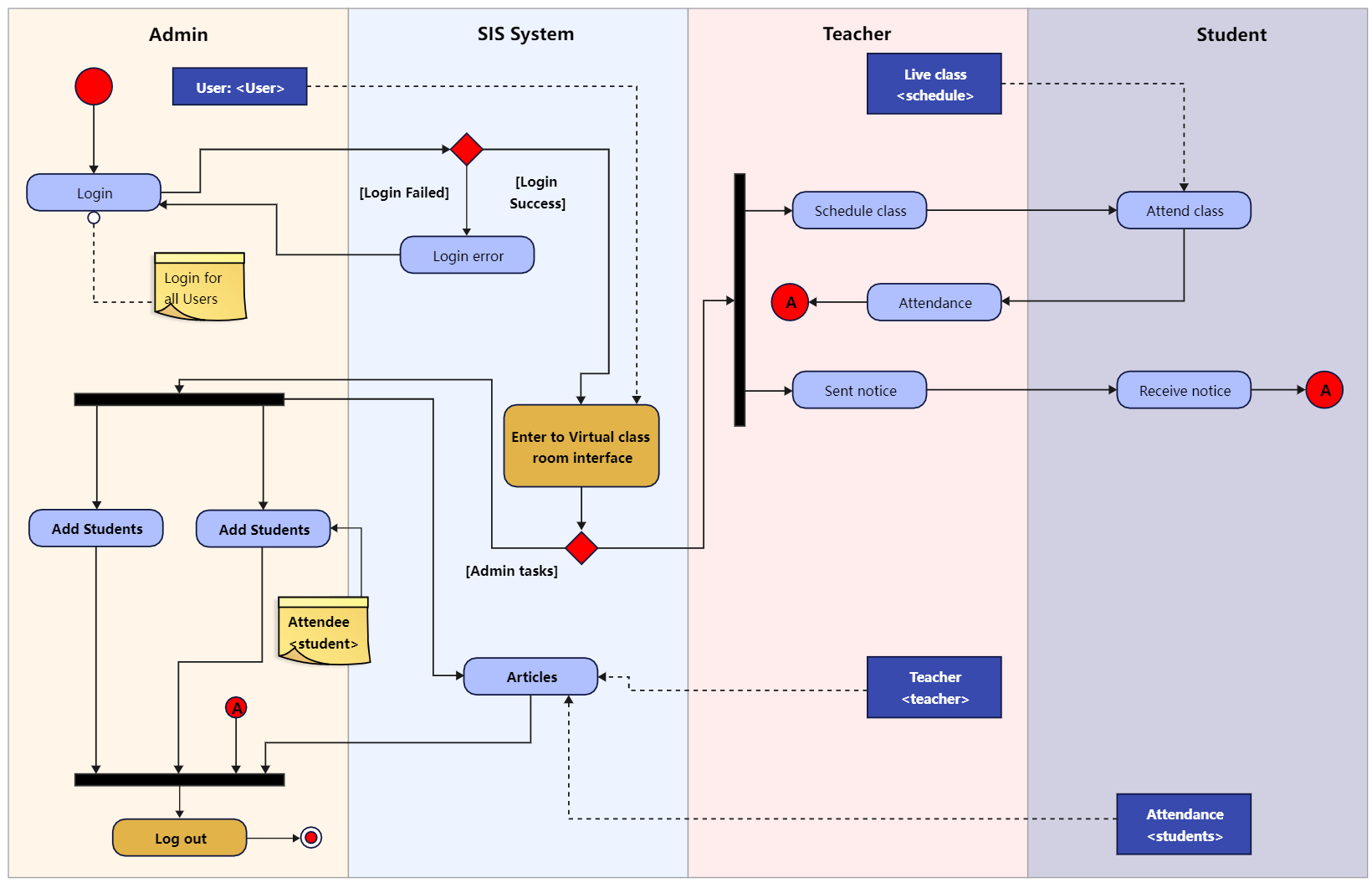 Example 3: BPMN Swimlane
The above diagram shows an IT help desk process responsible for managing support tickets; it depicts the events or activities between the three participants; the employees, general support, and advanced support. The diagram shows the basic flows for scheduling onsite visits and taking feedback from the employees.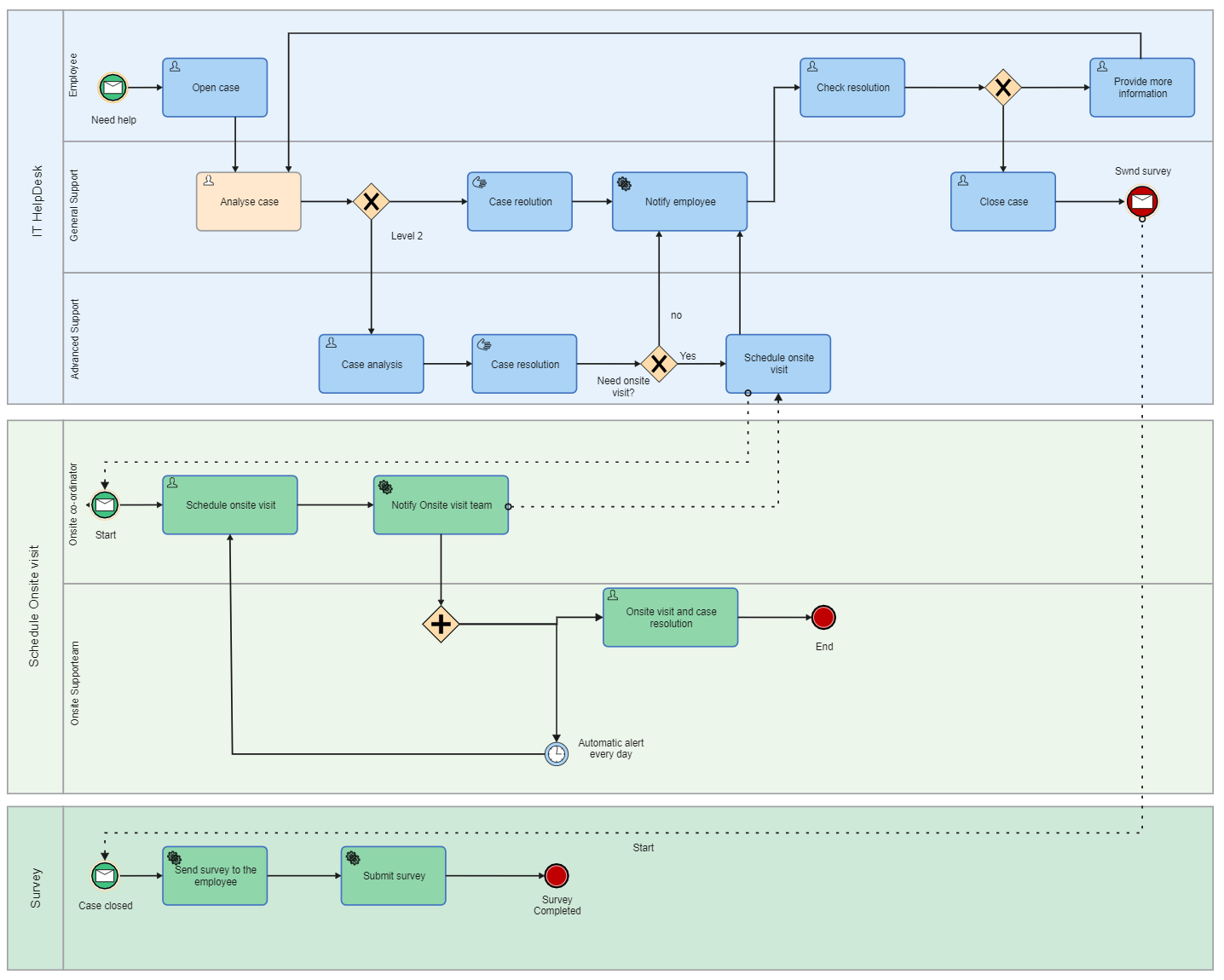 4. Online Swimlane Diagram Maker
EdrawMax Online is an online diagramming tool using which you can structure any process, with 280+ types of diagrams in the software, making it unique from other diagramming tools. The online tool contains 50000+ symbols and shapes, using which you can create a detailed swimlane diagram to picture a process. EdrawMax supports team collaboration so that you can design a diagram with your colleagues for any process. The online flowchart maker's canvas provides many possibilities for drawing lines, forms, templates, and symbols to create the necessary decision points and other linked activities for converting a complex process flow into an exciting and straightforward flowchart.
5. Key Takeaways
Swimlane diagrams can be formalized to link processes across teams or departments, resulting in more efficient operations over time. By developing an exemplary Swimlane diagram, you can show redundancies across multiple lanes and reveal bottlenecks, waste, and other inefficiencies. This can help discover overlapping or unneeded phases in a process. Swimlane diagramming could be tricky, especially when the process is complex and is based on multiple departments; if you are a beginner, you must start with EdrawMax to diagram your process because of its user-friendly feature.