---
How to Create a Stacked Bar Chart in Excel
A stacked bar chart is a diagrammatic format of visually presenting large chunks of data. Stacked bar charts can be used to compare and analyze the sub-sections of large data sets. Every bar in the chart displays the whole collection of data, while the segments in each bar denote different sub-sections of that whole. One of the most common and easy ways to a stacked bar chart is using MS Excel.
To learn how to create a stacked bar chart in Excel, read this simple step-by-step tutorial.
How would you like to create your Stacked Bar Chart?
How to Create a Stacked Bar Chart in Excel
Follow these simple steps mentioned below to learn how to make a stacked bar chart in Excel.
Step 1 – Open MS Excel
Launch MS Excel on your desktop and select a blank workbook.
Step 2 – Add Data
Enter your data on the workbook.
Step 3 – Find Bar Chart
Select the data. Now go to the Insert tab and click on the bar chart icon in the Charts section. Select the type of bar chart you want.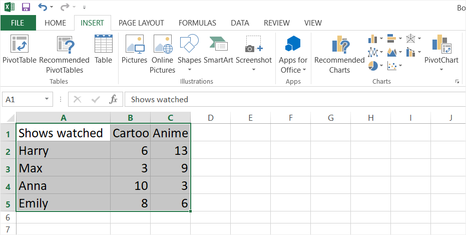 Step 4 – Insert Bar Chart
Once you click on the desired bar chart in the Insert Chart window, your stacked bar graph will appear on your workbook.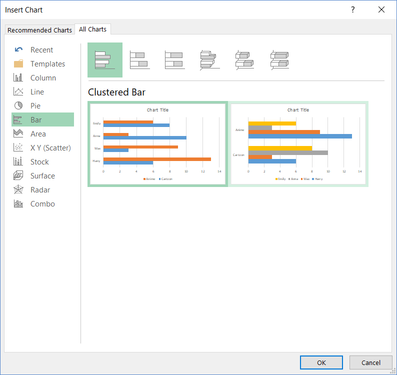 Step 5 – Customize the Bar Chart
Now edit excel stacked bar chart. Adjust the size of the graph by selecting the chart and then dragging the corners. Click on the section of the chart which you want to edit. A Format Data Series pane will appear at the right side of the screen, which you can use to adjust the shape, size, and color of the bars.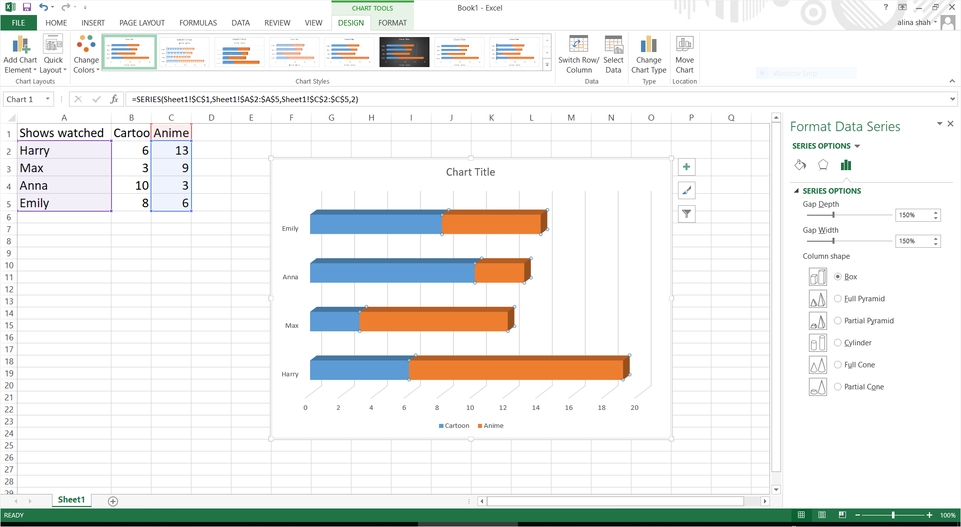 Step 6 – Format and Edit
Format and edit the stacked bar graph excel until you are satisfied with how it looks. You can also edit the font by changing the size, alignment, color, etc. from the Home Tab.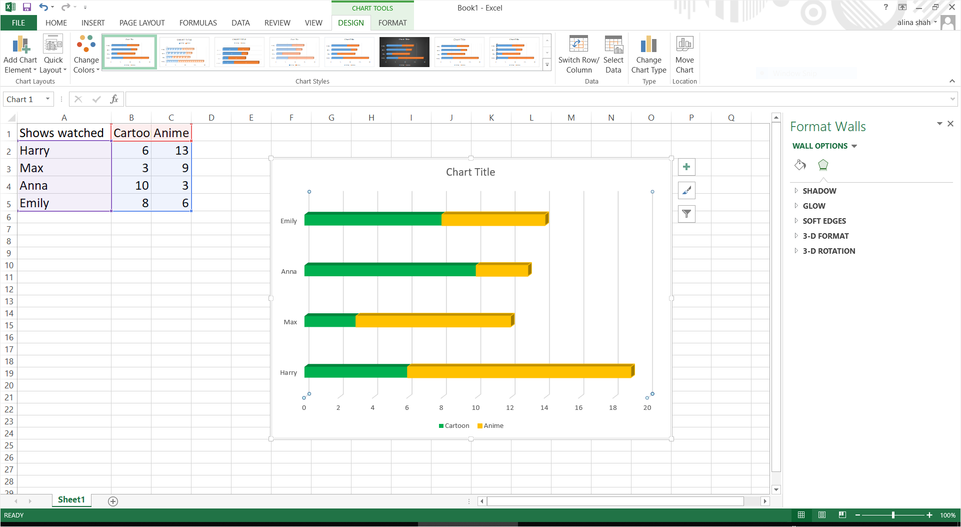 Step 7 – Save File
Close the Format window once you have edited the data completely. To save the document, click on the File tab in the extreme left corner of the window. Then, click on the Save option to save the data and bar chart file. A pop-up window will appear. You have to select the desired file location, name your document, and click on Save to save it on your desktop.
How to Create a Stacked Bar Chart in EdrawMax
EdrawMax Online is a very simple-to-use and multipurpose graphics tool. It can be used to create a wide range of diagrams, charts, and other visual content. You can also create excel stacked bar chart with the help of EdrawMax Online. So, head over to https://www.edrawmax.com/online/ to create a stacked bar chart right now!
Step 1 – Open EdrawMax Online
Open EdrawMax online on the browser to open the Edraw online diagramming tool.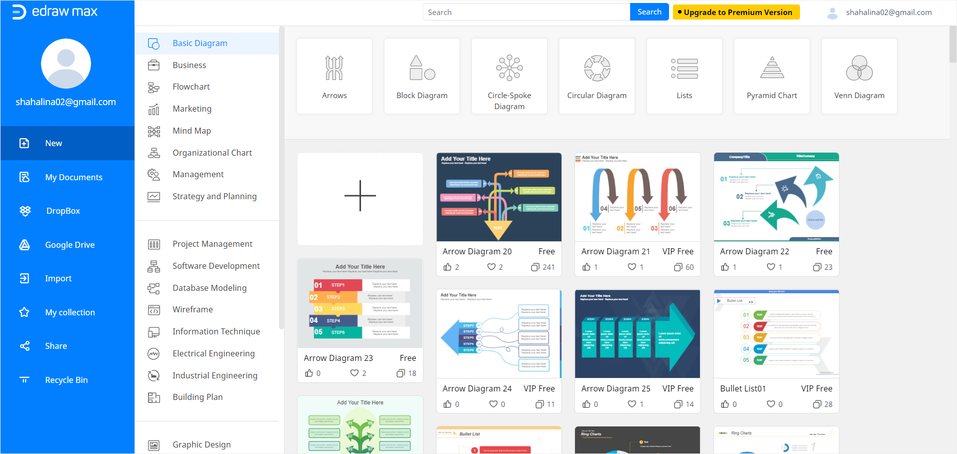 Step 2 – Choose Bar Chart
In the navigation pane on the left side of the screen, click on Graphs and Charts and then click on the Bar option. You will get some predesigned templates and click on the one you prefer.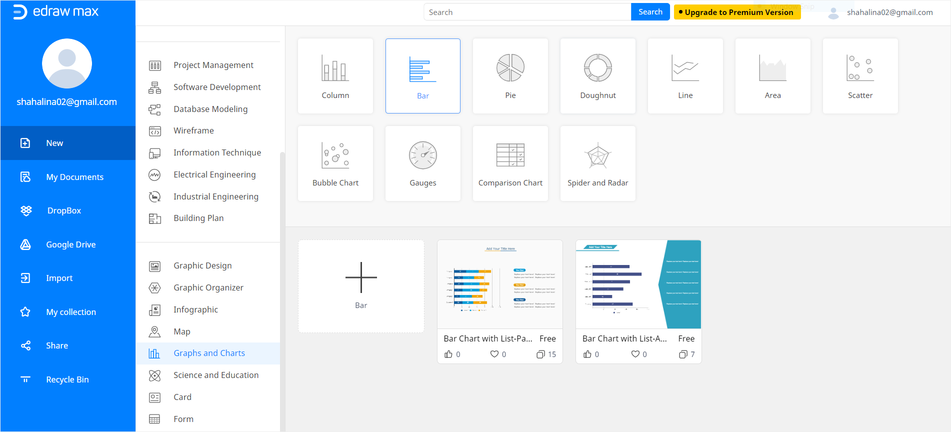 Step 3 – Select a Template
Now EdrawMax Online Tab will launch with the predesigned template that you clicked on.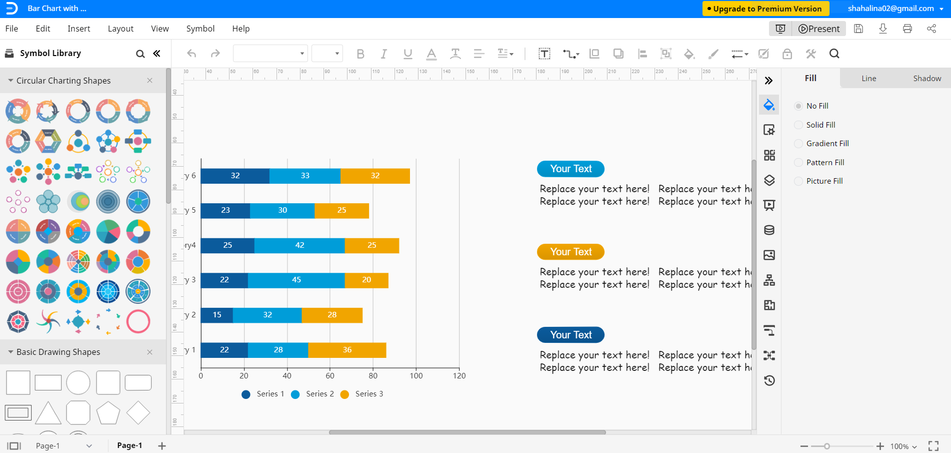 Step 4 – Customize Stacked Bar Chart
Customize and edit your stacked bar chart with the help of different formatting tools available in Edraw. Adjust the size, shape, color, alignment, and other details according to your liking. You will find various editing options in the navigation pane on the right side of the screen. These include style, layers, theme, setup, image, property, etc. You can also add more charts, watermarks, Tables, Images, QR codes, and more by clicking on the Insert Tab.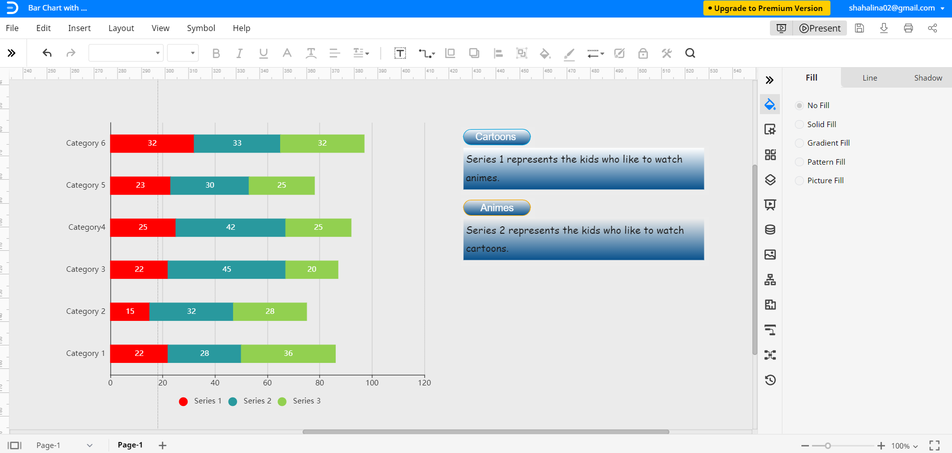 How to Save an Edraw Chart as an Excel File
EdrawMax Online allows users to export Edraw documents in the file format of MS Excel. Once you are done formatting and customizing your data and bar chart on EdrawMax, click on File and then Export. Select the location where you want to save your Edraw document. By clicking on MS Excel, you can view and edit your stacked bar chart in MS Excel and share it with those who use different software.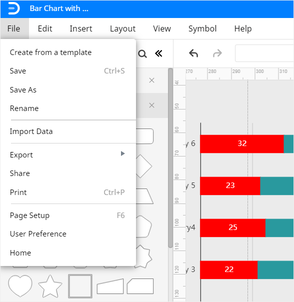 The interactive cloud interface of EdrawMax Online is much more convenient and versatile than MS Excel. You can also save Edraw documents in Google Drive and Dropbox for cloud protection and online sharing. By doing so, it makes it simpler for users to communicate and share visual information. All you have to do is visit EdrawMax Online, select the type of diagram, and start editing!
Creating excel stacked bar chart guide using MS Excel and EdrawMax ends here.
Related Articles