Instagram SWOT Analysis
SWOT analysis of Instagram by EdrawMax analyses the brand by its strengths, weaknesses, opportunities & threats.
1. Lead-in
The performance of the business can be evaluated by a detailed study known as SWOT analysis. SWOT is the abbreviation of strengths, weaknesses, opportunities, and threats. It is a management tool through which a business can learn about its internal strengths and weaknesses. It also helps determine the external opportunities and threats that can affect the business. Whether small or large scale, any organization can use this management framework. It will help them to grow further and sustain themselves in the long run. SWOT analysis of Instagram helps estimate the brand's various business aspects based on the SWOT analysis procedure.
Instagram is a popular social media application used for sharing images and videos. This social networking app allows users to create a personal digital account and upload photos and videos of their desire. Other users of the application can view the uploaded data. An Instagram SWOT analysis will tell us about the factors that led to the massive brand's success. It will also look into those areas where it can improve and flourish further.
The article produces a study of the brand journey and a detailed SWOT analysis for Instagram. In this article, we will introduce EdrawMax Online that helps in creating Instagram SWOT Analysis diagrams with free templates.
2. About Instagram
2.1 Introduction of Instagram
Founded in 2010 by Mike Krieger and Kevin Systrom, this company initially started as a platform where users could upload content in a 1:1 square equivalent to 640 pixels. Later in 2015, Instagram raised the restriction. Now, users can upload 1080 pixels. Facebook Inc. took it over in 2012 and is henceforth known as Meta Platforms. It is a thriving digital business built on a dominant and massive customer base.
The brand is known to have attracted one million users within two months of its establishment and over 10 million users in the initial years. It is more than just a social networking platform. People use it to promote their services, so it serves as a primary digital marketing source.
Instagram is mainly about visual content. The users primarily share photos and videos through their Instagram accounts. It was initially launched for iOS platforms and then extended to Android versions. A SWOT analysis of Instagram would tell us the factors responsible for the brand's huge success and the areas where it has the scope to explore and expand. A SWOT analysis of Instagram is necessary for the company to sustain the business in the long run.
2.2 Overview of Instagram
| | |
| --- | --- |
| Name | Instagram |
| Founded | 2010 |
| Industries served | IT and Technology sector |
| Geographic areas served | Worldwide |
| Headquarters | Menlo Park, California, United States |
| Founder | Kevin Systrom and Mike Krieger |
| Revenue (US$) | USD 47.6 billion annual revenue, as of 2021 |
| Significant people | Mike Krieger (co-founder), Kevin Systrom (co-founder), Justin Osofsky (Chief operating officer), and Vishal Shah (VP of product). |
| Employees | over 15,180 employees |
2.3 History of Instagram
| | |
| --- | --- |
| 2010 | Launching Instagram for iOS devices. |
| 2012 | Launched its Android version. Introduction of the photo map feature. Add the web version of the application. Facebook became the new investor. |
| 2013 | Introduction of the video sharing feature and Instagram Ads feature. Direct messaging feature released. |
| 2016 | The Instagram logo was reinvented, revamping the app's design. |
| 2017 | Mobile web front allowed uploading pictures. |
| 2018 | Adam Mosseri succeeded Kevin Systrom and Mike Krieger. |
| 2019 | Removal of public display of 'like' counts. |
| 2020 | Introduction of a new feature called 'Co-watching.' Introduction of a new feature called 'reels.' |
| 2021 | Launch of a new feature where four people can go live at once, adding pronouns to use web pages, faced the worst outage. |
| 2022 | Mark Zuckerberg confirmed the plans to introduce NFTs to the platform. |
3. SWOT Analysis of Instagram
A SWOT analysis of Instagram is necessary to evaluate the business' performance compared to its competitors. A detailed study of the brand's various business aspects will help to know the factors responsible for its speedy growth. It also exposes the areas where there needs an improvement, a promising opportunity, or the plausible external threats that might hamper the company's growth.
Strengths
Wide popularity: Instagram has taken the digital world by storm since its inception. It is one of the most popular social media platforms that gives its users the freedom to network with other users through photos and video sharing. A brand's popularity is directly proportional to revenue generation.
Loyal customer base: This digital platform has more than a billion registered users who are undoubtedly nowhere to go. Its loyal and robust user base says this brand has a long business life.
Exclusivity and creativity: It was the first platform that offered such an innovative service. The concept of exclusivity towards visual content is the mammoth factor that helped this company immediately catch the eye of millions of potential customers. The idea of photo and image sharing was as creative and exclusive as it can be with only Snapchat to compete.
Potential talent pool: Instagram's parent company is Facebook. Being a part of Facebook, Instagram could use the strong talent pool Facebook that was already the backbone of the company. It backed the speedy growth of Instagram.
A global application: Since its existence in the internet world, it has a broad reach over the international market. It is known to entertain over 30 different global languages making it one of the most globally accepted digital services.
Digital marketing at its best: From a novice to a celebrity, almost everyone in the competitive world uses the product as a marketing platform. Every brand has an Instagram account. Here they showcase their cause and connect with audiences that have already been built by the brand. It is a marketing platform that can be used by one and all.
Weaknesses
Data security issues: The history of data security issues of its parent company Facebook might pose privacy and data leak issues. Certain Instagram users have raised this issue, which may not seem to be the best situation at all.
Limited communication channel: In Instagram, a user can send a comment on a post or direct message to the intended account. However, since it has a limited communication channel, the comment can get lost among other users commenting on the same post.
One-way traffic: Several eCommerce businesses use the platform as a marketing tool using Paid Ads Services. However, most users tend to avoid the ads. It creates one-way traffic and thus fails to generate guaranteed sales for the businesses.
Limited market growth: When the competition is challenging, there are several other players in the market, and the market share is bound to go lower, meaning limited growth for the company.
Opportunities
Product extension: Some branding strategies like product extension might help boost the brand name and its presence. Instagram can make use of product extensions and increase its brand presence.
Increasing users: The SWOT analysis for Instagram depicts that by enhancing internet penetration and increasing the number of smartphone users, the brand can discover a massive scope in expanding itself.
Built-in video ads: Several businesses rely on video ads promoted on Instagram, while others give the services of ads and story creation. There lies an opportunity to attract more users to Instagram by providing built-in video ads on the platform. Short one-minute video ads will attract small businesses that would not need to hire a third party to do it.
Fast technological advancements: Technology-oriented services should continue enhancing to sustain the market. With rapid and continuous technical enhancements, the platform can keep thriving in the digital world.
Threats
Intense competition: Competition is good for growth, but stiff competition may harm the business by diminishing user engagement on Instagram. Several competitors are in the market fighting for the same set of customers.
Continuous innovation: No innovation, no growth. Users tend to get bored using the same application for a long time. Innovation and creativity are the keys to fighting this threat.
Lesser visibility: Initially, getting famous on Instagram was not a tough job. However, the paid promotion campaigns and businesses have made it challenging to have visibility.
Scheduled posts: The scheduled post feature allows users to post in the future without logging in to the application. It decreased the number of active users.
Instagram SWOT Analysis Diagram
With the help of EdrawMax, you can visualize the SWOT analysis of Instagram. This SWOT analysis diagram maker comes with templates, symbols, cliparts, and theme options, ensuring you create wonderful-looking SWOT analysis diagrams.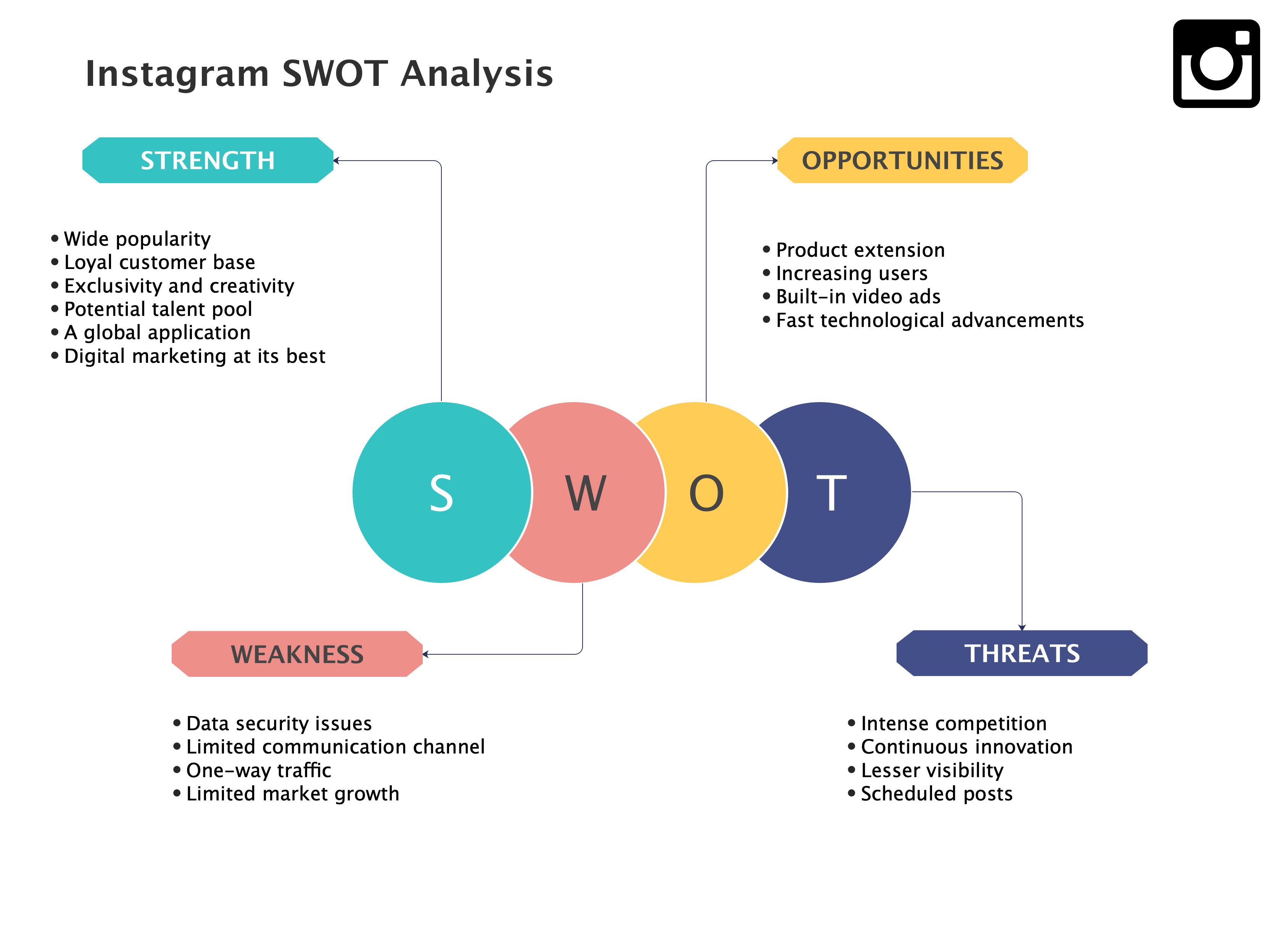 4. Free SWOT Analysis Diagram Creator
As you learned in this guide to making a SWOT Analysis diagram, EdrawMax is undoubtedly the best free SWOT Analysis diagram creator. Over 280 distinct types of diagrams may be made using the built-in templates, symbols, and a vibrant template community, which is a significant increase over Microsoft Visio. Here is the other important features of this free SWOT Analysis software are:
This free SWOT Analysis diagram creator has a user-friendly UI, and with the auto-formatting feature, you can auto-change your SWOT analysis diagrams style based on professional color schemes.
EdrawMax allows you to build and insert tables, charts, and even mathematical equations if that is what you want in your design, in contrast to other tools that have editing restrictions.
With the personalized cloud option, you can store your SWOT Analysis design in your cloud storage without worrying about your data privacy.
With the search function, you can easily find whatever function you want in the free SWOT Analysis diagram creator's canvas.
In this free SWOT analysis diagram creator, you can effectively set your shortcuts to use the tool.
This free SWOT analysis diagram creator has an online version that lets you access the remotely stored file.
EdrawMax Online
Create 280+ types of diagrams online
Access diagrams anywhere, anytime
Everything in desktop + Templates Community
Team management and collaboration
Personal Cloud and Dropbox Integration
5. Key Takeaways
So, the article talked about the importance of a SWOT analysis, the extensive popular social networking platform Instagram and the SWOT analysis for Instagram. It explained the aspects of SWOT analysis, detailed background information about the brand, and the analysis itself. It is clear from the analysis that a SWOT analysis of Instagram is essential to learn the qualities and flaws of the brand. From this analysis, Instagram and other businesses can gain knowledge regarding what-to-dos and what-not-to-dos while creating a successful trade.
When it comes to SWOT analysis, over 25 million people prefer EdrawMax Online. This SWOT analysis diagram creator comes with an in-built template community that offers a wide range of templates that you can use to create over 280 diagrams. From SWOT analysis to PESTEL diagrams, EdrawMax has a customization option for every business-related diagram. Head to the download section and get yourself a copy of this amazing SWOT analysis diagram creator today.
Reference
Craft. 2022. Instagram, [online]. Available at: https://craft.co/instagram (Accessed 11 August 2022).

Instafollowers. co. 2022. Who Owns Instagram? (+A Short History) | InstaFollowers, [online]. Available at: https://www.instafollowers.co/blog/who-owns-instagram (Accessed 11 August 2022).

Shaw, A., 2022. SWOT Analysis of Instagram | SWOT & PESTLE Analysis, [online]. Available at: https://swotandpestleanalysis.com/swot-analysis-of-instagram/ (Accessed 11 August 2022).
Related Articles