TikTok SWOT Analysis
EdrawMax's Tiktok SWOT analysis highlights the social media app's strengths, weaknesses, opportunities and threats. Check out Tiktok SWOT analysis diagram for better visual learning.
1. Lead-in
Companies use multiple tools to increase their business and for an apt idea about their present market status. SWOT analysis is one of them. A detailed SWOT analysis can allow a user to determine a brand's strengths and weaknesses while analyzing its future scopes.
TikTok is one of the highly used video-creating tools and is used all over the world. It has a huge subscriber base and is one of the most-used apps. TikTok SWOT analysis can show its strengths that have helped it to earn its present status. You can also spot TikTok's weaknesses that have impacted its overall performance.
An objective TikTok SWOT analysis can find the future scopes they will have to expand their business. You will also get an idea about the threats that may slow down their growth. In this article, we will also introduce you to EdrawMax Online - a free SWOT Analysis diagram creator that is loved by over 25 million registered users worldwide.
2. About TikTok
2.1 Introduction of TikTok
TikTok is a video creating and sharing platform launched by the Chinese company ByteDance. The users can publish videos with the content of their choice that may have a duration of 15 seconds to ten minutes. They have millions of users in 154 countries and is ranked as the third fastest growing brand of 2020 by Morning Consult. It earned the status of the most popular website of 2021, surpassing Google (Cloudflare).
2.2 Overview of TikTok
Name
TikTok
Launched
in 2016
Industries served
Social media
Parent Company
ByteDance
Headquarters
Culver City, US
US, Ireland, Singapore, UK (main offices)

Current CEO
Shou Zi Chew
Revenue (US$)
4.6 billion (2021)
Net income (US$)
450 million (2020)
Acquisitions/ subsidiary
Jukedeck, GeoGif
Main competitors
Meta, Snap, Quibi
2.3 History of TikTok
| | |
| --- | --- |
| 2012 | Parent company ByteDance is created in Beijing |
| 2016 | Douyin, the Chinese version of TikTok launched |
| 2017 | TikTok was launched |
| 2018 | Musical.ly integrated to TikTok |
| 2019 | TikTok surpasses 1 Billion downloads |
| Late 2019 | TikTok hits the download number of 2 billion internationally |
| 2020 | Kevin Mayer joins as chief Executive |
| 2020 | India bans TikTok |
| 2020 | TikTok was threatened to be banned in the USA, Australia and Japan |
| 2021 | Microsoft announces to purchase TikTok's US, Canadian, Australian, and New Zealand services |
3. SWOT Analysis of TikTok
SWOT analysis of a company talks about the four primary components; strengths, weaknesses, opportunities, and threats. From a detailed TikTok SWOT analysis, you will get an idea of the strengths and weaknesses of the app. You will be able to figure out their future opportunities for growth and threats using the SWOT analysis of TikTok.
Strengths
Free to Use: Previously, for eye-catchy editing, the users needed professional software or costly equipment. TikTok provides the users with good quality editing options with filters, and the app is free to use. It has helped them garner a massive customer base. It is easy to use, and one can create and upload a video just by downloading it from app stores.
Easy-to-use: User-friendly interface is one of the biggest strengths of TikTok. While most video editing applications are complex and require professional expertise, TikTok is for inexperienced users. Anyone can take a video and edit it on TikTok.
Security of Users: When on most social media apps, security and privacy become the biggest concerns, TikTok earns big points compared to others. Technological advances have created the concern for users to have their data leaked. TikTok comes with features where a user can remove the data. Options of blocking and reporting accounts are available. Moreover, the direct messaging feature is not available for every user account. It makes TikTok a secure platform which helped it to earn a massive user base.
Enormous User Base: A TikTok user, on average, spends around 19.6 hours on the app. They have already garnered a massive user base by creating content for the viewers. A wide variety of engaging content is also bringing in more users who love to view the videos instead of making shots. It has made TikTok one of the most consumed apps.
Weaknesses
Problematic Content: As TikTok has an enormous user base, there is no limitation on who can post videos and what they post. Thus, disturbing content has become one of the biggest weaknesses of the application. Minors watching the videos may get affected by videos having inappropriate language, explicit and vulgar images, drug or alcohol abuse, etcetera.
Complicated Features: Though TikTok is an easy-to-use application, it has some editing images that are unsuitable for inexperienced users. They need tutorials to use those good-quality editing features. While most users want easy access to most of the features, these complicated features stay one of the fundamental drawbacks.
Addictive for Users: The users get easily addicted to the content. Moreover, this is why the company is facing backlash from the different communities. The users are from varied age groups starting from four. It was found that a person spends around 52 minutes on average on this application, while users from 4-15 years are staying more than 80 minutes per day. The addictive nature of this tool is holding back the users.
Delayed Response: In the first-pace internet era, users expect apps to be responsive. TikTok is one of the apps that show delays in response. Whether it is a privacy or content-related issue, the app takes a long time to get back to customers. They also lack proper response in crises.
Opportunities
Filter for Content: The application can use advanced technology to block inappropriate content and musical files. They may also incorporate features preventing young users from reaching unsuitable content. The filtering feature will help them to get rid of the bad reputation they have regarding the quality of the content.
Technological Advances: TikTok needs to concentrate on having a more robust research team who can work on improving the user experience. They can add more editing features that are suitable for newbie users. They may also include easy tutorial videos for the new users to grasp the complicated features smoothly.
Work on their Reputation: TikTok is a widely used and famous application, but its negative reputation can be its biggest drawback. They can use their massive user base to avoid a bad reputation. They can promote small businesses and take part in charity works. They can improve their algorithm to reach more people at the top for the people to view their content.
Training of Employees: TikTok needs trained and skilled employees to make their app more responsive. They can hold regular training sessions for the workers to have a group of experienced employees. They can also make strategies to handle crises.
Threats
Competition: TikTok is a social media platform with more similar applications in the market. Several applications having similar concepts and features are coming up, which can dilute the market resulting in the loss of a significant number of users.
Government policies: Millions of people use TikTok in 154 countries. However, the company has already lost millions of users due to government policies. Some countries question whether they should ban TikTok amidst rising privacy breaching matters.
Technology: New technologies are coming to the market now and then, and TikTok needs to keep up with them to provide the users with a safe and easy-to-use platform. It can be a threat if the app does not concentrate on investing in research and development.
Privacy: One might infer from TikTok's privacy policy that the firm behind the app is free to give user data to both commercial entities and governments. People are concerned about their privacy while using this application.
TikTok SWOT Analysis Diagram
You can use EdrawMax to create a SWOT analysis diagram of TikTok. With the help of templates, symbols, theme options, structures, and more, you can create amazing SWOT analysis diagrams without worrying about any technicalities.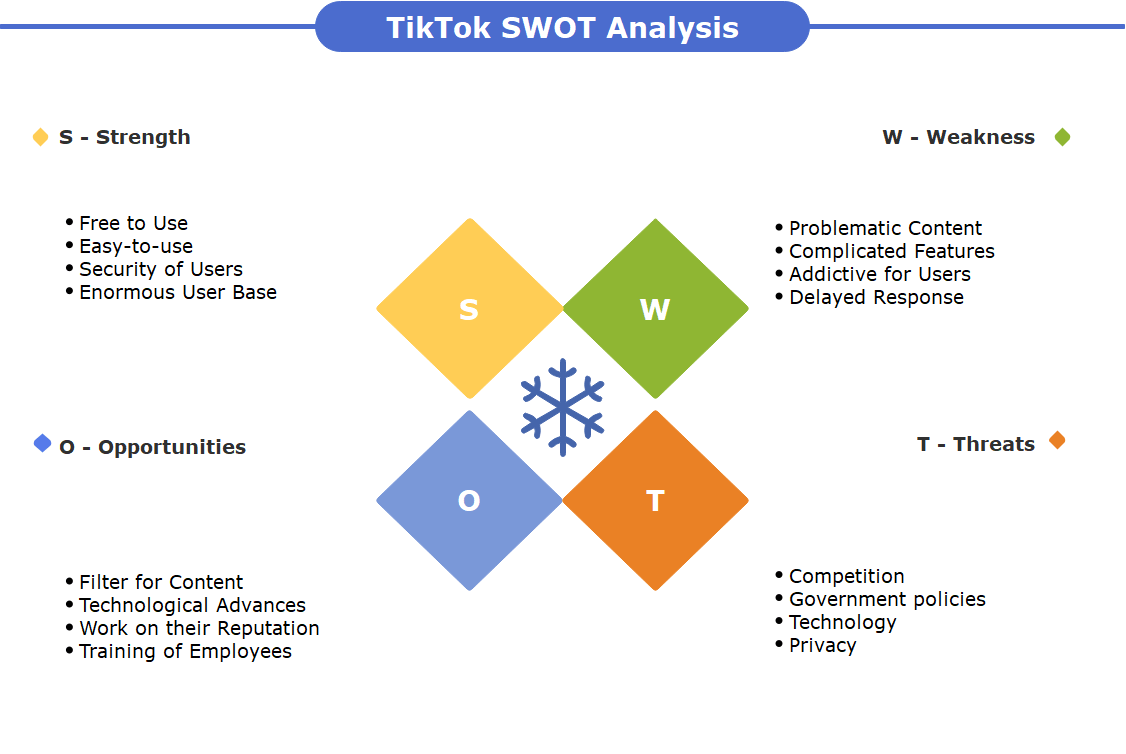 4. Free SWOT Analysis Diagram Creator
EdrawMax is predominantly designed and created to cater to all of your design needs. Some of the most amazing features of this free SWOT analysis diagram creator are:
EdrawMax comes with free templates. You do not need any technical expertise to create SWOT analysis diagrams using pre-built templates, as these templates are 100 percent customizable, and with a click of a button, you can modify them as required.
With this free SWOT analysis diagram creator, you can create your SWOT analysis diagrams in just a few minutes.
Since you already have access to templates and free symbols, the chances of adding wrong items or elements to the SWOT analysis diagram would be minimal.
EdrawMax hosts over 20,000 vector-enabled symbols readily available to design any diagram.
This free SWOT analysis diagram creator is a power-packed tool with several features important to creating and sharing any diagram you require professionally.
With this free SWOT analysis diagram creator, you can easily share and export your diagrams. EdrawMax lets you present your diagrams, ensuring you do not rely on other tools to present your SWOT analysis diagrams.
EdrawMax Online
Create 280+ types of diagrams online
Access diagrams anywhere, anytime
Everything in desktop + Templates Community
Team management and collaboration
Personal Cloud and Dropbox Integration
5. Key Takeaways
The number of social media users is rapidly growing following the advancement of technology. Content creators all over the world are aiming to create funny content to attract more audiences. TikTok is a video-creating and sharing application where the user can post their short-duration videos and view the videos posted by others. With its advanced editing features and filters, TikTok has earned a massive user base worldwide. TikTok SWOT analysis shows the strengths that have helped them become one of the most-used apps. Their weaknesses can be deciphered, which they can strategically remove to ensure their growth. TikTok SWOT analysis also hints at the opportunities they can use in their favor and threats they need to cushion to ensure their growth.
EdrawMax Online is one tool that offers a wide range of features for creating and sharing such SWOT analysis diagrams. As you saw in this TikTok SWOT analysis diagram article, EdrawMax templates offer a wide range of customization options that help beginners and professionals alike. Go ahead and download EdrawMax today or hop on to EdrawMax Online if you are looking to work remotely.
Reference
Related Articles