Free Editable Santa Letters Examples
Christmas is all around, and that means it is time for your little kids to start writing Santa letters to let Santa know that they are being good at home and what presents they want. It is also the time for you to start writing a Santa letter to your kids as a reply from Santa for their letter. You can use our Santa letters Examples to make your job easier by editing free templates.
1. What is Santa Letter
A Santa letteris a type of letter kids write to Santa on Christmas to let him know that they are not being naughty at home and the presents they want from him. For parents, a Santa letter is a reply for their children that they wrote back with north pole stamps to tell kids that it is from Santa and you will get your presents. Santa Letters for Christmas is a beautiful holiday tradition for most families, and all kids look up to the time when they can send their message to Santa. You can give Santa letter templates to your kids to write a letter to Santa, and you can also use them to write the reply.
2. The Santa Letter Templates
Christmas is a busy time of year for every parent. They have to prepare for holidays, decorate their house, take care of their kids and prepare Santa letters and gifts. You can create a Santa letter from scratch on a blank sheet, or you can make your job easier by using a Santa letter template to print a fresh letter from the north pole and edit it afterward. You also give these templates to your kids so they can easily create a beautiful letter for Santa. Following are some Santa letter examples.
Example 1: Blank Santa Letter Template
A blank Santa letter template is like a blank form with Christmas designs at the sides and a line at the middle where kids can write their message to Santa. It comes with a light-colored background and various images of presents and sweets at the sides. It is the most commonly used Santa letter because it is easy to get, and your kids can write long notes because there is a lot of blank space in the template. The best thing about it is that kids can learn to write letters by creating their letters for Santa.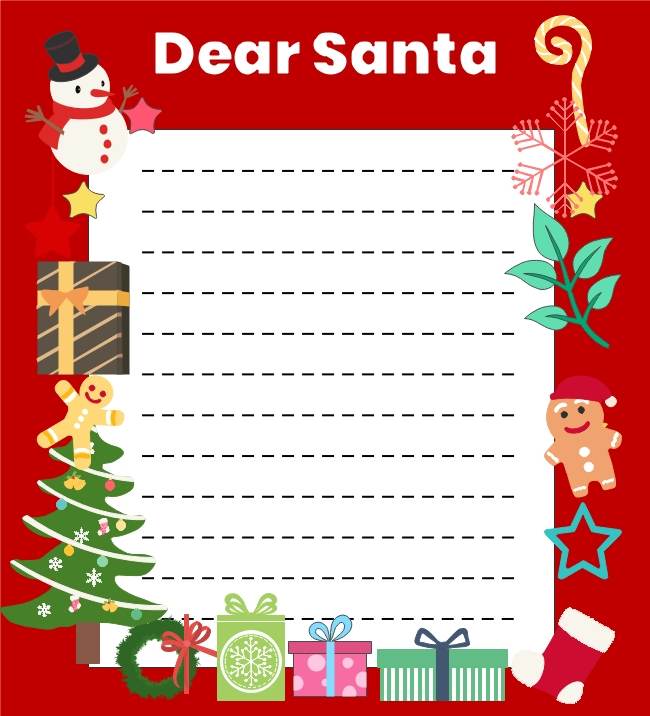 Source:EdrawMax Online
Example 2: Letter From Santa Template
Most parents use a letter from Santa templates to write a reply from Santa to their children. It usually comes with a fun and creative background to make kids happy. It also contains an image of Santa's face to make kids believe that Santa wrote it. Most of these letter templates come with post stamps of the north pole so that kids can know that it's from Santa. There are no lines to write in this template, and you can write a short message from Santa in the middle of the letter.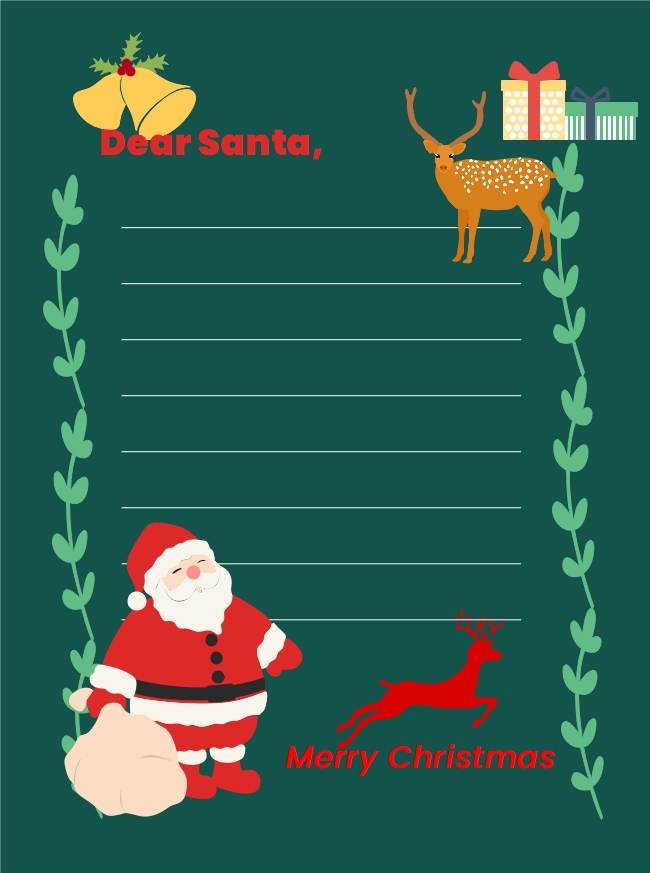 Source:EdrawMax Online
Example 3: Secret Santa Template
You have to give lots of presents during Christmas to your colleagues and your kids. That's why many offices use the secret Santa method to make sure that no one is under pressure to give everyone presents and make sure that all staff members get one. You can use a secret Santa template to plan the exchange of gifts at the office. It is a temple with a simple layout where you can write the names of everyone and hide it and then write the names of the people they will give the present to.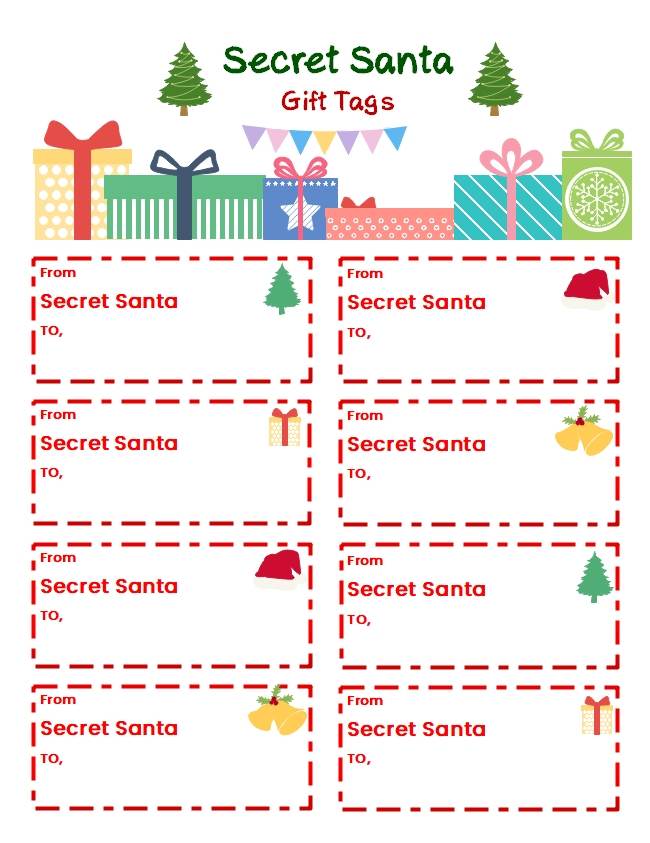 Source:EdrawMax Online
Example 4: Santa Letter Template Free
Santa letter template free is those templates that you can download and print online for free. Their layout is the same as blank Santa letter templates, but the only thing that makes them different is that you can't edit many things on this template. All you can do is print it and write the message, and you can't change the color or background of the template. These are the best ones to go with when you don't have much time on your hands to prepare a Santa letter.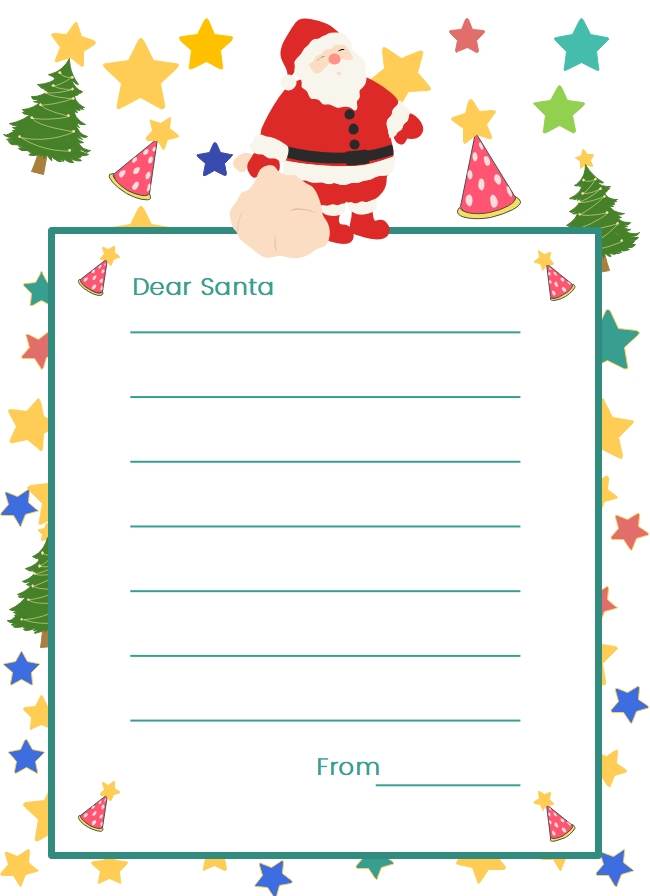 Source:EdrawMax Online
Example 5: Free Printable Fill in The Blanks Letter from Santa Template
If you have little kids who don't know how to write a letter to someone, then you can give them a free printable fill-in-the-blanks letter from Santa templates so they can send their message to Santa Claus. Its layout is clear and easy to understand for little kids. There are blanks in the template where kids can write their names, hobbies, and the presents they want from Santa. It is also the best one for you when you somehow forget to prepare a Santa letter and do it at the last minute.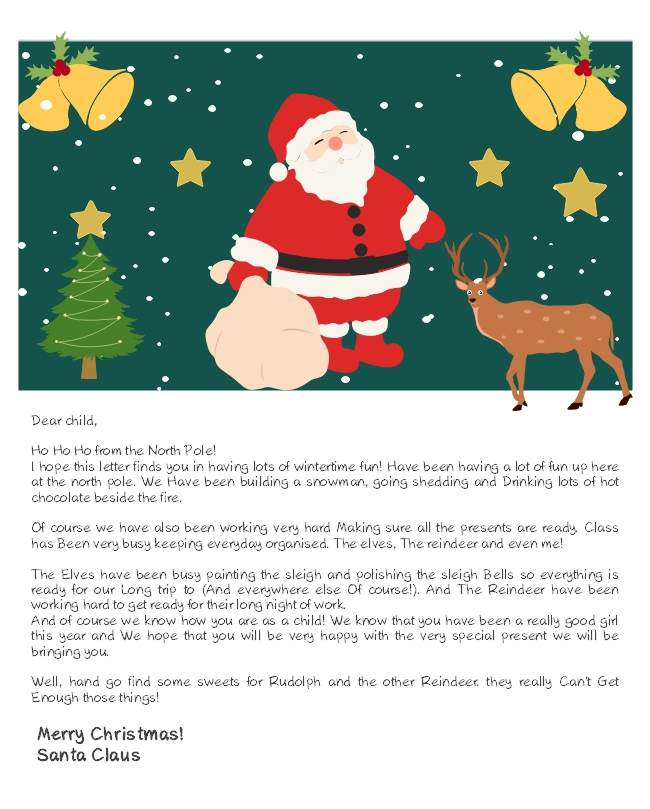 Source:EdrawMax Online
Example 6: Santa Claus Letter Template
A Santa Claus Letter template comes with a picture of Santa at the top and a simple Christmas letter design for kids who like to draw various images on the letter for Santa. It follows a simple layout, and you get a big merry Christmas written at the end of the template. It comes in bright white and red colors. There are various designs at the border of the letter template. Kids can write lots of things as there is a lot of blank space in the middle.

Source:EdrawMax Online
Example 7: Coloring Letter To Santa Template
A coloring letter to Santa template will let your kids make a creative letter for Santa this Christmas as children like coloring and writing colorful letters and messages. Your kids can draw lots of pictures and color the letter in any color they want using this template. If your kids are doing it for the first time, then it is your best option. It will help them learn how to write letters to anyone and also make them good at coloring.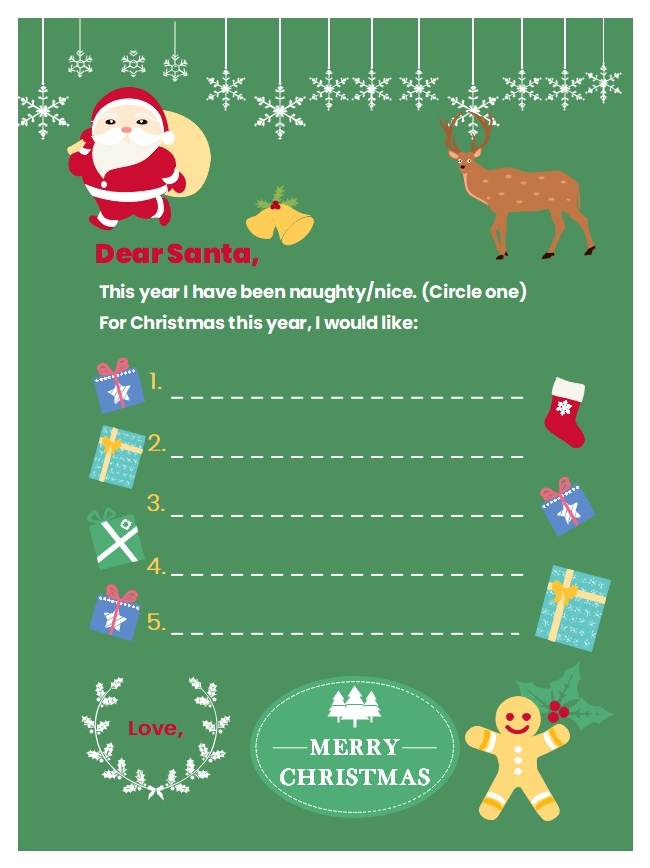 Source:EdrawMax Online
Example 8: Letter To Santa Template
A letter to Santa template comes with a detailed layout where your kids only have to fill in the blanks and complete the letter. It usually starts with a hello to Santa Claus, and after that, it gives your kids a blank to ask any question from Santa. Your kids also have to select one of the options from naughty or good than your kids write about the good deed they did the whole year and then a list of presents they want for Christmas.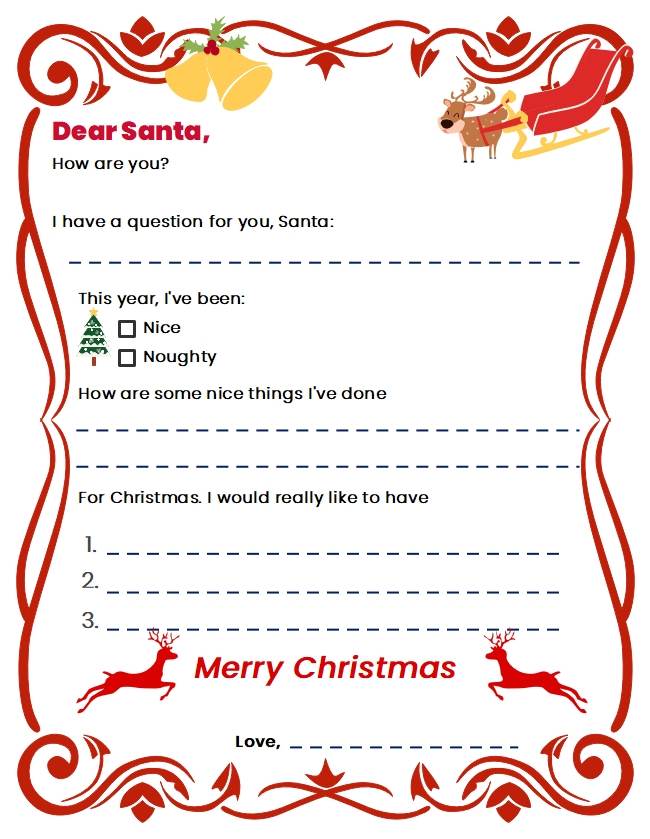 Source:EdrawMax Online
Example 9: Printable Secret Santa Template
If you are doing a secret Santa, then printable secret Santa templates are the best for you. Its layout is just like any other secret Santa template. The only difference is that you can customize the template online and then print it directly from the web. It saves a lot of your efforts and time as all you do is go to the web and print it in the next moment. You don't have to go through the trouble of designing a template yourself.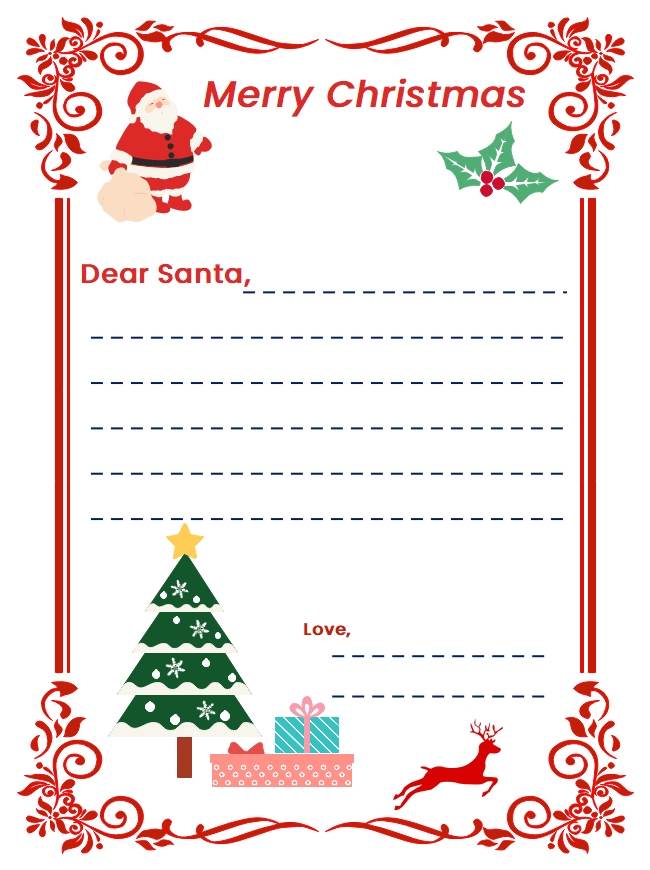 Source:EdrawMax Online
3. Online Santa Letter Maker
EdrawMax Online helps you easily create a Santa letter using its letter maker and customization tools and many professional templates. All you have to do is go to EdrawMax Online and get the Santa letter template you like the most. After that, you can edit it in any way you want. EdrawMax Online makes your job effortless with its comprehensive collections of images and backgrounds that you can use with a simple drag and drop. There are many other tools and letter makers, but EdrawMax is the best choice for making Santa letters as everything is simple and easy to understand. You can edit the whole template and even remove the images and background colors you don't like.
EdrawMax Online
Create 280+ types of diagrams online
Access diagrams anywhere, anytime
Everything in desktop + Templates Community
Team management and collaboration
Personal Cloud and Dropbox Integration
4. Key Takeaways
You can bring the holiday magic to your kids this Christmas by making it special for them using a Santa letter template. Children love to write letters to Santa when Christmas comes to tell him that they are good these holidays and the presents they want from him. This year, instead of them using simple letter pages, you can print them editable Santa letters. There are many types of Santa letters, and you can also use them to write your kids a reply from Santa. You can also use them to plan secret Santa with your colleagues. You can also find Christmas cards examples from the templates commnity.