Free Editable Shotgun House Plans
Shotgun houses offer a small living space with intelligent use of the land. The following article will cover all about Shotgun house plans and a free and professional method to make your layouts. Let's just dig right in!
1. What is a Shotgun House?
Measuring around 400 feet on average, shotgun houses are small yet comfortable living spaces. These are narrow, rectangular-shaped living spaces with rooms arranged one behind another with doors at both ends of the house. The name 'Shotgun' is a reference that if all doors are opened, a shotgun fired will fly cleanly from one end to the other.
The history of shotgun houses is vague, but according to an architectural historian, Samuel Wilson, these houses originated in New Orleans in the early 1800s. Another historian claims that these houses originate from Haiti, where the West Africans built their traditional rectangular houses with no hallways. The Africans outnumbered the whites in New Orleans. As most of the builders were Africans from Haiti, they constructed their new houses modeled on the ones they left behind in their city. Here is what a typical shotgun house looks like:
House is rectangular and narrow like a tunnel.
Rooms are interconnected with no hallways or corridors.
There are doors at both ends of the house connecting it to the outside.
They are generally squeezed together; hence no windows on the sidewalls for ventilation.
Less decorated since space is limited.
High-ceiling rooms to keep the house cool in summer.
This is a brief description of a basic shotgun house. Let us see some layouts to understand the architecture better.
2. Shotgun House Plans of Design Variations
Depending upon the land size, shotgun houses can be of various types. Some may be more luxurious with multiple living rooms and bedrooms, while others may be simpler and only have a small living room. Let's see some shotgun house plans to learn better.
Example 1: Single Shotgun House
Simplicity is the motto for this single shotgun house plan. This is a signature layout for the typical shotguns and starts with a living room at the front, followed by a kitchen that leads into the office. You can either enter the bedroom or the master bedroom through the office. The other exit of the house is from the master bedroom. This is a thoroughly considered layout with an intelligent arrangement of all the spaces. With multiple doors in a single room, it is easy to quickly reach any other part of the house. It also mentions the dimension of each room for a better understanding of the layout.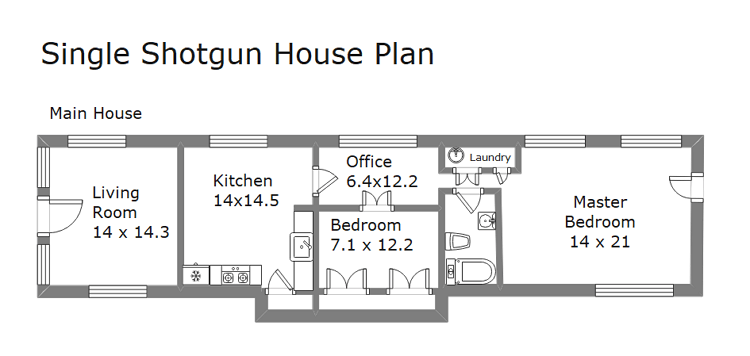 Example 2: Double Shotgun House
The camelback Shotgun house plan presents a variation of the simple shotgun with a partial upper floor. The entire framework is very similar to a standard shotgun, except that it has stairs in the back corner that leads to the upper floor. This type of shotgun offers more space and is taxed as single-story houses hence are constructed more often. All the spaces in this layout are kept spacious, and the master bedrooms are located on the second story. The camelbacks are slightly expensive to construct and require a thoughtful layout according to the owner's preference.
Example 3: Camelback Shotgun House
This family tree template is another fun and engaging design for children and kids. It helps them in understanding linkages and relationships with other family members. As with most family trees, this one starts with a single person. It is usually the person making the family tree. They start with themselves and then trace back to their ancestors.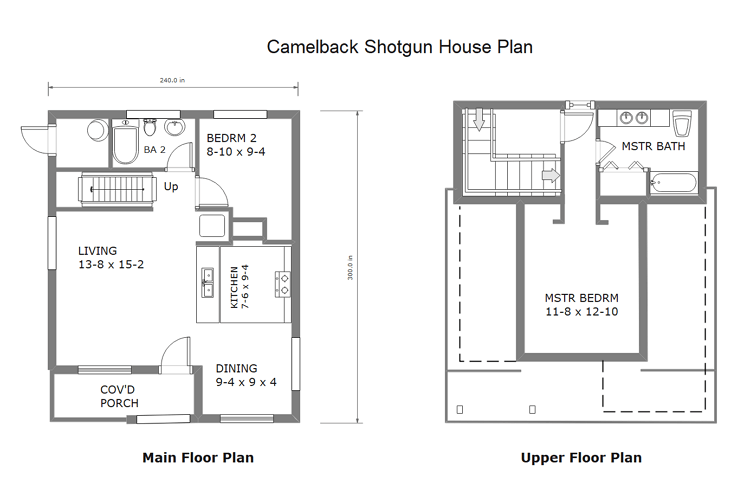 Example 4: Side Gallery Shotgun House
The following plan shotgun plan is an example of modern style and architecture. It features a wide porch and has a spacious interior. The patio at the back is the perfect place to enjoy the evening tea and watch the comings and goings of the neighborhood. Connected to it is the dens that can be a wonderful place to sit and warm yourselves in winter. With four well-dimensioned bedrooms, the shotgun plan seems very comfortable and roomy. The layout is suitable for people aiming for a cozy yet fancy shotgun. Here were some amazing examples showing you the different variations of a shotgun layout. Let's just see the current situation of shotguns in the world.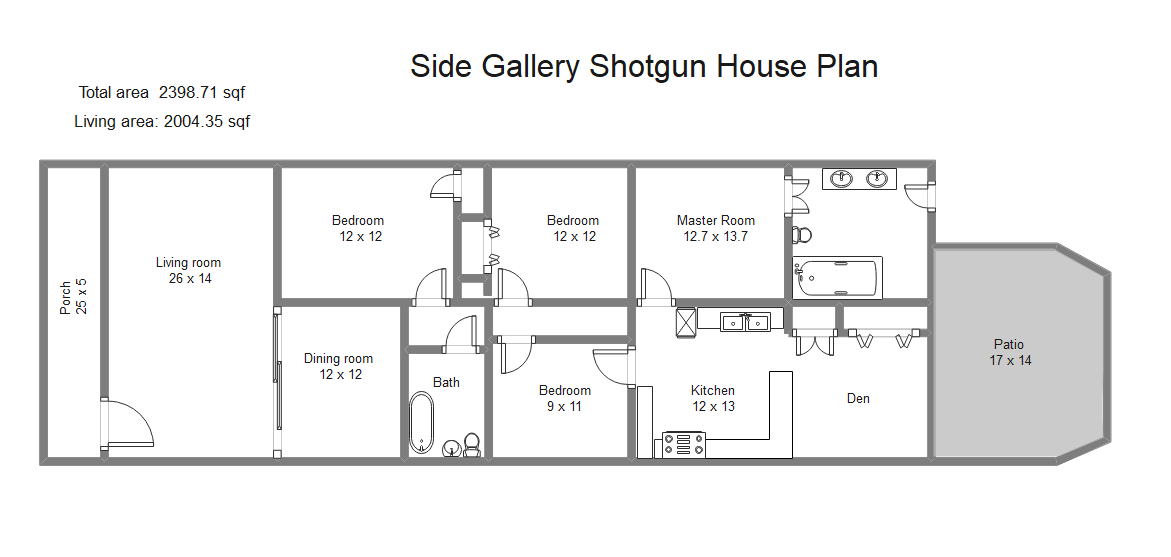 3. The Shotgun House Today
In current times, shotguns are cherished for their architecture and exuberant embellishments. These living spaces demonstrate social and cultural diffusion, traditional spatial settlements, and sturdy constructions. Initially, they were scorned as a residence for the poor African laborers, but now it is praised and owned by many wealthy. These houses are now called an architectural response to the narrow plots with more witty land use. Even though shotgun houses have become a common concept now, efforts are being made to preserve the few existing ones because of their rich cultural history and unique framework. The houses are being adapted into artist studios and affordable housing opportunities. In the process, they are also revitalizing the old shotgun communities and advertising this as a unique, affordable, and environment-friendly living space.
With the ever-increasing population, the future of these houses seems very bright. However, the foremost step for the revival of these historic architectural houses is a good layout. A well-thought map can aid in the construction process. Let me introduce you to Edraw, that will allow you to create your own shotgun house layout within seconds.
4. Online Floor Plan Maker
A free and professional solution to create unique layouts is EdrawMax Online. This is free software that allows you to create any type of diagram within seconds. EdrawMax has an easy-to-understand interface that makes it user-friendly for tech-savvy and beginners. With over 280 templates and millions of symbols, it can be a bit overwhelming for the users. It will help you create the entire framework while also covering the small nitty-gritty details. The templates are customizable, so you adjust them according to your liking. The highlight of EdrawMax is that multiple people can collaborate on a single project and design it together. You can also share your self-made templates on EdrawMax. With excellent file compatibility, users can import or export projects to various formats like VDSX, PDF, DOCX, HTML, PNG, JPG, etc.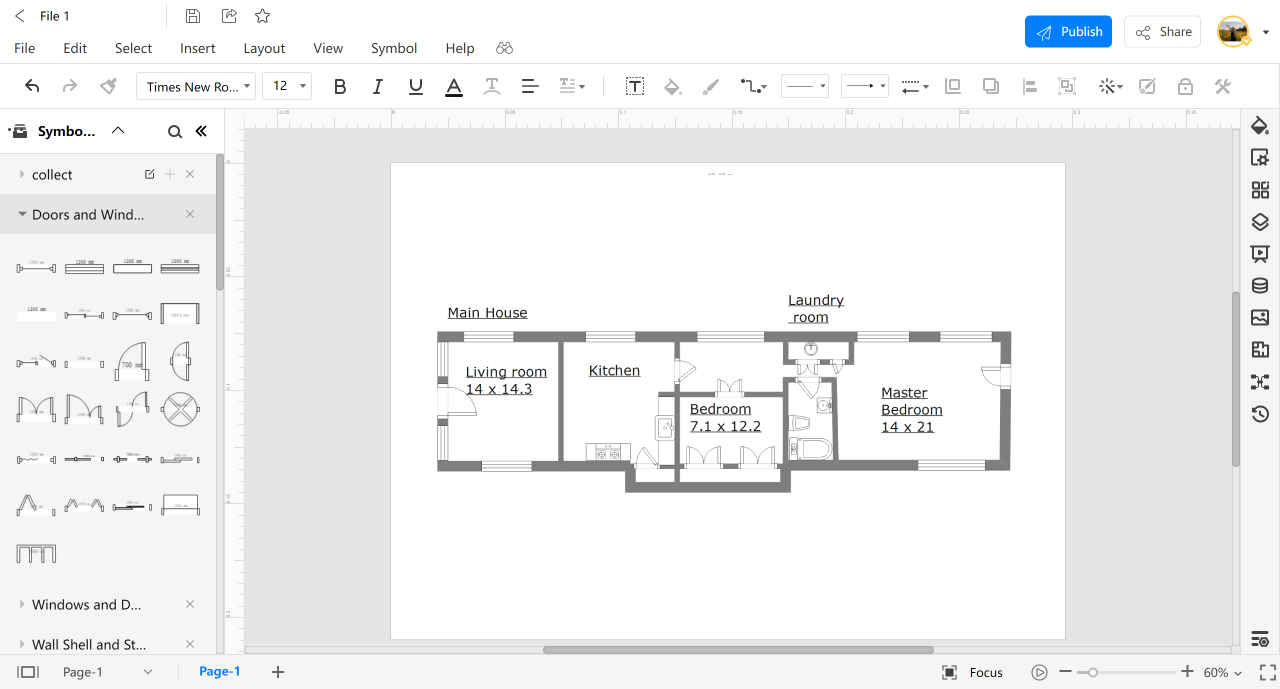 5. Key Takeaways
Shotgun houses are unique and affordable living spaces with a rich architectural history. These spaces allow good land use and eradicate unnecessary hallway spaces at the expense of larger living spaces. Since these houses have a limited area of land to be built, they require a proper layout. The quick fix to this problem is EdrawMax which helps individuals create their desired diagrams. The software provides a workspace with thousands of templates and symbols to make your work easier. It instigates your creativity and makes the ideas more intuitive. Give it a try to believe it yourself.
EdrawMax Online
Create 280+ types of diagrams online
Access diagrams anywhere, anytime
Everything in desktop + Templates Community
Team management and collaboration
Personal Cloud and Dropbox Integration
Related Articles