8 Best AI Text Analysis Tools for Businesses
Text analysis is essential for making data-driven decisions. It handles big data to sustain your business and grow your reach. Plus, it gives you tips to adopt for more customer satisfaction.
Also available for
Windows, Mac, Linux, iOS, Android, and Web.
All options >>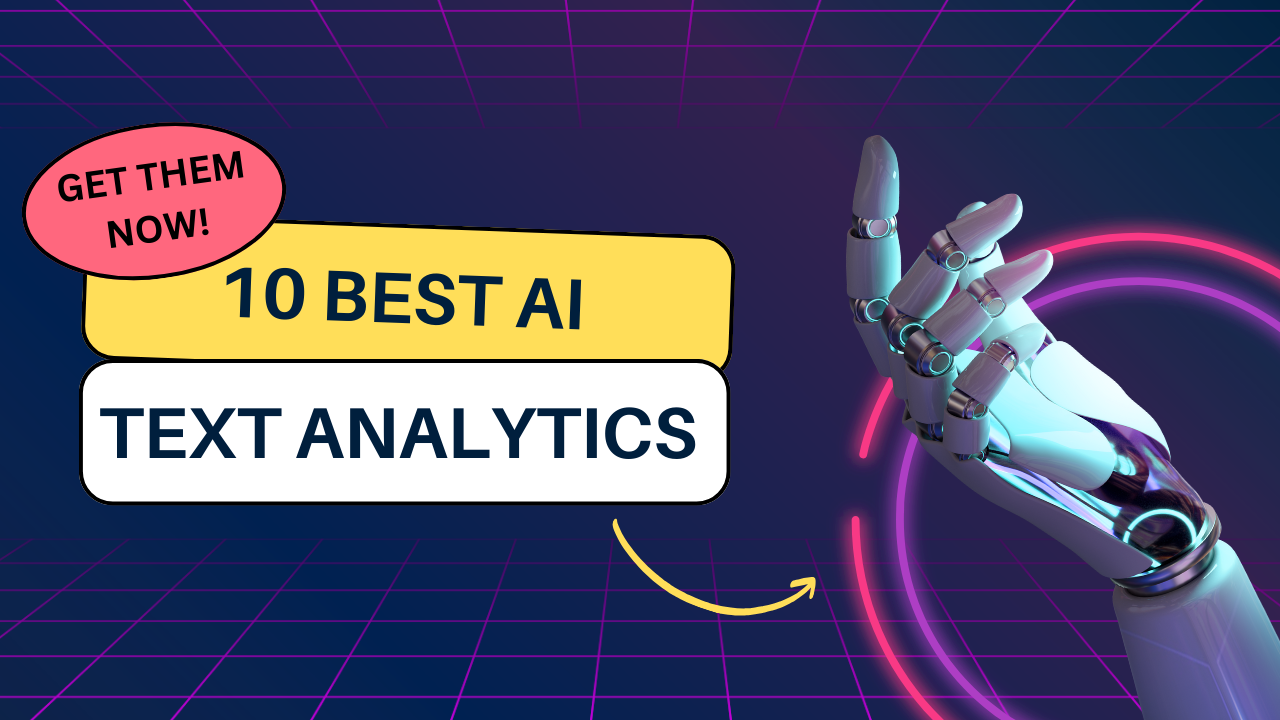 The digitalization of the business industry brought a revolution in data handling. Be it social media, customer reviews, tickets, surveys, and email, everything is filled with raw customer feedback. Today, 80% of enterprise data is unstructured, which means if not extracted and analyzed for decision-making, it is useless. This is where text analytics comes in handy.
Text analysis tools read data and provide meaningful insights that help enterprises improve product development and customer satisfaction. However, it becomes challenging to handle big chunks of data. Therefore, most businesses are turning to AI-powered text analytics. These tools automate the entire process and make it ten times faster.
Want to know more about reliable AI text analysis tools and how to select one? Keep on reading.
Part I.Top 8 AI Text Analysis Tools
1. EdrawMax AI: Text Analysis for Diagramming Assistance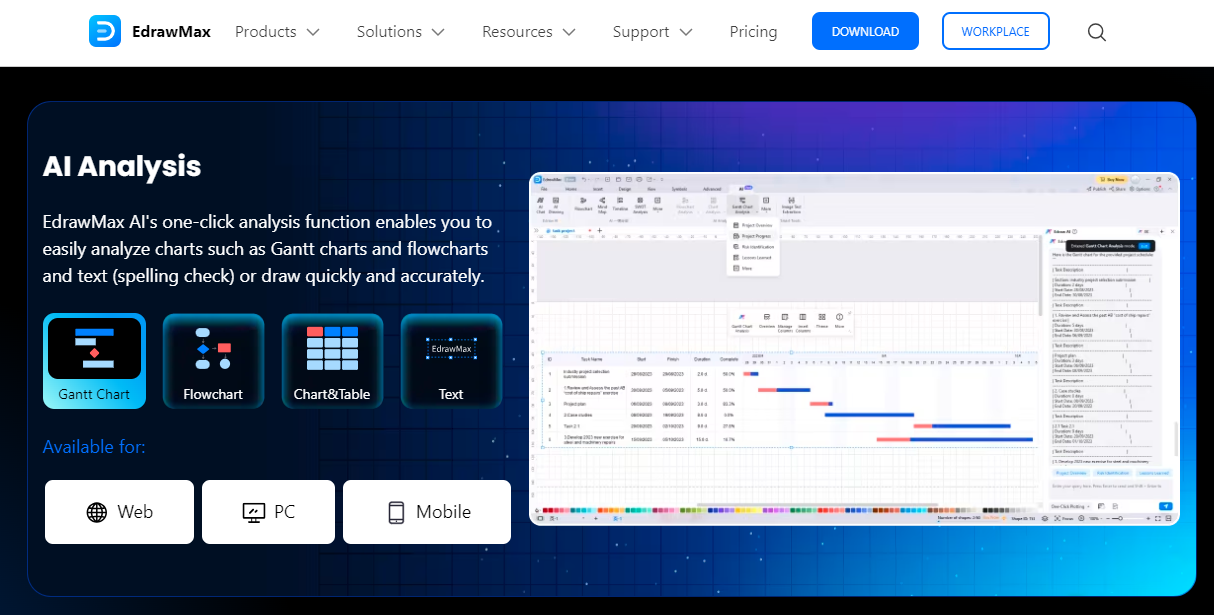 EdrawMax AI is an all-in-one diagramming solution for businesses to automate their tasks. Powered by ChatGPT, it can analyze text and summarize the content. You can also convert the feedback into diagrams for improved comprehension.
Highlights
EdrawMax AI chatbot saves revision history to understand the intent better.
Its pre-scenario AI function improves the cohesion of the generated feedback. You can adjusts the paragraph's tone and length with a single click.
The one-click diagramming feature converts the analysis responses into charts, graphs, and other diagrams (flowcharts, Gantt charts, org charts, etc.).
You can also use its OCR technology to extract text from digital images.
EdrawMax combined with Edraw AI offers better work efficiency. Its pre-built templates, automatic diagram formatting, and auto-presentation make it easy to prepare presentations, brainstorm, and make decisions.
2. Thematic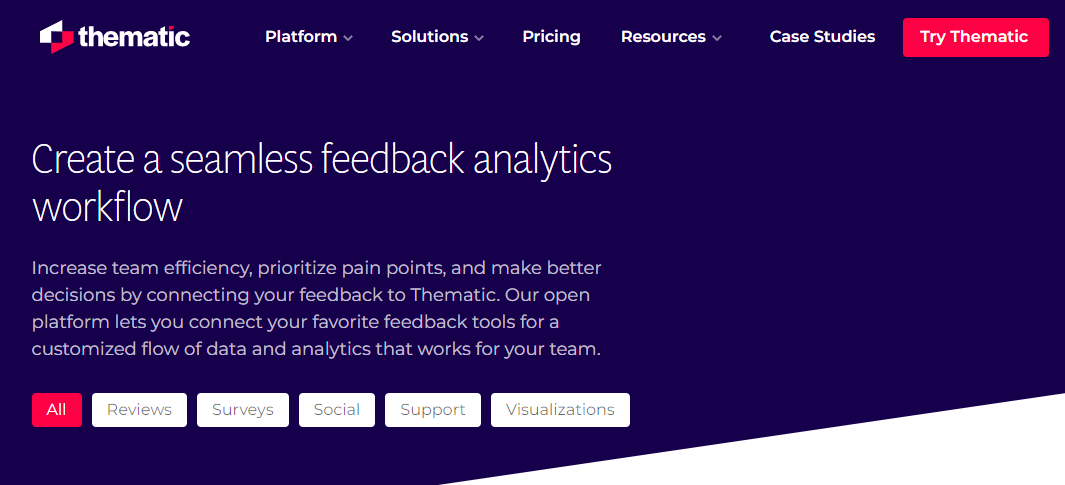 Thematic is the collaborative space for text analysis. It uses NLP and deep learning to categorize and analyze unstructured data from customer review surveys, social media comments, Emails, and chat responses. It has a feedback comment organizer that categorizes responses based on keywords. What sets it apart? It puts great emphasis on protecting users' data from potential theft.
Highlights
Thematic supports datasets like NPS, CSAT, data tickets, and reviews.
The feedback organizer categorizes the outputs using parameters (geography, product specification, and date).
You can visualize the extracted text through charts, aiding accuracy and understanding.
It is an open-platform service available on the App Store, Excel, Play Store, etc.
3. Chattermill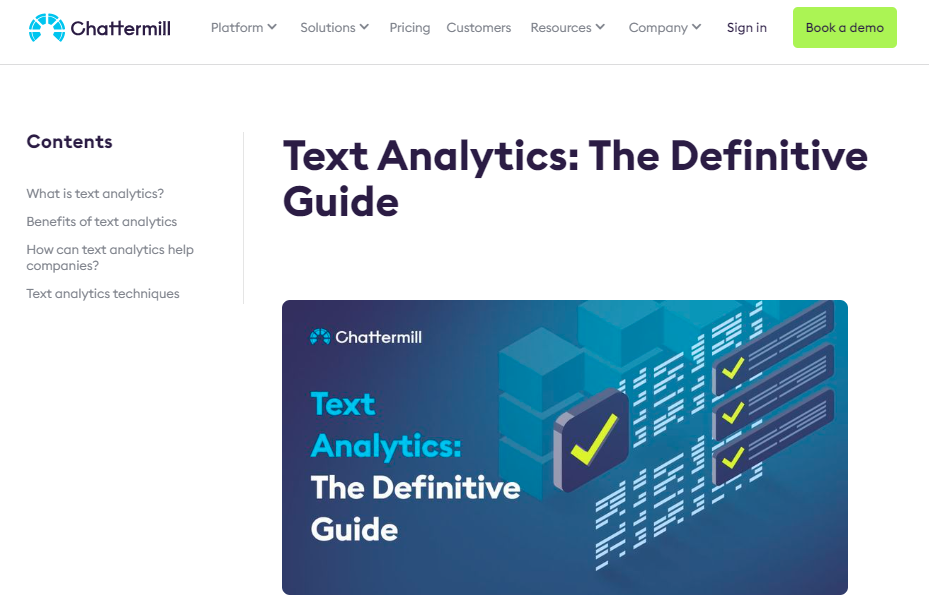 Chattermill is the mind of your business. It unifies and analyzes data from all the platforms, including customer review surveys, social media, chats, and emails, using sentiment AI algorithms. Therefore, having valuable insight into users' interests and needs with Chattermil, businesses can make informed decisions. Marketing teams can also sync their work on Chattermill's built-in dashboards.
Highlights
It uses intelligent feedback analytics to analyze the customers' needs and requirements.
Chattermill utilizes sentiment AI to understand the tone of the text.
It supports over 50+ customer feedback sources to gather and measure data.
The tool generates automatic alerts and notifications on your dashboards.
4. Amazon Comprehend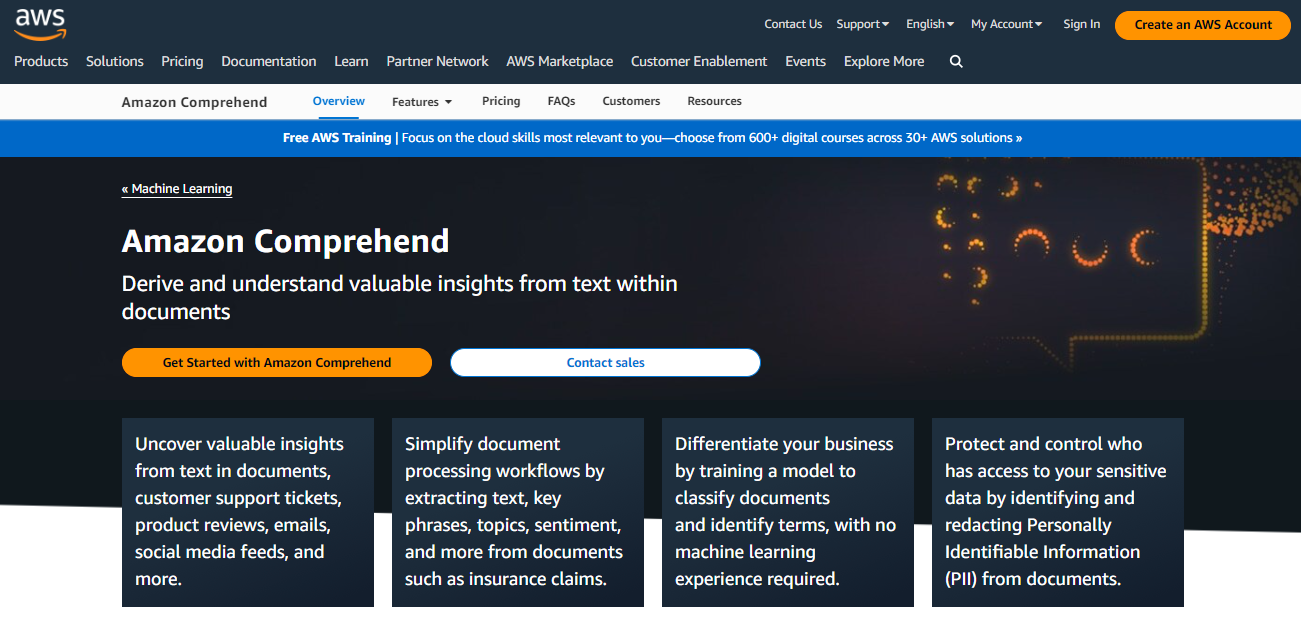 Amazon Comprehend is an advanced pre-trained text analytics for big companies. It uses Natural Language Processing technology to go through massive unstructured datasets and extract meaning from them. Moreover, its automatic language detection API can read and detect text in over 100 languages. Not only this, the software classifies documents into predefined data sets before processing, improving accuracy.
Highlights
It uses entity keyword extraction to identify domain-specific words.
Amazon has sophisticated sentiment AI and entity recognition to categorize and analyze the text.
It censors the PII (personally identifiable information) from text for privacy and data protection.
It uses topic modeling to categorize common topics before analysis.
5. Google Cloud Text Analytics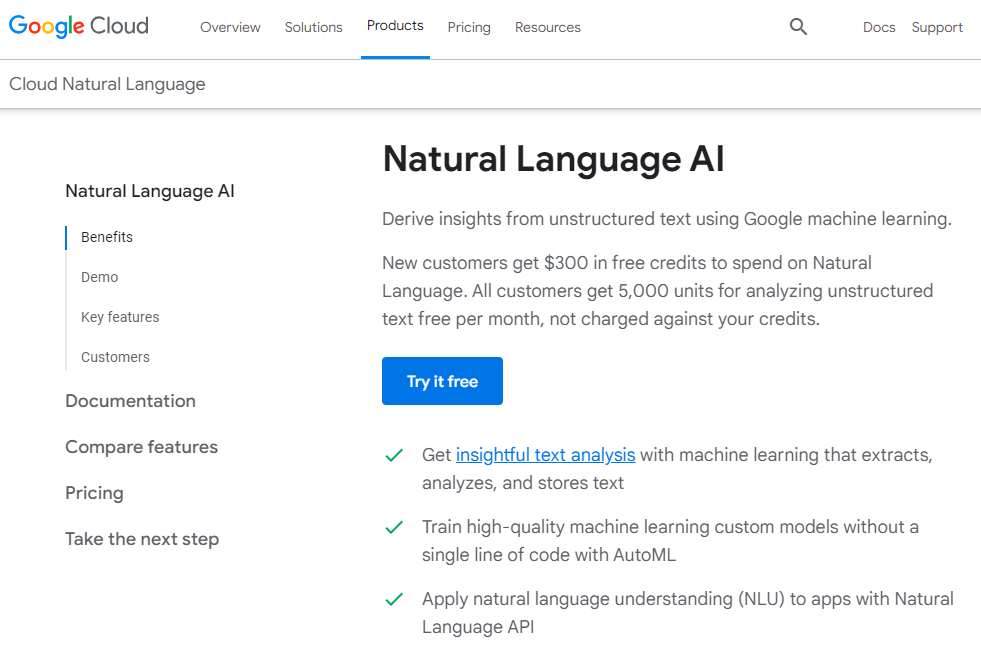 The Google NLP is the ultimate solution for businesses in search of Google-compatible text analysis for decision-making. Like Amazon, it is a pre-trained model that utilizes deep learning to categorize and derive meaning from unstructured text. Using pre-processing AI algorithms, it can analyze sentiments, extract keywords, and extract information like dependency parsing.
Advantages
It uses AutoML technology to categorize unstructured datasets for analysis.
Google NLP has a healthcare natural language AI feature to classify and extract entities from large healthcare documents.
It supports over 700+ predefined text categories and 5000+ classification labels.
Google NLP is multi-linguists, which means it extracts meaning from a wide array of languages, including English, Japanese, French, Russian, etc.
6. RapidMiner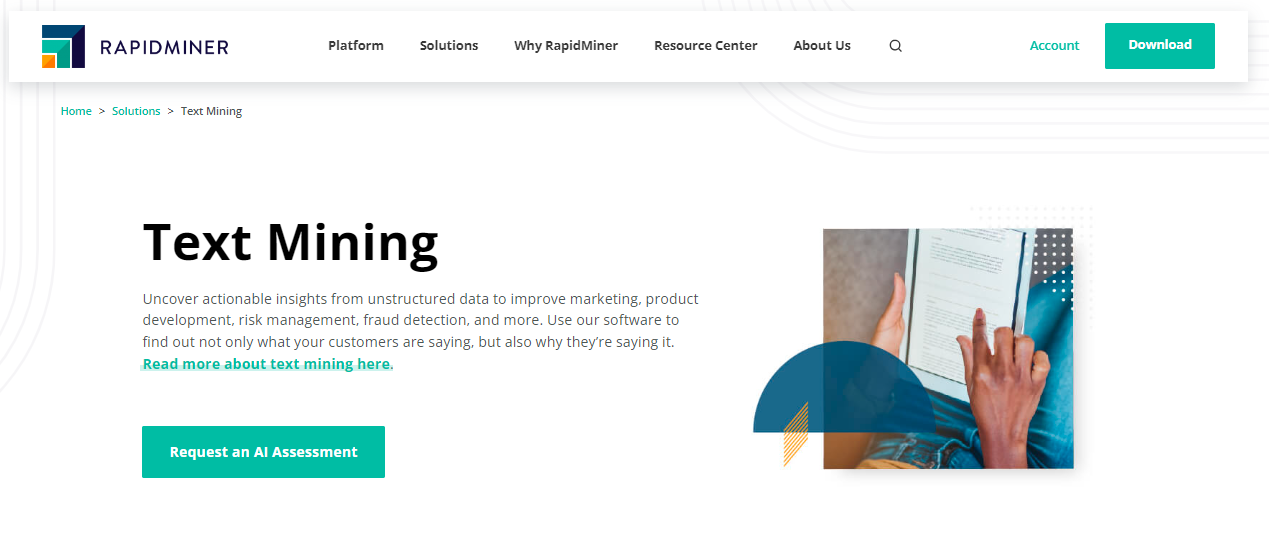 RapidMiner by Altair is a ready-made, fully automated text analytics for data scientists and non-coding domain experts. It combines text mining and analysis using language detection, entity recognition, sentiment AI, and NLP. But what truly sets it apart is its text pre-processing that allows cleaning and preparing the data for analysis. This way, the output is highly accurate and reliable.
Highlights
RapidMiner supports several data sources, including Email, Excel, documents, unstructured databases, and social media.
It allows text pre-processing (removing punctuation, stop words, stemming, and lemmatizing words).
It features a wide array of text-mining algorithms.
A 30-day free trial for businesses and individuals.
7. MonkeyLearn

MonkeyLearn is yet another ready-to-use text analytics to extract meaning from unstructured data. But it goes a step ahead and offers customization. So, businesses can customize their text analysis models and categories for higher accuracy. What's even cooler is its low-code workspace with a point-and-click interface. It also integrates with routine apps like Excel and Google Sheets, making it effortless for businesses to automate trivial tasks.
Highlights
It supports built-in business templates to perform analysis within a short time.
MonkeyLearn offers custom-built machine-learning analysis models.
It allows API access and cross-platform support (Excel, Google Sheets, RapidMiner, Zendesk, etc).
The software's API is available in all major programming languages.
8. Lexalytics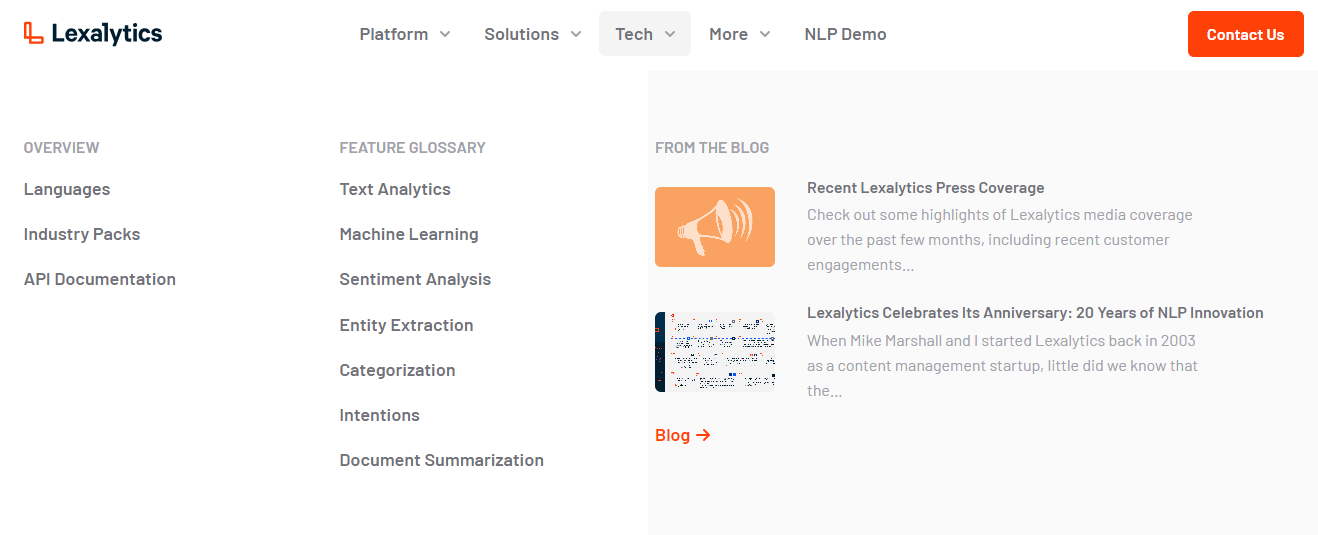 Lexalytics is a cloud-based API solution for businesses. It uses three built-in tools to perform the analysis: Salience on-promise NLP, Semantria cloud NLP, and SSV storage and visualization. Simply put, it uses intelligent algorithms like theme extraction, entity extraction, intent analysis, and language recognition to help businesses understand their customers' needs and wants. It also stores all the datasets on the dashboards for future trend predictions. How cool is that?
Highlights
Lexalytics can process text in over 30+ languages.
It features advanced functions like summarization, tokenization, language recognition, and part-of-speech tagging.
Lexalytics SSV stores your data on the dashboard for future trend prediction.
It supports pre-built industry-specific configurations to improve the accuracy of the output.
Part II. Comparison and Evaluation
Text Analysis Software Comparison
EdrawMax
Best for: Automated, ready-to-use text analytics for businesses
Strengths: Diagramming assistance, non-textual sources conversion, text-to-diagram support.
Thematic
Best for: Collaborative text analysis
Strengths: Content classification, feedback organizer, keyphrase extraction.
Chattermill
Best for: Sentiment AI text analysis
Strengths:
Amazon Comprehend
Best for: Pre-trained Text Analysis
Strengths: Syntax analysis, pre-cleaning unstructured data, content classification.
Google Cloud NLP
Best for: Pre-trained Text Analysis with Google integration
Strengths: Google-services integration, pre-cleaning unstructured data, syntax analysis.
RapidMiner
Best for: Intuitive text analysis solution for data scientists
Strengths: intuitive interface, text pre-processing, 30-day free trial for businesses.
MonkeyLearn
Best for: Custom training text analysis model
Strengths: Customizable analysis models, API access, cross-platform support.
Lexalytics
Best for: Cloud-based API text analysis
Strengths: Multilingual, industry-specific pre-labels, SSV data storage, syntax analysis.
Text Analysis Software Consideration
Text analysis has numerous benefits, but only when you have the right one. So, be mindful of looking into these two things before purchasing one.
Data Support: Check what file types it supports. For instance, some tools like EdrawMax and Thematic are comfortable with non-textual data sources, while others are not.
Ease of Use: Choose an intuitive no-code interface. Be sure it is easy to learn and provide helpful training material.
Conclusion
AI text analysis software is an excellent way for businesses to utilize their unstructured databases from emails, customer review feedback surveys, chat responses, and tickets. It helps them derive meaningful insights into their customers' needs and wants. This way, they can make data-driven decisions, automate daily workload, and increase sales conversion.
However, choosing the right one is essential for effective execution. Ideally, businesses prefer alternatives that can help them streamline routine tasks and facilitate brainstorming sessions. That is why we have selected 8 of the best text analysis tools, each of which has its advantages. Compare them and find the one most suitable for you.
EdrawMax Desktop
Create over 280 types of diagrams
Windows, Mac, Linux (runs in all environments)
Professional inbuilt resources and templates
On-premises software for business
Enterprise-level data security
EdrawMax Online
Create over 280 types of diagrams online
Access diagrams anywhere, anytime
Team management and collaboration
Personal Cloud and Dropbox Integration
Related Articles