Zoom SWOT Analysis
Zoom has been a globally used leading remote tool that offers online meetings. Check out Zoom's SWOT Analysis by EdrawMax.
1. Lead-in
SWOT analysis is the management tool used when a business needs a perspective on the diverse factors influencing the firm and its growth. It helps to understand whether the implemented business model is working or not. Apart from market research, a company must be aware of its strengths and weaknesses to gauge its potential in the long run. While external threats can ruin the business, opportunities can enhance the functioning of a business. Thus, the Zoom SWOT analysis is significant in evaluating the strengths, weaknesses, opportunities, and threats that influenced the brand to build a sustainable business. Therefore, analyzing the company's business model through SWOT analysis Zoom will give a better insight into the company.
Zoom has recently reached its pinnacle of success due to the boom in the digital industry. Thus, the demand for streaming platforms during the Covid-19pandemic. SWOT analysis of Zoom will aid in understanding the factors responsible for the massive upshot of the digital platform.
Studying SWOT analysis for Zoom will reveal the elements that cause the company's meager performance at its initial stage and the enormous success afterward. So, let us study Zoom as a company and the strategies that made the business a huge success. In this article, we will introduce the SWOT analysis by creating a SWOT analysis diagram using EdrawMax Online.
2. About Zoom
2.1 Introduction of Zoom
Established in 2011, Zoom was founded by Eric Yuan, the former vice president of CISCO. He started his own company under the Saasbee brand name, which he later renamed Zoom. Zoom is a video communication app. It operates online and provides digital services, primarily making seamless online collaborations and meetings. Zoom rose to its pinnacle during the Covid-19 pandemic when it became a necessity to continue with everyday activities through digital platforms.
Concepts like work from home and homeschooling could be made possible due to platforms like Zoom. In this article, by studying the Zoom business model through the Zoom SWOT analysis, management can analyze the operations that worked for the brand to make a massive impact and the factors that are not promising. So, let us get to know the background of the company and the Zoom strategy that clicked throughout.
2.2 Overview of Zoom
| | |
| --- | --- |
| Name | Zoom Video Communications, Inc. |
| Founded | 2011 |
| Industries served | Digital |
| Geographic Area Served | Worldwide |
| Headquarters | San Jose, California |
| Founder | Eric Yuan |
| Revenue (USD) | $622.66 million |
| Main competitors | Skye Meet Now, Cisco Webex, Google Hangouts Mee, GoToMeeting, Messenger Rooms, Microsoft Teams, Slack, and more. |
| Employees: | 6.787k people |
2.3 History of Zoom
| | |
| --- | --- |
| 2011: | Eric Yuan, vice president of Cisco, left Cisco and, with 40 engineers, found his own company under the name Saasbee. In June, the company raised seed funding of $3 million from WebEx. |
| 2012: | The company was renamed Zoom and launched a beta version. They signed Stanford University as its first customer. |
| 2013: | Raised $6 million as a Series A round from Qualcomm ventures, Yahoo founder, WebEx founder, and former Cisco SVP and general counsel. Established partnerships with a name like Teambox, Logitech, Vaddio, and InFocus. Raised Series B funding of $6.5 million from Horizon ventures and others. |
| 2015- 2016: | Software integration with Slack, salesforce, and Skype. With version 2.5, the maximum number of participants was increased to 50 and later to 1000. David Berman, former president of RingCentral, became the president of Zoom, and Peter Gassner, founder, and CEO of Veeva Systems, became a member of the board of directors. |
| 2017: | Raised Series D funding of US$100 million, making it a Unicorn. Announced integration with Polycom, Microsoft Outlook, Google Calendar, and iCal.Zoomtopia hosted the first annual conference. Announced partnership with Meta. |
| 2019: | It became a public company. |
| 2020: | It gained 2.22 million users, downloaded 2.13 million times, and daily meetings rose to 300 million per day. |
| 2021: | Acquired Kites. |
3. SWOT Analysis of Zoom
The primary motto of SWOT analysis for Zoom is to bring out the internal factors that influence the various functioning of the digital company. Here is a comprehensive study of Zoom SWOT analysis in which the article will discuss the vital SWOT factors, including strengths, weaknesses, opportunities, and threats of the company.
Strengths
User-friendly: The online communication app gained popularity because of its easy-to-use features. It provided easy connectivity between various workstations. It allows several people to join an online meeting from different devices, while users can connect to a meeting without an account.
Niche product: Similar products were available in the market when Zoom came into play. However, Zoom managed to make it a niche product by providing basic features in addition to advanced features. Zoom managed to identify the weaknesses of other competitor and their products and provide solutions to those issues through its enhanced product.
Unique features: Zoom was in demand because it could identify and improve the existing technology and provide a comprehensive solution. It also came up with some unique features and a few specialized features that attracted the customers over its competitors.
Brand name: Zoom has a widely recognized brand name. Thus, it is the primary factor that led to its massive popularity during the Covid-19 pandemic. Many other collaboration and meeting applications were developed but could not sustain because of the accepted brand name of Zoom.
Weaknesses
Ineffective encryption: According to experts, the ability of end-to-end encryption provided to the users by Zoom does not work in reality. It became an opportunity for the other competitors. They introduced better products that addressed this issue.
Unpolished features: While providing new and unique features is the forte of this brand, the brand fails to provide optimized features that cater to a better customer experience. For example, the absence of specific management tools for the Zoom room feature has lowered the customer experience.
Security issues: People believe that the China-based servers used by the company are a threat to many nations. It is a primary setback for the company as China is known to keep track of user data. Many customers stopped using Zoom altogether. Thus, many other competitors have taken over the market.
Lack of Video Downloading Option: Since Zoom limits downloading videos, many users become dissatisfied with their services.
Opportunities
n demand: Apart from the need to meet technological advancements, the pandemic was a massive opportunity for the app. With the introduction of the work-from-home concept and homeschooling, an enormous need for online collaboration and meeting apps was on the rise, which served perfectly.
Technological advancements: Constant innovations and improvisations are what Zoom has been known for, and it has consistently kept itself updated with technological advancements, this act as an opportunity for them, which they can use for their growth.
Diversification: Though the app has generated massive revenue with its limited services, it still has enormous opportunities to explore other areas like the social media market.
Utilizing the Social Media Platform: Today, users can integrate their social media accounts like Twitter and Facebook with their Zoom accounts. Thus, the firm can use this as an opportunity to expand its user-base
Threats
High competition: Zoom has many competitors due to its easily replicable business model. Similar products from large brands like Microsoft and Google are available in the market. Due to the highly competitive market, Zoom may lose its profitability soon.
Data Breach: Everyone can watch a live stream, thus, risking the chance of a data breach through hacking. Therefore, many users can have their embarrassing content online without permitting it.
Users May Feel Unwilling to Pay: Zoom charges for their Livestream feature. Often users may not feel willing to spend money on Livestream when on many social media platforms, they can do it for free.
Substitutes: The market is full of substitute apps like Skype and Discord. Zoom does not explicitly provide meeting and collaboration tools. However, they pose a threat to Zoom. The above discussion on SWOT analysis Zoom helped us understand the company's strategic position. Moving on to the end of the article, let us discuss the key takeaways from this article.
Zoom SWOT Analysis Diagram
As you saw here, SWOT analysis is an integral part of any organization's progress as it not only depicts the strengths and weaknesses in detail but also introduces the opportunities and threats it faces. In order to retain the information for a long time, students and professionals are advised to work on a Zoom SWOT analysis diagram using the astounding customization options offered by EdrawMax.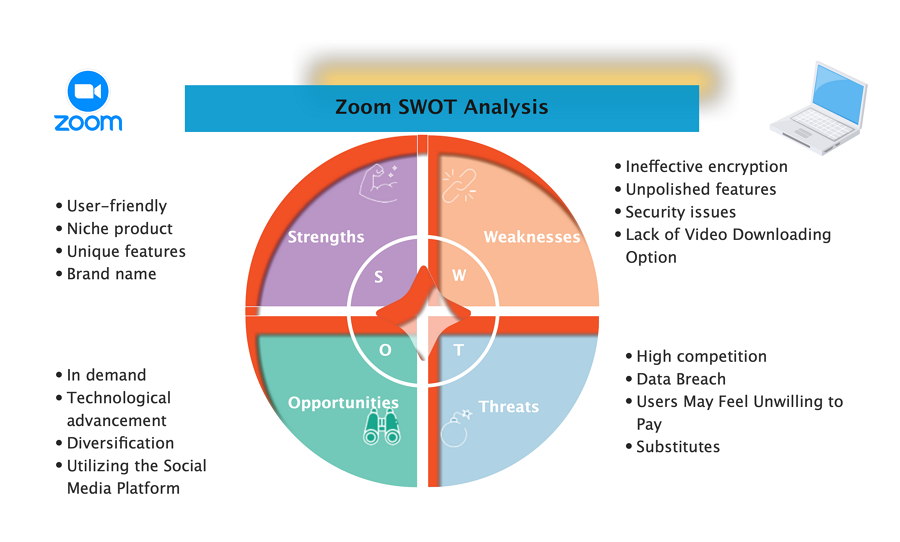 4. Free SWOT Analysis Diagram Creator
EdrawMax is one of the finest tools that money can buy in 2022. The tool offers a wide range of templates and symbols and provides extensive guides, complete resources, and more such online resources. Some of the great features of this SWOT analysis creators are:
With EdrawMax's template community, you can easily create a SWOT analysis, PESTEL analysis, Venn Diagram, and more in one canvas.
This free SWOT analysis diagram creator is designed by professional experts. So when you work on the design and customization parts, you do not have to worry about accuracy.
EdrawMax has an online version allowing you to access your files from anywhere.
Unlike other tools that take up much space on your system, this free SWOT analysis diagram creator is very user-friendly for your system.
The amazing feature or element of using EdrawMax is that it is free to use.
With this free SWOT analysis diagram creator, you can export the file in multiple formats depending upon your requirement.
EdrawMax Online
Create 280+ types of diagrams online
Access diagrams anywhere, anytime
Everything in desktop + Templates Community
Team management and collaboration
Personal Cloud and Dropbox Integration
5. Key Takeaways
Zoom application is a widely popular and accepted app for digital collaborations and meetings. This article deals with the history and overview of the company, primarily focusing on Zoom's SWOT analysis. SWOT analysis Zoom is the perfect management tool to know about the management facets of the company. This article has dealt with SWOT analysis for Zoom, where we get to know the various factors influencing the brand's growth.
When it comes to SWOT analysis making, professionals and beginners look for such tools that offer a wide range of options and are affordable. EdrawMax Online is one such tool that lets you make 280+ diagrams and is trusted by 25 million people worldwide. The online version of this SWOT analysis software offers you several remote functionalities of this diagramming tool, like access to private cloud storage and more.
Reference
Biznewske.com. 2022. SWOT Analysis of Zoom | Zoom Competitors & Business Model | How Does Zoom Make Money? – Shark Tank Updates. [online]. Available at: https://biznewske.com/swot-analysis-of-zoom/ (Accessed 9 September 2022).

BStrategy Insights. 2022. Zoom SWOT Analysis - BStrategy Insights., [online]. Available at: https://www.bstrategyinsights.com/zoom-swot-analysis/ (Accessed 6 September 2022).
Related Articles