How to Create a Fishbone Diagram in PowerPoint
---
No professional diagramming tool at hand, but you need to make a fishbone diagram right now! PowerPoint software may come in handy even if it's for making slideshow presentations.
Today, this guide will tell you how to use PowerPoint to create a basic fishbone diagram (cause-and-effect diagram) and then we will share a more efficient and powerful diagram maker -- EdrawMax to help you create fishbone diagrams.
How would you like to create your fishbone diagram?
How to Create a Fishbone Diagram in PowerPoint
a. Choose a Suitable Template
As there is no ready-made fishbone diagram template in PowerPoint, you can find your desired and suitable templates in Google Images or in our template website.
b. Add Shapes
After selecting the suitable fishbone diagram template, now you have to start from the beginning and draw the big bones of the diagram.
Go to Insert tab, click Shape, choose the corresponding shapes in the drop-down list and add them onto the page. Almost every basic shapes that can be used in your fishbone diagram will be found in the drop-down list.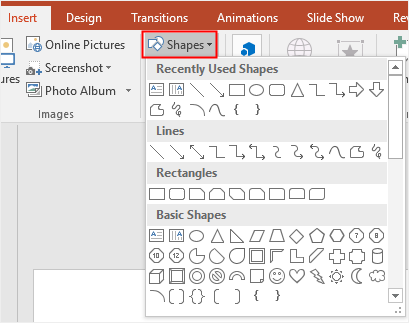 The rectangle that adjoins the arrow is the symbol of the effect. These blank boxes on the both sides of the arrow represent the potential causes.
c. Add Lines
Go to Insert tab or select a shape, go to Format tab, choose Lines from the shape gallery and add the additional lines into the diagram.

After adding lines, the main structure of the fishbone diagram will be outlined.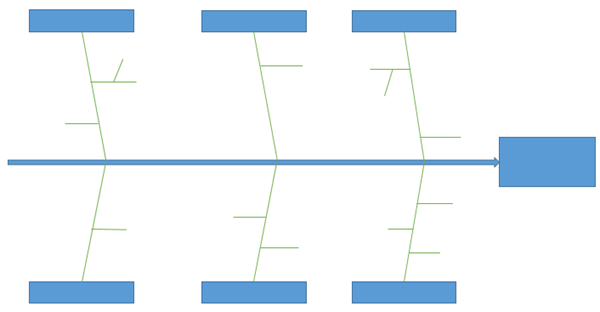 d. Add Text
To add text on the structure of the fishbone diagram, there are 2 different ways:
To add text on the boxes, you can click the shapes and type text on them directly.
To add text around the lines, you need to insert text boxes around the additional lines and then type text in the text boxes.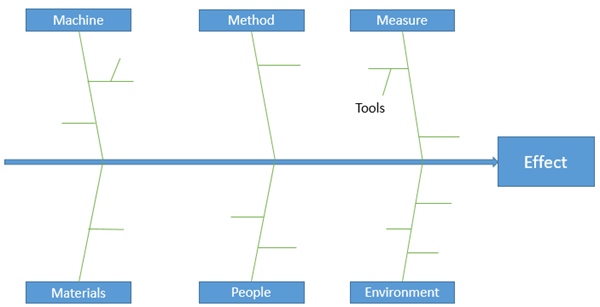 e. Format a Fishbone Diagram
Normally, the default colors and fonts in the diagram may not satisfy your requirements all the time. So most of the users would like to customize the fishbone diagrams and adjust visual effects by changing the styles of shapes and text, font styles, alignment, etc.
You can modify the shape styles and WordArt styles in Format tab and change the font styles and alignment in Home tab.

How to Create a Fishbone Diagram in EdrawMax
Making a fishbone diagram in PowerPoint needs you to spend much more time in drawing the main structure and it also requires many additional steps to build a complete fishbone diagram.
Compared with that, using the professional diagram creator -- EdrawMax – can give you a relief. There is no more need to consume extra time in doing preparation for creating the diagram. With plentiful templates and various symbols for different diagrams, EdrawMax can help you create high-quality fishbone diagrams with less time.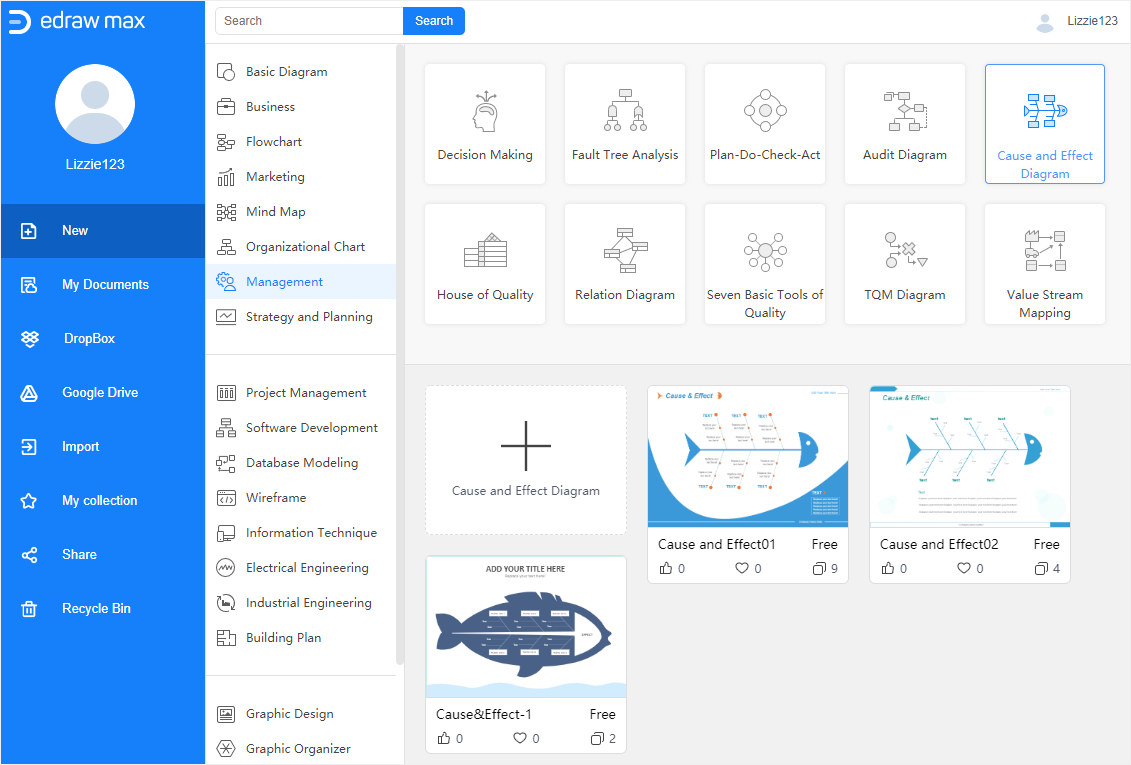 The steps of creating a fishbone diagram in EdrawMax:
Enable EdrawMax and select a desired fishbone diagram template in the Management gallery called Cause and Effect Diagram.
Double-click the template to enter into the drawing interface and you will see the symbol library will pop up on the left side so that you can select anything that you like and add it into the diagram.
Modify and customize the template to make your own fishbone diagram with easy-to-use drawing tools and abundant symbols.
Save and export the fishbone diagram in Excel format or other common file types.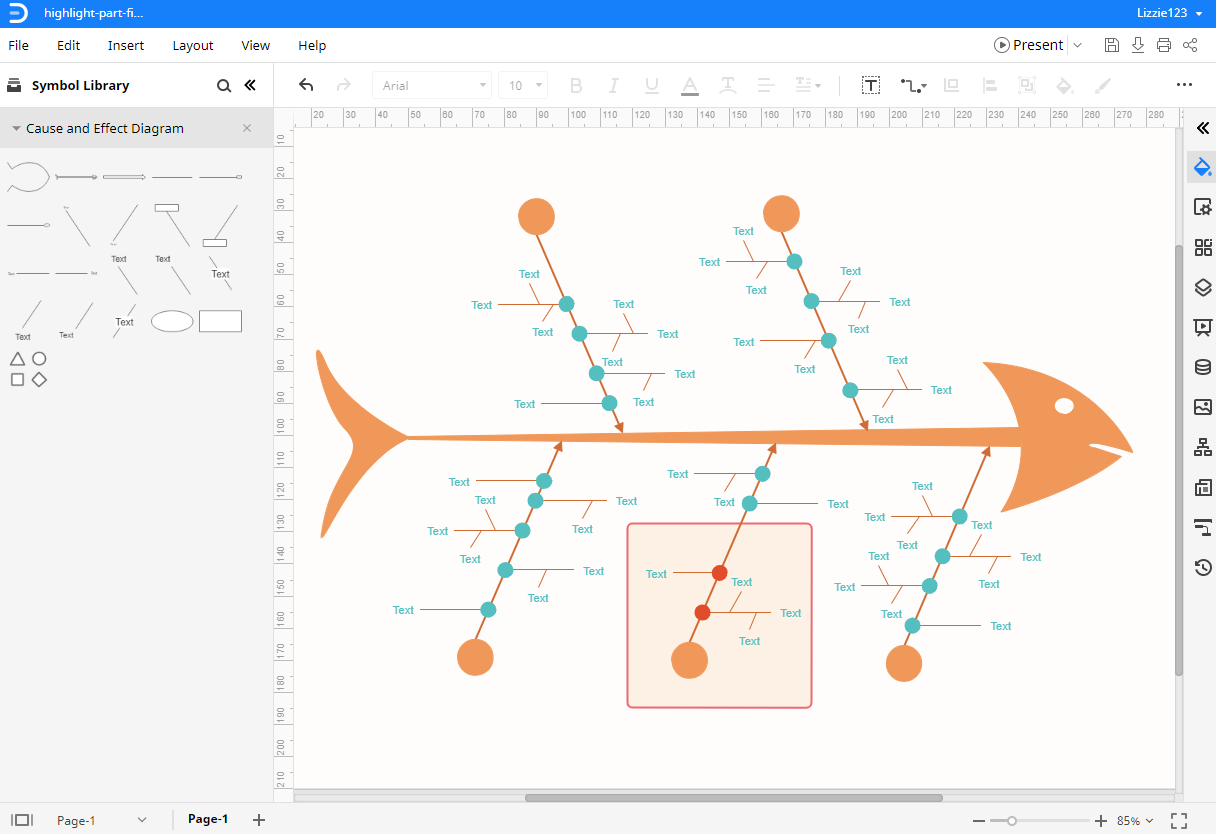 How to Save an EdrawMax diagram as PowerPoint File
When you finish making a fishbone diagram in EdrawMax, you can choose to save or export the EdrawMax document in PowerPoint format.
Go to File tab, click Export > Export to PowerPoint, and the system will automatically save and download the created fishbone diagram as a PPT file. You can get a fishbone diagram in PowerPoint format. All the Microsoft Office files exported from EdrawMax are editable.
Besides, you can also export the finished EdrawMax diagrams in many other common file types, such as graphics, PDF, Word, Excel, HTML and SVG. It will be much more convenient for you to share and transmit your designs and diagrams with colleagues and friends if they don't use EdrawMax.