Newsletter Tutorial: How to Make a Newsletter Online
If you talk about a handy communication tool, then the idea of newsletters comes in our mind instantly. You can name any organization, local colleges, schools, and large companies; they all use newsletters to build direct relationships with their members, employees, or customers. The main target of newsletters is to keep the audiences updated with all the latest developments in the organization, company, or school. If you want to communicate and attract potential customers, then you need to pay attention while designing your newsletter, which will help you to grab their attention and meet your objectives. There are many ways to create newsletters online, but if you don't know how to make a newsletter, then this article is the right place for you. Just follow all the details from here, and you will know how to create a newsletter in no time.
What is a Newsletter?
As we have mentioned earlier in this article, the newsletter is a tool that will help you to attract the attention of potential customers. If we put it simply, a newsletter is something that will offer the audience something exciting, useful, and easy to understand. When a reader gets and goes through a newsletter, they should easily be attracted by it and find new and helpful information out of it so that they are drawn towards the product or the cause.
The use of a newsletter is extensive, and you can even write a book about it quickly if you start understanding its usefulness. So creating newsletters online has become very common nowadays. The newsletter will help you to establish relationships with your audience. When this relationship grows gradually, and it will lead you to achieve a lot of things, depending on what your exact targets are. It will also help you get more reach, more sales, assist more people, or you can get everything at the same time! You need to use newsletters to stay in touch with people who are potentially interested in your product or goal.
You can –
Increase and improve more engagement.
Get more traffic on your website.
Increase more sales.
Grow your business increasingly.
If you understand and use the potential of newsletters, then there is no limit to the benefits and effectiveness of this process.
Prepare For Making a Newsletter
There are not too many things that you need in preparation to create a newsletter online or offline. Many people don't even know how to make a newsletter. So to learn this, you must understand what you need to prepare for making a newsletter. Here are some points that you should seriously consider if you want to create an attractive and stunning newsletter –
Have a good newsletter maker. (We have the solution for this, don't worry!)
Set your main goals so that you can draft everything accordingly.
Keep readers in mind as they are your target audience.
Choose a fantastic layout, graphics, and design.
Craft your content precisely and create meaningful and useful content.
Keep things short, simple, and grab attention.
How to Make Your Own Newsletter Online
The best way to create a newsletter online is by using  Edraw Max Online  software. This fantastic tool is something that will help you visualize compelling stories by using engaging diagrams, charts, presentations, infographics, and other visual content. It's a more powerful tool than Visio because it can help you create more than 260 types of diagrams, including technical drawings and attractive infographics. It's available on the web and also on the desktop so you can easily create a newsletter whenever you want. Here is how to create a newsletter easily by using Edraw Max Online.
Step 1: Sign up
First, you need to visit this link – https://www.edrawmax.com/online/ and sign up for a free account by using your email address.
Step 2: Choose Newsletter Templates
Next, you need to click on New from the left menu bar, scroll down on the middle navigation panel, and select Graphics Design. Then select Newsletter from the options provided on your display.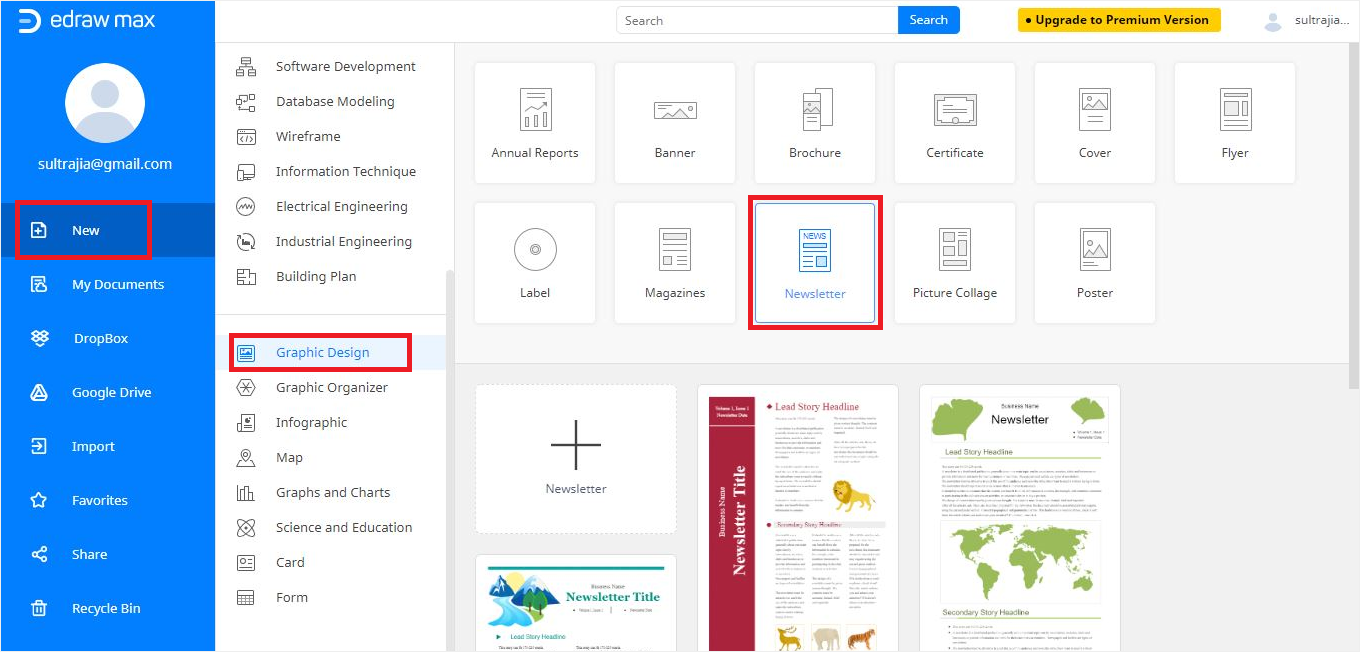 Step 3: Open Pre-made Template
You can select and open a pre-made template from Edraw Max Online and create a fantastic newsletter for your audience. If you want, you can manually make a newsletter in Edraw Max Online by using text boxes and Basic Drawing Shapes from the Symbol Library. Besides, there are plenty of formatting tools on the right pane and the horizontal toolbar. So you can use them to personalize the newsletter template and make your own one.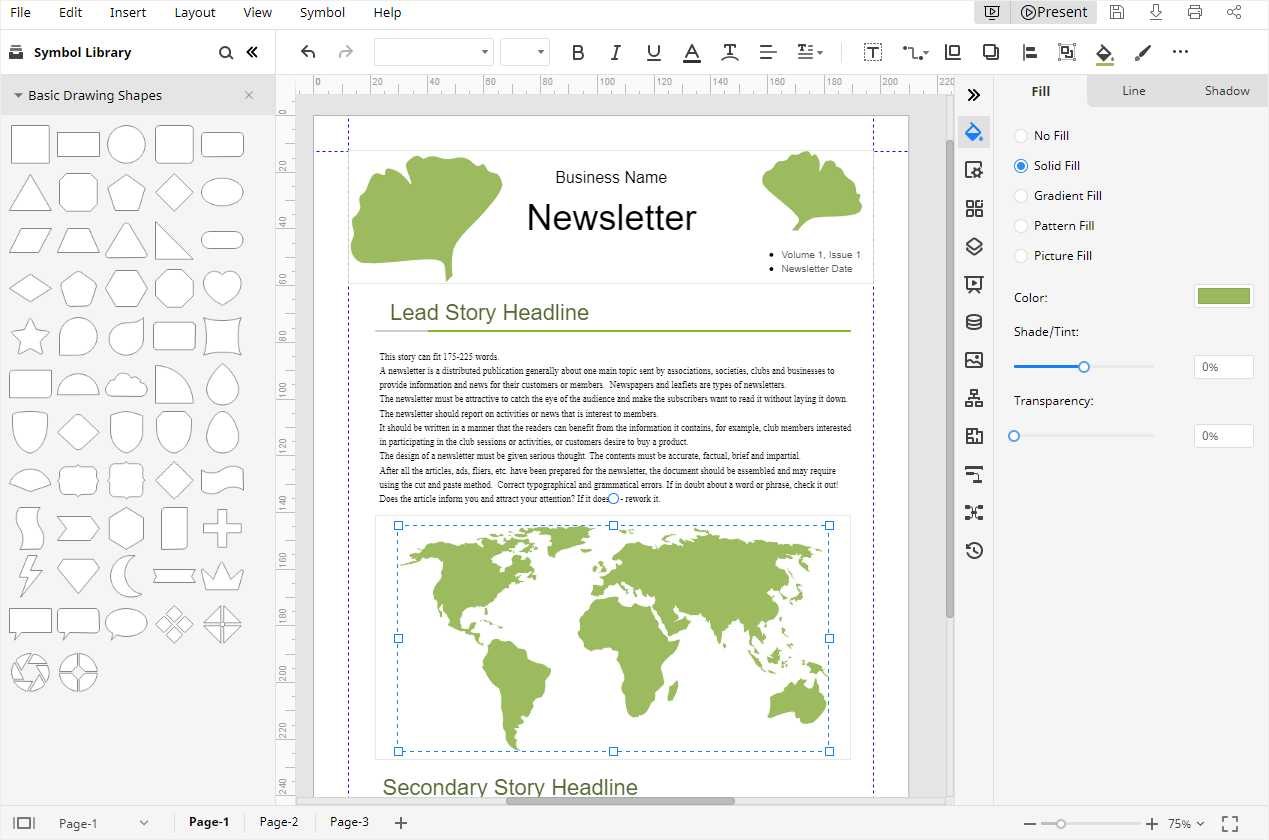 More Free Newsletter Templates
For your betterment, we are also providing you more free newsletter templates that will help you achieve your goal or attract customers easily.
Organization Email Newsletter Template:
If you are in an organization and you want to provide useful information, insights about upcoming events, relevant news on the activities of the organization to the respected members, or other people, then you can use this template.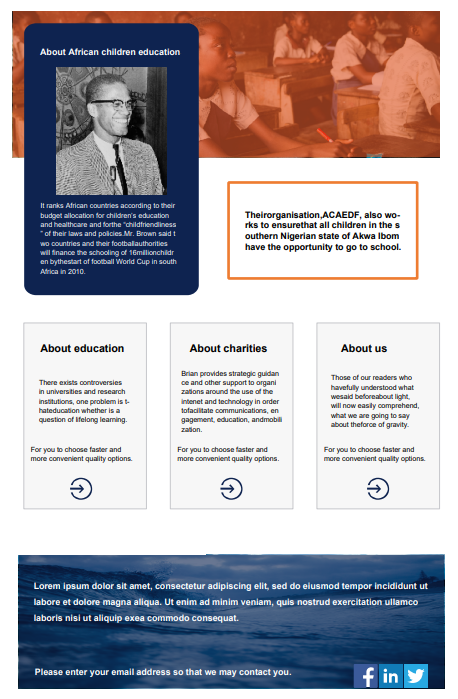 Market Email Newsletter Template:
If you want to describe and provide information about your products to potential customers, then this template can be a game-changer for you.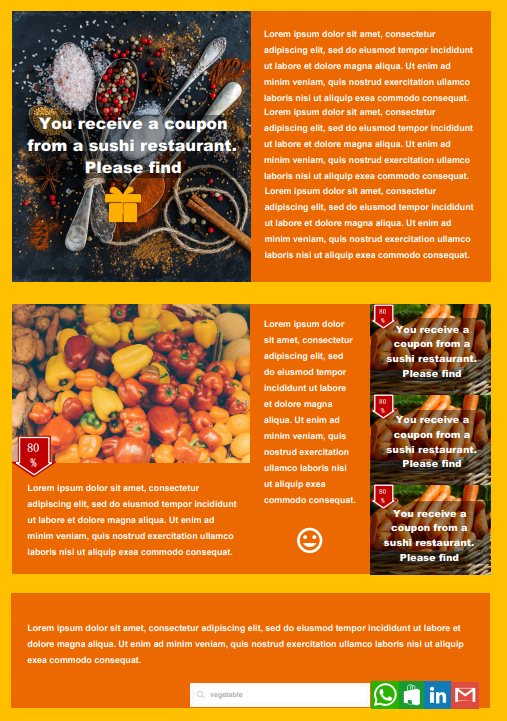 Business Email Newsletter Template:
If you are running a business and you want to provide information regarding attractive discounts and offers, or you simply want to attract new customers to your business, then this template can be a fantastic thing for you and your potential customers.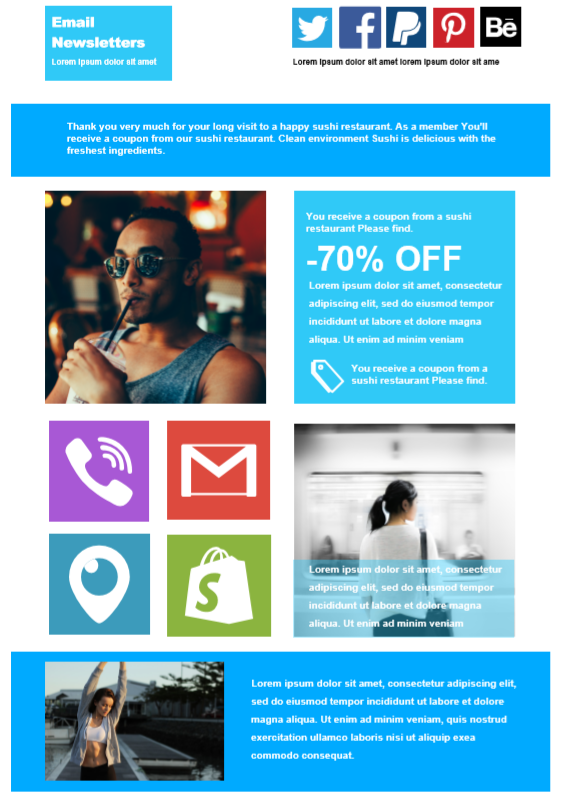 Newsletters are beneficial for every business, organization, and even person. So if you don't know how to design a newsletter, then you can easily do it by using Edraw Max Online. You already have the step by step details and what you need to do for creating a newsletter online. So without wasting time on thinking how to make a newsletter, start using Edraw Max Online now!