Org Structures: Every Company Should Know
Today, there is so much discussion about new business models with less rigid structures and more participatory in decision making. An organization chart gives the impression of going against all this innovation in the business modus operandi. The selection of types of organizational structure will directly impact the formation and maintenance of company culture. For this reason, we have prepared an article to help you understand everything about the organizational structure. Also, here recommend Edraw Max to make your organizational chart within minutes!
What is Organizational Structure?
1. What is Organizational Structure?
First of all, the way these people are allocated within the company, with the division of sectors, positions, and tasks, is called the Organizational Structure. Going a step further, the organizational structure works at hierarchical levels and determines the relationship between leaders and their followers.
Thanks to the types of organizational structure, it is possible to have a broader view of how resources are distributed across areas and how the company is moving towards achieving strategic objectives.Organizational Structure helps company to define at least 3 key elements of how you are going to run your business. Here is what each of these elements means to a company:
The chain of command not only established accountability, but it lays out an organization's authority lines and decision-making power. The chain of command does not happen accidentally. The organizational designer lays out as the last step to create an organizational structure. The organizational planner firstly considers an organization's goals as it must support strategy. The designer next determines the different tasks needed to reach the goals.
A manager is linked to several other subordinates. Those people who report to a manager is called a span of control. A manager who has a wide span of control has many assistants and a manager can't examine activity closely.
Centralization describes where decisions are made ultimately. Once you have established a chain of command, you will need to consider which departments and people have a say in every decision. A business can support centralization where a final decision is made by just one or two entities. However, the final decision is made within the department or team.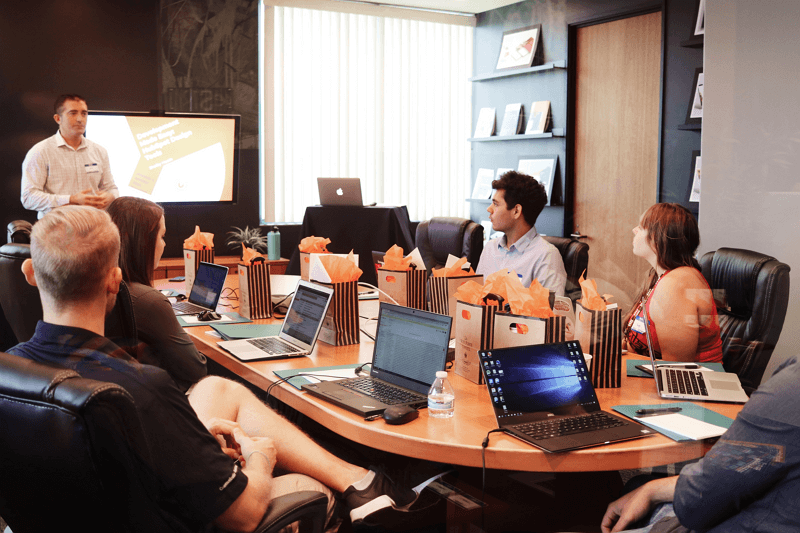 2. The Usage of Organizational Structure
The organizational structure usage shows as following:
Regardless of which layouts you decide to use, organization structures are useful for tracing relationships in your company and ensuring that everyone knows how to communicate key information;
Supervisory and organizational communication: it helps employees to know who is accountable to whom or helps people to know each other throughout the organization. Adding photos of the workers can go a long way, allowing people to associate faces with names;
Organizational structure can be used to plan and visualize company reorganizations;
Restructuring, like swapping a role in a team to better use everyone's talents;
Planning of resources such as reducing inefficiencies by modifying the assignment of roles;
Proper planning of the workforce, such as setting out the details of a new hiring initiative.
7 Types of Organizational Structures for Every Company
There are 7 types in total to illustrate the types of Organizational Structure
1. Hieratchical Structure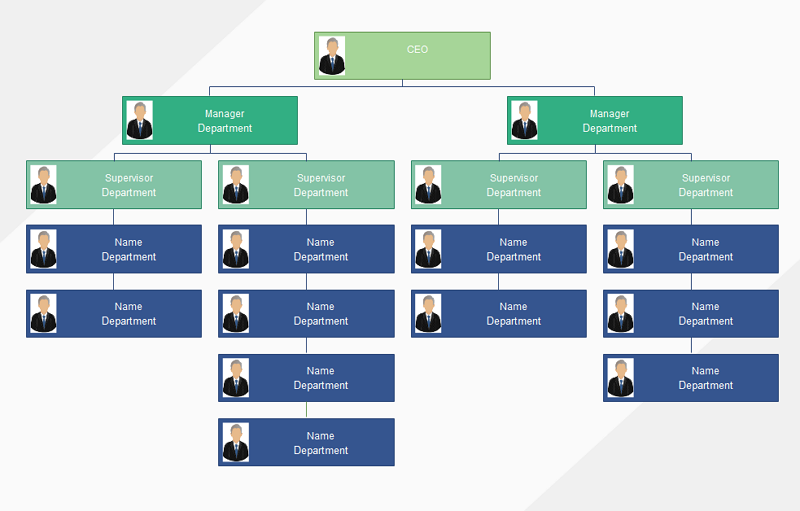 The most suitable hierarchical or functional organization structure for small companies, has as its "owner" the father of the Classical Theory of Administration, Henri Fayol. In the Hierarchical structure, resources are organized into departments. For example administrative, accounting, marketing, development, production, etc. The resources allocated in each department respond to a single boss. Also, each area has people who share similar knowledge and skills.
Pros:
Departments made up of people who speak the same language. Thus, communication within each area is facilitated;
Specialization is valued;
Hierarchical levels are well defined. In this way, each employee can see which is the next step to reach;
It encourages specializations, as within each area there are specialists;
The orientation of each person to activities that use their capacity effectively.
Cons:
There is no concern for the company as a whole. Each area is concerned with meeting its objectives and priorities;
Small businesses tend to benefit from this structure because they generally have no communication problems.
2. Flat Structure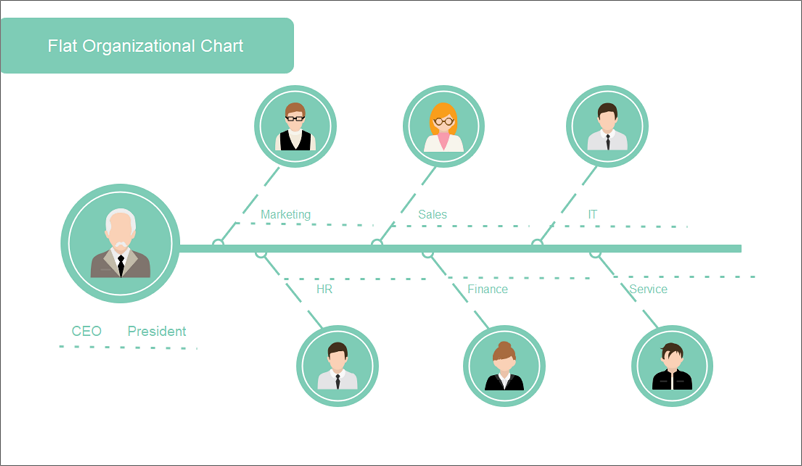 Flat organizational structures refer to a structure with few or no levels of management between staff-level employees and management.
Pros:
It elevates the staff's level of responsibility in the organization;
It helps to remove excess management;
It improves the communication speed and coordination;
Easier decision-making process.
Cons:
Staff often lack their boss to report that creates confusion in management;
A flat organizational structure limits growth for the long-term.
3. Matrix Structure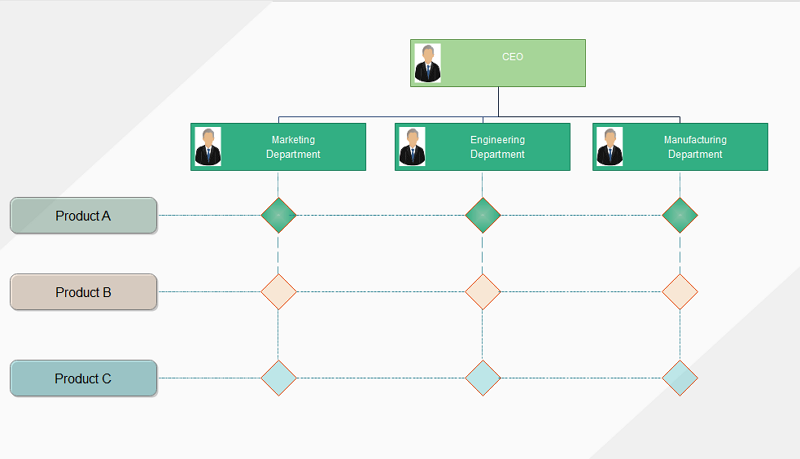 The Matrix Structure involves some of the functional structure (head of the department) and some of the divisional structure (head of the project). As each department has double subordination, here the command principle ceases to exist. For this reason, the matrix highlights the interdependence between the areas and presents the company with the need to deal with more complex environments.
The Matrix Structure aims to satisfy both needs: coordination and specialization. Thus, the goal is to obtain the highest possible income. Besides, this is the form most used especially in large companies, as each area has the type of structure that best adapts to the execution of its tasks.
Pros:
It enables a more participatory environment, as it depends on the collaboration of many different people;
Employees are more involved in making decisions at the lowest levels of the hierarchy;
Emphasizes the interdependence between departments, providing opportunities for delegation, greater personal contribution, and participation in decision making at the lowest levels of the hierarchy;
Easier to control results.
Cons:
Double subordination (functional and division heads) can create a conflict of interest;
The difficulty of adaptation by some employees;
Deficient communication.
4. Divisional Structure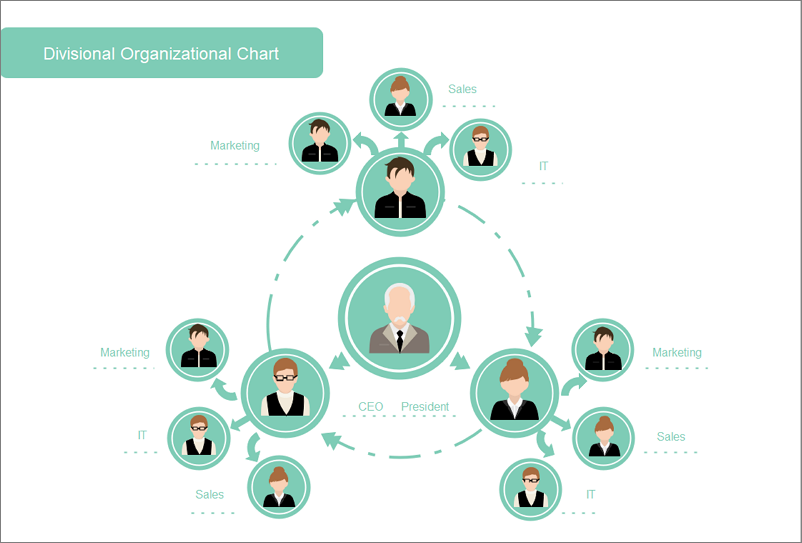 This structure is most suitable for companies that work with different markets and a varied client portfolio. It is formed by separate and self-sufficient divisions. Each division is responsible for a product or service according to organizational objectives. The structure can be classified by customers, products or services, geographic location, projects, or processes.
Pros:
Greater autonomy for each unit;
Marketing is designed according to the market in which each unit operates;
More independent decision making, which allows a faster response to the customer.
Cons:
Increased costs, as each unit is an operation, it will need its resources;
Doors open for excuses. As the divisions are self-sufficient, there is a risk that the blame for the low number of sales of a product is attributed to the region, for example.
5. Network Structure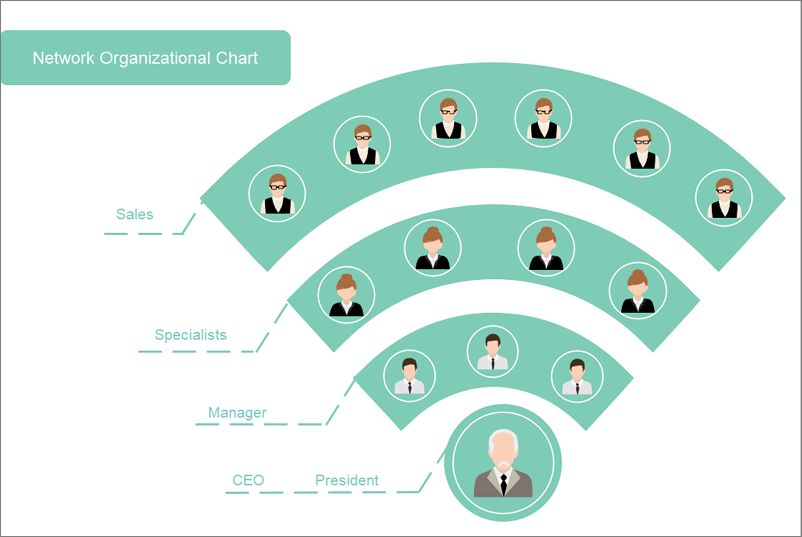 As the Network Structure allows the hiring of employees in a home office style, the connection of each service with the organization is electronic. For this reason, hiring can come from anywhere in the world. This structure can be used by small companies, making them more competitive globally, as it allows resources and suppliers to be allocated from anywhere. Also, it makes it possible to sell services and products worldwide.
Pros:
Global competitiveness;
Hiring services only when necessary;
Low administrative costs;
Two or three hierarchical levels.
Cons:
Without a corporate culture, there is a risk that professionals will not have the desired commitment;
Electronic failures can interfere with the progress of the project;
The organization does not have immediate control of all company operations.
6. Team-based Organizational Structure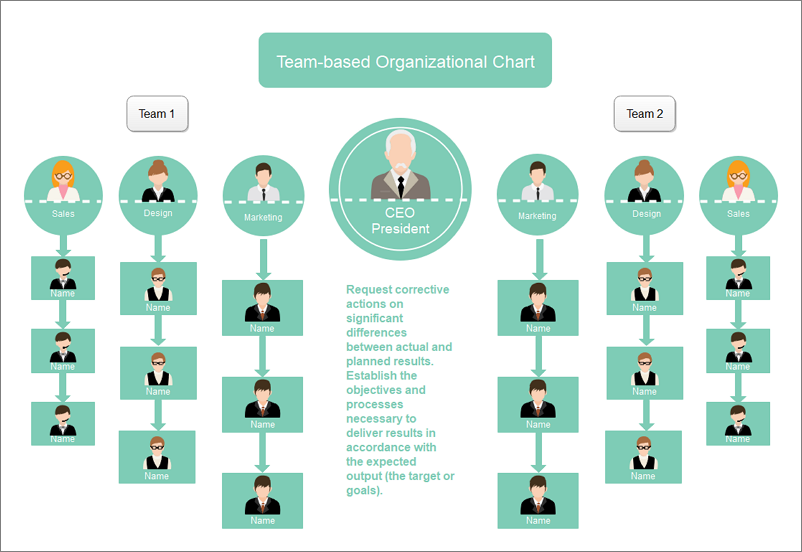 This is one of the newest types. This organizational structure combines minimal management and low-overhead with team efforts. Let us find out the Pros and Cons of this organizational structure.
Pros:
Less overhead management;
Eliminate delays;
Teamwork.
Cons:
More instability and change;
Less contact with other functions;
Less consistency.
7. Line Organizational Structure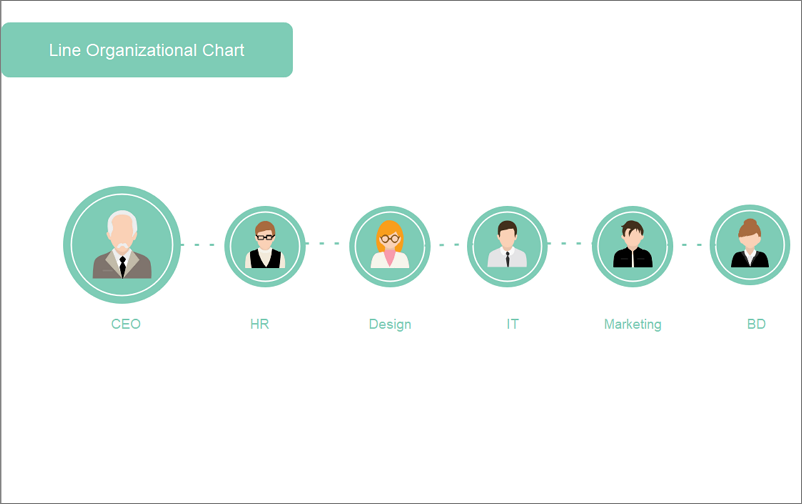 This type applies to construction companies, consultancies, and companies that work on projects. In this way, the size of the structure will depend on the number of projects. As the name suggests, here the project is of equal importance to routine activities.
Pros:
Project Manager has full autonomy;
A better holistic view of the project;
Project demands are quickly met;
The different number of specialties in the team increases the possibility of positive results.
Cons:
The idleness of resources, considering that at times there will be a lesser degree of demand in some areas;
Insecurity in the team at the end of the project.
How to Make an Organizational Structure Chart?
If companies do not invest in a good organizational structure, they will have a hard time controlling demand levels, hiring employees at the right time, having a career plan that satisfies employees, or choosing good leaders. Therefore, the importance of construction of organizational structure seems crucial for each company at the beginning.
Here the steps to guide you how to make your organizational structure with Edraw Max, which is the simplest tool for creating and customizing diagram no design skills needed.
Stage 1: Login or create acount on Edraw Max online;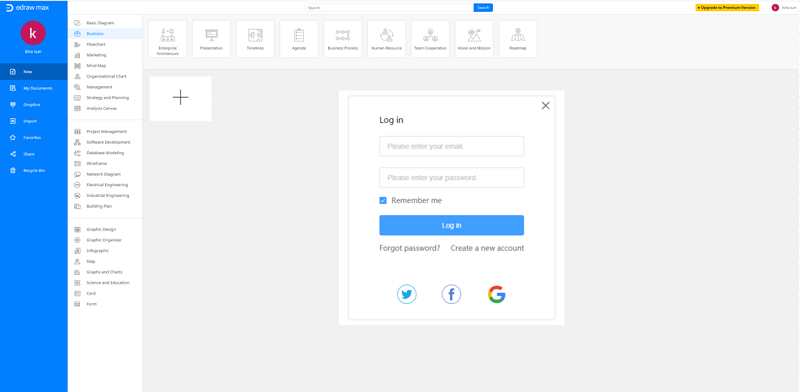 Stage 2: Click "Organizational Chart" button to select a template or create your own;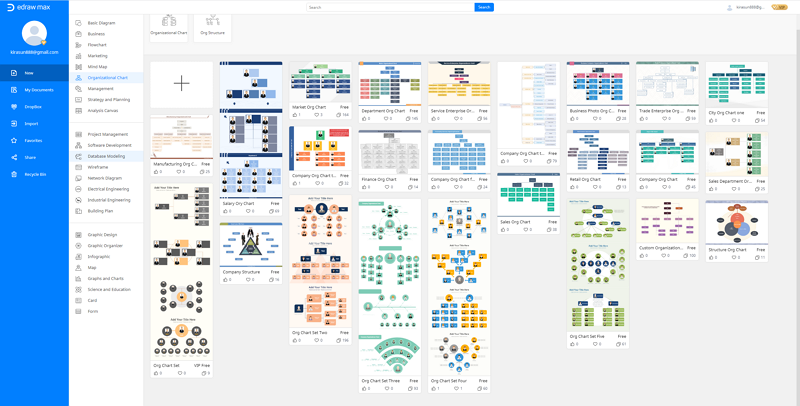 Stage 3: Enter text and further format as your preference;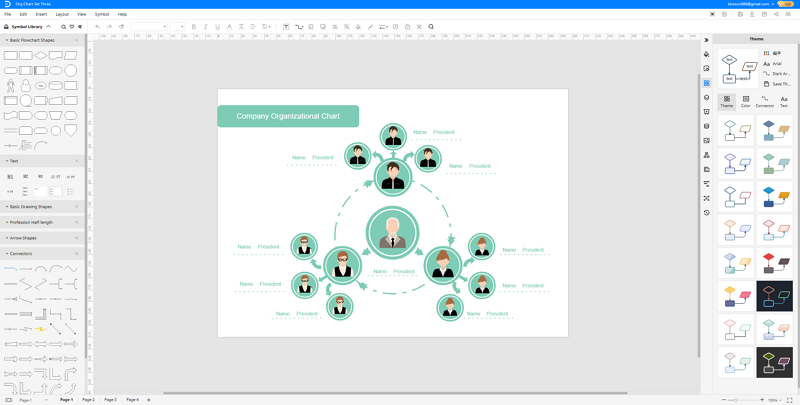 Stage 4: Export your file as the formats you like and share it to others;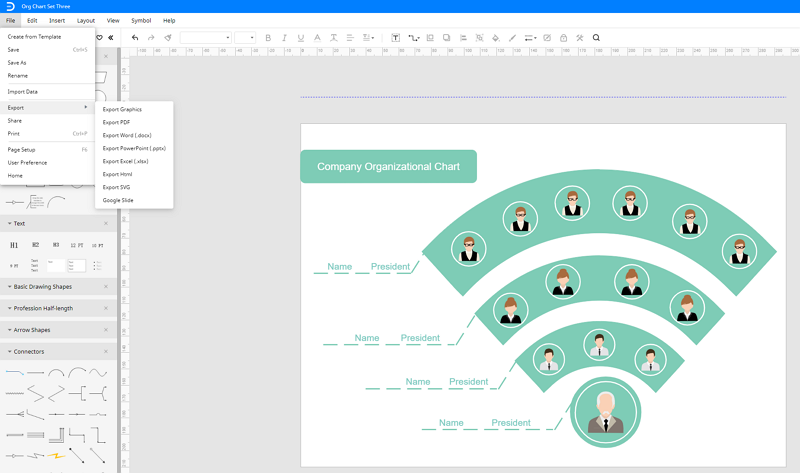 Summary
The different types of organizational structure allow company to achieve the goals and objectives since it establishes the fundamental bases such as division of labor, departmentalization, control of command, and hierarchy. It is important that companies have a structure, regardless of its size and that it is also designed according to what it intends to do and where it wants to go so that it allows it to achieve objectives. In addition to not losing sight of the organization's structure, when it is being designed it must be flexible and adaptable to the growth of the company.
If you want to draw different types of organizational structure easily and effectively, we recommend using EDraw Max software which is powerful and quite easy to use. This tool is the smartest way to draw charts and contains multiple templates. It does not require any professional drawing skills. Also, it helps you to complete the work in up to 70% less time.