What is SWOT Analysis?
When you want to evaluate your business, organization, or even your career, conducting a SWOT analysis is often the best way to gain insights.
A SWOT analysis is a robust evaluation tool that is used to assess and measure the Strengths, Weaknesses, Opportunities, and Threats of your business or yourself as a person. Taking the time to do a SWOT analysis of your business or career will help you identify your strengths and weaknesses and how you can harness them to gain opportunities and mitigate threats.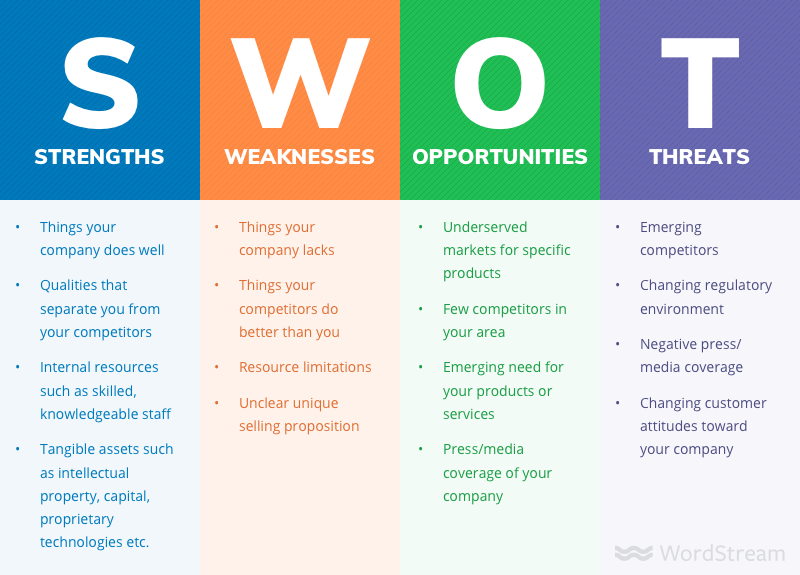 Image Source: amazonaws.com
Critical Factors in SWOT Analysis
The SWOT analysis is an acronym derived from the words: Strengths, Weaknesses, Opportunities and Threats. These are the factors that are evaluated and assessed using a SWOT analysis tool. 
Strengths: Your strengths represent anything that puts you in an advantageous position. It could be your skills, things you do exceptionally well, positive attributes, and the resources available to you, etc.  
Weaknesses: Your weaknesses represent the internal forces that limit you and challenges that keep you from breaking out and reaching your full potential as a person or business. 
Opportunities: Opportunities are external to you and your business, and they represent occasions or chances that, if utilized well, will lead to growth and advancement. 
Threats: Your threats represent the external factors that can endanger and compromise your business. 
How to Do a SWOT Analysis
Conducting a SWOT analysis for a business can be the difference between success and failure. Now that you know how vital making SWOT analysis is, you're probably wondering how to get it done and position yourself and business for success. Follow the easy guide below to get started with creating a SWOT analysis diagram. 
Step 1: Brainstorm, research and collect information for SWOT analysis
It would be impossible to conduct a SWOT analysis without having data and information to evaluate. So the very first thing to do is to think deeply and research the four categories of SWOT analysis concerning yourself/business. Determine and itemize your strengths, weaknesses, opportunities, and threats. The data collected should be appropriately categorized based on whether it is a strength, weakness, opportunity, or threat. 
Step 2: Sign up on Edraw Max to create your SWOT analysis diagram
Edraw Max is a versatile diagramming tool that allows you to create various kinds of charts online without downloading any software. Sign up for free with your email, Facebook, or Twitter account.
Step 3: Choose a template or create from scratch:
To create a SWOT analysis diagram, click New to start a new project. From the menu that pops out, scroll down, and select Strategy and Planning, then click Business Matrix. An array of templates will be displayed. Select any SWOT template you like.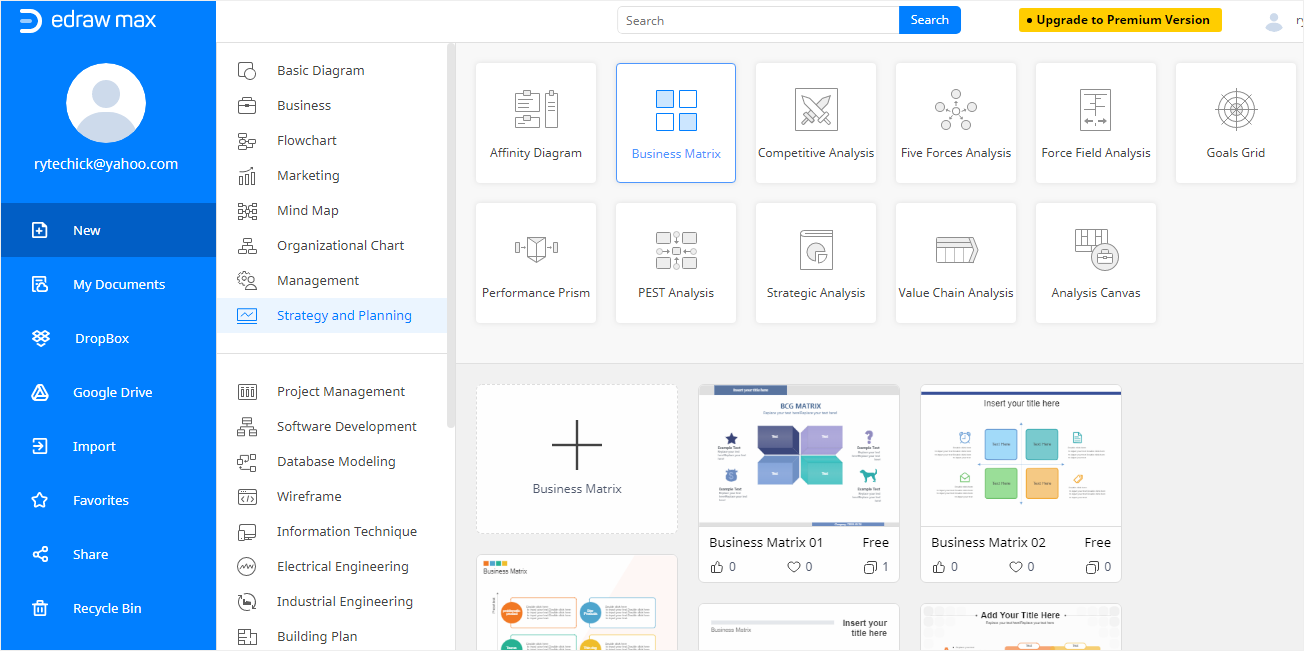 To create your SWOT analysis from scratch, ignore the templates and click the blank canvas. Once the blank canvas is opened, click Symbol Library to display the different symbol categories. Select Marketing and click Matrix to load up symbols onto the work area. Select any SWOT analysis symbol and drag it onto the blank canvas.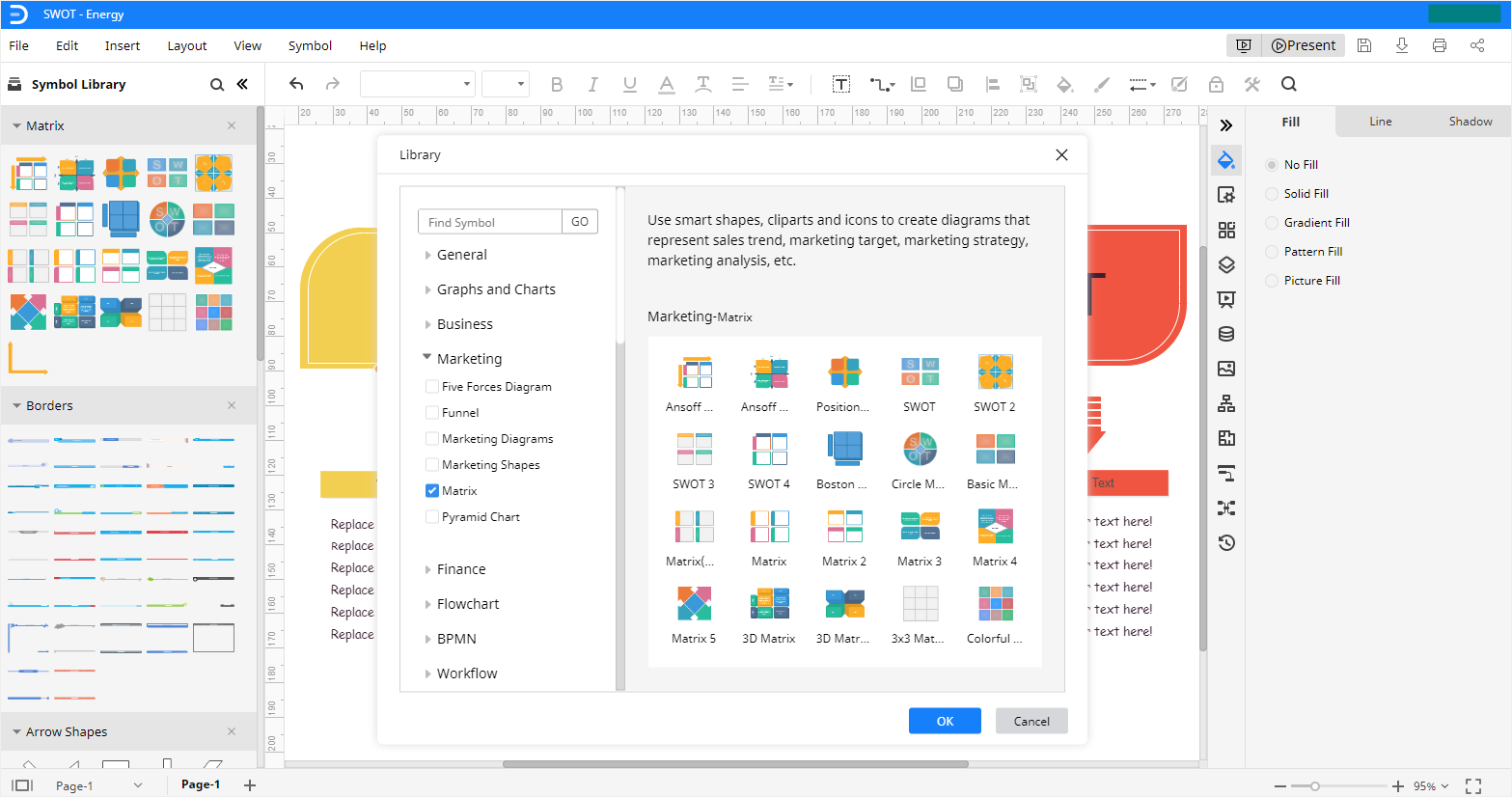 Step 4: Add textual information for your SWOT analysis to the template/canvas
Enter the data gathered for your SWOT analysis to the text fields on the template and canvas.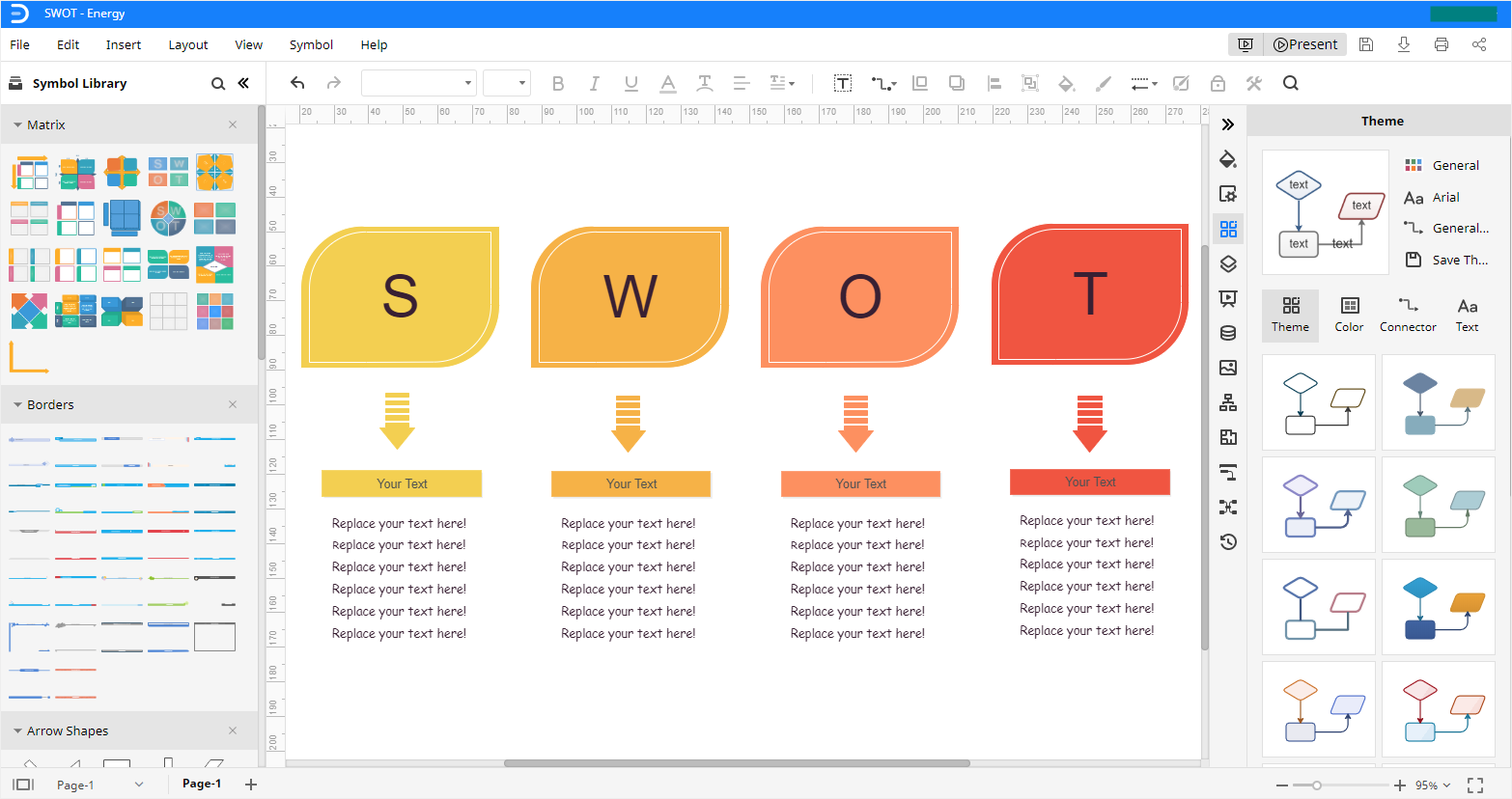 Step 5: Edit and Customize
With Edraw Max's formatting tools you can edit and configure your SWOT analysis template to reflect your style. Edit the text and color scheme of your template by using the text format and style tools.
Configure page settings by navigating to the Page settings menu. From the page settings, you can add or remove both background and watermark, resize the template and change the orientation (Landscape or portrait), etc.
Step 6: Save, Export, and Print SWOT Analysis:
Satisfied with the changes made to the SWOT template? Then it's time to save and get your SWOT analysis right in your hands. To do this, click the floppy disc icon to save the template. Click the download icon to download the template. Click the printer icon to print the template. With Edraw Max, you can export your SWOT analysis in different formats, including JPG, PNG, SVG, PDF, MS Word, Powerpoint, and Excel.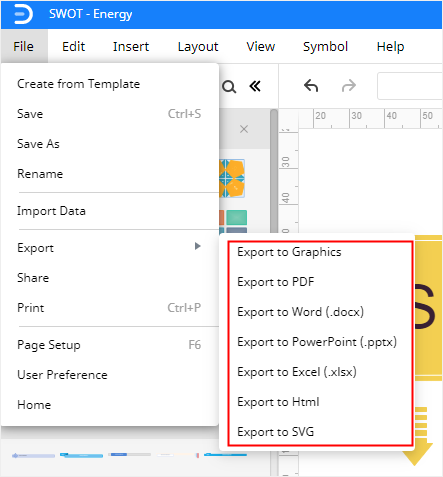 More Free SWOT Analysis Diagram Templates
Capture the data for your SWOT analysis with these visually rich templates below:
3D Personal SWOT Template
This bold and robust template uses bullets to highlight the SWOT analysis categories and is excellent for when you want to keep things straight to the point.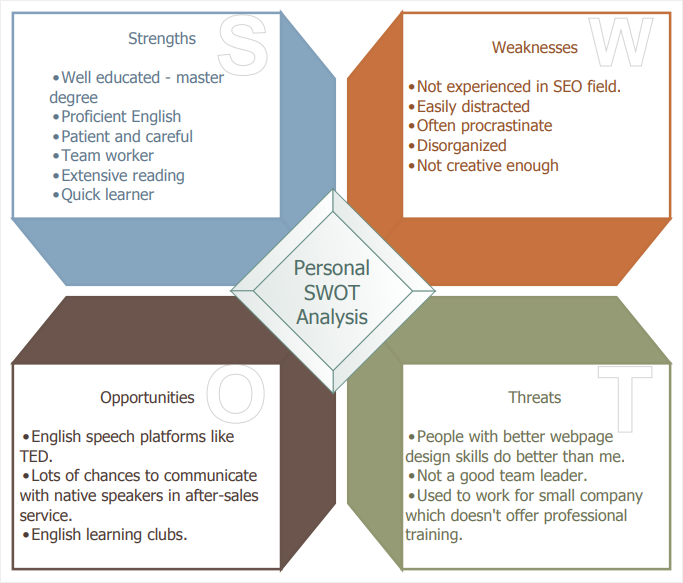 Give a professional touch to your SWOT analysis with this well-designed two-by-two matrix template.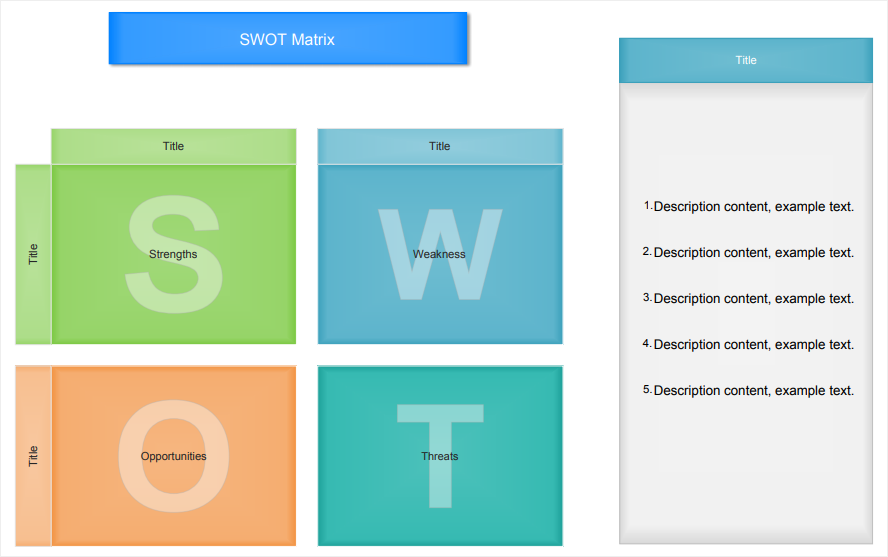 Individual SWOT Analysis Template
Need to conduct a personal SWOT analysis? Here is an awesome editable template to get that done. It's a clean template that allows you to emphasize the different aspects of your SWOT analysis.