Free Editable Schedule Templates Examples
A schedule is an excellent tool for maintaining routine, reminders, meetings, and progress standards. Different situations require different types of schedules. So, having a blank schedule template allows you to modify it according to your needs. Blank templates may cover weekly, daily work, project and study schedules, and many more.
1. What Is a Schedule Template
A schedule template is a form that has editable sections that you can fill in to create your customized and personalized schedule. At the same time, the essential requirement of a blank schedule template is a grid or any other format to plan the day, week, or project span. However, some graphics, aesthetic colors, and additional elements make the schedules pretty and attractive while adding some functionality.
An organized schedule is a great way to stay on top of your appointments and time management. It helps you get motivated and have a standard to assess your progress. You can maintain different types of schedule templates at the same time. For example, you can choose a yearly achievement schedule, a weekly schedule, and a daily plan. At the same time, a project team can use a blank schedule template for project planning and scheduling. They can also have a schedule to monitor staff duties and so on. Read more about how to create a work schedule for your team.
2. The Blank Schedule Examples
Now, we will discuss some blank schedule template examples to understand different formats and uses of schedules. You can choose to maintain a manual schedule or an automatically updateable schedule template according to your convenience.
Example 1: Block Schedule Template
This is a block schedule template for daily planning. Each column represents a time block spanned over hours. The space under each heading is suitable for further detailed planning. For example, the first column in this blank schedule template is the morning that has a period of three hours. Now, you can break it into your morning routine, including breakfast, TV time, reading time, and so on. The other columns can also be described in detail.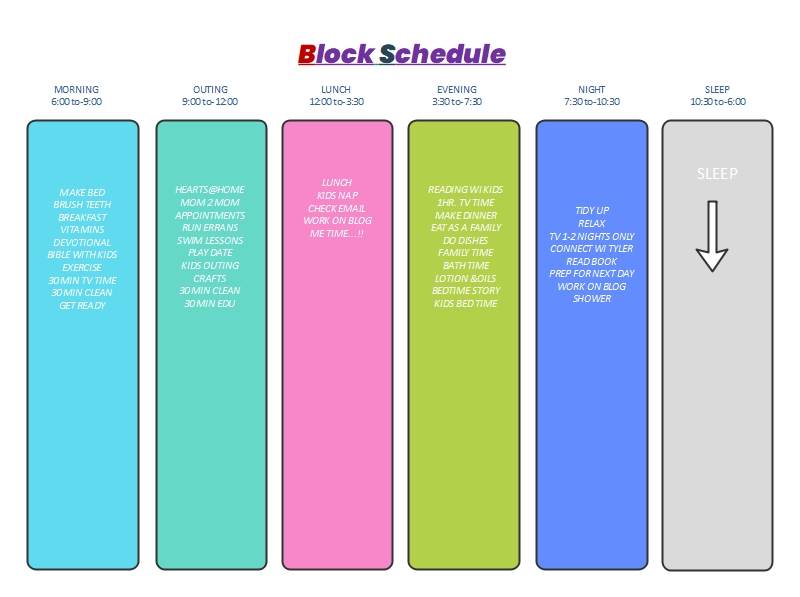 Source:EdrawMax Online
Example 2: Wedding Schedule Template
Wedding planning can be very frustrating. There are endless details, deadlines, appointments, orders, and a lot of stress to handle. A wedding schedule template can help you keep on top of your preparation and make sure that everything is ready before your D day. The wedding schedule template starts around eighteen months before the wedding date. It is not a very detailed blank schedule template as it is not planned day by day or week by week. Instead, it provides a tentative schedule and broad guidelines for your planning.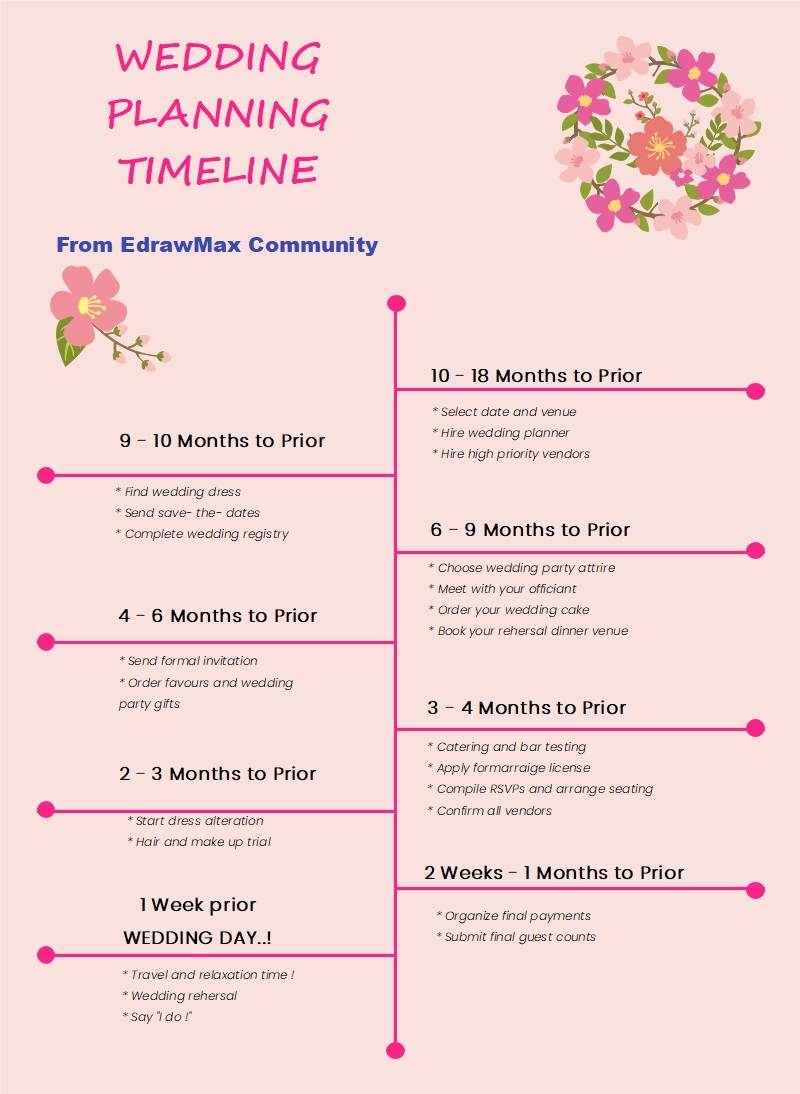 Source:EdrawMax Online
Example 3: Production Schedule Template
A production schedule template can be used for many different purposes like manufacturing, film, hospitals, construction companies, and even sports and hotels. It is a blank schedule template that helps you track all the information about the process or the task in question. A production schedule is a critical tool for project planning because deadlines are important in production and manufacturing. A properly managed schedule also helps to contain the deficit in the project schedule in the early stage. Hence it is also helpful in audit and monitoring.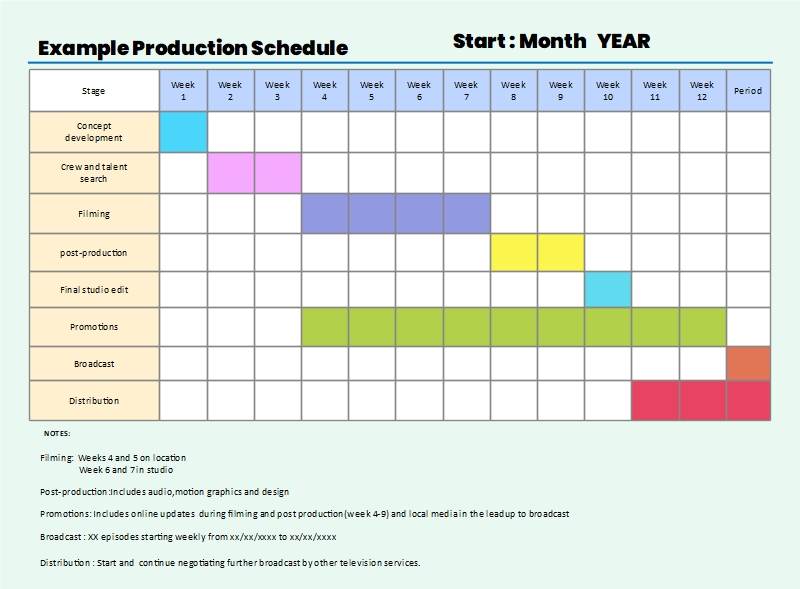 Source:EdrawMax Online
Example 4: Nurse Schedule
The nurse schedule template shown here is a very detailed schedule covering shifts and nurses for seven days of the week. So, there are many columns, and careful reading is required for this blank schedule template. It helps minimize the overall hospital cost and the maximization of nurses' preferences within the governmental rules and hospital standards. Nursing is critical for the wellbeing of patients, proper working of hospital staff, and the overall efficiency of the medical facility.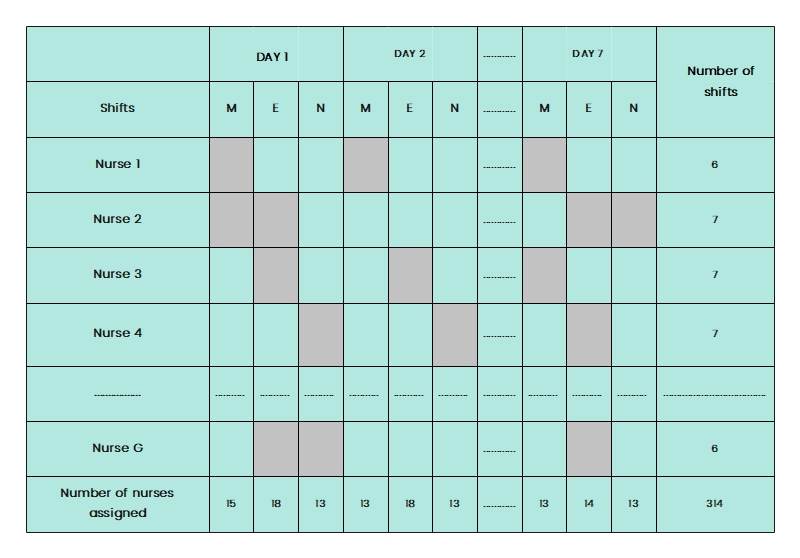 Source:EdrawMax Online
Example 5: Blank Work Schedule Template
The blank work schedule template allows you to manage your team's work assignments. It is organized by project and includes due dates and progress bars. Project bars are color-coded with the legend present on the top of the template. These progress bars are used for tracking based on individual tasks. The blank work schedule template helps you work together collaboratively with your team members by assigning and tracking particular projects and courses.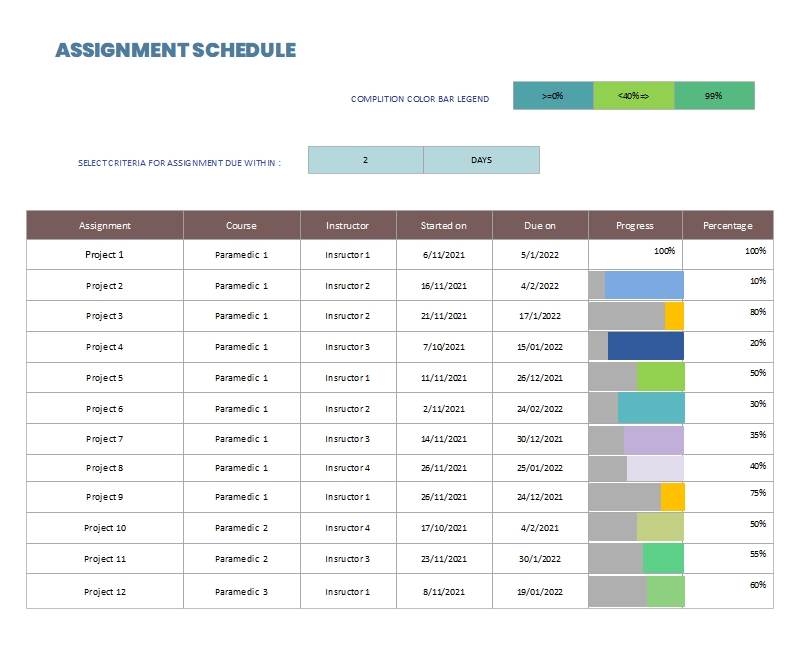 Source:EdrawMax Online
Example 6: Blank Schedule Template
This blank schedule template is planned around the Berkeley Class Schedule. It is a detailed planning schedule with five days a week and a day breakdown by the hour. Color coding shows different combinations or packages of subjects, and each block is placed against its allotted time frame. It is an excellent tool for scheduling every class or other hourly planning. Teachers can also use this blank schedule template for scheduling their classes.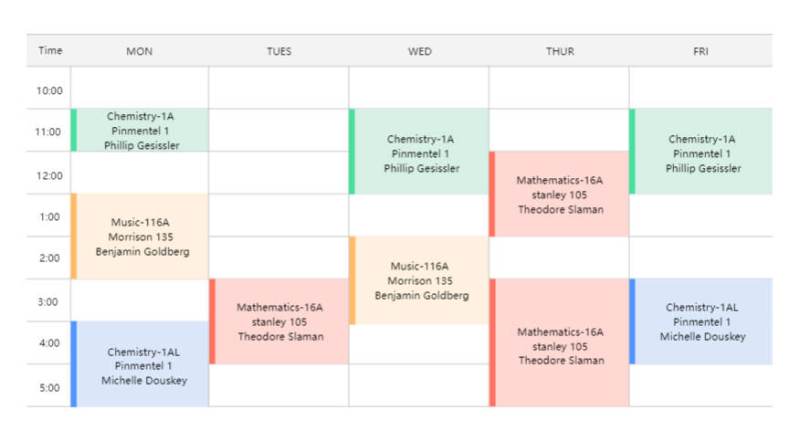 Source:EdrawMax Online
Example 7: Blank Daily Schedule Template
The blank daily schedule template shows detailed scheduling for a day at work or school. Color-coded blocks are used for placing the task, subject, or team member in the relevant time spot. A legend will add more readability to the schedule. Hour-by-hour scheduling helps plan your work or study day in detail and achieves more productivity and efficiency.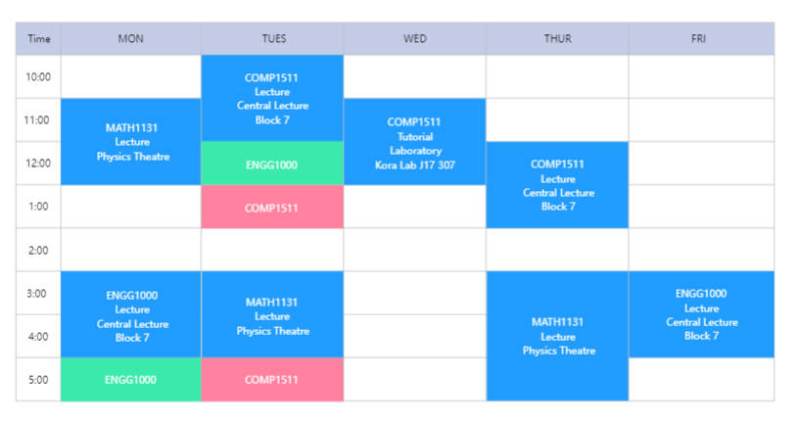 Source:EdrawMax Online
Example 8: Blank School Schedule Template
The blank school schedule template is helpful for students' school or college program classes. This blank schedule template shows a weekly division related to the number of different subjects. Students and teachers use this schedule to plan their day, and even the parents know what their kids will be doing in school today. It is an elementary schedule with simple colors that is more readable and accessible for even small kids.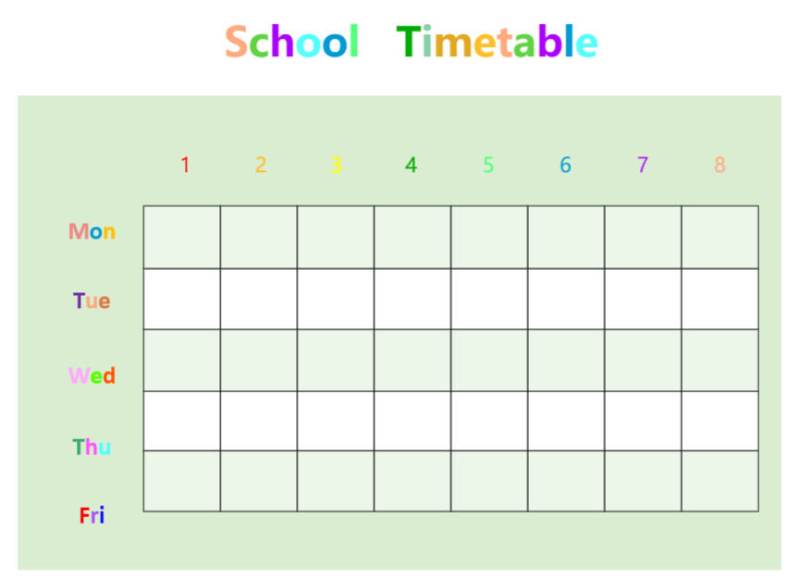 Source:EdrawMax Online
Example 9: Study Schedule Template
The study schedule template is suitable for planning week-wise topics to study. This planning tool allows you to create a plan for the whole week so that everybody involved knows what to expect in this week. Teachers know what lessons they will plan, the props they will use, and the class aides required for the studies. Similarly, students and parents know what will happen in the coming week.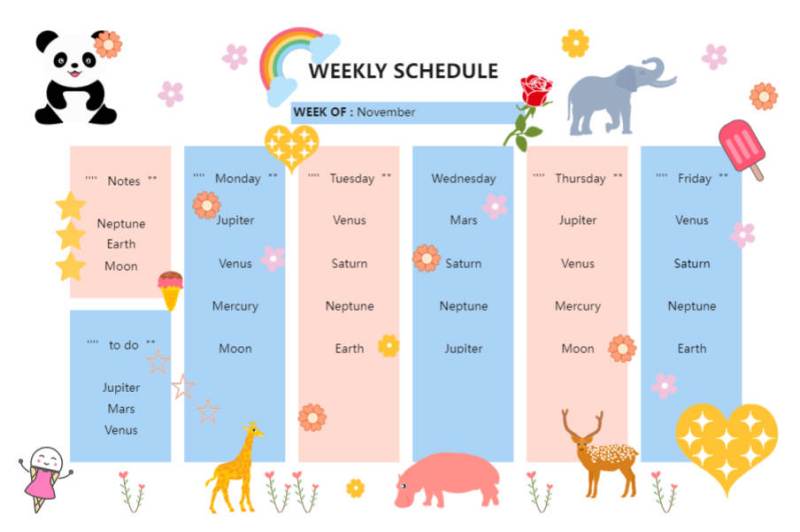 Source:EdrawMax Online
3. Online Schedule Maker
Schedule templates are beneficial in planning your day, study week, project schedule, wedding planner, and much more. You must choose the right tool to create your schedule template to save time and effort. EdrawMax Online is a great online schedule maker that is well stocked with all the required symbols, formatting tools, drag and drop features, and a comprehensive library of templates to give you a quick start. Professionally designed templates catering to different uses and styles are fully customizable. You can make a customizable schedule for personal or business uses with EdrawMax Online to help you stay organized.
EdrawMax Online
Create 280+ types of diagrams online
Access diagrams anywhere, anytime
Everything in desktop + Templates Community
Team management and collaboration
Personal Cloud and Dropbox Integration
4. Key Takeaways
Blank schedule templates allow you to plan your days, week, meetings, wedding, or project. EdrawMax online has a simple drag and drop feature that you can use to create schedules for your needs without any technical skills. You can choose plenty of templates according to your requirements and build on that foundation. An easy-to-use, well-organized, and well-stocked online schedule maker makes your schedule-making journey effective and efficient. You can find more schedule examples from the templates commnity.