What is an ER Diagram?
ERD stands for Entity Relationship Diagram. It is a type of visual model that describes different elements in a specific domain. ER diagrams are widely used in software engineering and database management. People use them to study the links between separate entities to create an organized and robust database. ER diagrams look like flow charts to some extent. To draw an ER diagram, you need to identify all the entities, know the relationships between all the entities, and add attributes for each entity. 
There are many to create an ER diagram online using different diagrammatic tools. One such tool to create an ER diagram online is Edraw Max Online. Edraw Max is an online graphic creator that can be used to create different types of charts, graphs, and diagrams in just a few simple steps. To learn how to make an Entity Relationship diagram in the process of a few steps, please check out our ER diagram tutorial below.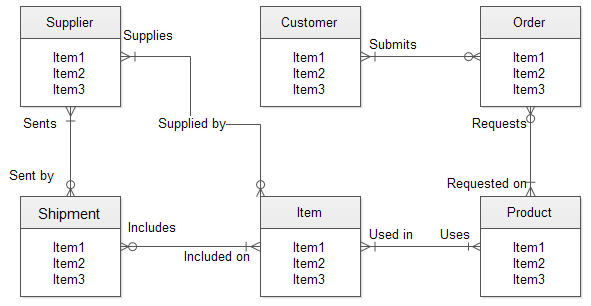 How to Make an ER Diagram Online
Edraw Max Online is a multi-purpose graphics tool that can be used to create a wide range of diagrams, charts, and other visual content. Create a basic ER diagram in Edraw by following the steps in this ER diagram tutorial.
Step 1 – Open Edraw Max Online
Launch Edraw Max online on the browser through this link: https://www.edrawmax.com/online/ to open the Edraw online diagramming tool.
Step 2 – Choose the ER Diagram  
In the navigation pane on the left side of the screen, click on Database Modeling and then click on the Chen ERD option or other options of ER Diagrams. You will get some predesigned templates and choose your favorite. Click on the one you prefer to create an ER diagram using a predesigned template.
You can also create an ER Diagram from the start all by yourself. For this, you need to select the blank template.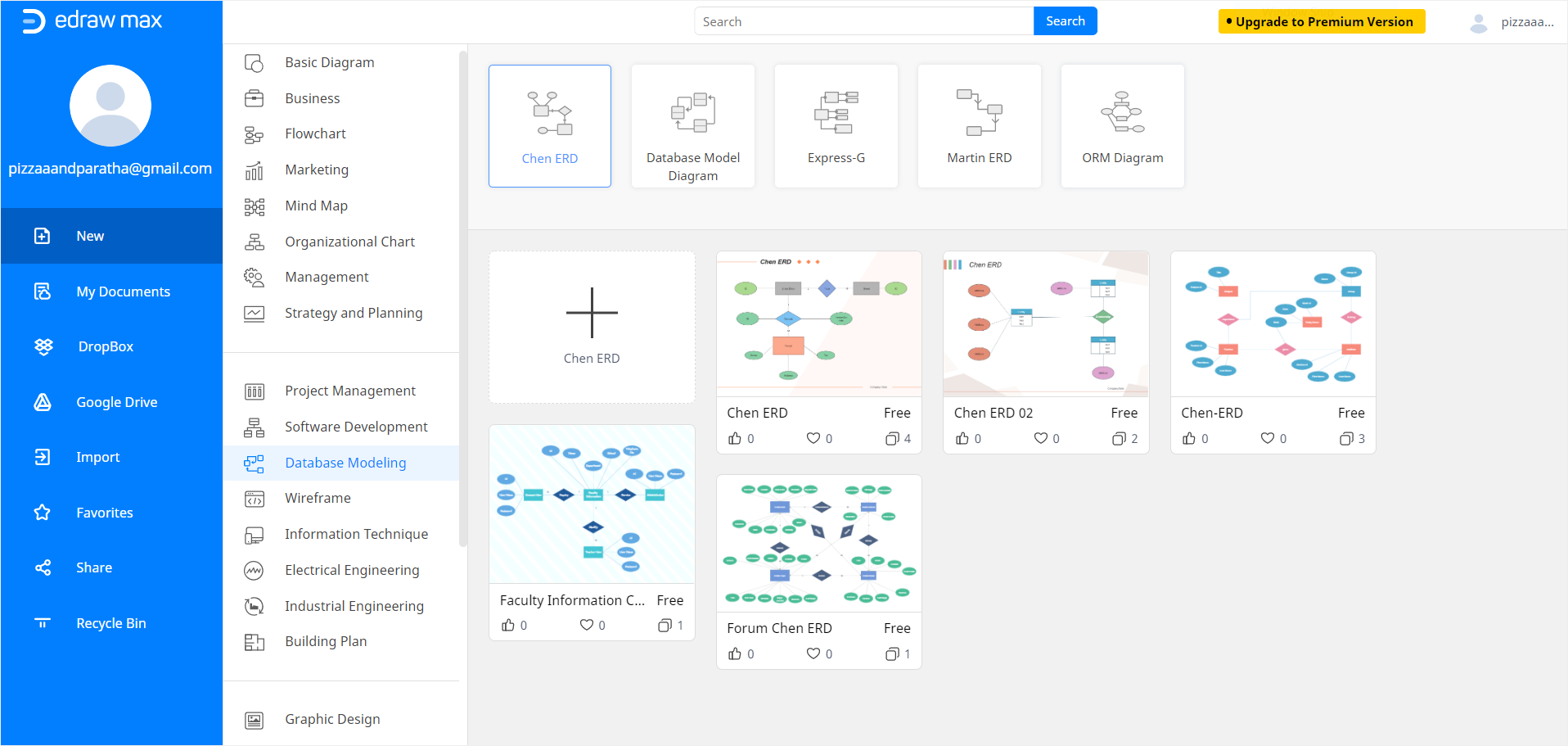 Step 3 – Create an ER Diagram
Now Edraw Online will launch a new tab on your browser with the pre-made or blank template once you click on it. To create an ER diagram by yourself, add symbols in the Symbol Library. Click on the icon next to Symbol Library and wait for the pop-up window. Now scroll down to Database Modeling and click OK. ER diagram symbols will appear on the left side under the Symbols Library tab. Now use the shapes, stickers, and symbols to create an ER diagram from scratch.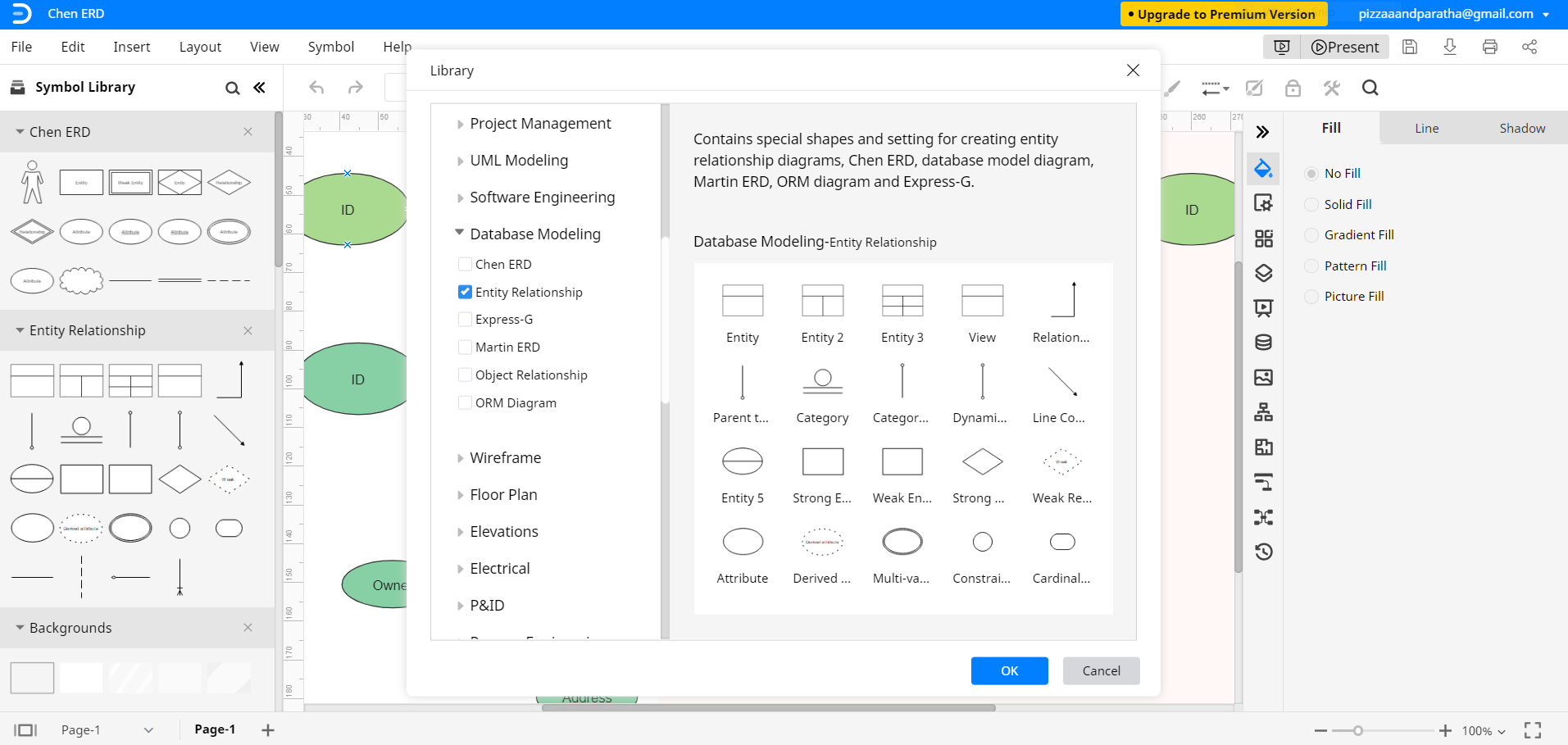 Use the navigation panes on either side of the screen to customize and edit your ER diagrams if you are using a premade free template.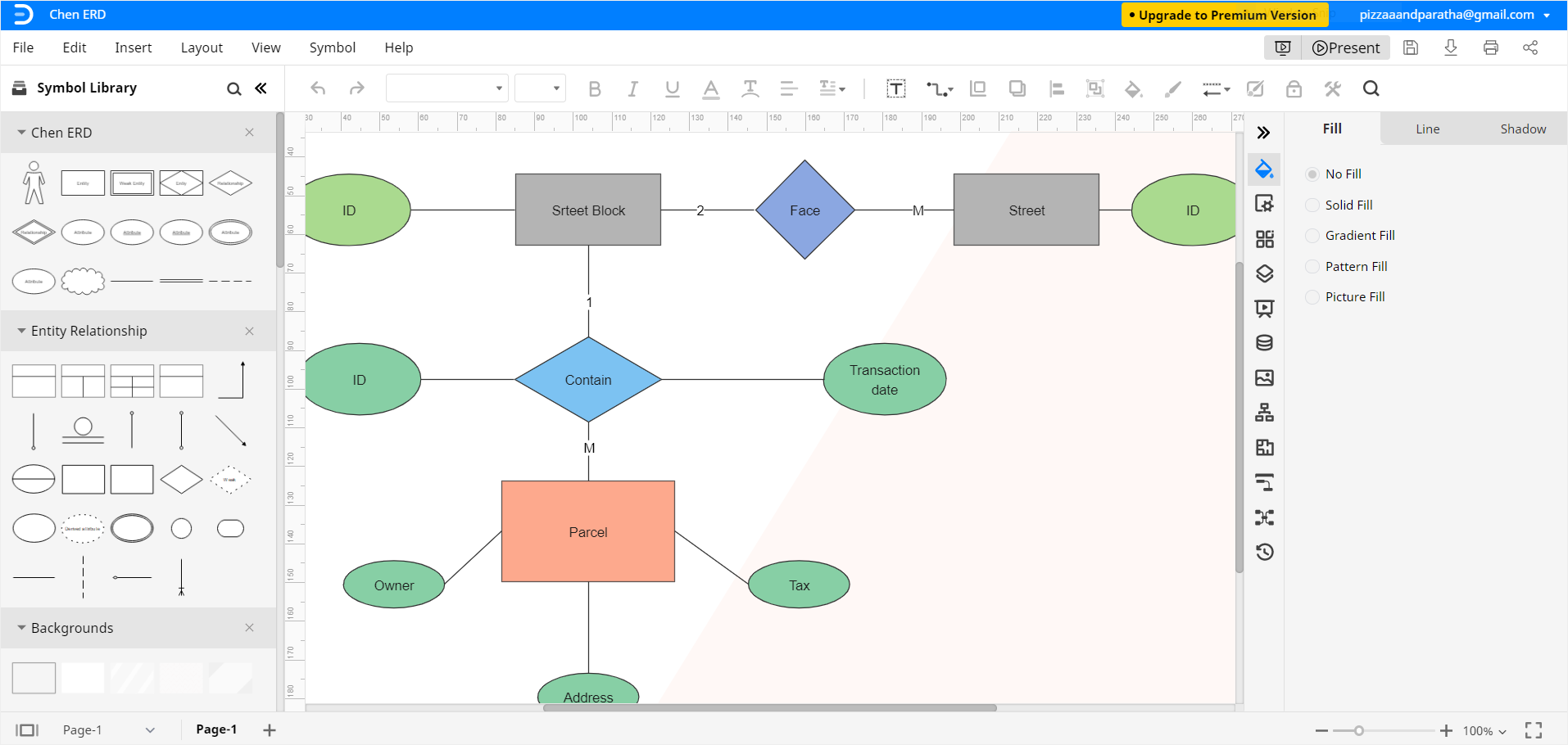 Step 4 – Customize Your ER Diagram
Customize and edit your ER Diagram with the help of different formatting tools available in Edraw. Adjust the size, font, shape, color, alignment, and other details according to your preference. 
You will find various editing options in the navigation pane on the right side of the screen. These edit options include property, layers, theme, style, setup, image, etc. Besides, you can add more charts, watermarks, tables, images, QR codes, and more by clicking on the Insert tab. Keep editing until you are satisfied with how your ER diagram is looking. 
Once you are done editing, close the side panels by clicking on the << and >> symbols on the top corner of each panel. Now you can save your final document. 
Step 5 – Save File
You can save your Edraw file for further editing or sharing. Click on File to save it. You can also export Edraw documents in the standard file formats and edit them in the corresponding software. For this, you need to click on File > Export and select the desired file type.
You can also save Edraw files on Google Drive and Dropbox. Click on File > Save as and then select the desired cloud location. Now name your document and click on Okay to finalize the procedure. This concludes our tutorial on how to make ER diagram using Edraw Online.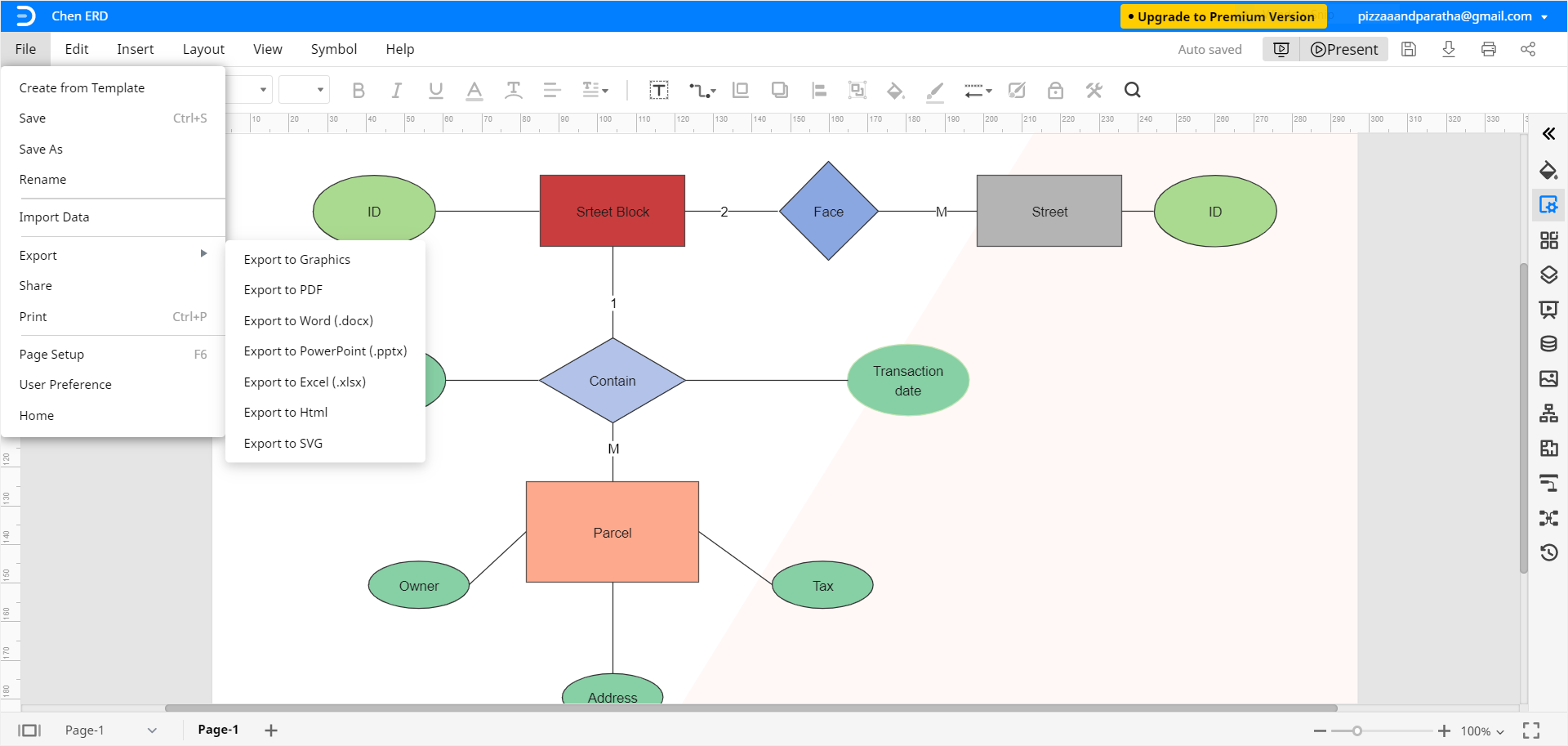 More Entity Relationship Diagram Examples
You can draw more entity relation diagrams using Edraw in just a few easy steps. Use these free templates to create more ER diagrams.
Faculty Information Chen ERD – Use this ERD template to create an ER diagram using Chen's notations.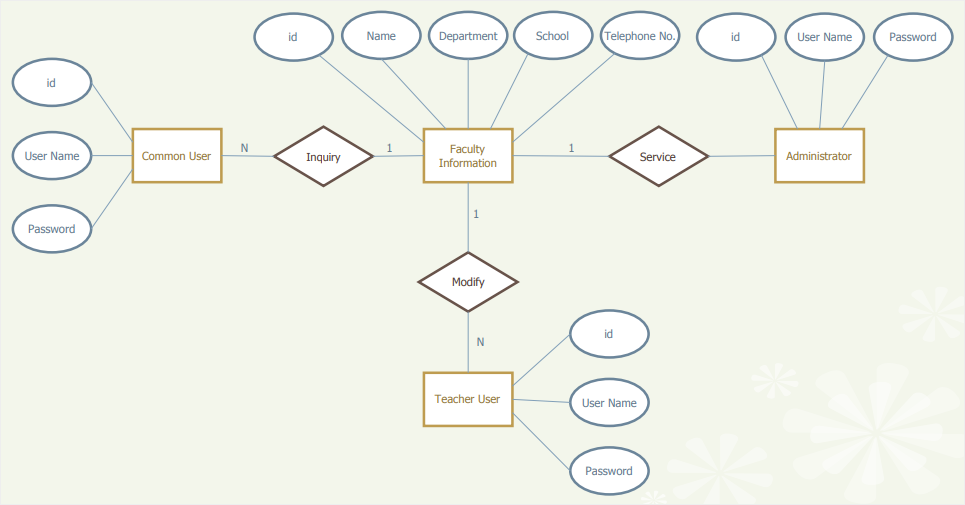 Storage System ER Diagram – Use this storage system ER diagram template to make a quick and accurate Entity Relationship structure.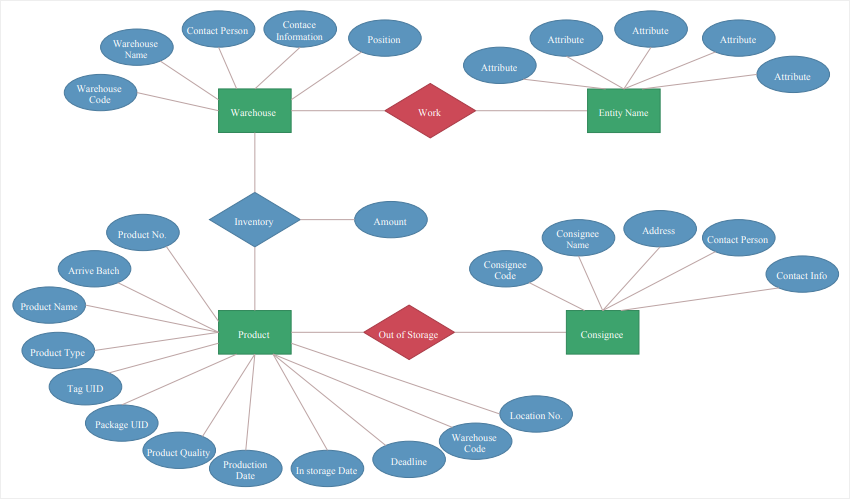 ORM Diagram Template – Create a basic ORM diagram using this customizable template for free.