---
Family Tree Examples
In this article, we explore what are a family tree or chart and the different formats and software tools available to draw up such charts easily.
What is a Family Tree?
This can be defined as a pedigree chart whereby family relationships are represented in the form of a tree structure. For that reason, it is referred to as a tree with the different branches and sub-branches showcasing the lineage and how it is distributed of a certain name. It is important for work involving genograms as well as in medicine.
Why is Family Tree Important?
As per any family tree example, it simply represents a family's lineage as a record. Such images or charts help capture names, the period of existence and other interesting data about the different members or branches of a certain lineage.
Family trees are important for certain reasons such as:
It helps to establish lineage which in turn can also impact inheritance.
Sometimes things are changed due to war, disease or natural calamities; with such a record of a lineage, it can help ascertain who holds certain rights of inheriting property and would be critical in matters of law if any questions were raised. For instance, families parted during World War II had their land disputes settled only after their family trees were established.
Genetics research and knowhow are aided by such charts as well. Family tree examples are beneficial for curing diseases and helping researchers, epidemiologists, scientists and others in finding clues about embedded diseases.
Those who are concerned about how a genetic disease is passed from one to another or to their children can find references in such charts. For instance, cystic fibrosis is a genetic disease that is usually passed down from parents to children.
Different Types of the Family Tree
There are different creative ways that one can adopt in order to create displays or charts of one's family lineage. Some creative ideas are discussed below:
1. Using Online Tools and MS Word
There are several websites such as FamilyTree.com, Ancestry.com, and others that help people to build a virtual image of their family lineage and even to search out records of missing members linked to one's lineage. They also offer details such as birth and death records and dates which can help one to compile the necessary information to build a comprehensive chart. It is possible to use simple resources like Microsoft Word's features like WordArt to compile such an image.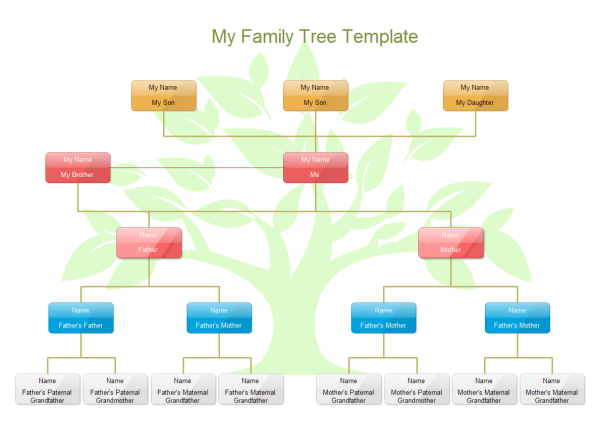 2. Chalkboard
This is another popular way for setting up a family tree example. One could opt for an old chalkboard and put up family photos on it. The board can also be built with an old frame and Masonite board. The photos can be connected and labeled with a chalkboard pen.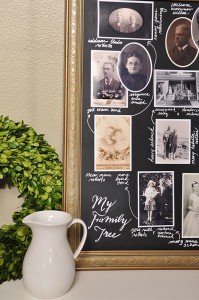 Image Source: yourhomebasedmom.com
3. Decals
Many decal suppliers can help one to recreate a family tree. Once the necessary names and photos are provided, one can choose from family tree examples or images and have the decal customized accordingly. It can be put up on any wall or spot where one wishes to display their lineage history.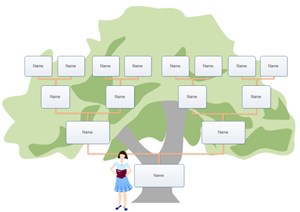 4. Creative Projects
Creating a family tree can be a DIY project as well. For instance, one can create branches with twigs to form a tree and hang old photos around it. The whole project can be put inside a frame as well.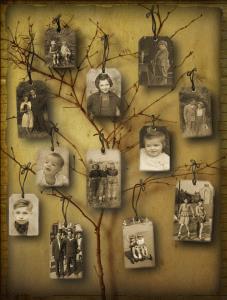 Image Source: flickr.com
5. Photo Wall
One can assign a certain wall section of a hallway or of a family room to display a collage of tiny photos of the different people in a family. The design could expand and showcase new additions over time or could be arranged in a diamond shape as shown here.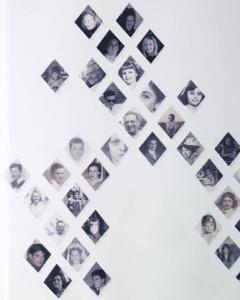 Image Source: lorrinteriors.blogspot.com
6. Generation within Generation
This is another unique way to showcase several generations of a single individual within a photo. As seen here, an old man holds a portrait of himself holding one of his son and his son holding an image of his grandson.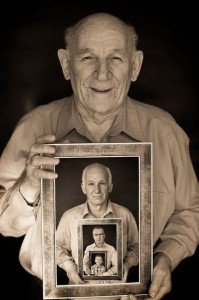 Image Source: imgur.com
7. Quilt with the Family Tree
A quilt that has names of family members sewn on it or handprints captured in fabric and sewn together can act as a wonderful present for someone in their old age. It can also act as a family heirloom and be handed down over generations.
Image Source: aplaceformom.com
Examples of Celebrities Family Tree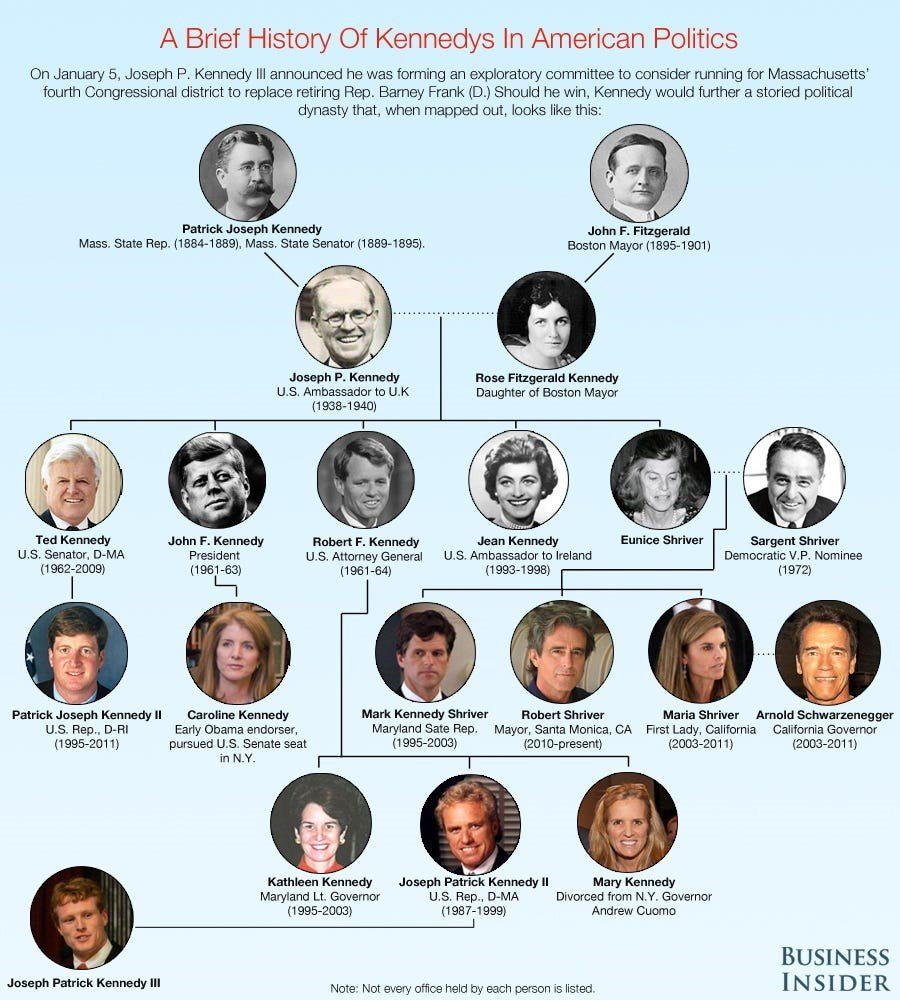 Image Source: businessinsider.com
If we look at the chart of this lineage, we find that this family prominently featured in American politics for over a century. It started with Joseph P. Kennedy who formed an exploratory committee; he has been around 1908 to 1940. He was married to Rose Fitzgerald Kennedy, daughter of the Boston Mayor and together they had three sons and two daughters. Among them was Ted Kennedy who was a US Senator and John F Kennedy who went onto become President. He is survived by Caroline Kennedy while his brother Robert F Kennedy had three children and a grandson, Joseph Patrik Kennedy III.

Image Source: gw.geneanet.org
This prominent shipping magnate was born in the year 1906 in Smyrna which is now known as Izmir, Turkey to parents Sokratis Onassis and Penelope Dologlou. He died at the age of 69 in 1975, having been married to Athina Mary Tina Livanos with whom he had two children, Alexander and Christina Onassis, the latter bearing his granddaughter Athina Onassis Roussel.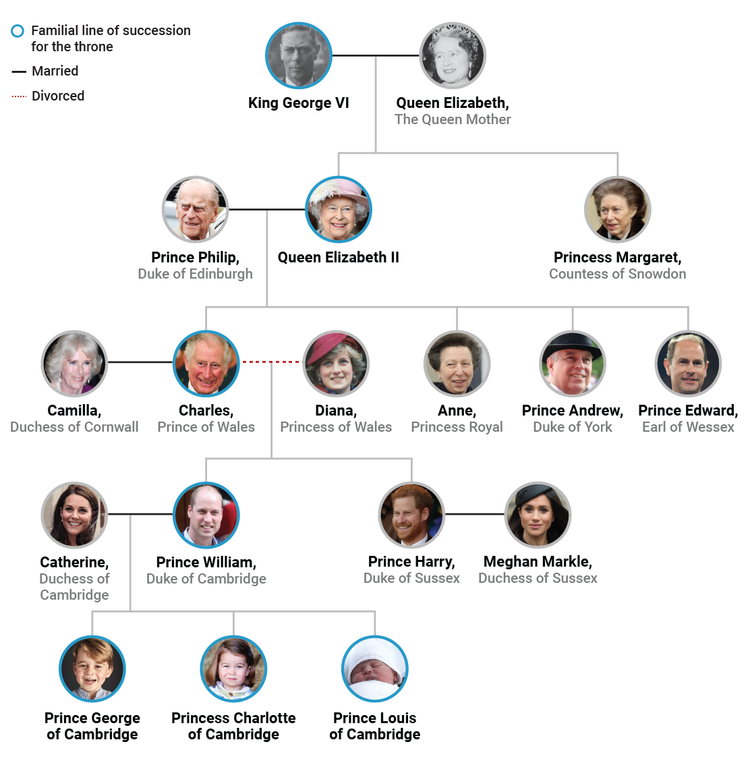 Image Source: businessinsider.com
The royal family of England can be traced to have begun with King George VI and Queen Elizabeth who had two daughters, Queen Elizabeth II and Princess Margaret. Queen Elizabeth II was married to Prince Philip, Duke of Edinburgh and they had four children, princes Charles, Edward, Andrew and Princess Anne. Prince Charles in marriage with Diana had two children, Princes Harry and William. The latter, married to Catherine, Duchess of Cambridge have three children together.
Preparations before Creating Your Own Family Tree
Among the software tools available, Edraw offers an easy to use application suite for drawing up a family tree for any user, there are different templates and examples offered on Edraw and using these ones can create a lineage chart of their choice and present it with different customized finishes as well. In order to get started, one simply needs to accumulate the necessary data regarding all members. They can also choose how they want to represent such data, with detailed timelines or simply with names and depicting relationships by birth and marriage.
How to Map Out Your Family Tree?
Edraw offers several tools and templates in their family tree software. One can take a look at the different templates and choose one as per the data they wish to present. Every template also included the option to extend out a family tree to add on more generations and in different styles.
Choose from Different Features
For every template, there are different features offered. One can make as many entries as possible with different text boxes in order to depict birth and death, marriage and other details such as locations and burials; there are options for adding on photos and other multimedia attachments. There is a large repository of diagrams to choose from as well.
Once the chart is completed, it can be easily exported in different formats, attached or embedded in different files and applications.
Family trees can have different significances and with the present-day tools and customization software available such as Edraw, they can be presented in different creative illustrations.
Related Articles