Free Editable Infographic Resume Templates
Everyone has a dream to get a job they like the most. Even if you are an expert at what you do, getting a job of your liking depends on various factors. Your resume plays a significant role in showcasing your skill set and achievements. If you want to create an excellent resume that depicts your expertise creatively rather than in plain text, then read till the end.
1. What is Infographic Resume
An infographic resume graphically represents your work experience and skillset in any field. It is a lot better than a traditional resume where you only write the plain text that makes your skills look average. With an infographic resume template, you can get creative and use charts, icons, and timelines to depict your area of expertise. When you create a resume, you usually think about what to add and how much information you should give to the reader. Still, with an infographic resume, even if you don't have any notable achievements, you can make your qualification look brilliant by being creative.
2. The Infographic Resume Templates
When you apply your resume for a job, your creativity matters as much as your skills and experience. If you have a lot to write in your resume, using plain text will make it dull and ordinary. With an infographic resume template, you can showcase your professional expertise with creativity and have a better chance of getting the job. Here are some examples of infographic resumes that might be useful to you. You can tell how much better these are with a single look compared to a plain text resume. If you want a resume template asap, you might find the perfect one from these examples.
Example 1: Resume Template Infographic
You can create a simple yet creative resume with a resume template infographic. At the top, you can add your picture and write your full name and profession beside it. In the about section on the left, you first give a little personal information like your studies, and after that, you can add a bar chart to showcase your skillset. You can also use graphs to show your different language speaking skills and at the bottom left you can add your hobbies. You can add education, experience, and achievements to make an appealing resume on the right side.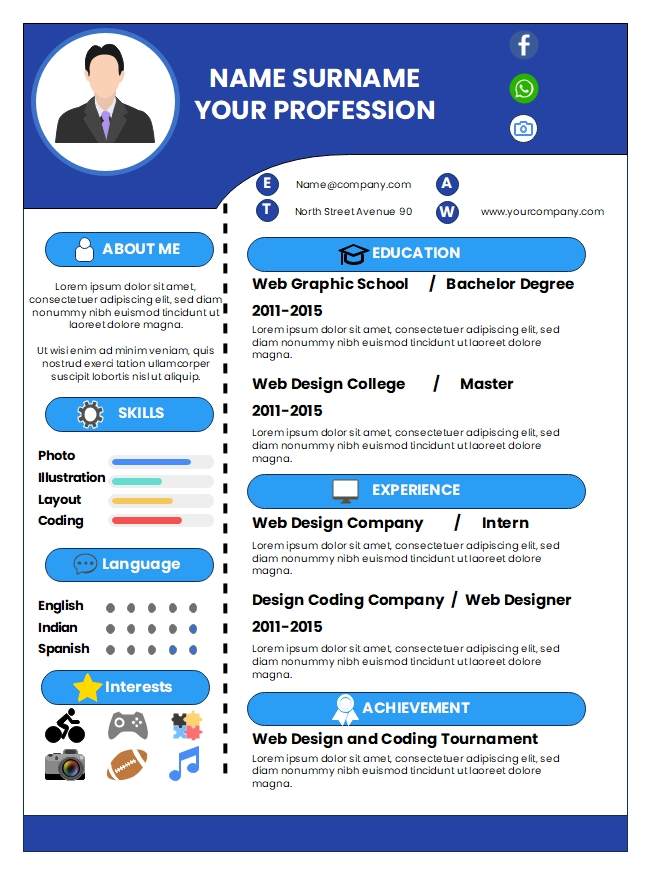 Source:EdrawMax Online
Example 2: Graphic Simple Infographic Resume
A graphic simple infographic resume follows a simple layout where your profile is on the left side, and your professional information is on the right side. On the left side, at the top, you have your picture with your name and profession, and right under it, you have your contact info. On the right side, you start with a profile of yourself. After that, you list your education. Moving to the next, you give your experience details, and you can depict your special skills using bar charts and icons. In the end, you add some key features about yourself.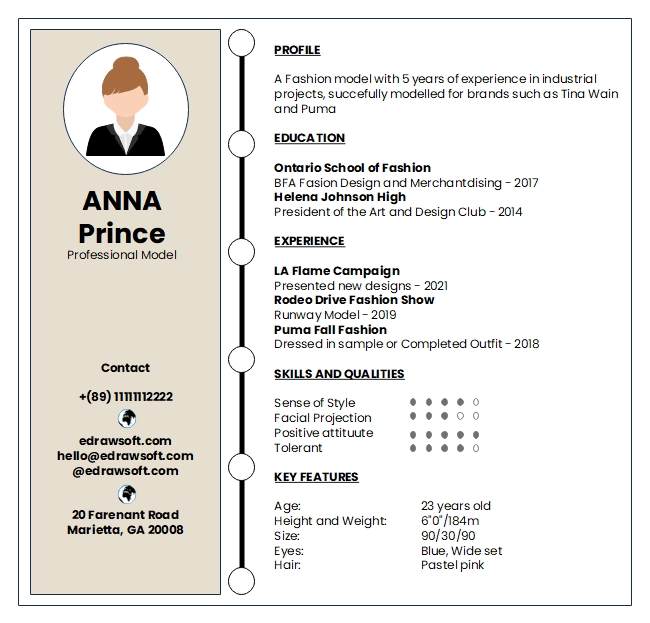 Source:EdrawMax Online
Example 3: Tech Infographic Resume
In a tech infographic resume, you visually represent most of the information about your skills and your professional experience. Making it without a template is a little tricky, but you can make it in no time with an infographic resume template. You use a small part of the resume on the left side to add your photo, name, profession, education, experience, and contact info. You can add bar charts to showcase your skills on the whole right side. You can add maps to highlight the place you have already worked in before. You can also use a circular chart to show your overall profile.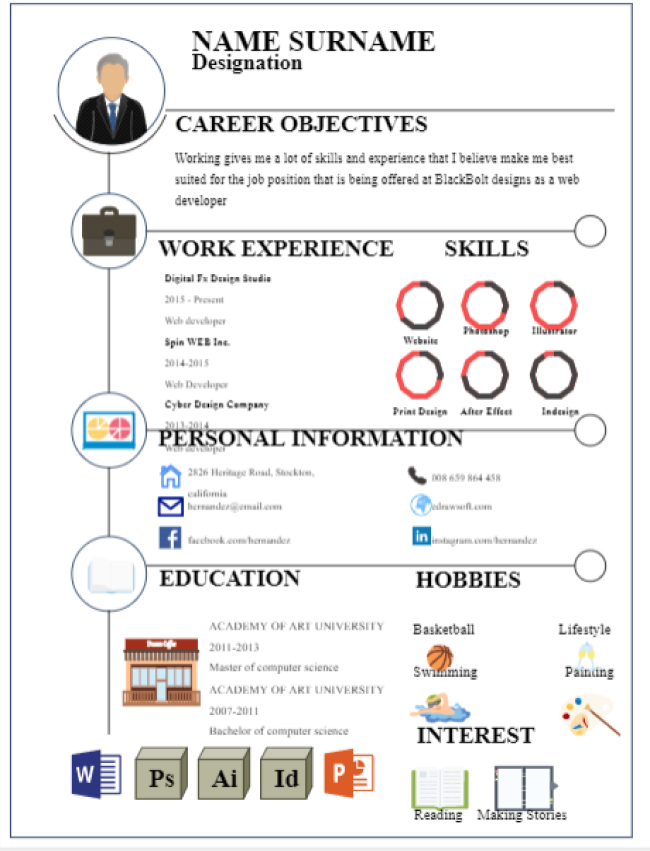 Source:EdrawMax Online
Example 4: Infographic Resume Template
You don't have to explain your experience and skills in an infographic resume template by writing a lot. You can use charts, icons, and a few keywords to create an appealing resume. You can add your picture and name on the left, write your contact info, and move to the right side. On the top right, you add two to three lines for the reader and then add three to four heading and use icons and bar charts from showing your info without writing a single word.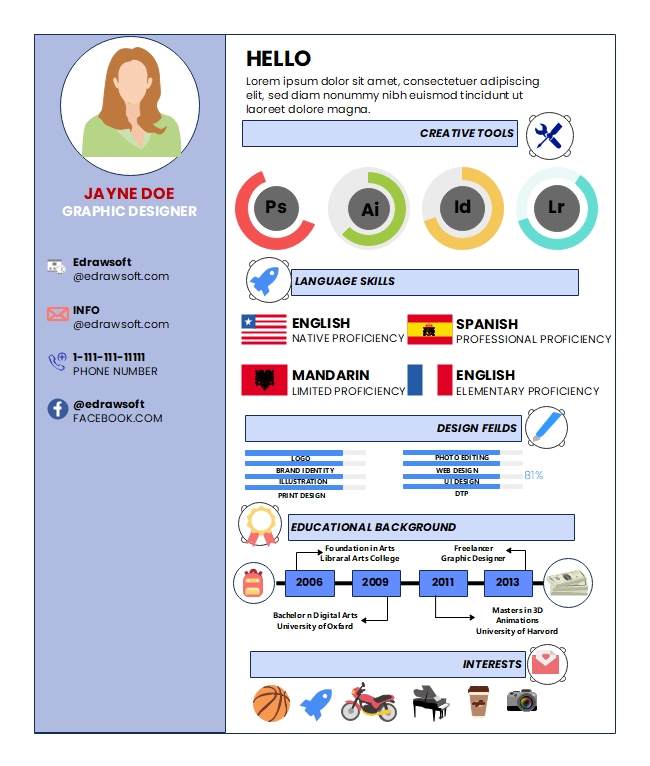 Source:EdrawMax Online
Example 5: Professional Infographic Resume
A professional Infographic resume contains information about all of your skills and experience. At the same time, you have to make it as little crowded as possible so that the reader can understand it at first glance. You can add your profile info and pictures at the top. Next, you add your experience and skills because experience is the first demand for a high-level job. In the end, you can write a few words about your education and your references for the job. Don't use various colors; just one or two plain colors will make your resume professional.
Source:EdrawMax Online
Example 6: Resume Infographic Template
You can use a resume infographic template to explain your work experience and profile briefly. You don't have to add a picture, and you can use only your name and profession in this resume template. You can write four to five lines about yourself and list your education and skills using bullets. You can gauge icons and bar charts depicting your experience in the field. Finish your resume by writing a few lines about your expertise at the end.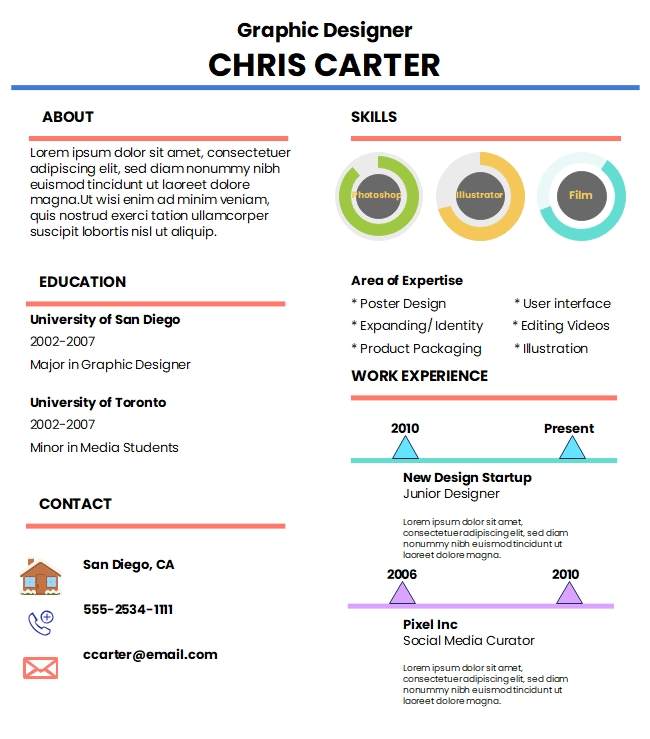 Source:EdrawMax Online
Example 7: Bold Infographic Resume
With a bold infographic resume, you can highlight the key features of your resume, such as your skill level and your career timeline, so that the reader will learn about your professional expertise at first sight. You can use a bright color such as red or yellow to highlight information. Use this template when you have many things to add to the resume, but some are more important than the rest.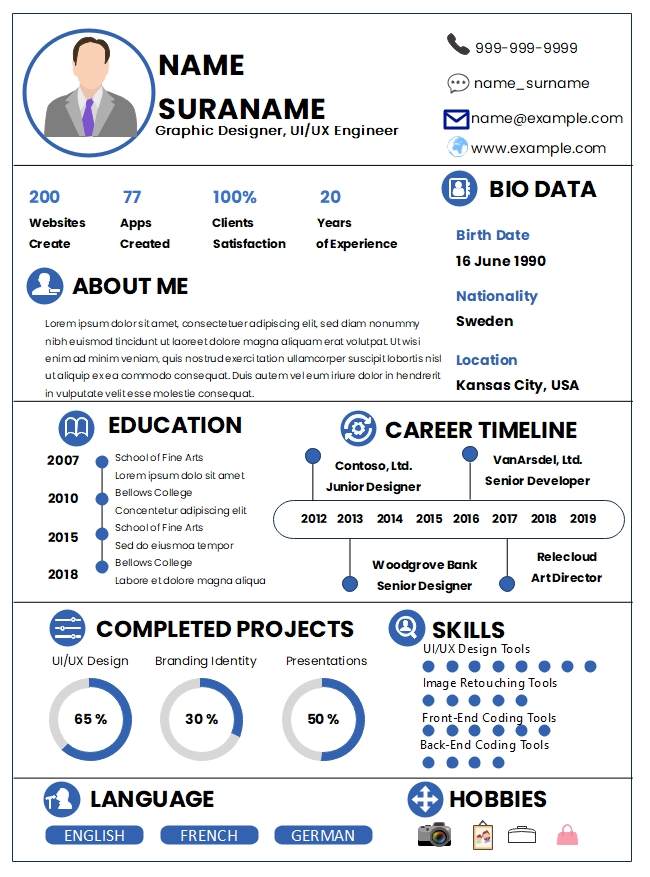 Source:EdrawMax Online
Example 8: Infographic Resume CV Template
When creating a CV, you have to use text and bar charts, and icons to make your point. You can add plain text to make it look dull and easy. You cannot use charts and critical features only because the reader will need information about you. An infographic resume CV template gives you a layout to use icons and text to explain your skillset and profile info.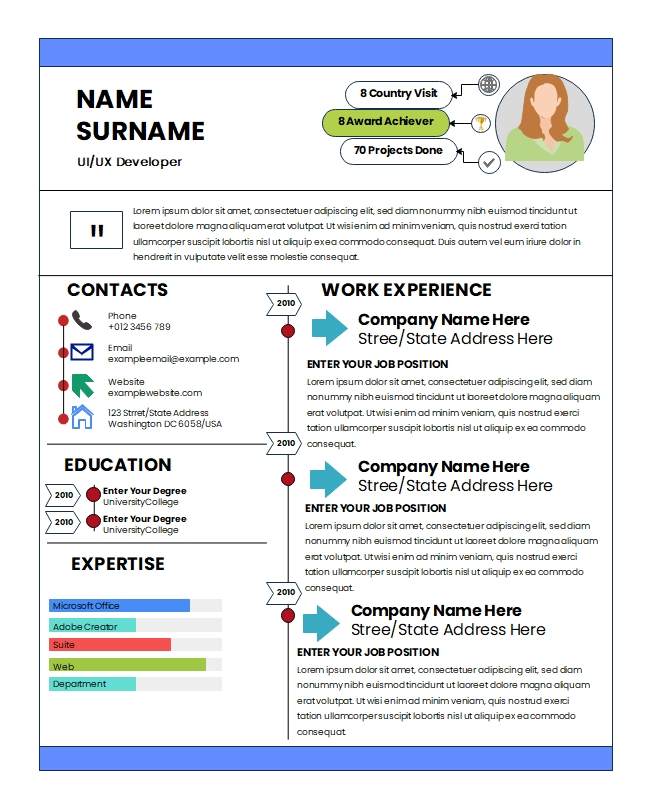 Source:EdrawMax Online
Example 9: Appealing Infographic Resume
An infographic resume depicts your professional qualifications and your expertise on a resume using charts and icons instead of only writing plain text. It makes it easier for the reader to understand your profile and your career with a single glance at your resume. You can use various methods to depict your overall skill set, career timeline, and experience in the field.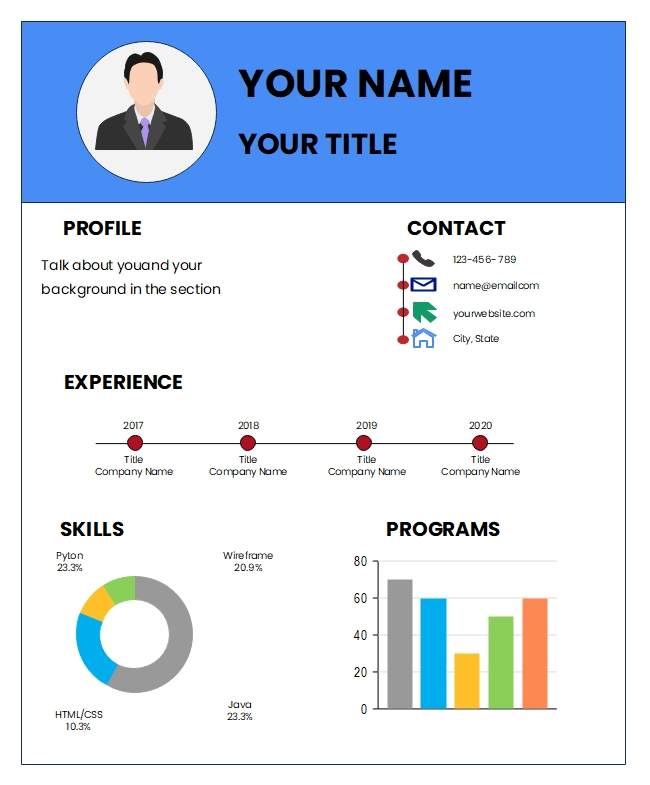 Source:EdrawMax Online
3. Online Infographic Maker
Making a good resume is vital if you want to get a perfect job. You can make a simple and plain text resume by yourself. Still, for an infographic resume that showcases your skillset and professional experience in a creative way, you need an infographic resume template from an online infographic maker. EdrawMax Online is the best infographic resume maker as it comes with many professional templates and resumes designs for you. It also comes with a comprehensive gallery of symbols and icons that you can use in your resume. EdrawMax Online helps you quickly make an infographic resume and allows you to save it in any format you want.
EdrawMax Online
Create 280+ types of diagrams online
Access diagrams anywhere, anytime
Everything in desktop + Templates Community
Team management and collaboration
Personal Cloud and Dropbox Integration
4. Key Takeaways
If you want an attractive resume that will increase your chances of landing a job, then you can make it with an infographic resume template. It comes in many types, and you can use it to give a visual representation of your profile and professional information using charts and icons. Compared to a resume with only plain text, you can add more information in an infographic resume and make your profile look better. If you are going to make one, do it using EdrawMax online to edit professional templates and use it various customization tools. You can find more infographic examples from the templates commnity.