India PESTEL Analysis
Detailed PESTEL Analysis of India
Want to Create PESTEL Analysis?
EdrawMax is able to create free forces analysis for software development teams with ease. Give it a try!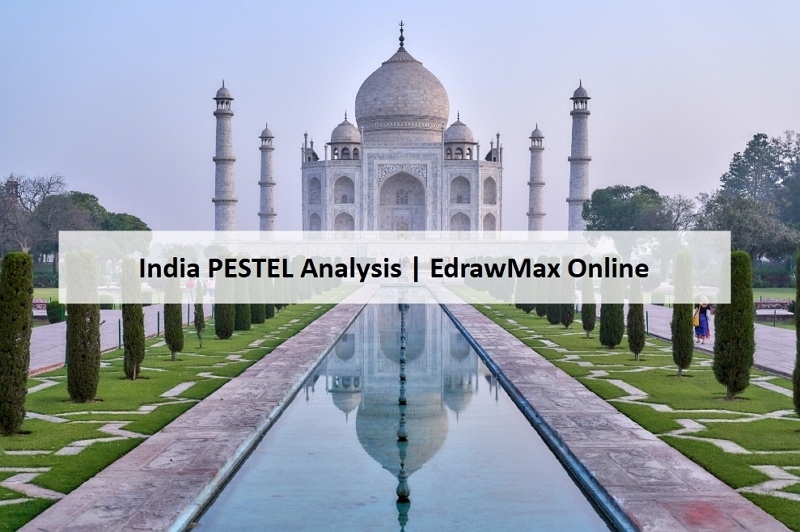 1. Introduction
The PESTEL analysis is a business tool that assesses different external environments and evaluates their influence on a business environment. PESTEL is an acronym for Political, Economic, Social, Technological, Environmental, and Legal factors.
PESTEL analysis of India the business environment of India, evaluating all these macro-environment factors. Such software helps determine the scope of growth and profitability of any business in India for attracting investors, foreign companies for ensuring further growth.
2. Background of India
Among the Asian countries, India is rapidly growing, opening up new revenues to brands, local and international. Currently, India has the world's second-largest population that plays a vital role in the global economy. Today, they are one of the major trade centers. India, being a developing nation, holds many opportunities for businesses, especially start-ups. Owing to this factor, reputed brands have started seeking potential markets here.
3. India PESTEL Analysis
PESTEL analysis of India companies to take significant decisions assessing the Indian market. Thus a careful study of the factors is essential.
Political Factors:
Businesses and their profitability relies on the political stability of the place they are operating for business. The political metrics of PESTEL analysis encompass the government rules and laws that directly affect the finances of an industry. These include foreign trade policy, income tax, service tax, sales tax, labor law, tax policy, environmental law, corruption, and more.
Political issues directly impact the capital market of a country. For many years India has been going through political turbulence owing to the dispute with neighboring countries. Political crises, including politician's interests, differences in ideology, and others, influence the state's well-being. Though the situation has improved a little in the last few years, the political factor remains a concern.
Overall, India offers political stability for businesses to thrive. India is a republic country and the world's largest democracy. However, they should cope with the challenges posed by corruption. Only then country's economic growth will take place.
The country has made several attempts to reduce government or political interference in enterprises, start-ups, and business operations in general through privatization. It will help businesses to grow independently.
Economic Factors:
These factors determine the profitability of a business and help them set short-term and long-term goals. Economic growth, inflation, employment, and unemployment rate, the purchasing power of consumers are factors determining the company's financial performance. Businesses set their supply-demand model after assessing these factors.
The increasing GDP of the country promises growth opportunities for businesses.
Since the economic reform in 1991, especially after the formation of FIBP, India's liberal industrial policies have ensured increased foreign investment in the country. It has proven to be a boost for the economy.
According to PESTEL analysis, the taxation policies of the Indian government are favorable for business expansion in the country. Besides, the widespread domestic market posses many new opportunities for businesses.
Social Factors:
Factors shaping and molding the consumer attitude come under the social category. These are the socio-cultural norms of a place, traditions, values, beliefs, population growth, health concerns, lifestyle, career attitude, and more. It helps industries to know the taste and preferences of the target audience.
India is a land of diversity. The company must be aware of the local culture, beliefs, acceptability, and other things to run a business in the nation. The firm should also know about the availability of the local workforce and demand for products.
The country's population benefits the businesses. Since the majority are working-population, it is easier for industries to look for laborers that too in affordable labor fees.
The massive domestic market of the country is another reason why multinational companies are favoring this country for business expansion. Increased standard of living and changing lifestyle are the reasons behind.
Technological Factors:
Technological advancement plays an essential role in the growth of the economy. Innovation, automation, technological awareness impacts the business operation. It influences the production, distribution, and communication with consumers.
India's technology industry is steadily growing. The country has one of the most robust IT sectors that ensure constant software up-gradation and advancement.
More and more foreign tech companies are investing in India thanks to its technological advancement.
PESTEL analysis of India suggests that investment for technological advancement will benefit the state's economic growth in the future.
Environmental Factors:
Inclination towards environmental awareness can open up more growth opportunities for businesses in India because sustainability is the key. These include scarcity of raw materials, pollution, carbon footprint, climate change tec. Growing concern over environmental issues is a result of the ongoing ecological crises. Businesses must come up with innovative strategies to combat it.
The increasing demand for eco-friendly products and processes among consumers has changed the demand-supply model, and companies are compelled to change their strategies to adopt the change.
The diverse and unpredictable nature of the Indian climate can harm the companies especially, their infrastructure.
Industrialization has been a concern for the country with rising pollution and its negative effect on health and safety. Companies must introduce the plan for sustainability like recycling, better waste management system, and more.
The natural beauty attracts many tourists. It can boost the country's economy and businesses.
Legal Factors:
Often, legal parameters overlap the political factors of PESTEL analysis of India. These cover equal opportunities for all, advertising, discrimination law, copyright law, consumer rights, and others. These are viable, especially for the foreign companies looking for a trade opportunity in India.
Companies must abide by the rule and laws exclusive to each country or region they operate.
Recent changes in some recycling, employability and discrimination law can affect the company's pricing and labor cost.
Flexible regulations regarding foreign trade in the country offer growth opportunities to foreign brands.
EdrawMax Online
Create 280+ types of diagrams online
Access diagrams anywhere, anytime
Everything in desktop + Templates Community
Team management and collaboration
Personal Cloud and Dropbox Integration
4. Key Takeaways
PESTEL analysis of India scans the macro environment and indicates growth opportunities for foreign companies and investors in India. Businesses need to improve their strategies to suit and adapt to external factors.
Use EdrawMax Online to create a PESTEL analysis diagram, or create any other diagram with ease! There are massive PESTEL templates and symbols to choose from, and creating a PESTEL analysis diagram could be really simple. Also, you can find substantial PESTEL templates in our template community to have a quick start. If you want to know more about how to make a PESTEL analysis diagram in EdrawMax Online, just check this PESTEL guide, it may help you to create diagrams without efforts.
5. References