Netflix Porter's Five Forces Analysis
Detailed Netflix Porter's Five Forces Analysis
Want to Create Forces Analysis?
EdrawMax is able to create free forces analysis for software development teams with ease. Give it a try!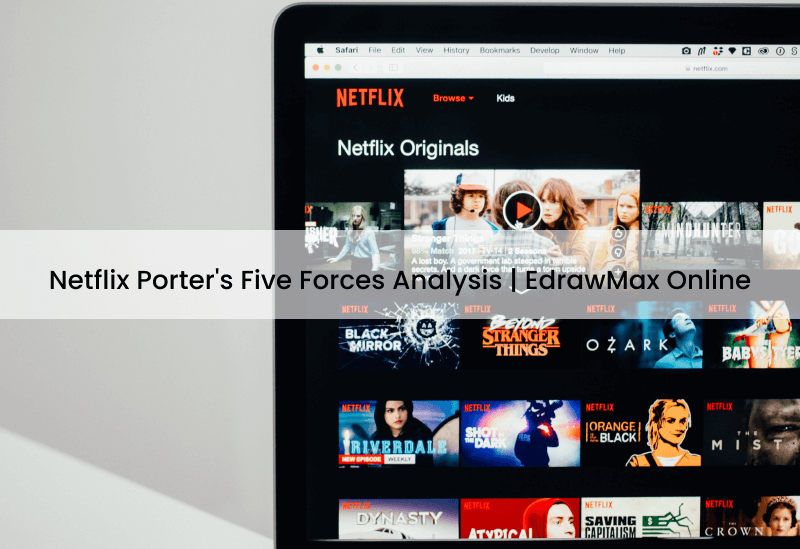 1. Introduction
Micheal E Porter presented Porter's Five Forces Model as a tool to analyze the level of competition for a business in the industry. It helps companies understand the competitor's strengths and the competitive environment in the industry. We can see the strength of this tool with an example of Netflix porter's five forces model. There are five forces in Michael E. Porter's model that contribute to this industry analysis.
2. Background of netflix
Netflix Inc. started as a DVD rental and selling service in 1997. However, Netflix came to the limelight in 2010 when they redesigned their business model and ventured into Video on Demand Streaming. With this new operation, they expanded exponentially in over 190 countries and were listed at New York Stock Exchange (NYSE) with a market cap of 65.41B USD.
3. netflix Porter's Five Forces
Netflix is working in content production and is enjoying a boom in sales. So, let us analyze these five forces to determine the competitive environment and their effect on Netflix's profitability. Since Netflix has continuously worked using various success strategies, and so far has brilliantly faced the competition. We can learn many things from this Netflix Porter's five forces model and apply them in our circumstances.
Competitive rivalry or competition( Strong Force)
The threat of new entrants (strong force)
The bargaining power of suppliers(strong force)
The bargaining power of customers(strong force)
Threat of substitute products or services(moderate force)
3.1. Competition in the industry (Strong force)
Netflix competitor's analysis shows that competition in the content industry is a strong force. New entrants have noticeable barriers because of the costs and low profitability. However, it is fairly easy for companies already playing in the field like Amazon or HBO, who are also venturing into this operating model. So, competitors with more additional services and more control over content are real threats.
3.2. The threat of new entrants (strong force)
A variety of barriers exist for the new entrants in the consumer food industry. Just a few entrants are successful in this industry as there is a need to comprehend the consumer requirement, which requires time. At the same time, current rivals are well aware and have progressed with the customer commitment over their items with time. There is a low threat of new entrants to Netflix 2000 as it has quite a big network of circulation internationally, controlling with a well-reputed image.
3.3. The bargaining power of suppliers(strong force)
Since Netflix deals with content that is an expensive commodity to produce, there are few suppliers. Since the suppliers are few, they have a dominant effect on the market. Now that even the suppliers are entering the consumer or VOD market, you can understand that they want to brand their content for their business. A recent example is removing the Friends show from Netflix in favor of HBO.
3.4. The bargaining power of customers (Strong force)
There is very less switching cost for customers with almost all services offered at a very less price difference. So, the main factor here is not the price but the quality of content. Also, the customers are paying every month, so Netflix's five forces model cannot rely on annual contracts. All these factors make the bargaining power of customers in Netflix porter's five forces a strong force.
3.5. Threat of substitute products or services(moderate force)
There are very few substitutes available for the content in the industry. So, the threat of substitute services in Netflix porter's five forces is moderate. Netflix has this threat from companies producing the same content on DVDs or streaming. But the bigger threat is the availability of other leisure activities and entertainment opportunities.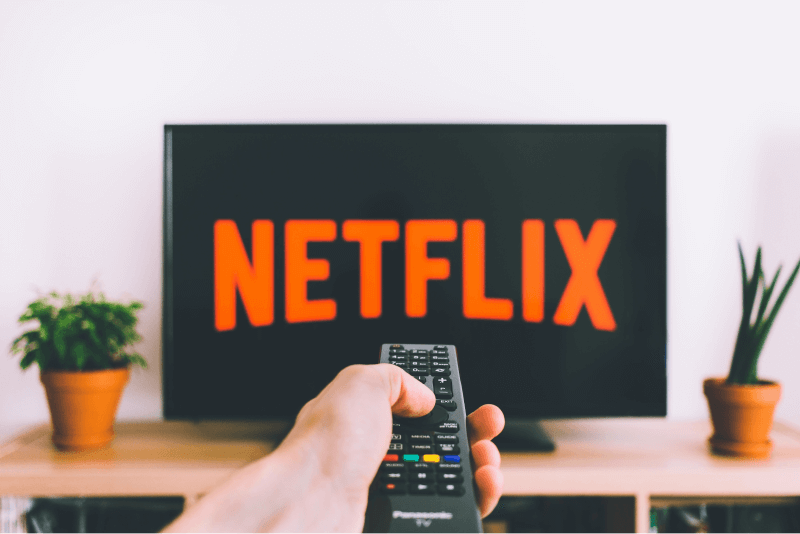 Source: unsplash.com
4. Strategies for Success
Netflix has successfully changed how content transmission was perceived a few years back with great technological innovations, including digital streaming and machine learning. Netflix's five forces model clearly shows that it has never been a stagnant model and cannot afford to be one. So, let us analyze the strategies for Netflix's success in detail.
Cost leadership
Differentiation
Focus
4.1. Cost leadership
Netflix Inc. used cost leadership for competitive advantage in the form of minimized costs and minimized selling prices. This competitive advantage is based on low costs and the ability to sell at affordable prices but not necessarily a best-cost provider. Since Netflix also enjoys the competitive advantage of reaching more customers in the international market.
Also, an aggressive marketing strategy based on market penetration can help growth. Personalized customization for customers and a stronger value chain combined with a cost leadership strategy for competitive advantage helps gain a bigger market share.
4.2. Differentiation
This differentiation growth strategy aims to grow the business by exploring more operations outside the current model. This is a suitable intensive growth strategy for Netflix because of the traditional approach of Netflix and the flexibility of its business model. Netflix can explore more video publishing platforms or more content creation options.
4.3. Focus
Focus strategy focused on a narrow and specific segment in the market. Netflix's focus strategy will develop, market, and sell its products to a specific group of customers. Netflix's focus is primarily on the original content and quality, and the company is expanding its collection of original movies and shows.
5. Key Takeaways
Netflix Porter's Five Forces model shows different aspects of Netflix's business strategy. It has worked continuously on the growth strategy to expand and grow in different markets through its services. Online drawing software is a great tool for designing five forces models for your business or analyzing successful business models like Netflix, Amazon, Starbucks, etc.
EdrawMax is a recommended program for developing business diagrams with its extensive support of symbols, templates, and easy layout. You can explore the templates library for various models for studying, and as these templates are fully customizable, you can easily update them to personalize your business model. Find more Porter's Five Forces templates.
EdrawMax Online
Create 280+ types of diagrams online
Access diagrams anywhere, anytime
Everything in desktop + Templates Community
Team management and collaboration
Personal Cloud and Dropbox Integration