Starbucks Porter's Five Forces Analysis
Detailed Starbucks Porter's Five Forces Analysis
1. Introduction
Micheal E Porter developed Porter's Five Forces model to analyze the level of competition for a business in the industry. It is a simple and effective tool that helps businesses to analyze the level of competition and its strength to deal with it. Micheal E. Porter identified five forces that contribute to a competitive environment. We will use this model to understand Starbucks Porter's five forces example.
2. Background of Starbucks
Starbucks is a US-based coffee and coffeehouse chain. It was founded by Jerry Baldwin, Zev Siegl, and Gordon Browker in 1971 and is known for its unique taste and quality. It started with a single store and proliferated by using great business ideas and technology. Starbucks has opened over 30,000 retail stores in 83 markets.
3. Starbucks Porter's Five Forces
The coffeehouse industry is a very competitive industry with a strong force of competition. Five factors influence the company's business strategy and performance, as identified by Micheal E. Porter. These five forces in reference to Starbucks Porter's five forces are;
Competitive rivalry or competition( Strong Force)
Bargaining power of buyers or customers (Strong Force)
Bargaining power of suppliers (Weak Force)
The threat of substitutes or substitution (Strong Force)
The threat of new entrants or new entry(Moderate Force)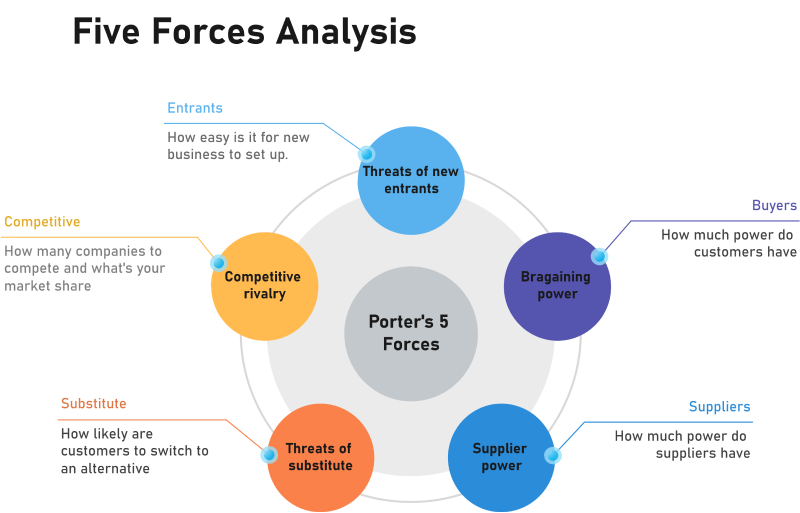 Source: EdrawMax Online
3.1. Competition in the industry (Strong force)
High competition in the industry lowers the prices and profitability in the market. Since eateries are a competitive market, Starbucks faces many new entrants periodically as the entry and exit barriers for companies are minimal. However, Starbucks has the advantage of having the highest market share, and the premium quality and product differentiation also give it an edge over others. Different contributors to the competition in the industry are;
A strong force of large numbers of firms because of limited barriers of entry and exit.
An average number of firms is a moderate force.
Low switching costs are another strong force.
3.2. The threat of new entrants (Moderate force)
New entrants may use lower pricing by reducing extra costs and offering innovation to put pressure on Starbucks. However, this is a low to moderate force in the competition. The entry and exit barriers are moderate, and the initial investment to start a coffee shop is not exuberant. So, locally new entrants have the potential to compete with giants like Starbucks. Studying Porter's five forces example, Starbucks, we can see that the brand image, brand loyalty, and market share of Starbucks can mitigate this risk effectively. It has the infrastructure, efficiency, and very high product quality as its defense against this threat. Exclusive access to raw materials and suppliers is another factor contributing to Starbucks ' competitive edge.
The moderate cost of doing business means more new entrants; it's a moderate force.
Supply chain cost is also not very high, making it another moderate force.
However, Starbucks is an established brand globally, so the brand development of this extent is a weak force.
3.3. The bargaining power of suppliers (Weak force)
Starbucks has a very interesting and multi-facet relationship with suppliers. It has its own diversity policy for suppliers as it works with many suppliers globally. Individual suppliers also value Starbucks because of its high volume order. To supplement this strategy, the company is also growing with farmers' partnerships to gain control of its supply chain.
Also, switching to new suppliers is not very expensive, and Starbucks is in a position to change anytime. Thus the bargaining power of suppliers is further reduced.
Individual suppliers are moderate-sized, and it is a moderate force.
The weak force of multiple suppliers.
Large order volume is another weak force.
3.4. The bargaining power of customers (Strong force)
Porter's five forces example Starbucks shows that buyers have a strong influence because of high competition and choice. Another factor contributing to the customers' buying power is price sensitivity. Also, there are no switching costs, and people also tend to change their tastes, especially on friends' and family's recommendations.
This effect is somewhat mitigated by customers who are quality sensitive and can pay high prices for premium quality products, and the diverse product mix is also an attraction.
Insignificant switching costs are a strong force contributing to the bargaining power of customers.
Abundant substitute availability is another strong force.
Individual buyers have small order sizes; thus, it is a weak force.
3.5. Threat of substitute products or services (Strong force)
Porter's five forces example Starbucks also shows a strong force of the threat of substitute products. There is a large pool of substitute products for the Starbucks brand coffee, a wide variety of beverages, and many options for the coffee itself. Also, the switching costs are negligible. However, a part of this force is moderated by premium quality and brand loyalty.
A large pool of substitute availability is a strong force.
Low switching costs are another strong force.
The low price of substitute products also contributes to the threat of substitute products is another strong force.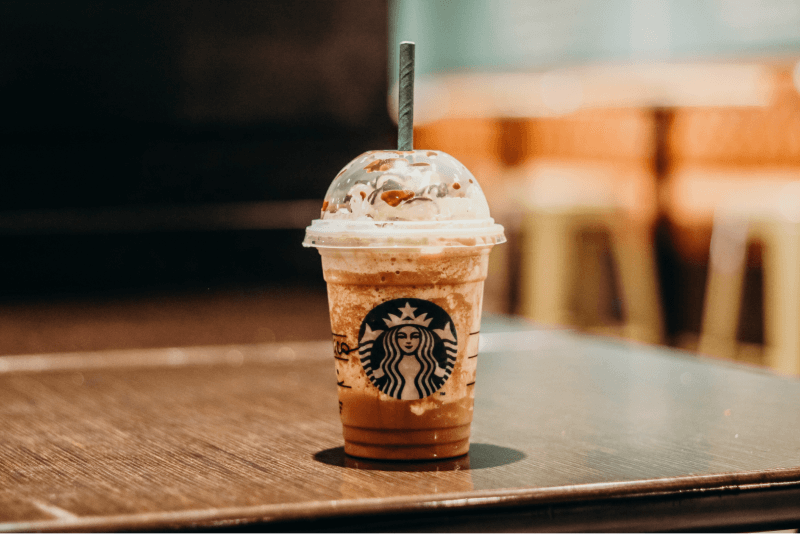 Source: unsplash.com
4. Strategies for Success
After studying the current competitive position in Porter's five forces Starbucks, we can also see how Starbucks can grow its market share and stand apart from its competitor. The main factors that support this growth are;
Cost leadership
Differentiation
Focus
4.1. Cost leadership
Starbucks offers premium products; therefore, the prices are higher than the local brands. If they provide some low-price variants, then they can also attract more customers. Innovation in work practices and internal company practices also cuts costs. Then they can also look into the packaging, power costs, and logistics to find out gaps where cost leadership will help.
Porter's five forces example Starbucks shows that Starbucks enjoys cost leadership because of its economies of sales because large production means lower price per unit. Also, they get lower prices from the suppliers because of the scale.
4.2. Differentiation
Porter's five forces example Starbucks shows that it can use the broad differentiation strategy for competitive advantage. Starbucks is already known for its high quality and unique taste of coffee. They also use this differentiation policy in the design of their cafes, where they offer a cozy and friendly environment that makes people enjoy. Product diversity through new types of beverages apart from coffee is a promising strategy to cater to customers who are not always into the coffee. Also, moving into the services industry and product industry can diversify Starbucks' portfolio.
4.3. Focus
As we studied in Porter's five forces example Starbucks, they focus on premium quality of coffee to attract customers. They may also introduce more focused products in the ready to brew or ready-to-eat products that customers can take home.
The aim of the Focus strategy is to increase the market share through operating in an exclusive niche market that is a market with less competition.
EdrawMax Online
Create 280+ types of diagrams online
Access diagrams anywhere, anytime
Everything in desktop + Templates Community
Team management and collaboration
Personal Cloud and Dropbox Integration
5. Key Takeaways
Starbucks is a premium coffee brand with its exclusive stand on ethical products and supply chain. It has many forces acting in Starbucks porter's five forces, but the stronger ones are competition, the threat of new entrants, and the bargaining power of buyers. However, we also saw that it is coping with these forces with strategic analysis and product differentiation.
You can also learn about the weaknesses and strengths of your company using Starbucks Porter's five forces model. To draw a model for easy understanding and communication of your ideas, it is always recommended to use an accessible yet comprehensive drawing software like EdrawMax. EdrawMax offers both downloaded and online versions. EdrawMax Online also provides a variety of Porter's five forces model templates to give you a quick start. Find more Porter's Five Forces templates.
6. References
Karagiannopoulos, G. D., Georgopoulos, N., & Nikolopoulos, K. (2005). Fathoming Porter's five forces model in the internet era. Info, 7(6), 66-76.

Koehn, N. F. (2002). Howard Schultz and Starbucks Coffee Company. Harvard Business School.