Brand Value Chain
Detailed Brand Value Chain Analysis
1. Introduction
The Value chain Analysis is a powerful assessment tool that breaks down the series of activities executed by a company to create a product, from conception to development and commercialization, to determine how those processes can add value and generate profit. It was initially outlined by professor Michael Porter from Harvard Business School in his book "Competitive Advantage." He explained how strategic management could find out spots in the production chain to optimize and improve costs and create an advantage against competitors. The Value Chain Analysis is better suited to analyze conventional production models where companies transform raw material into finished products. However, further development of such an analysis tool has produced new models that allow analyzing how value is added to create revenue. One of those models is the Brand Value Chain.
2. What Is Brand Value Chain?
The Brand Value Chain is an analysis tool similar to the conventional Value Chain but especially suited to address the value increase through branding and marketing processes. It tends to consider the marketing process as a serial chain of activities in which each one has a determinant influence over the next. This tool was conceptualized in the first place by Keller and Lehman in their 2003 study called "Strategic Brand Management", where they analyzed the manners in which marketing activities are capable of creating value. Even though their model is quite different from professor Porter's Value Chain Analysis, they managed to borrow several concepts from the conventional Value Chain to their explanation, like the creation of value through the articulation of a pre-established and well-defined sequence of activities. Therefore, we have not the conventional division of primary and support activities in the chain but a sequence more likely to be produced through marketing processes.
3. Brand Value Chain Analysis
Value Stage 1 – Marketing Program Investment:
The Brand Value Chain is considered a linear or serial process in which each stage of the chain highly influences and determines the next. But as being based on marketing activities, the sequence of processes will start with an investment program in this area. Such a program will consider different kinds of investment, depending on the aspect over which the investment is focused. Keller and Lehman identified: product, communications, trade, employees, and others.
That is because, in this first stage of investment, one needs to determine how to communicate with customers, which channels of communication are better suited for, and what marketing methods our employees are going to use. At the core of the Brand Value Chain, the notion is the idea that a good investment program in this matter will positively influence the next stages (customer mindset, market performance, and shareholders value).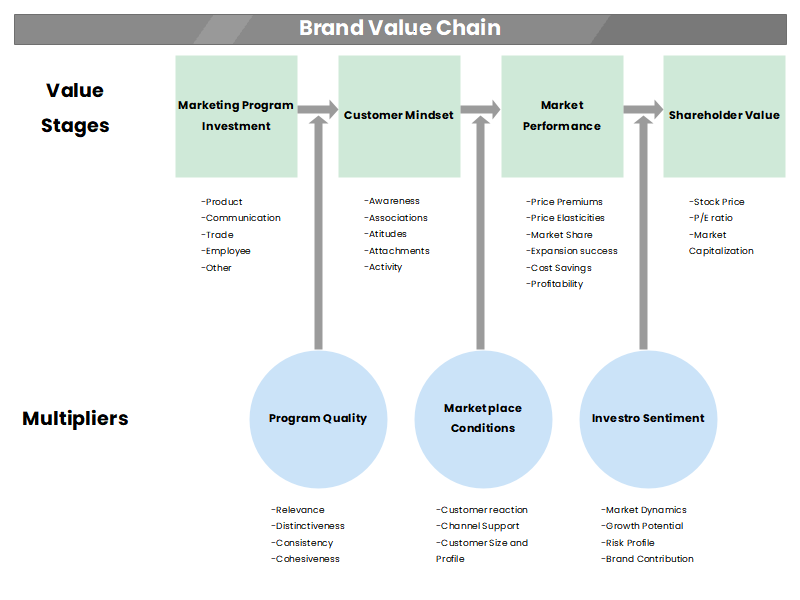 Source: EdrawMax Online
Product: Normally, a marketing program investment will be focused on a determined product to be commercialized, and its design will respond to market necessities.
Communications: The investment program on a marketing campaign needs to determine the best communication channels and methods.
Trade: The product that will be subject to a marketing campaign needs to obviously be suited for commercial trading.
Employees: At this stage of the chain, one needs to carefully assess what marketing methods and tactics our employees are going to use.
Multiplier – Program Quality:
In the Brand Value Chain model, besides the four stages in the chain, each stage has its own "multiplier," represented by concepts and actions that will reinforce and, in fact, accelerate the marketing process if they are correctly applied.
Clarity: This is directly related to the marketing campaign messages and channels of communication and how they have to be direct and engaging.
Relevance: The marketing campaign or program must be important to the customers, address the main pain points and unveil how the product will be relevant to them.
Distinctiveness: This is related to how the program differs from competitor's similar campaigns and products.
Consistency: This factor is directly related to the general impact of the campaign and how it articulates the different channels used to communicate the message.
Value Stage 2 – Customer Mindset:
As the Marketing Program Investment will directly affect the Customer's Mindset, Keller and Lehman identified a group of four aspects that could determine the process that a given customer may follow after being in contact with the marketing strategy. A bottom to top process will begin with:
Awareness: When the client starts to note a given brand, being affected and impacted by the message it is trying to convey.
Associations: As the customer begins to link any experience he has obtained from the brand, whether it is good or bad.
Attitudes: Are all the reactions taking place when the customer starts to translate his experience into actual responses to the brand.
Attachment: This is when the customer with a positive response will start to show loyalty to a brand experience.
Activity: Represented by the subsequent actions taken by the customer once he has been in contact with the marketing program.
Multiplier – Marketplace Conditions:
This stage will have its multiplier represented by the marketplace conditions, and it is related to the external factors that could affect the marketing campaign. Those factors are the competitive reactions, the channel support, and the customer size and profile.
Competitive Reactions: This is a factor related to the reactions that competitors will have once they are in contact with a marketing campaign because they are likely to affect the overall performance of the program.
Channel Support: This factor takes into considerations that effective and successful marketing campaigns will make use of every possible channel to transmit a message, no matter if they are online or offline, including the involvement of marketing partners to reinforce that message.
Customer Size and Profile: This last factor leads to consider sizes and audiences because as bigger the customer size is, the greater the investments in marketing programs need to be.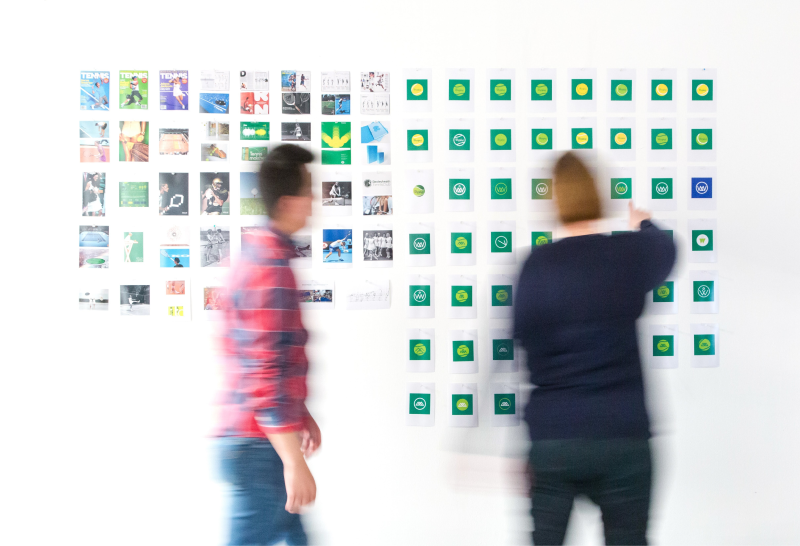 Source: unsplash.com
Value Stage 3 – Market Performance:
The market performance is the result of an engaged customer mindset as a positive consequence of the marketing campaign with a growth of sales and services. The market performance could be established around five factors.
Price Premiums and Price Elasticity: when a marketing program investment has been effective, and the customer mindset has proven positive, companies can start to charge products with premium prices. The model gives for granted that in this stage, even if the brand decides to increase prices, it will not affect the customer behaviors and attitude towards it.
Market Share: the amount of loyal and attached customers will directly affect the total share of the disputed market.
Brand Expansion Success: an effective marketing program investment will support the adding of new business lines as brand expansions and creating new income streams.
Cost Structure: Once a marketing program investment has proven successful and effective, subsequent marketing costs will be reduced, as the brand has a strong performance in the customer mindset.
Profitability: growing a brand in strength and presence will directly translate into competitiveness and raise a company's profitability.
Multiplier – Investor Sentiment:
In Keller and Lehman's Brand Value Chain model, the investor's sentiment will act as a multiplier of the market performance, and, at this level, the focus has moved from customers to the investors. The whole concept is built around four blocks:
Market Dynamics: As a successful marketing program investment starts to shape the customer mindset and the market performs in agreement with both previous stages, the market dynamics will get affected and react, stimulating the investor's interest.
Growth Potential: Before starting their marketing campaign, companies need to be ready to react to big market dynamic shifts and anticipate massive growth.
Risk Profile: When the market dynamics start to react to the marketing campaign, and it produces a sudden growth, the risk profile of a given company will be reduced and get more and more attractive to investors.
Brand Contribution: Markets will react to the brand's contribution to fulfill markets requirements and stimulate the investor's sentiments towards the brand.
Value Stage 4 – Shareholder Value:
In the Brand Value Chain model at this stage, given the previous action of each stage and its respective multipliers, big and logical consequences are affecting the company shareholder's value. The market performance will directly affect the shareholder's value, increasing stock prices in the first place. This concept is built around three factors:
Stock Prices: As aforementioned, when the markets react to the positive impacts of the marketing campaign, one logical consequence will be an increase in the stock prices when investors start to buy a given company's shares.
P/E Ratio: In the same way, the ratio of price/earning will possibly and suddenly be thrown up as a sign of the financial health of the company because earnings are growing, and the price of common stock is also getting higher as investors try to buy shares.
Market Capitalization: Finally, when the stock markets react to the rise of the stock prices and P/E ratio, the market value of the given company also goes up as a result of the rise of shares value.
4. Key Takeaways
The conceptualization of the Brand Value Chain as a linear process in which each stage is a natural and logical consequence of the previous is a brilliant analytical tool that allows predicting what the results of the implementation of a marketing campaign should be. It was very precisely outlined and addressed studying successful cases, and therefore, it can be used and applied to actual conditions.
We hope this article was useful to break down the Brand Value Chain details as a way to increase the reader's commercial, marketing, and strategic knowledge. However, if you want to go further by conducting a Brand Value Chain Analysis, don't forget to use EdrawMax Online.
EdrawMax Online is a very versatile all-in-one draw software, with more than 280 templates ready to use in your research and publications. Also, you can find substantial value chain templates in our template gallery to have a quick start.
EdrawMax Online
Create 280+ types of diagrams online
Access diagrams anywhere, anytime
Everything in desktop + Templates Community
Team management and collaboration
Personal Cloud and Dropbox Integration
5. References
Dudovskiy, J. (2021) 'Tesla Value Chain Analysis', Business Research Methodology, [online]. Available at: https://research-methodology.net/tesla-value-chain-analysis-2/ (Accessed 13 August 2021).

Parr, D. (2020) "Understanding the Value Chain". The Digital Human. [online]. Available at: https://www.thedigitalhuman.co.uk/brand-value-chain/ (Accessed 18 August 2021).

Porter, M. (1998) "Competitive Advantage". Free Press Editorial.

Aditya (2020) "Brand Value Chain: How Brands Create Value". Vase.ai Blogs [online]. Available at: https://vase.ai/resources/why-you-should-invest-in-branding/ (Accessed 20th August 2021).

Reyes, A. (2020) "The Brand Value Chain". Alex on Marketing [online]. Available at: https://alexonmarketing.com/the-brand-value-chain/ (Accessed 20 August 2021).