Agricultural Value Chain
Detailed Value Chain of Agricultural Industry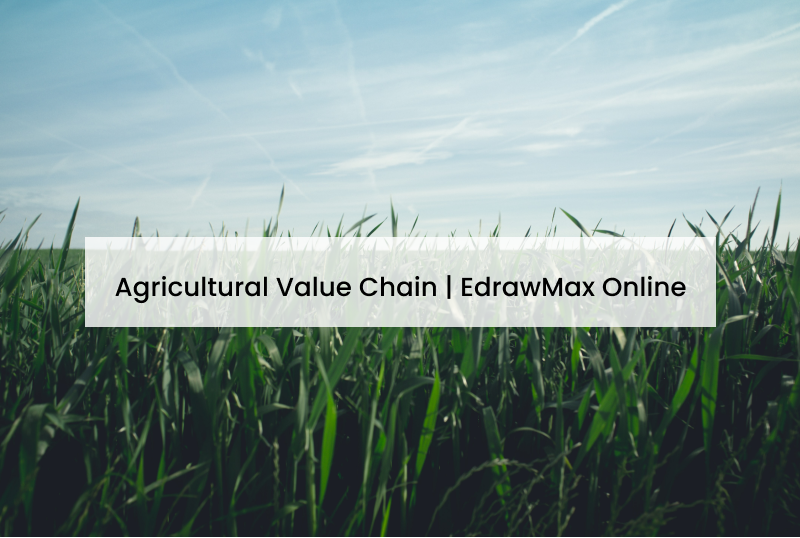 1. Introduction
The value chain is a simplified business model used to understand a series of activities starting from conceptualization to delivery of products to the customers. For businesses that produce goods, an agricultural value chain, for example, consists of processes and steps that involve bringing products from conception to distribution, and the processes in between like the procurement of raw materials, marketing campaigns and activities, and other manufacturing functions.
With the continued increasing competition for customer loyalty, exceptional products, and unbeatable prices, businesses must consistently examine the quality and value they create to be at an advantage in the competition. Besides competition, using a value chain increases production efficiency to deliver a maximum value for the least possible cost.
2. What is the Agricultural Industry
The agricultural industry is a sector of the economy that produces poultry, crops, livestock, and fish. The industry involves food; thus, it is one of the most important industries to the food security of every country and region. Here in this industry lies a large number of small-scale businesses.
Agriculture is a vital and critical aspect of the economy, especially in developing countries, as it can play an essential task in alleviating poverty. Such countries can source more than thirty percent of the GDP from agriculture. It's a lot higher than those in developed countries with only two percent.
To maximize small-scale business in agriculture, stakeholders usually examine the concept of the 'farm to fork' approach and identify ways that will benefit Small Holder Farmers (SHF). This includes incorporating SHFs into an existing agricultural value chain through better training, financing, better fertilizer, to name a few.
3. Agricultural Industry Analysis
The agricultural value chain is like a guide to understanding how the industry works and utilizing resources efficiently. That is why it is also essential for businesses to recognize the elements of each stage through a value chain.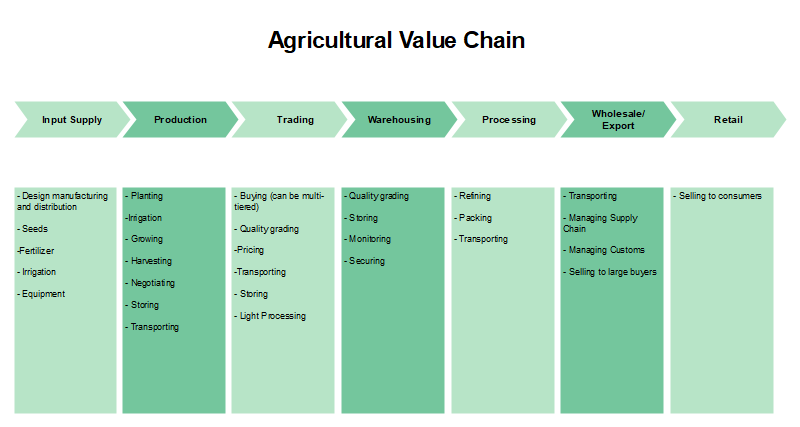 Source: EdrawMax Online
Inbound Supply:
This is the first stage in a typical agricultural value chain. It's like the pre-production stage that includes ways to conserve and use genetic resources to improve the productivity and quality of farm products. It's also where innovations in agricultural inputs like fertilizer, seeds, irrigation, and equipment are also discussed. Considering these aspects in the early stage of production is essential for better harvest, boosting income, and ensuring farmers thrive on environmental issues like climate change.
Production:
In the production stage lies some of the controllable and uncontrollable circumstances involved in planting, growing, and harvesting. Most companies also plan alternative ways in case of attacks of pests and disease, unpredictable weather, fluctuating market situations, and food loss management by anticipating firsthand these concerns through an agricultural value chain. The agricultural industry is unpredictable sometimes with so many uncontrollable factors surrounding it, and it is vital to counter those challenges.
Trading:
This stage here is where ways are discussed to deliver the food from the farmers to its consumers. Since not all agricultural products can be transported immediately to the market, some goods may be processed, packaged, and stored before delivering them to the consumers. Trading is also where the quality of goods is evaluated and priced. This stage also answers concerns for post-harvest food loss because of poor road infrastructure that can delay goods delivery. Some goods need to be transported right away to ensure the best quality once it's on the market.
Warehousing:
Storage is also another essential stage in the agricultural value chain. It includes preserving and holding goods from the time of production until consumption. Storage shields the quality of perishable goods from deterioration. In cases of products with seasonal demand, continuous production and storage are necessary.
Processing:
In this stage lies the refining of goods after harvest to prepare them for on-site processing and packaging. Besides packaging, you might also include sorting and grading livestock, agricultural commodities, or plant products into goods for final consumption.
Wholesale or Export:
Agricultural exports and wholesale are common but require thorough preparation since this already involves vast quantities of goods to be transported to markets and even outside the country of origin. Besides considering the quality of crops, livestock, or plant products, farmers and companies also have to deal with customs when those products reach the country of delivery.
Retail:
This involves selling agri-products in a relatively smaller amount. Typically retail goods go straight to consumers instead of re-sellers.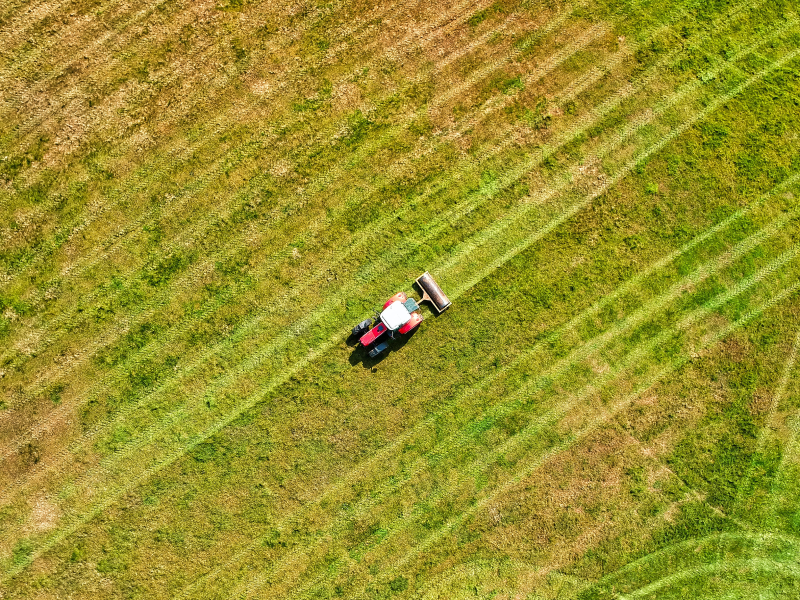 Source: unsplash.com
4. Bnefits of Agricultural Value Chain
The purpose of value chains is to look at existing challenges and the opportunities to improve the efficiency of the value chain for the benefit of everyone involved. The value chain method considers the roles of existing and supporting chain actors and the environment policy. For farmers, being a part of a well-designed and functioning value chain brings higher income. Not only that, but they can also have a more stable and predictable income.
When an organization has an effective value chain, it can attract young people to farming or at least shift their minds not to leave rural areas through providing better ways to have an income.
Everyone who is part of the value chain adds value from the start of the chain until it reaches the consumers. As an exchange for adding value to the chain, the participants also receive economic rents. Businesses and companies will have a share of the income. Besides a stable income, farmers are bound to learn new skills and use improved practices with a well-curated agricultural value chain.
5. Key Takeaways
With the stronger competition now in the agricultural industry, it does matter to be prepared and anticipate possible hurdles and challenges along the way. The value chain analysis helps a brand or a company to be at an advantage. Since the value chain is categorized and specified, organizations can adopt specific approaches for an efficient process from conception to distribution.
A well-designed value chain requires a user-friendly and efficient tool. You can utilize EdrawMax Online for cleaner, concise, and detailed diagrams, including several diagram options for value chain analysis. Also, you can find substantial value chain templates in our template community to have a quick start.
6. References