Walmart Value Chain Analysis
Detailed Value Chain Analysis of Walmart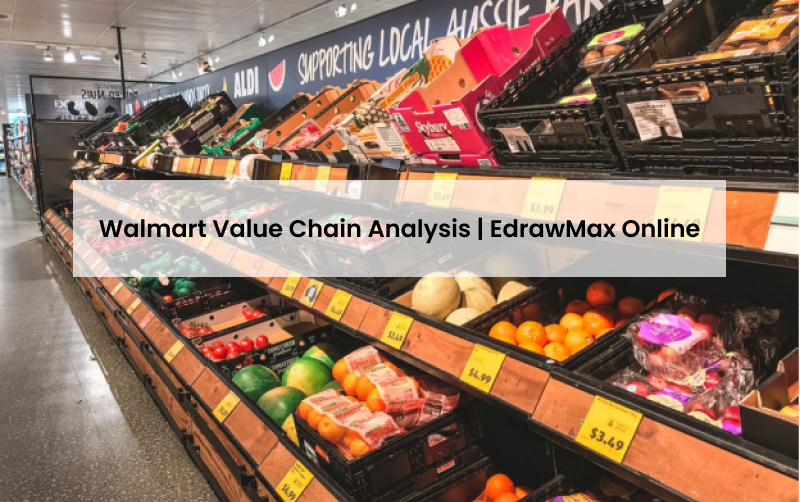 1. Introduction
In the age of big business, it is important to study successful cases and the reasons and processes behind those strategies. Value Chain Analysis is a tool that lets anyone look into these processes and activities involved in the production stages of a company before turning raw materials into valuable productions or products. In this article, we are going to undertake a Walmart value chain analysis to unfold what is behind the success of this company.
Even when this kind of analysis applies better to companies that produce goods, it can be used to analyze almost any other kind of business. Those steps between conception and even from procuring raw material to marketing strategies, operations, and distribution, are deeply targeted by the Value Chain Analysis and this is what brings upfront valuable pieces of information.
2. Background of Walmart
Walmart was founded in 1962 by Sam Walton, and since its foundation, transformed from a little town retailer to a worldwide leading corporation. In these 60 years, intern activities, departments, guidelines, and scopes of the company also suffered complex changes that resulted in present-day Walmart's business strategy and "Everyday low prices" motto.
This is because Walmart is the world's bigger retail store and the retail business operates in a very simple way: goods need to be bought cheap and sold at higher prices than you bought them in the first place. But that universal rule maybe doesn't apply more if you want to compete and survive between a lot of retailers fighting for the same business niche.
And that is what defines today's Walmart business tactics as they are unveiled by Walmart Value Chain Analysis. Walmart's marketing messages fully outline the guiding principles of today's Walmart business strategy, which is to achieve cost leadership by the substantial cut of middlemen and chain supply links, and use bargaining power when dealing with suppliers to keep the prices low.
3. Primary Activities in Walmart Value Chain Analysis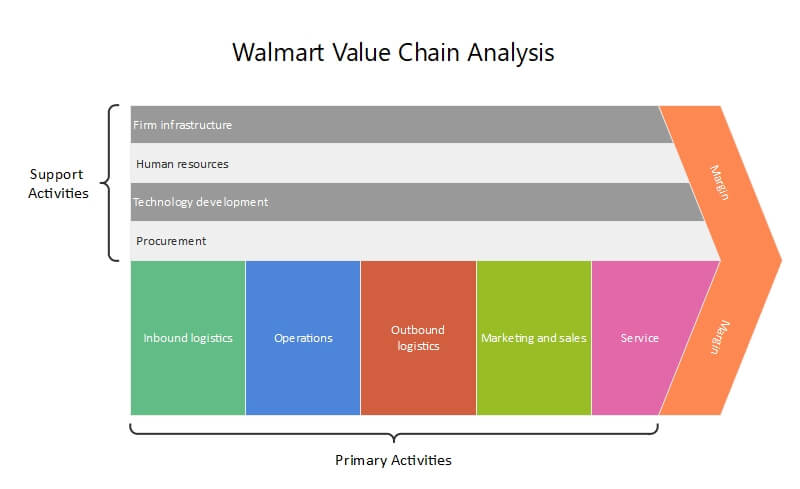 Source: EdrawMax Online
According to Value Chain Analysis, value can be achieved in two main ways:
Cutting contracting costs and expenses to achieve cost leadership
Gaining competitive differentiation by creating more value in your product to demand a higher price.
Both methods are said to lead to increases in profit margins. However, as we can see, Walmart's business strategy heavily relies on method 1, as it is to obtain cost leadership by cutting down expenses and contracting costs. But to go deeply into a Value Chain Analysis methodology, the first step is to identify and precise Walmart's Primary Activities.
Inbound Logistics:
One of the strategies that Walmart is always looking for is having the less possible amount of links in the supply chains, as well as creating strategic partnerships with vendors. To press suppliers with sustained and massive purchases and thus obtain better prices is one of the tactics to keep its cost leadership. Distribution centers and cross-docking are key to keeping stores replenished and costs low. They rely on supply chain management and inventory management to manage their supply chain costs.
Operations:
Widely divided into three big groups: 1)Walmart US, 2) Walmart International, 3) Sam's Club. The first group is formed by three levels of retail stores around the 50 US states and also digital retail. The second group includes retail, wholesale and other businesses in 26 countries. The third group consists of membership-only warehouses clubs in 48 US states. Effective national and international distribution of operations and main roles are key to keeping costs low and creating the strategic partnerships needed to improve Inbound and Outbound logistics.
Outbound Logistics:
Walmart is always looking to improve its routing and load building operations regularly to escalate the overall efficiency of these activities and achieve cost decrease. Application of ORTEC's routing and load building solutions has resulted in savings of 4 million gallons of diesel. Heavy cross-docking helps to keep a constant flow of products and therefore, low prices.
Marketing and Sales:
Walmart's pricing strategy becomes part of the company's marketing strategy because they build up around the image of the best-cost retailer. But they also have a gross expending on marketing, promoting their brand, discounts, deals, and packages through a wide variety of channels and formats, including video on social platforms.
Important: a little shift towards online channels is being reported because it is more cost-effective to communicate the brand message, target customers, and improve sales.
Service:
Despite its poor reputation in means of customer service, the company has recently started a huge inversion specially focused on improving employee's wages and training for floor shop employees. They are focusing on cutting on losses by personnel lack of training and mishandling of products, as well as improving wages to avoid a heavy employee rotation.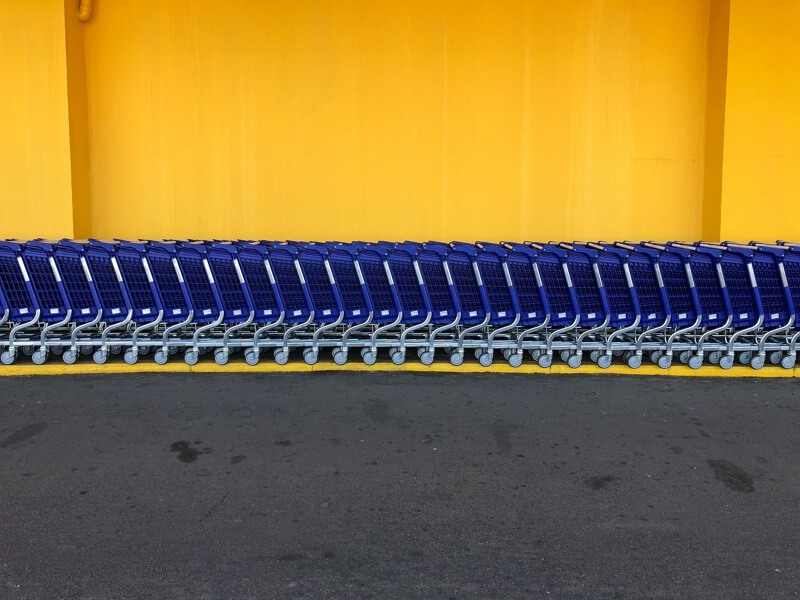 Source: unsplash.com
4. Support Activities in Walmart Value Chain Analysis
After clearly identifying the primary activities, the next step in the value chain analysis is to unfold the support activities, because even if they are not key in the value chain, they contribute in indirect ways to keeping the overall strategy sustainable. In Walmart's case, those activities are:
Infrastructure
Walmart has made a heavy investment in the firm infrastructure, building several centers for their diverse departments, especially focusing on their supply chain, constructing distribution centers that support their stores, and do digital retail. In Walmart's business strategy, their infrastructure is intended to directly support its outbound and inbound logistics, as well as their procurement operations, with distribution centers specially created to supply shops.
Human Resource Management
In recent years, Walmart has been criticized for poor Human Resources practices, so they started a massive investment, mainly improving minimum wages, promoting employees, and the rest went to education and training. They are focusing on human resources improvements to help to sustain its low costs strategy.
Technology Development
They have been using technology on several activities like help their supply chain management, create improved apps, better e-commerce sites, keep managers updated and stores well provided. They are relying on technology to improve efficiency.
Procurement
Is one of the key departments in sustaining their business strategy and maintaining strategic agreements with its suppliers to keep low costs. They are shifting heavily towards technology to improve their procurement-related activities, focusing on efficiency and cutting costs.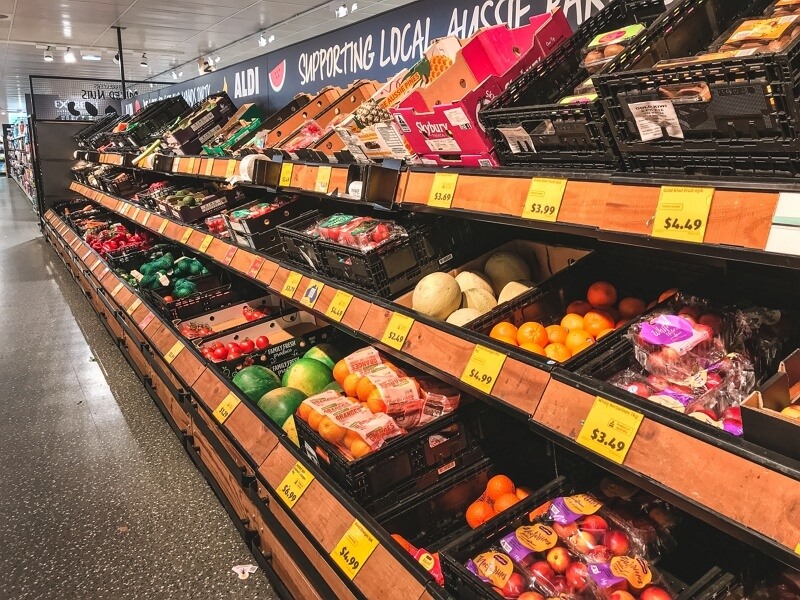 Source: unsplash.com
5. Key Takeaways
Walmart's success is not a random fact, but the result of a coherent and comprehensive strategy in which all its departments and branches are involved, all of them fulfilling their specific role. What they have achieved is to gain leadership cost through improving and focusing on intern aspects of their business. Their business chain acquires value on each one of the process stages between procurement and sale. We hope this article was useful in breaking down Walmart's value chain but if you need to go further with Walmart Value Chain Analysis and include some graphics, don't forget to take a look on EdrawMax Online.
EdrawMax Online is a specially designed all-in-one draw software, with more than 280 kinds of business diagram solutions, perfect for Value Chain Analysis diagrams. Get a quick start with the editable value chain analysis examples.
EdrawMax Online
Create 280+ types of diagrams online
Access diagrams anywhere, anytime
Everything in desktop + Templates Community
Team management and collaboration
Personal Cloud and Dropbox Integration
6. References
Abhijeet Pratap. 2017. 'Walmart Value Chain Analysis' [Online] Available at: https://notesmatic.com/walmart-value-chain-analysis/

John Dudovskiy. 2016. 'Walmart Value Chain Analysis' [Online] Available at:https://research-methodology.net/walmart-value-chain-analysis/ (Accessed April 5, 2016)

Clara Lu. 2018. 'Walmart's successful supply chain management'[Online] Available at:https://www.tradegecko.com/blog/supply-chain-management/incredibly-successful-supply-chain-management-walmart (Accessed October 4, 2018)