Coca Cola Value Chain Analysis
Detailed Value Chain Analysis of Coca Cola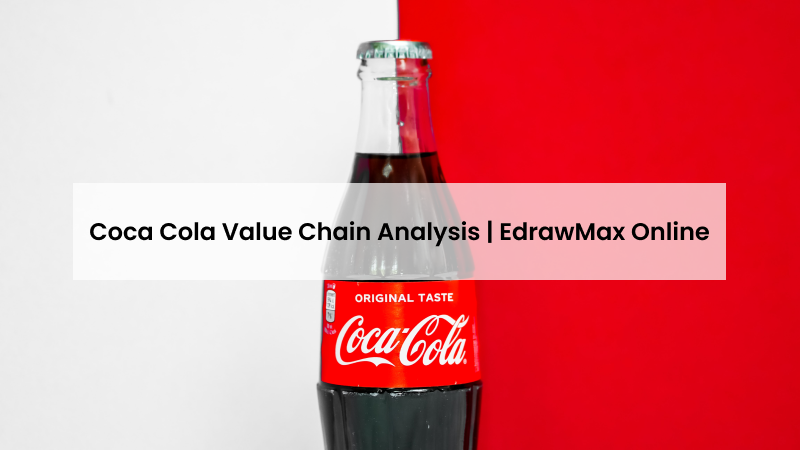 1. Introduction
Value chain analysis visualizes a company's business activities to gain a competitive advantage for more profit. Value chain analysis helps a company see what activities add value to the input resources for more profit. The primary goal for any business is to maximize its profit by adding value to the inputs and developing profitable products or services. We can achieve this goal through efficient processes and activities. Value chain analysis depicts the operations and activities to cover up any shortcomings. Coca Cola value chain analysis is a big step towards learning about business models. The company has a global presence with many activities covered locally while running some operations from the headquarters.
Value chain analysis was presented in the 1980s by Michael Porter. His model classifies the business activities into 'primary activities' and 'support activities.
Source: EdrawMax Online
2. Background of Coca Cola
Coca-Cola is a famous beverage brand that sold about 78% of carbonated drinks in 2008. Coca-Cola has become a household name with existence in over 200 countries around the world. From the legal and managerial aspects, Coca-Cola is not a single entity. It has a comprehensive portfolio with many carbonated drinks, including Fanta, Sprite, PowerAde, and Lilt. Apart from this, Coca-Cola also sells concentrates, beverage bases, and syrups. They do not make these sales in the retail market. Instead, Coca-Cola sells these to other businesses.
3. Primary Activities in Coca Cola Value Chain Analysis
Primary activities are directly responsible for the creation and delivery of products. According to Porter's model, there are five critical areas in primary activities.
Inbound Logistics
Operations
Outbound Logistics
Marketing and Sales
Services
Let's discuss these activities regarding the Coca-Cola value chain analysis.
Inbound Logistics:
Inbound logistics in the Coca-Cola value chain comprise receiving, storing, and distribution of the inputs of the products. We relate it to bringing raw material from the source to the company. Coca-Cola has a large supply chain. Coca-Cola endeavors to gain a competitive advantage at this first step. It treats the suppliers in the value chain as business partners. However, the suppliers also have to adhere to some rules according to applicable laws and regulations. Coca-Cola also believes in responsible environmental and workplace policies and practices.
Operations:
Coca-Cola is a global business. However, it operates through local channels. Coca-Cola has its beverage lines along with companies with bottling partners. However, it does not own the partners or their products. It manufactures and sells beverage bases and syrups.
Outbound Logistics:
Coca-Cola ensures that thousands of retailers globally are consistently well stocked with a variety of Coca-Cola products. They used a similar principle for industrial clients. Timely delivery, secure transport, and efficient delivery are the foundation of a smooth-running Coca-Cola value chain. This cultivates strong retailer relationships and continued customer loyalty.
Marketing and Sales:
Coca-Cola is a globally recognized brand. Therefore, the marketing endeavors of the company must have been phenomenal. The Coca-Cola logo is one of the most popular and recognized logos. Coca-Cola engages digital channels, social media, print media, and outdoor marketing to influence the customers and make an identity.
Coca Cola value chain analysis shows that it focuses on a single marketing strategy that promotes all its brands in a unified effort.
Service:
The pre-sale and post-sale services by the Coca-Cola Company help gain customer loyalty. Coca-Cola has a very efficient call center and online presence globally to cater to its clients and solve their queries.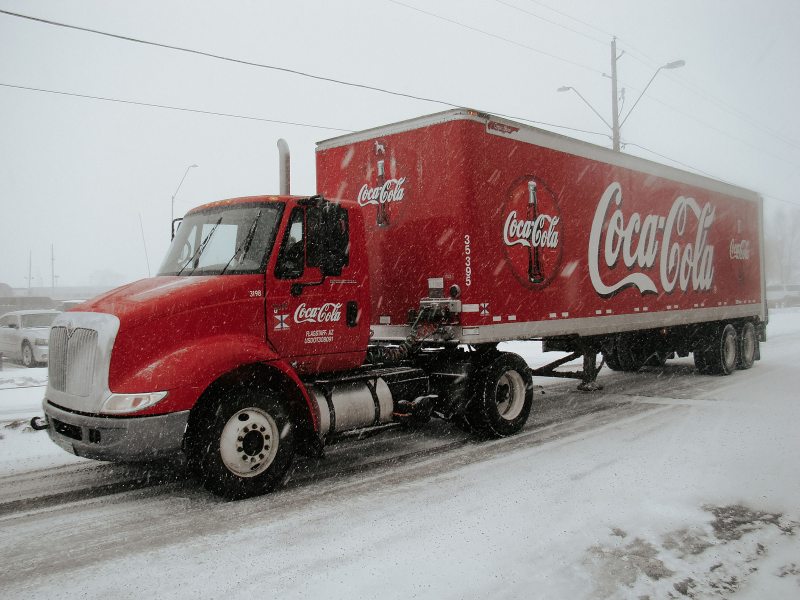 Source: unsplash.com
4. Support Activities in Coca Cola Value Chain Analysis
Support activities are aimed at assisting primary activities and help the organization achieve its competitive advantage. There are four critical areas of support activities:
Firm Infrastructure
Human Resource Management
Technology Development
Procurement
Infrastructure
The firm infrastructure denotes a wide range of activities in Coca Cola value chain analysis because of the vast business model. The activities include quality management, legal matters, accounting, finance, planning, and strategic management. Effective management is the key to creating maximum value for competitive advantage. Profit is maximized by optimum usage of resources and by reducing overhead costs.
Human Resource Management
Coca-Cola is a huge multinational company, hence a considerable number of employees. Coca Cola value chain analysis shows that human resource management is delegated to the local offices for a more focused approach. They hire and develop talent and help them learn and grow in a healthy environment. Coca-Cola focuses on motivation and company culture engagement through remuneration packages, reward packages, and an encouraging environment.
Technology Development
Coca-Cola has developed six research and development centers around the world. The company focuses heavily on research and development for innovative products. Social service is another segment covered in technology development as they invest in startups and research in the universities. Apart from products, Coca Cola value chain also invests in innovation in packaging, equipment, manufacturing, and marketing.
Procurement
Coca-Cola procures raw materials from various suppliers. It focuses heavily on quality standards in every step of procurement, from buying to delivering the product. Apart from this, Coca Cola value chain also shows that the company procures the products internally too. So, a complex infrastructure is required for running all these processes independently yet in harmony.
5. Key Takeaways
Coca Cola value chain analysis is a complex system. The company runs the business globally and adheres to values and culture locally. So we can say that every local Coca-Cola setup has its value chain that connects to the global system. Visual tools make analyzing and studying such large systems simple to follow. EdrawMax Online is an online tool that is used for drawing and studying value chain analysis. The templates available at Template Gallery make a solid foundation to build complex drawings more efficiently and accurately. Also, you can find substantial value chain templates in our template community to have a quick start.
6. References
Coca-Cola Value Chain analysis. Research-Methodology. Published August 12, 2015. Accessed August 24, 2021. https://research-methodology.net/coca-cola-value-chain-analysis/

Coca-Cola Value Chain Analysis - 1898 Words | Internet Public Library. Accessed August 24, 2021. https://www.ipl.org/essay/Coca-Cola-Value-Chain-Analysis-PKN3ZD2FJ48R