Amazon BCG Matrix Analysis
Detailed Amazon BCG Matrix Analysis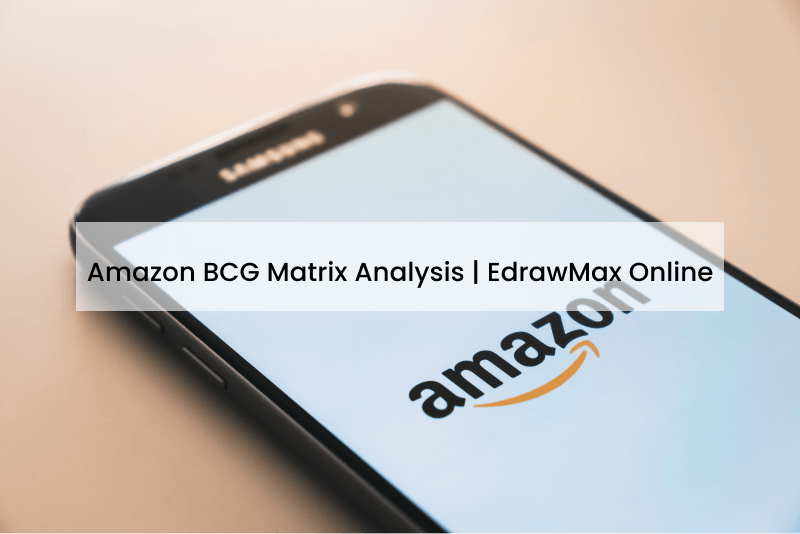 1. Introduction
The Boston Consulting Group (BCG) growth-share matrix is a graphical planning tool for a company's products, services and stand alone business units to assess their standing and growth chances in the market. The basic purpose of a BCG matrix is to determine which units require investment for further expansion and growth and which units are self sufficient or not worthy of investments. The BCG matrix has market growth rate at the y-axis and market share at the x-axis. Let us analyze the BCG matrix of Amazon to understand the scenario better.
2. Background of Amazon
Amazon was founded in 1994 by Jeff Bezos based in Seattle. Amazon was first launched as an online bookstore but the business model was so appreciated that gradually it moved on to become the world's largest e-commerce store with a huge variety of products. It deals in books, music, films, household products, furniture, digital products, gadgets, garments and what not. Amazon has another business unit that deals with Amazon's digital service like Cloud and AWS etc.
3. Amazon BCG Matrix
The BCG matrix of Amazon com helps us understand the current position of different products and services in the Amazon business model and we can also see the business level strategies for its business units.
A BCG matrix is categorized into four types of products based on the market share and growth potential. These four types are dogs, stars, cash cows and question marks.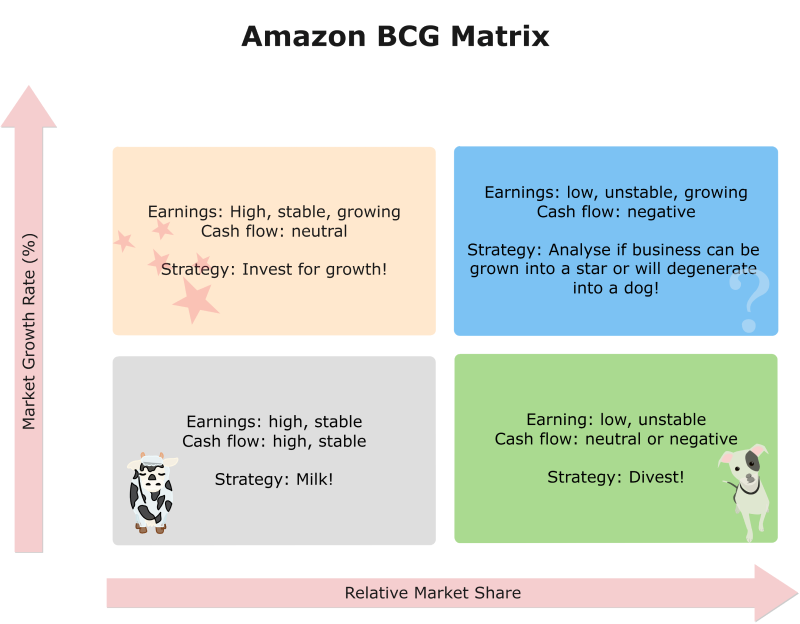 Source: EdrawMax Online
3.1. Dogs
The dogs are the products in the BCG Matrix that are not generating high sales and also do not have a noticeable market share. These products in turn do not generate revenue but use the cash investments that is why these are called the cash traps. In the BCG matrix of Amazon, we can observe that mp3 is a dog product because it doesn't have significant market share and the industry is also growing very lazily.
Amazon's physical stores are also categorized as the dogs for the company because they are the least competitive in terms of market share. They represent only about 0.015% of market share which is almost negligible.
Amazon Alexa can also be categorized as a dog in the Amazon BCG matrix because its market that was a whooping 80% in 2017 is shrinking and showing negative market growth.
3.2. Stars
Stars are the products that hold a high market share and are emerging as promising revenue generators for the company. Investment in such products can yield good growth and profit perspective and a chance to become cash cows.
Amazon's claim to fame is definitely its online store called Amazon.com. It generated around $108 Billion in revenue in 2017. This ROI with the high growth rate of the market shows that this section is a Star in the BCG matrix of Amazon.
Amazon's AWS and cloud segment is also showing growth potential and the market is also becoming attractive. But AWS is kind of swinging between stars and question marks because of many new stakeholders in the market.
3.3. Cash Cows
Cash cows are the products that bring in handsome revenue for the company. In this case the market is very mature and it can support high sales and high demand from the consumers. Sometimes, the prospects of growth in the respective market is low because of an already mature market but the current standing of the products sustains its ROI and cash cow status. Amazon's e-books division is a lucrative cash cow for the company. Amazon has its native e book reader called kindle and it has supported the company's ROI a great deal. Audio books and movies on demand are other additions to cash cows in the BCG matrix of Amazon. , Question Marks
3.4. Question Marks
The fourth quadrant in the BCG Matrix is question mark products. The products falling in this quadrant are still in the development stage, and the market's response to these products is still not very well established. These products can grow into a profitable business but the limited market share means the ROI is very low so these products do not have the potential of becoming cash cows.
Since, the industry in this case still shows promising growth potential, The industry is still in the growth phase, therefore, if the company works on the question marks, they can become Stars of the company. In the Amazon BCG matrix, video on demand can become a question mark because of limited growth in this segment.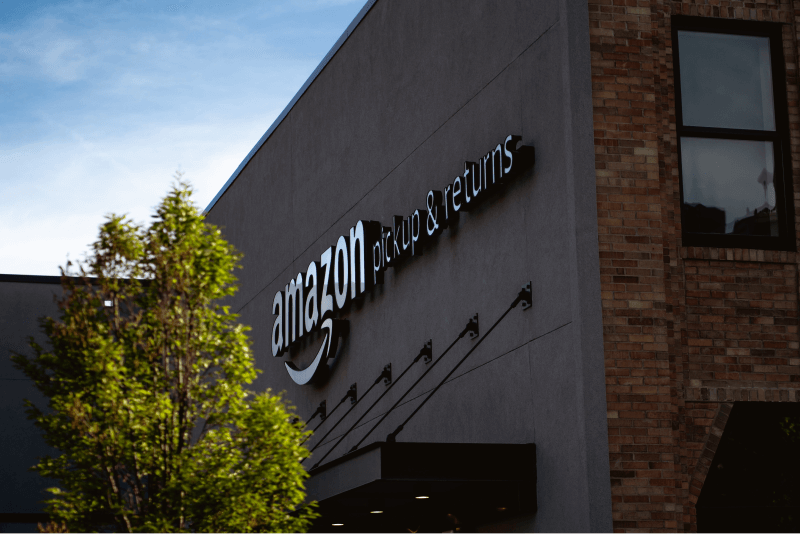 Source: unsplash.com
4. Limitations of BCG Matrix
Though the BCG matrix is a popular business planning and analysis tool, it has some limitations that affect its potential benefits. The first and the foremost limitation is the scop of this matrix. As we can see in the BCG matrix of Amazon, we are using this tool for analyzing different products of one company based on market share and growth rate. However, it was actually devised to study the business units owned by one group. So, the dynamics of production units or factories are very different from the products.
Secondly, BCG is a very simple matrix which is an attractive feature but then , this over simplicity is a cause of reservation because many other factors also determine the market dynamic and growth in the market, e.g., geographical demographics, brand power, competition, etc. So, a decision based solely on the BCG matrix has a weak foundation. Also, this matrix does not take the gray areas into account. So, the market share can be either high or low but not medium and you can also not consider many relative measures.
So, we can conclude that BCG is an important matrix but cannot be used individually to make critical decisions.
EdrawMax Online
Create 280+ types of diagrams online
Access diagrams anywhere, anytime
Everything in desktop + Templates Community
Team management and collaboration
Personal Cloud and Dropbox Integration
5. Key Takeaways
BCG matrix helps business analysts and management to assess the investment options and the growth potential of their products based on market share and growth predictions. In the BCG matrix of Amazon, we can see that Alexa started off as a cash cow and is rapidly turning into a dog because of tough competition from Google. However, video on demand is still a question mark and we have to see if it becomes a star or a dog for the company.
A dedicated drawing software such as EdrawMax is the best option to draw BCG matrices because with the support of the exclusive symbols, clipart, and great tools and layout options, you can make an aesthetically pleasing and functionally sound BCG matrix within minutes. It is even better to use the professionally designed samples in the templates library to get a quick start for business planning and analysis diagrams. Find more business diagram templates.