Costco SWOT Analysis
An In-Depth SWOT Analysis of Costco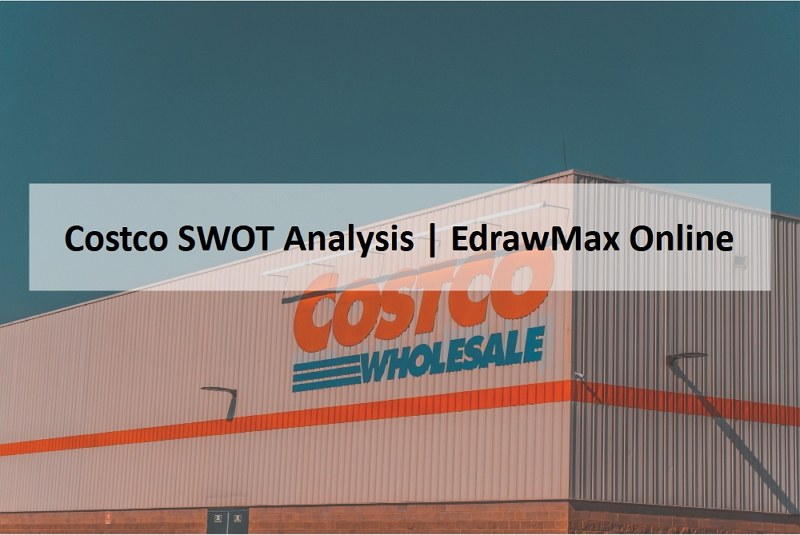 1. Background of Costco
1.1. General Overview of Costco
| | |
| --- | --- |
| Company Name | Costco |
| Industry | Retail |
| Founded | 1983, Seattle, Washington, United States |
| Headquarter | Issaquah, Washington, United States |
| Founders | James Sinegal, Jeffrey H. Brotman |
| Annual Revenue | The U.S. $ 152.7 billion (2019) |
| Net Income | The U.S. $3.66 billion (2019) |
| C.E.O | W. Craig Jelinek |
1.2. Introduction to Coca Cola
For the Costco SWOT analysis, it is crucial to know about its past and future planning. Costco Wholesale Corporation is an American multinational corporation. It operates a chain of member-only big box retail stores. Costco is the largest world retailer of organic foods, choice and prime beef, wine, and rotisserie chicken.
The company was the fifth-largest retailer in the world as of 2020. It was the Fortune 500, the number 14th most prominent United States Corporation by total revenue. Price Club was the predecessor of Costco. It serves in the areas like the United States, United Kingdom, Canada, Australia, Japan, Mexico, Spain, China, South Korea, France, and Iceland. As of now, the company has 273,000 employers.
1.3. Development Timeline of Costco
| | |
| --- | --- |
| 1983 | First warehouse in Seattle |
| 1993 | Costco and Price Club merged |
| 1997 | Name changed to Costco Wholesale Corporation. |
| 2014 | Costco is the third-largest retailer in the U.S. |
| 2016 | Opened 29 new locations |
| 2019 | Opened first Chinese location in Shanghai. |
| 2020 | 105.5 million members |
| 2022 | Plans to open a new warehouse in Sweden and New Zealand. |
Costco runs at 10% revenue and about a 2% profit margin. The items of Kirkland Signature are marked up at not more than 15% over cost. The membership fees of the company are 70% of its operating costs. The company maintains quality control for its products and keeps the pricing intact. It offers a 'concierge' service to its members free of charge.
2. SWOT Analysis of Costco
The Costco's SWOT analysis can find out the strategies that can help the company to strengthen its position and maximize revenue. It identifies the effects of competition and weaknesses as per the culture and organizational structure. The company can rebuild its strategies and actions by considering opportunities. The company can look for business expansion to earn profit and long-lasting stability in the market. It can also adapt to newer technologies.
2.1. SWOT Analysis of Costco in Detail
Strength:
For Costco, the very first step is to expand their market into high purchasing capability areas. Market penetration seems important for majority of companies. Then, only innovation could make greater progress in this industry:
Costco maintains a low price strategy and sells its high-quality items at low-profit margins;
The retail giant's membership business model is way different than others. It has a devoted, large, and loyal customer base;
The company does not waste money on advertising. It keeps the operational cost low and passes the savings to its customers;
To deliver top-quality products is the company's asset. Costco offers high-paying retail jobs, which helps build a happy workforce with low employee turnover. Also, it provides various benefits and perks to its employees;
The company has a substantial distribution turnover. It is the 14th largest American pizza chain.
Weakness:
Besides its strengths, it is also crucial for a company to know its weakness. Once they identify the reasons affecting their growth, they can take the necessary steps to negate their impact:
The company offers a wide variety of products, but individual products' choice is limited compared to other retailers;
The cost of transportation is a bit higher than other retail giants. The smaller product selection has catered to a smaller customer base;
Costco's number of global warehouses is many, but they are primarily concentrated in the U.S.A and Canada. The dependency of the selected market and lack of international presence is considered as its weakness;
The company has a limited e-commerce facility that causes an aging problem to create a good customer base;
Its investment in research and development is lower compared to others.
Opportunities:
The company's performance assessment shows how they can use the available opportunities in their favor. The company can concentrate on the ones that align with their strengths. As a top-rated brand, Costa has several strengths which allow them to use many of the opportunities to ensure their growth:
The company can consider increasing its online presence as most people depend on shopping through various e-commerce sites;
It can reach out to potential customers by digital advertising. Like Wal-Mart, Costco too can promote its services and products through social media. It can expand the global business;
The company should focus on making healthy products as health-conscious customers are increasing all over the world. People are making healthy choices during this Pandemic;
It should work on the tax policy. Costco can adapt to consolidation strategies like transportation industries.
Threats:
With the development of E-commerce, the advantages of online shopping make people prefer to buying things in website. Especially in this specific time, the offline retailing may destoried a lot, and how to make growth in such environment is one big challenge for Costa:
Costco faced controversies for labeling Bible as fiction. It made an apology and removed the book from the fiction section for the same;
The company has security issues and political uncertainties;
It has issues with economics which implies lower sales;
The exchange rate fluctuation has affected its international operation. Amazon and Wal-Mart are giving a tough fight to Costco.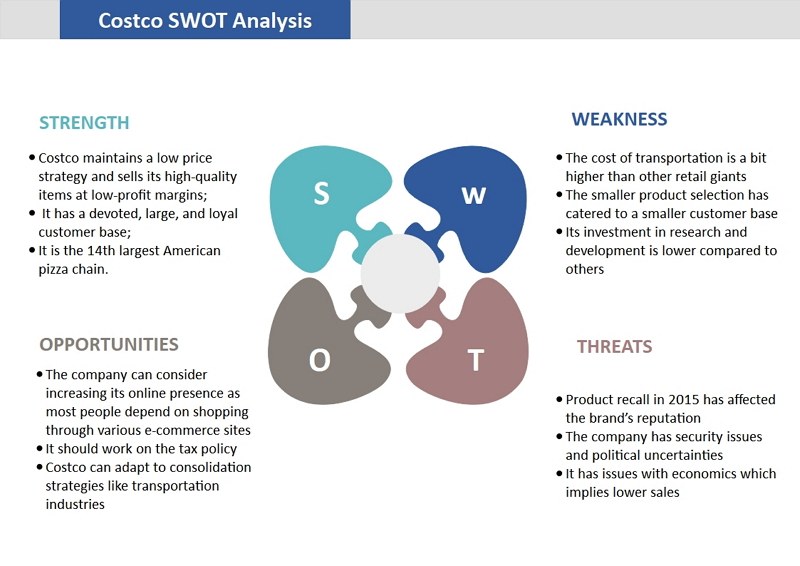 Source:
EdrawMax Online
3. Key Takeaways
This Costco SWOT analysis points out the fact that the company has numerous scopes to perform better. The company has created its space in the retail industry in the U.S.A. Still, it can maintain its success by adopting a few more measures.
The company can build strategies to fight its competitors like Wal-Mart, BJ's wholesale club, Target Corporation, Sam's Club, etc;
People are stocking the essentials after the COVID breakout. It could be an opportunity for Costco while other businesses are facing several challenges.
Use EdrawMax Online to create a SWOT analysis diagram, or create any other diagram with ease! There are massive SWOT templates and symbols to choose from, and creating a SWOT analysis diagram could be really simple. Also, you can find substantial SWOT templates in our template community to have a quick start.