Detailed Easter Decorations Ideas to Welcome Spring
Easter Decorations Ideas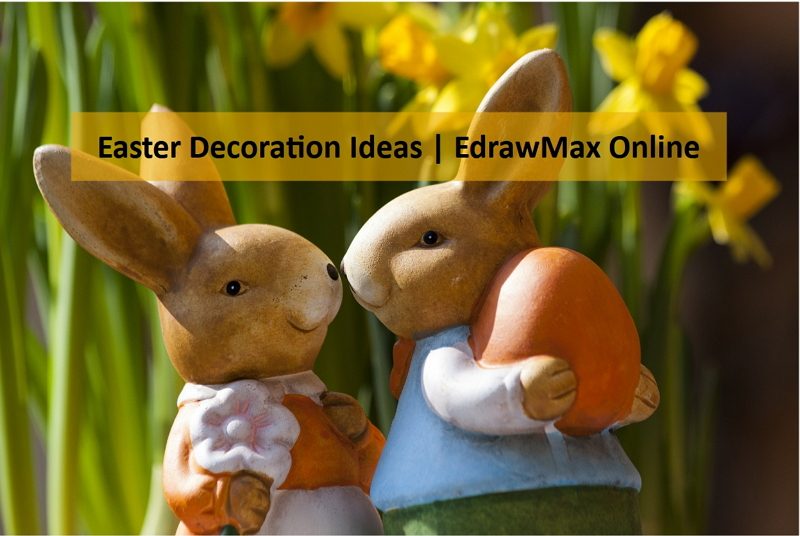 1. The Easter Day in Spring
After the snowy winter, spring comes with its flowery fragrance and soft warmth breaking the chills in the wind. The season now is full of pastel colors and joys. The biggest festivity of the season is not much away from the same essence. A lot of pastel-colored decorations, cute bunnies, and candies make Easters joy-filled. When it comes to the celebration, without proper planning of things, it becomes pretty challenging. The host can do planning from the beginning to do perfect Easter decorations.
2. Detailed Easter Decorations Ideas
To do a perfect Easter decoration, someone needs to take care of different traditional items related to Easter, like wreaths, eggs, and baskets. Here are some examples of Easter decorations that can make anyone satisfied and happy with their Easter decoration.
2.1 Easter Basket Ideas
When it comes to Easter basket decoration, things may seem to some extent tricky. Flowers and candies are traditional or rather conventional options to decorate the box. However, sometimes being a bit different can bring more happiness to someone. Here are a few Easter decoration ideas for the baskets:
Easter Basket Flower Pot

Spring is around the corner. Hence a soft touch of floral ornament to the Easter basket can be aesthetically pleasing to snatch the guest's attention.

Rye Grass Easter Basket

The basket is colorful and can make a perfect decorative piece, and when filled with someone's favorite treats, they can be the best gift for anyone.

Baby Bunny Easter Basket

For the baby's first Easter basket, pastel shades can be the best choice. Parents can fill the basket with cute bunny plush toys, baby shoes, and other essential items of pastel shades to make it a pretty decorative piece and for gifts.

Colorful Bucket Easter Basket

While making a gift basket for kids or teens, chocolates, paper flowers, and colorful gifts can be the best combination.

Edible Peeps Easter Basket

The Edible Peeps Easter baskets are delightful in all senses, as they consist of crispy rice treats filled with the deliciousness of bunny marshmallows.

Woven Paper Easter Basket

A bit of paper weaving skill, a few strips of colorful papers, and a lot of sweet treats-nothing can make it a delightfully gorgeous combination. They look good as a centerpiece and can also serve as the best gift for all age groups.

DIY Kids Easter Basket

When parents prepare Easter baskets for the kids, they can make it exciting by adding their favorite treat to the basket. They can also hide a gift item in the box to surprise them.

Wooden Basket for Teens

An excellent Easter basket combination for teens includes a colorful basket with cute stationery, cosmetics, and chocolates.

Spa Day Basket

When someone is preparing an Easter basket for a gift, putting in cosmetics and spa items can be a good option. They can fill the basket with Scented candles, bath bombs, body washes, and fluffy towels to make it a complete kit.

Faux Flowers Easter Basket

This type of Easter baskets can be an excellent gift for adults. The pretty soft look of the flowers can make them good decorative pieces.
2.2 Easter Wreath Ideas
Easter season is all about pastel color, floral decorations, cute bunnies. Wreaths are also an integral part of the Easter decoration. Here are some Easter wreath ideas for giving the Easter decoration a welcoming look:
Pom Pom Bunny Wreath

For an innovative and cute decoration, a pom-pom bunny wreath can be a good choice which anyone can make by adding bunny ears to a wreath with homemade or store-bought pom poms.

Easter Egg Wreath

Since Easter eggs are an inseparable part of the holiday celebration, it can be a pretty decoration idea to make wreaths with Easter eggs.

Woven basket Easter Wreath

A woven bamboo basket and a set of bright seasonal flowers can give a very aesthetically pleasing look to the Easter decoration.

DIY Butterfly Wreath

A green leafy wreath with colorful butterfly decoration can look gorgeous and gives a welcoming look to the setup.

Tulip Easter Wreath

Adding pretty flowers to the Easter wreath is a common idea. A thick set of faux tulips can be much better than any clichéd wreath decoration.

Embroidery Hoop Wreath

A wooden frame of the embroidery hoop and a set of bright flowers can make a gorgeous combination. Using this duo for wreath decoration can be innovative and eye-catching.

Hula Hoop Spring Wreath

Hula Hoops and some choicest faux flowers can make a fabulous and welcoming wreath decoration.

Paper Daffodil Easter Wreath

Anyone can make Daffodils with white and yellow art papers. They are effortless to make. This DIY wreath can give a unique look to the Easter decoration.

Accordion Leaf Wreath

Paper leaves and flowers made of pastel papers and wooden frames can make a good idea for the Easter wreath decoration.

Rose and Ribbon Wreath

The softness of pretty roses and white ribbon can give a classic and welcoming look to the Easter decoration.
2.3 Easter Egg Ideas
Easter eggs are an inseparable part of the Easter celebration. Here are some enthralling ideas to create gorgeous Easter eggs for Easter decoration:
Sprinkle Easter Eggs

Colorful sprinkles on top of faux eggs can look cute and bright.

Marbled Easter Eggs

Since Easter is all about pastel colors, it looks great to add a marble design to the Easter eggs.

Pom Pom bunny Easter Eggs

A pair of cute bunny ears on the painted eggs can be the cutest Easter egg decoration.

Watercolor Easter Eggs

Anyone can do this easy DIY watercolor Easter eggs. Just a few splashes of color can add a different look to the decoration.

Pressed Flower Easter Eggs

Pressing natural flowers on the earth-colored shell on the eggs can make one of the best combinations for Easter decoration.

Stamped Easter Eggs

For this decoration, the only needed items are colored stamp pads and eggshells.

Polka-Dot Easter Eggs

Anyone can create 3D polka dot Easter eggs by using some puff paint on them.

Paper Punch Easter Eggs

For unique Easter egg decoration, punched colorful paper on colored eggshells can be a great idea.

Chic Easter Eggs

To create these cute Easter eggs, anyone can draw cute chicks on the faux eggs and empty eggshells.

Floral Tattoo Easter Eggs

Anyone can add readymade ink tattoos on eggshells to create fancy-looking Easter eggs.
2.4 Other Easter Decorations Ideas
Besides those ideas mentioned above, here are some additional ideas to make the Easter holidays more colorful:
Easter Cookies

There is no doubt that the Easter cookies could be one ellement in decorating the house. Especially when family and friends came to your home, it will be eye-catching in some degree.

Easter Flora

As we all know, the flowers are the key element in spring, a bunch of flowers could refresh the air. Also, people will love this fragrance.

Easter Bread

When Easter egg combined with the bread, what a fantastic union. You can try this sweety menu.

Easter Bunny Tableware

Only the Easter egg or basket is not enough, even the kitchen should have Easter component to embrace the spring cheer.

Easter Table Toy

A set of Easter festive toy will not only enrich the spring festival atmosphere, but also make your home warmer and cuter.

Easter Cup Cake

In the holiday afternoon, the Easter cup cake may stimulate your bud to taste a bit of festival.

Easter Bunny DIY Ornaments

Use wood or cardboard to make your bunny ornament according to this pic, and enjoy the process of making it.

Easter Tea Set

If there is Easter cup cake, it is necessary to have a cup of Easter afternoon tea with this Easter tea set.

Easter Sticker

Paste on some Easter stickers to decorate your home, and even some little or tiny deco may make your home more stunning.

Easter Bunny Cake

Make breakthrough for your Easter cup cake, like the image shows, add some bunny in your cake could make your afternoon tea perfect than ever.
3. Easter Decorations Planner
Since Easter is a busy time and a person needs to plan many things considering the traditional decorations and the feast on Easter. To do things perfectly, having a plan from the beginning is the best idea. Here are some Easter decorations plans to ease the complicated task.
Example 1: Easter Sunday Dinner Planner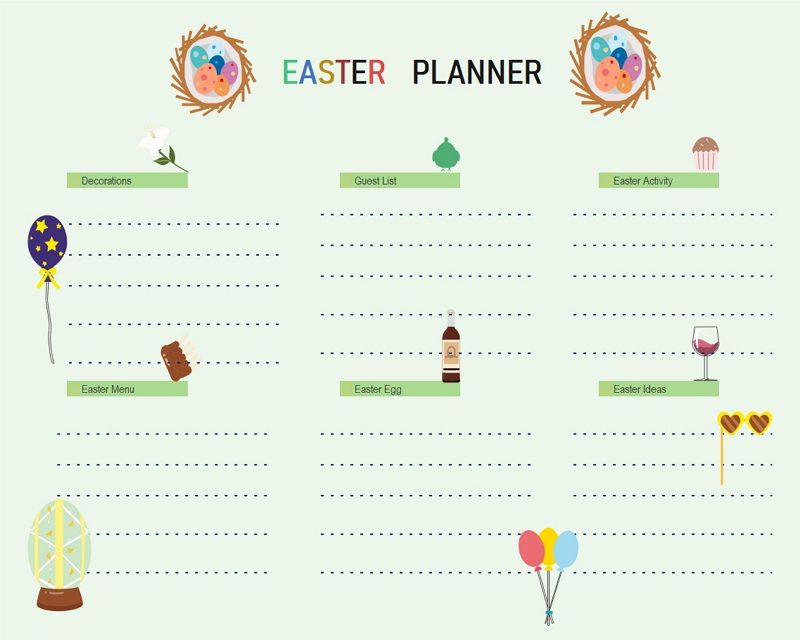 Source:EdrawMax Online
This dinner menu planner can help the host to get ready for the feast. The planner has separate sections for beverages, appetizers, main dishes, side dishes, and desserts so that the host can individually plan and sort the whole menu for the feast without much trouble.
Example 2: Easter Planner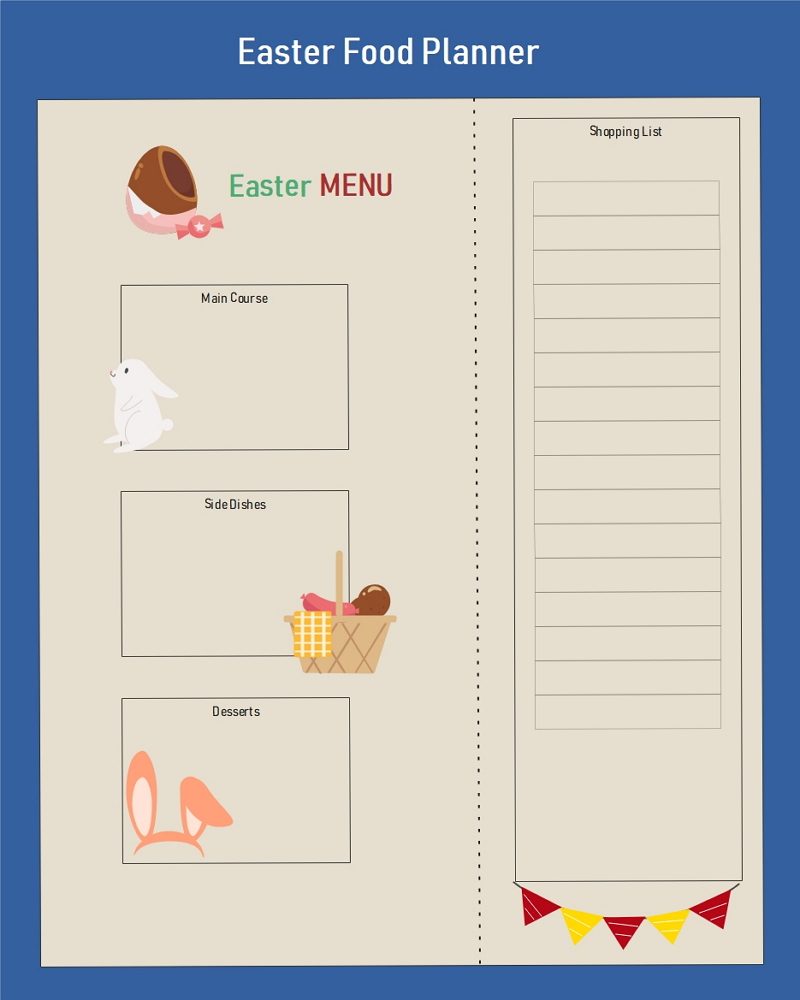 Source:EdrawMax Online
The planner allows the host to set the works in step-by-step form. For example, it has parts like a shopping list, décor, things to make, one quickly work on it and check the list. This Easter planner helps to record the stuffs that you need in Easter day, and being as a reminder to make your Easter day perfect. Learn more from this planner, or use and print it immediately.
Example 3: Easter Dinner Planner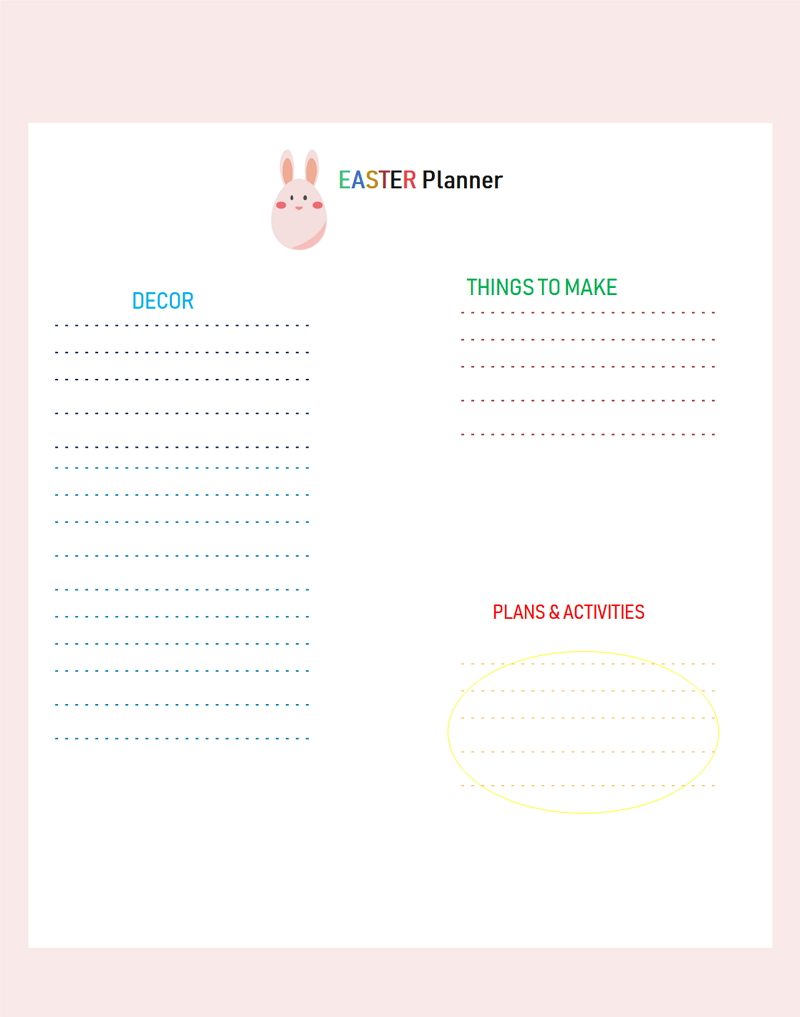 Source:EdrawMax Online
The planner has two side-by-side lists. One deals with items the host needs to prepare the dinner. Another part deals with the dinner menu. This Easter planner helps to record the stuffs that you need in Easter day, and being as a reminder to make your Easter day perfect. Learn more from this planner, or use and print it immediately.
Example 4: Easter Holiday Planner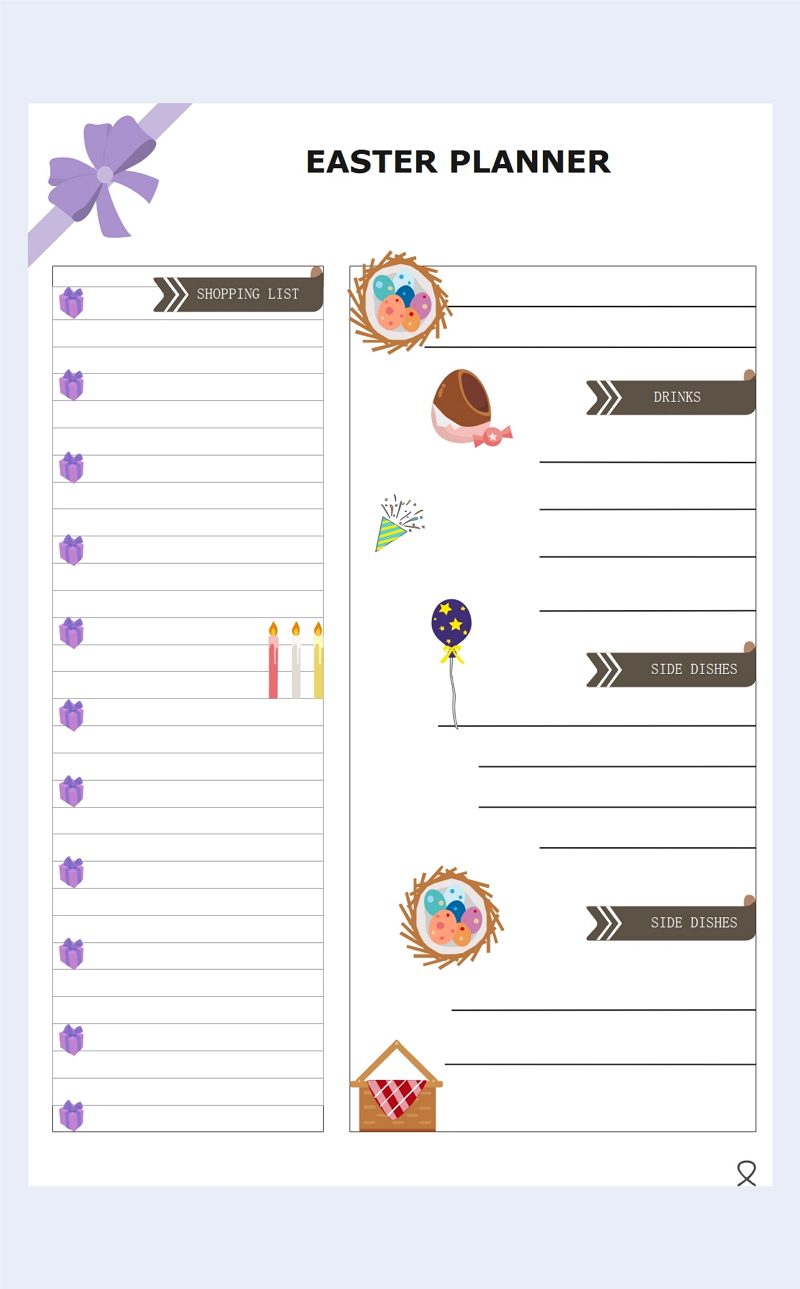 Source:EdrawMax Online
The whole Easter week is the busiest time for the host. To sort out things appropriately, they can use this daily planner and tick the checklist when a task reaches its completion. This Easter planner helps to record the stuffs that you need in Easter day, and being as a reminder to make your Easter day perfect. Learn more from this planner, or use and print it immediately.
Example 5: Easter Menu Planner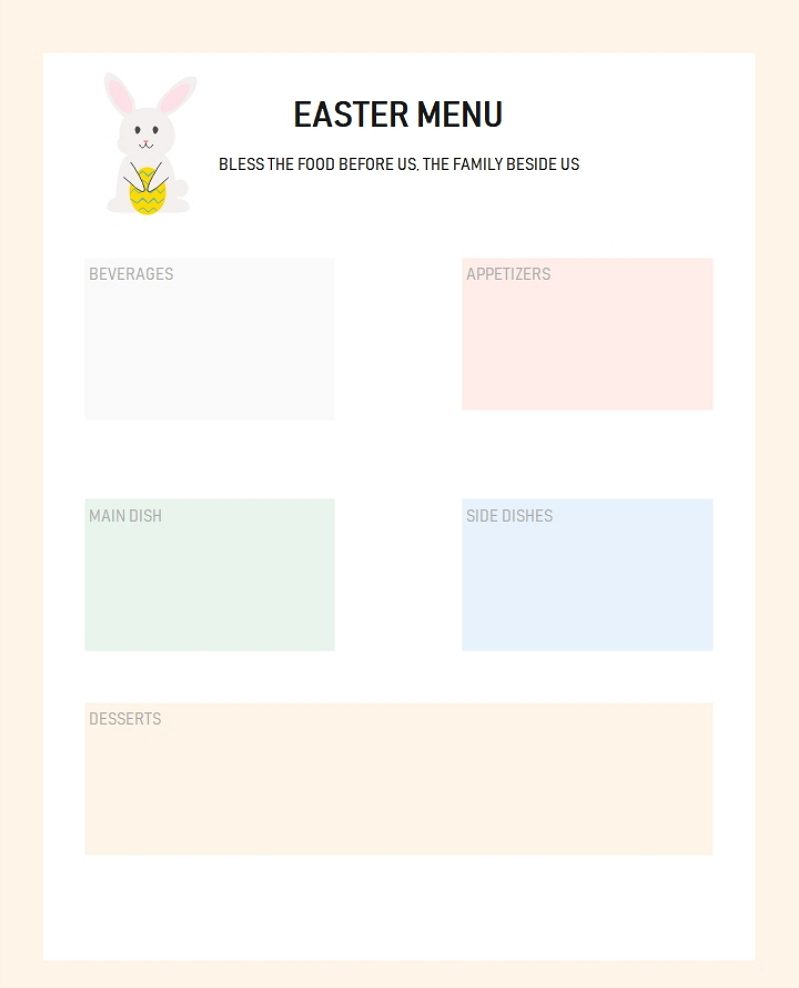 Source:EdrawMax Online
The host can use this menu planner to check the shopping list and the feast menu and work on them without much difficulty. This Easter planner helps to record the stuffs that you need in Easter day, and being as a reminder to make your Easter day perfect. Learn more from this planner, or use and print it immediately. Print it out and stick to your walls to remind you get life together.
4. Online Easter Planner Maker
Any online Easter planner maker can make the whole task effortless. For best results, the user can use online Easter Planner Maker tools like EdrawMax Online, which is user–friendly, and hence any inexperienced user can use it without much trouble. One of the best online tools to generate bullet journal planners. They come with templates and symbols which allow an inexperienced user to start their work without much problem. The tool is user-friendly and has a resource center that helps the users to have a better experience.
EdrawMax Online not just an online planner maker. Use EdrawMax online to create your planner without efforts, just grab a template or choose one planner template from EdrawMax Template Gallery and keep customization as your preference.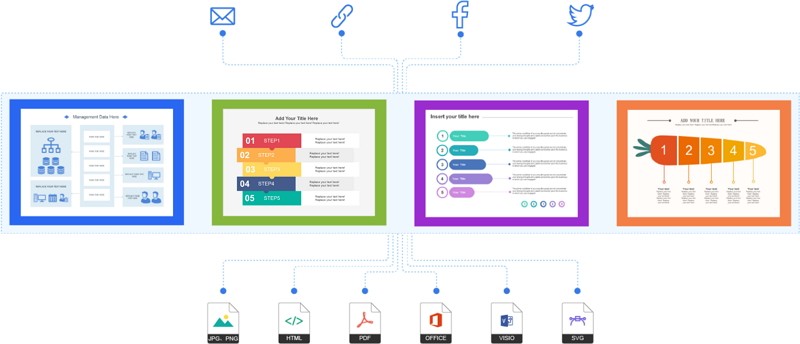 Why Choose EdrawMax Online
Create over 280 diagram types
Supports team collaboration
Personal cloud & data protection
Print, share and download
Powerful template community
5. Key Takeaways
The planning for the Easter season can be a bit difficult. The host can use a planner to sort out things like decorations and dinner menus. They can use user-friendly tools like EdrawMax Online, which allow them to create a plan as per their choice. It comes with templates so that the users can modify them as per their requirements.
In conclusion, EdrawMax Online is a quick-start diagramming tool, which is easier to make planners and any other visuals. Also, it contains substantial built-in templates that you can use for free.
Easter Acitivities For Fun
Egg and Spoon Race: This is an old-fashioned outdoor game for families and friends, the paricipants should use spoon to transport the eggs and in case the egg will be falling down.
Jelly Bean Guess: This game is about to guess the taste of the Jelly beans, which was played in Harry Potter.
Decorate an Easter Egg Tree: Use the pre-designed eggs and any other decos made by your families, then put them all on the tree.
Create Easter Crafts: Use the ordinary things to make it into a beautiful Easter deco, even a piece of paper. We provide easy crafts for creating a cute bunny or flowers with ease.