Google SWOT Analysis
An In-Depth SWOT Analysis of Google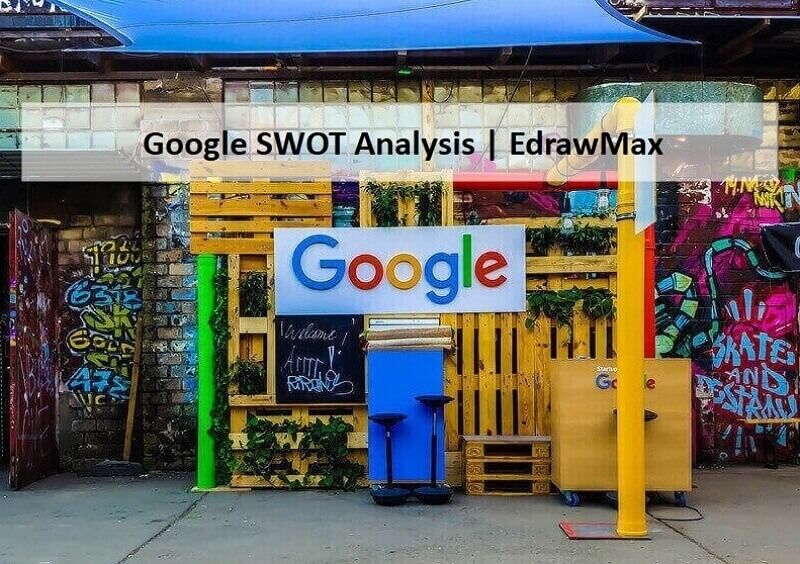 1. Background of Google
1.1. Overall Overview of Google
| | |
| --- | --- |
| Company's Name | Google, LLC |
| Company's Former Names | BackRub, Google Inc. |
| CEO | Sundar Pichai |
| Company Type | Public |
| Year Founded | 1998 |
| Number of Employees | 114,096 (2019) (approximately) |
| Annual Revenue | US$ 160.74 billion (2019) |
| Founder | Larry Page, Sergey Brin |
| Area Served | Worldwide |
| Headquarters | 1600 Amphitheatre Parkway, Mountain View, California, US |
| Operating Income | US$ 41.67 B (2019) |
1.2. Introduction to Google
For Google SWOT analysis, it is essential to know its basic facts, including the timeline and milestone development. Google, LLC, the American multinational technology company, is one of the top search engines and online advertising companies. They also provide other products ranging from software to hardware. The company has its headquarter in California. Google.com is currently the most visited website, and YouTube is one of the 100 top-visited websites.
1.3. Milestones/ Development Timeline of Google
| | |
| --- | --- |
| 1996 | The first version of Google released on the Stanford Web |
| 1997 | Registration of Google.com as a domain name |
| 1998 | Google became an official corporation |
| 1999 | Google opens the first office in Palo Alto |
| 2000 | Google searches by 18 million people every day |
| 2001 | Google acquires UseNet owned by Deja.com |
| 2002 | Google News service launched |
| 2003 | Google AdSense starts serving for advertisers |
| 2004 | Google moved to a new complex named Googleplex |
| 2004 | Google became a public company |
| 2004 | Google forms non-profit Google.org |
| 2005 | Google launched Google Maps, Google Earth, iGoogle |
| 2006 | Google purchases YouTube |
| 2007 | Gmail becomes available for public |
| 2007 | Google purchases DoubleClick |
| 2008 | Launching of their first web browser Google Health and Google Chrome |
| 2009 | Google Wave introduced |
| 2011 | Launching of Google +1 |
2. SWOT Analysis of Google
Google SWOT analysis analyzes the strengths and weaknesses of the biggest online search engine. Google SWOT Analysis will also show how the company strategically plans to earn a considerable profit while using its opportunities.
2.1. SWOT analysis of Google in detail
Strength:
All the companies need to know their strengths as it will identify the areas that have helped them acquire their current position. For the most used search engine like Google, many strengths are supporting them in the competitive market.
Google is the top online search engine, and it has no competitor near it that can challenge its position as the most trusted search engine.
Google has a high brand reputation. It is one of the highly recognized brands in the world. The logo of Google is also one of the most recognized symbols.
Google has successfully adapted mobile and android technologies. The company also works continuously to bring in new and innovative features. They also have units that use to improve the customer experience.
The company is financially stable, and it allows them to invest in the incorporation of new features. The company can use the massive revenue of $161.86 billion that it has accumulated through advertisements in its expansion.
Weakness:
All companies must know their weakness. If the company can improve specific weaknesses and inadequacies, they will get more opportunities to ensure growth. Even though Google is the best search engine, they have particular weaknesses –
Many experts have accused Google of its excessive reliance on privacy.
Many companies suffer from Google's inaccurate algorithms. They may give a lower SEO ranking to a company for allegedly having copied content. It will decrease the traffic to the website, and the company may suffer a loss.
The company spends less time and investment in marketing. The presence of the company in social media is minimal. Since online presence creates a good impression for most companies, this is one of its significant weaknesses.
For revenue, Google highly depends on the advertisers. Any negative response from the advertisers can question the stability of the company. It may affect the future growth of the company. Many advertisers have boycotted Google and YouTube, which can be a weakness of the company.
Opportunities:
The companies can use their opportunities strategically to ensure their growth. Though they have some weaknesses, they can choose their opportunities based on their strengths. For the top-rated search engine like Google, there are many opportunities that they can use for their growth –
The Android Operating systems are changing within a short time, which can offer Google a reasonable demand.
The Cloud computing system can be a profitable opportunity for a company like Google. Since online payments are getting more popular with time, Google, as a trusted company, can have more recognition for their online payment gateways.
The market is ready for Google to launch its new technologies like Google Glasses and Google Play.
Google has acquired Fitbit for US$ 2.1 billion, which will make them a potential competitor of Apple.
Threats:
While working on the opportunities, the companies should keep in mind that several threats can affect their growth, even after planning. Therefore, they need to take specific steps to negate those threats. Google also has particular threats posed in the way of its growth –
The company depends highly on revenues. Therefore their advertisement costs are higher than other search engines. In recent years, Google's digital ad revenue is showing some tendency of declination in market shares. If this continues to result in a severe drop, then that will affect the company financially.
The number of competitors is gradually increasing. Since technology is flourishing rapidly, new companies join in the competition, threatening the company's growth.
Google got involved in several antitrust controversies for years. Hence, the US and EU lawmakers also accused the company.
Google has been criticized a few times for their anti-encryption drive to reduce child abuse.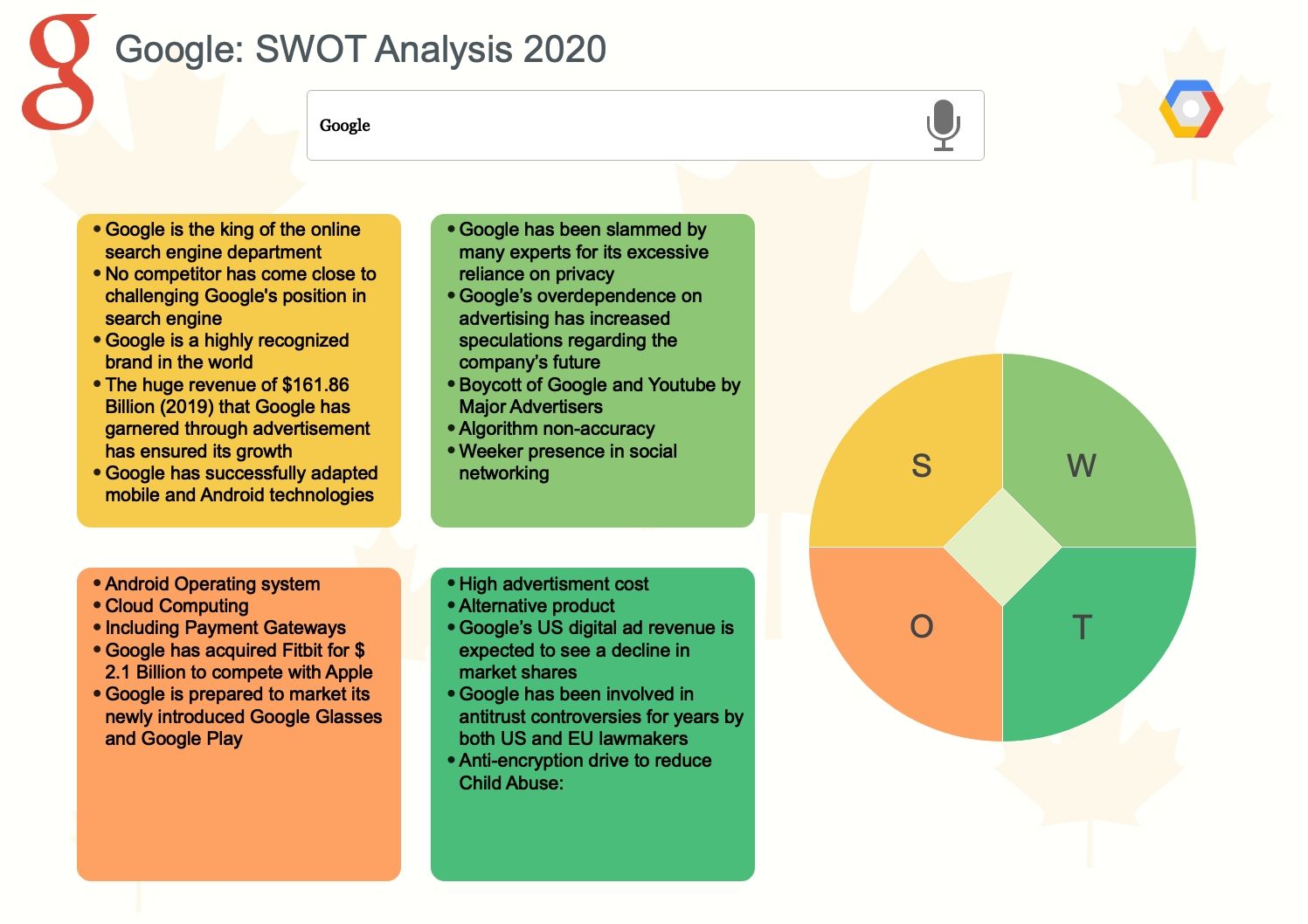 Source:EdrawMax Online
3. Key Takeaways
Google SWOT analysis shows that though the company is currently in a stable position, it may face some threats shortly. They need to work on the opportunities to expand their business while working on their strengths and weaknesses. Here are some recommendations for Google based on Google SWOT analysis –
The company needs to think if they can decrease their dependency on advertising. They can also work on their other services to increase their revenue.
The company should try to work on their innovative ideas as their competitors are also improving their service. They can also increase their online presence.
Google needs to fix their algorithm so that other companies do not have any trust issues with them. They should also resolve their problematic issues, including privacy concerns, tax avoidance, censorship, and other issues.
Use EdrawMax to create a SWOT analysis diagram, or create any other diagram with ease! There are massive SWOT templates and symbols to choose from, and creating a SWOT analysis diagram could be really simple.