Airbnb SWOT Analysis
An In-Depth SWOT Analysis of Airbnb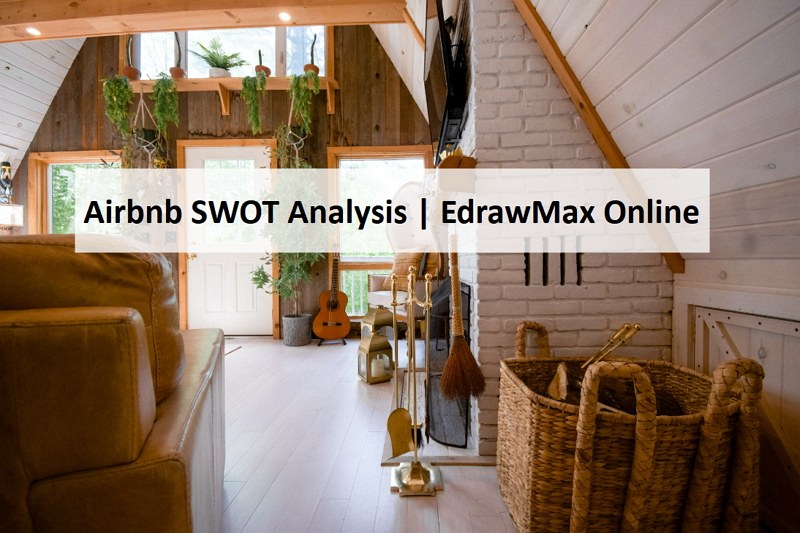 1. Background of Airbnb
1.1. Overall Overview of Airbnb
| | |
| --- | --- |
| Company's Name | Airbnb, Inc |
| Industry | Lodging |
| Founded | 2008, San Francisco, California, United States |
| Headquarters | San Francisco, California, United States |
| Founders | Brian Chesky, Joe Gebbia, Nathan Blecharczyk |
| Annual Revenue | The U.S. $ 3.378 billion (2020) |
| Net Income | U.S. -$4.584 billion (2019) |
| C.E.O | Brian Chesky |
1.2. Introduction to McDonald's
For the Airbnb SWOT analysis, it is crucial to know about its past and future planning. The company operates an online marketplace for primary homestays for vacation rentals, lodging, and tourism activities. People can access their platform via mobile app and websites.
Airbnb is the stylized version of AirBedandBreakfast.com. They accommodate guests with tourism-related activities and short-term logic. The company has attracted regulatory attention from San Francisco, the European Union, and New York City. However, like other companies, Airbnb also faced challenges from other competitors. In 2016, it faced complaints of racial discrimination.
1.3. Milestones Development Timeline of Airbnb
| | |
| --- | --- |
| 2007 | Origination of idea for a bed and breakfast |
| 2008 | Nathan Blecharczyk joined as the chief technology officer |
| 2009 | Training of staff and promotion of the website |
| 2010 | The company raised financing |
| 2011 | Won the 'app' award by Southwest conference |
| 2012 | Opened office in Sydney, Paris, Moscow, Milan, Copenhagen, Barcelona, Sau Paulo |
| 2014 | Introduction of the new logo called Belo |
| 2018 | Launched Airbnb Plus |
Airbnb got funding from the Federal Trade Commission. It launched the restaurant reservation-booking app 'Resy.' However, last year, it suffered due to the pandemic. There was a significant drop in booking between 41% and 96%. It compelled to lower the valuation from $31 to $26 and delayed the initial public offering plan. In 2020, it was acclaimed as a public company with the I.P.O. of $3.5 billion.
2. SWOT Analysis of Airbnb
Airbnb SWOT analysis can find out the strategies that can help the company to strengthen its position and maximize revenue. It identifies the effects of competition and weaknesses as per the culture and organizational structure. The company can rebuild its strategies and actions by considering opportunities. The company can look for business expansion to earn profit and long-term stability in the market. It can also adapt to newer technologies.
2.1. SWOT analysis of Airbnb in detail
Strength:
For any company, the very first step to success is assessing their performance. Considering the vital areas that have made their company have a good position in the market is crucial to ensure growth. Airbnb, as one of the most popular fast food joints, has several strengths that have helped them in becoming one of the fastest-growing hosting industry:
Airbnb is a globally recognized brand. It has unmatched popularity amongst the other travel brands;
It maintains an engaged guest community. Other qualities like the personal touch of hosts, interaction, and experience are the company's assets;
The company's global network helps expand the reach and thrive on cross-border travel and establish a global brand presence;
The company is proud of its custom-built platform, industry-leading feature for guests and hosts, scheduling, pricing recommendations, community support, integrated payments, review, host protection mechanism, and reviews;
The company has the approach to building an online mobile app ecosystem through automation and Artificial Intelligence, Airbnb is proud of its large host community;
Weakness:
Besides its strengths, it is also crucial for a company to know its weakness. Once they identify the reasons affecting their growth, they can take the necessary steps to negate their impact:
The company's financial performance has suffered because of Covid-19;
There are risks regarding expertise and loss of institutional knowledge, and potential risks for net loss, and it will lower the chances of profitability;
Due to the size increase in certain regions, the service fees have been lower. It may affect sustaining profitability;
The free cash flow and adjusted EBITDA lower the stock price, and the company is facing slow revenue growth.
Opportunities:
The company's performance assessment shows how they can use the available opportunities in their favor. The company can concentrate on the ones that align with their strengths. As a top-rated brand, Airbnb has several strengths which allow them to use many of the opportunities to ensure their growth:
The company's resilient categories helped it to recover from COVID-19. It has the scope of increasing the guest community based on its changing travelers' preferences;
It can launch new features and invest in brand awareness. It may put the core values at the heart of the brand;
It can expand its network and penetrate Latin America, Southeast Asia, China, and other places;
It can work on innovation strategies and increase loyalty and engagement from new and existing communities. New offerings are there to promote the global short-term rental platform.
Threats:
The countries' economic conditions are changing with time, impacting the market scenario. If a company wants to aim for an uninterrupted expansion, then they must look for the ways they can cushion the threats:
The pandemic has decreased travelers' interest in travel demand. It had negative implications on its financial condition and business;
The company's revenue is facing a threat due to the legal and regulatory landscape and regulations. It also has some competitive threats to overcome to maintain its position in the competitive industry;
The regulations and laws could lead to criminal penalties and fines. There are litigation and possible liabilities with different stakeholders. Some liability issues are there regarding content;
Airbnb has decreased its acceptance of home-sharing, and some changes in technologies have evolved the demand of guests and hosts.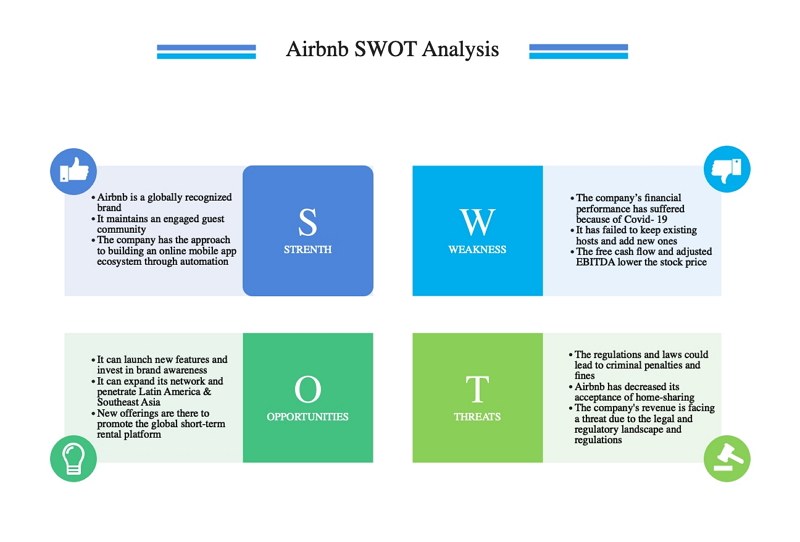 Source:EdrawMax Online
3. Key Takeaways
Airbnb SWOT analysis points out the fact that the company has numerous scopes to perform better. The company has created its space in the lodging and hospitality industry in the U.S.A. Still, it can maintain its success by adopting a few more measures:
The company can reach more regions, like emerging market, which has less competitions. At the same time, the tourism could rise more business opportunities in these areas, from which the hosts would see it as a chance to work with Airbnb;
Take advantage of Mobile App. As we all know, in this time, people usually use their mobile devices to do anything they want, hence it is important to grasp this opportunity;
It should find the way that balance the unexpected accident, like pandemic or other emergencies, and the home sharing, so as to find a breaking point to grow in the negative market environment.
Use EdrawMax Online to create a SWOT analysis diagram, or create any other diagram with ease! There are massive SWOT templates and symbols to choose from, and creating a SWOT analysis diagram could be really simple. Also, you can find substantial SWOT templates in our template community to have a quick start.