Dunkin Donuts SWOT Analysis
An In-Depth SWOT Analysis of Dunkin Donuts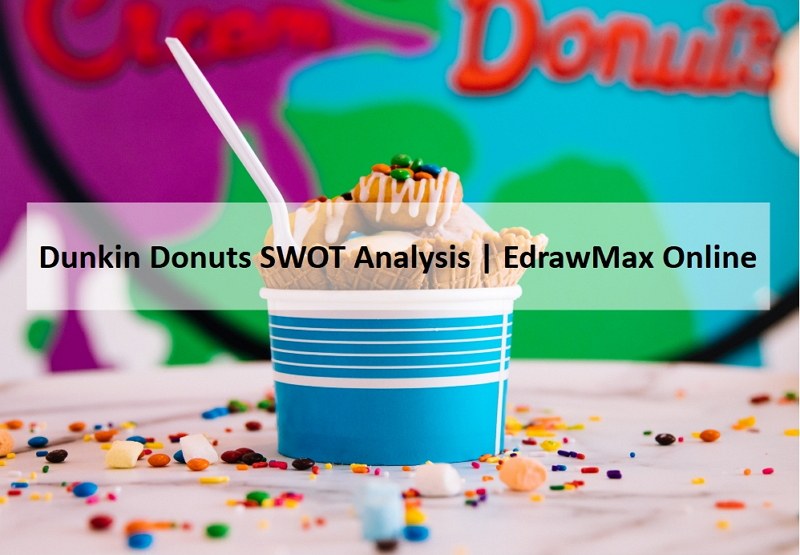 1. Background of Dunkin Donuts
1.1. General Overview of Dunkin Donuts
| | |
| --- | --- |
| Company Name | Dunkin Brands Group, Inc. |
| Company's Former Name | Open Kettle |
| CEO | David Hoffmann |
| Company Type | Public, Subsidiary |
| Year Founded | 1950 |
| Number of Employees | 1109 (December 2019) |
| Annual Revenue | US$ 1.37 Billion (2019) |
| Founder | William Rosenberg |
| Headquarter | Canton, Massachusetts, US |
1.2. Introduction to Dunkin Donuts
It is essential to know its history and its strategies to conduct the Dunkin Donuts SWOT analysis. It is an American food chain that serves coffee and donuts. Though the brand primarily caters to breakfast options, it has earned a vast customer base. The brand started its journey in 1950 and how has a worldwide presence.
1.3. Development Timeline of Dunkin Donuts
| | |
| --- | --- |
| 1948 | William Rosenberg opened "Open Kettle," his first coffee shop in Quincy, Massachusetts. |
| 1950 | He renamed the business Dunkin Donuts. |
| 1955 | The company starts business as a franchise. |
| 1965 | As the company finishes its ten years as a franchise, it has become a global presence. |
| 1972 | The famous "Munchkins" enters the menu of Dunkin Donuts. |
| 2006 | Dunkin Donuts gets the slogan, "America Runs on Dunkin." |
| 2012 | Dunkin starts their new mobile application. |
| 2014 | Dunkin Donuts reaches the milestone of 11,000 restaurants with more than 1000 items on their menu. |
2. SWOT Analysis of Dunkin Donuts
With the help of Dunkin Donuts SWOT analysis, the companies can find out their strengths and weaknesses. They can find the areas they need to work. At the same time, if they can look into the opportunities to set their future strategies.
2.1. SWOT Analysis of Dunkin Donuts in Detail
Strength:
For any company, it is crucial to know their strengths as those features have earned them a name. When they are working on their weakness, they need to retain their strengths. These can help them to earn a better status in the highly competitive market. Like most other companies Dunkin Donuts have some strength:
Dunkin Donuts has earned its name for its breakfast menus. The customers praise their community-centric service and strategies;
They maintain good coordination with their supply chain, which allows them to deliver freshly baked food to their customers on time;
The company supports eco-friendly products, which have earned support from the customers—for example, the usage of paper cups;
Their policies with the franchise and other robust business models have helped them choose the customer's choice even in the highly competitive market.
Weakness:
A company may have some weaknesses, but they can also change them into their strengths with some steps. They need to judge their conditions while spotting their weaknesses to include appropriate policies to negate them. Dunkin Donuts also has some weaknesses:
For the revenue, Dunkin depends solely on the US market. When a company depends on a market, any adverse condition of the economy can impact the business;
When it comes to expansion strategy, Dunkin Donuts follows a slow pace. They do not pay much attention to the expansion while other competitors are expanding at a rapid rate;
The customers often complain about their lack of variety. The company primarily caters to breakfast menus. It has restricted their variety, and their target customer decreases;
The company fails to work on their expansion for their limited fund. Their lack of investment in development and expansion may challenge them when they compete with other similar companies.
Opportunities:
When a company is working on their strategies and making future goals, they need to recognize their opportunities. Since several coffee chains offer variety in menus and ensure inclusivity, the market competition is getting high. Thus, companies like Dunkin Donuts need to consider their opportunities while doing Dunkin Donuts SWOT analysis. Here are some opportunities that they can work on to have a better status in the competitive market:
Bringing variety to the menu can be a good choice for coffee joints like Dunkin Donuts. They can also include low-calorie food and healthy plant-based food, which can bring in more customers;
The brand can also consider including brunch, lunch, and other low-calorie snack items on their menus. It can help them to get more visitors throughout the day;
Dunkin must consider their options of expanding so that they can depend on other markets outside the US to earn good revenue;
The brand should consider strengthening its market presence through advertisements and other online campaigns. They should also consider opening new outlets to have a more robust presence.
Threats:
A company that is surviving in a highly competitive market must have some threats. They should take some measures to cushion those threats to develop a solid policy to achieve their future goals:
Dunkin Donuts is highly dependent on its franchises. Though properly managing the chain is an internal matter, it can threaten if the coordination falls apart;
Most of the consumers nowadays are interested in having healthy food and low calorific items. Dunkin Donuts offers fast foods, which can lead to a decrease in sales;
The company faces high competition from other brands, like McDonald's, Burger King, Starbucks, KFC, and other companies. Therefore, the company must consider something innovative and more community-friendly to bring in more customers;
The global pandemic and economic condition have impacted most businesses. Companies like Dunkin Donuts are not an exception.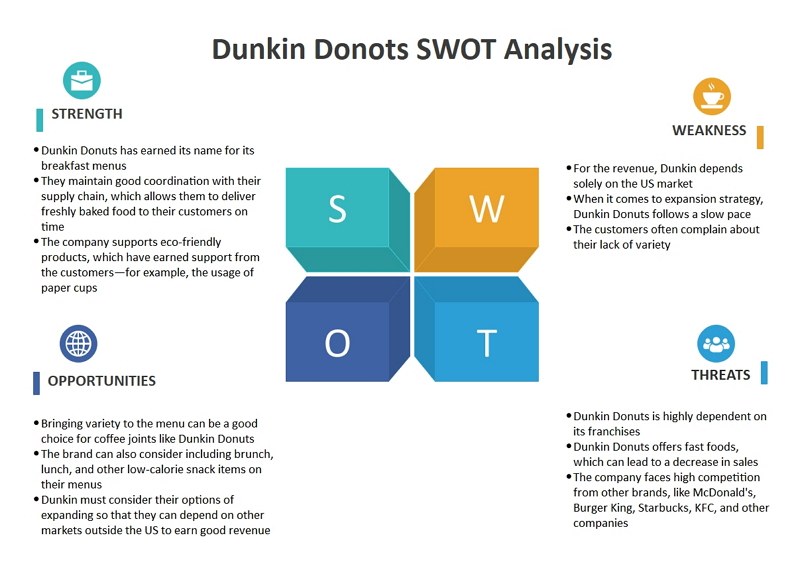 Source:
EdrawMax Online
3. Key Takeaways
The Dunkin Donuts SWOT analysis shows that they have tremendous scope of expanding. Here are some recommendations for the company that they can consider.
They need to bring in variety to their menu, which they can branch out from their traditional breakfast foods and bring in low-calorie snacks, lunch sets, and such things;
They should consider expansion to Asian countries which have an emerging economy instead of solely depending on the US market for earning revenue;
The food chain must have a proper policy to work on their franchising. It can solve the company's internal issue with the franchises.
Use EdrawMax Online to create a SWOT analysis diagram, or create any other diagram with ease! There are massive SWOT templates and symbols to choose from, and creating a SWOT analysis diagram could be really simple. Also, you can find substantial SWOT templates in our template community to have a quick start.