Coca Cola SWOT Analysis
An In-Depth SWOT Analysis of Coca Cola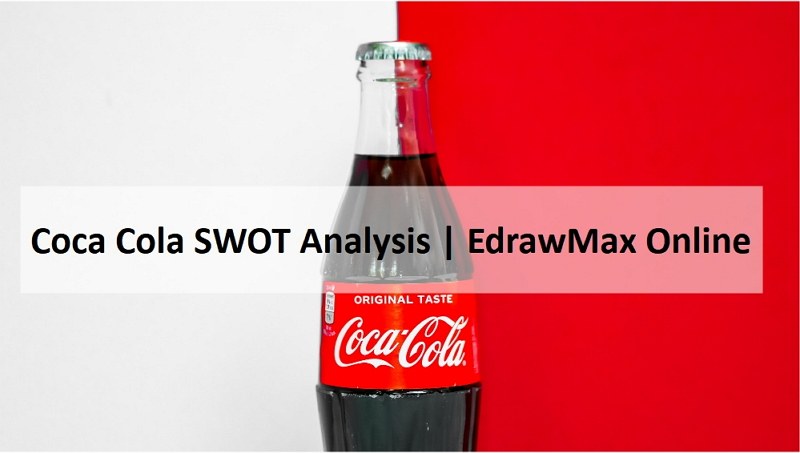 1. Background of Coca Cola
1.1. General Overview of Coca Cola
| | |
| --- | --- |
| Company Name | Coca-Cola |
| Industry | Beverage |
| Introduced | 1892, United States |
| Headquarter | Atlanta, Georgia, United States |
| Founders | Asa Griggs Candler, John Stith Pemberton |
| Annual Revenue | The U.S. $ 37.27 billion (2019) |
| Net Income | The U.S. $8.92 billion (2019) |
| C.E.O | James Quincey |
1.2. Introduction to Coca Cola
For the Coca Cola SWOT analysis, it is crucial to know about its past and future planning. The Coca-Cola Company is a multinational beverage corporation in the U.S.A. It is engaged in the manufacturing, marketing, retailing of syrups and non-alcoholic beverage concentrates. Coca-Cola is now a leading name. It is a carbonated soft drink brand that the Coca-Cola Company manufactures. Since the very inception, the company has made its mark in the soft drink market. In the beginning, it was famous among people as a refreshment drink.
It has undergone many changes for years to better its service and taste through experiments and collaborations. As of now, the company has 150,000 employees. It works in a franchised distribution system. Consistency and its practical and dynamic marketing strategies are the secrets of the success and limelight that the company enjoyed. It made a humble beginning in the year 1886 and has stood firm in the face of adversities ever since.
1.3. Development Timeline of Coca Cola
| | |
| --- | --- |
| 1886 | Origin of Coca-Cola drink |
| 1892 | Foundation of Coca-Cola company |
| 1948 | Coca-Cola had a 60% market share |
| 1993 | Acquired Indian brand Thumps Up |
| 2001 | Acquired the Odwalla brand |
| 2009 | Bought Chinese Huiyuan Juice Group |
| 2018 | Acquired Costa Coffee from Whitbread, Moxie |
2. SWOT Analysis of Coca Cola
The Coca Cola SWOT analysis can find out the strategies that can help the company to strengthen its position and maximize revenue. It identifies the effects of competition and weaknesses as per the culture and organizational structure. The company can rebuild its strategies and actions by considering opportunities. The company can look for business expansion to earn profit and long-lasting stability in the market. It can also adapt to newer technologies.
2.1. SWOT Analysis of Coca Cola in Detail
Strength:
For Coca Cola, the very first step is to expand their market into high purchasing capability areas. Market penetration seems important for majority of companies. Then, only innovation could make greater progress in this industry:
Coca Cola is the top-most beverage brand with a presence in 200 countries, it bagged the highest brand equity award in 2011;
The company valuation of Coca-Cola is $79.2 billion. Its subsidiaries include Limca, Sprite, Fanta, Thumps Up, Maaza, Kinley Water, Minute Maid;
The company has the most robust supply chain and delivers a product in the remotest places. The vast global presence has made it created its brand image;
It associates with celebrity brand ambassadors for advertising and marketing. It maintains a good marketing strategy. Coca Cola enjoys customer loyalty;
The company performs CSR activities in water conservation, education, health, and recycling, it has an association with international sports events and sponsorship, the company is moving towards sugar-free options, water, and juice.
Weakness:
Besides its strengths, it is also crucial for a company to know its weakness. Once they identify the reasons affecting their growth, they can take the necessary steps to negate their impact:
PepsiCo aerated drinks are giving it tough fights over market share;
The company's soft drinks have high sugar content and other chemicals that have health concerns;
Unlike PepsiCo, the company has not yet initiated a food business. The focus is primarily on beverages. More so, until now, it has not shown any interest to make healthy beverages;
Though the company has a wide variety of brands, it is primarily dependent on Sprite and Coca-Cola brands;
The company has faced flak for water management issues and exploiting groundwater even in water-scarce regions.
Opportunities:
The company's performance assessment shows how they can use the available opportunities in their favor. The company can concentrate on the ones that align with their strengths. As a top-rated brand, Coca Cola has several strengths which allow them to use many of the opportunities to ensure their growth:
It can increase its reach in untapped countries to boost the Coca-Cola market and supply-chain improvement;
The company can popularise lesser-known products. It must utilize the scope to acquire other companies and strengthen the company;
It can diversify its product portfolio by starting the snacks industry to compete with PepsiCo. It can also start a full-fledged business for health drinks;
Kinley's expansion is not at the level of Bisleri. It can grow its business for packaged drinking water.
Threats:
hhow to keep the fisrt position of beverage industry in the world seems the priority for Coca Cola, since there are substantial brand-new vegan and other organic beverage brands grown fast:
People are interested in making healthy choices these days and so are avoiding aerated drinks. To source, raw material is a significant concern;
It is facing difficulty in complying with different government norms and regulations in other countries;
The recent economic slowdown, inflation, and instability have affected its market share;
Strong competitors like PepsiCo, Nestle, Gatorade, Lipton, Danone, Schweppes are giving it a tough fight.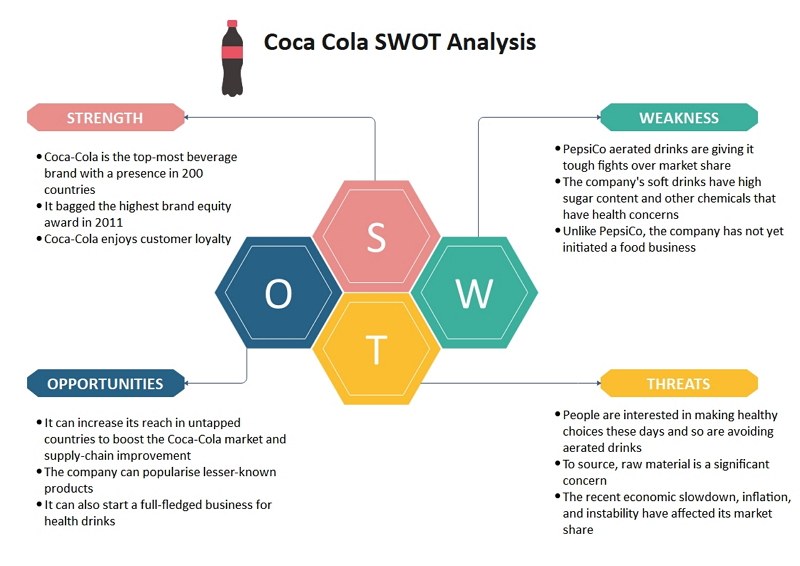 Source:
EdrawMax Online
3. Key Takeaways
This Coca Cola SWOT analysis points out the fact that the company has numerous scopes to perform better. The company has created its space in the beverage industry in the U.S.A. Still, it can maintain its success by adopting a few more measures.
The company can build strategies to fight its competitors like Pepsi-Co, Tropicana, Keurig Dr. Pepper, Red Bull, Fever-Tree, Monster Beverage, etc;
It must pay attention to diversify healthy drinks and foods;
It can think of spreading its footprint in developing nations and rethink water management strategy.
Use EdrawMax Online to create a SWOT analysis diagram, or create any other diagram with ease! There are massive SWOT templates and symbols to choose from, and creating a SWOT analysis diagram could be really simple. Also, you can find substantial SWOT templates in our template community to have a quick start.
EdrawMax Online
Create 280+ types of diagrams online
Access diagrams anywhere, anytime
Everything in desktop + Templates Community
Team management and collaboration
Personal Cloud and Dropbox Integration