Panera Bread SWOT Analysis
An In-Depth SWOT Analysis of Panera Bread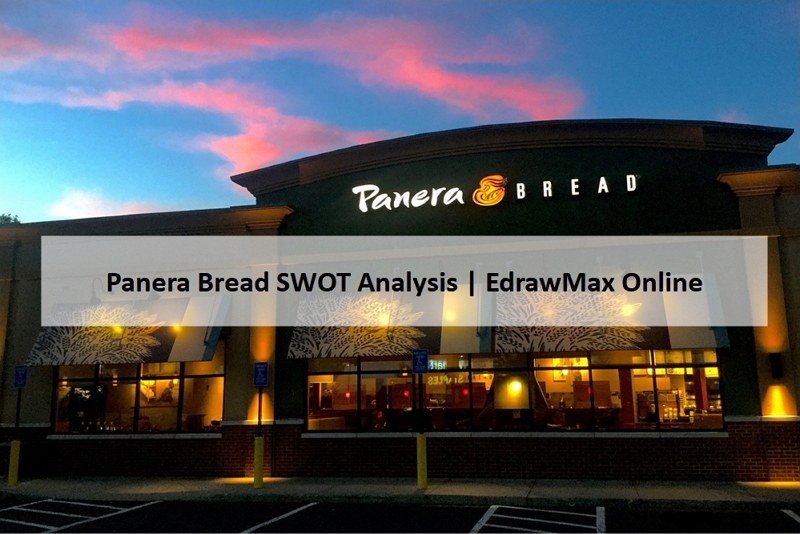 1. Background of Panera Bread
1.1. General Overview of Panera Bread
| | |
| --- | --- |
| Company Name | Panera Bread |
| CEO | Niren Chaudhury |
| Company Type | Fast-casual |
| Year Founded | 1987 |
| Annual Revenue | 279.4 crores USD (2016) |
| Founder | Ken Rosenthal, Ronald M. Shaich, Louis Kane |
| Headquarters | St. Louis, Missouri, United States |
1.2. Introduction to Panera bread
For the Panera Bread SWOT analysis, it is crucial to know about its past and future planning. Panera bread is a chain store of bakery-café in America. It is one of the first casual restaurants.
The bakery serves in 2000 plus locations in the U.S.A and Canada. The company offers bakery items like brownies, croissants, cookies, muffins, bagels, scones, salads, pasta, soups, sandwiches, flatbread pizzas, etc., special drinks like espresso, fruit smoothies, frozen drinks, hot chocolate, lemonades, tea, iced drinks, and lattes.
It acts as the subsidiary of JAB Holding Company. At present, it has around 52,000 employees. The subsidiaries of Panera bread are Paradise Bakery & Café and Au Bon Pain.
1.3. Development Timeline of Panera Bread
| | |
| --- | --- |
| 1987 | Foundation of the St. Louis bread company |
| 1993 | Au Bon Pain Co. purchased the company for $23 million |
| 1997 | The company was named Panera |
| 1999 | Au Bon Pain sold the share to Bruckmann, Sherill & Co, Rosser |
| 2000 | Headquarter in Richmond Heights, Missouri |
| 2007 | 51% stake in Paradise Bakery & Café |
| 2008 | Expansion to Richmond Hill, Oakville |
| 2014 | Panera 2.0 launched |
| 2018 | 7-37 million customer records, delivery to 897 cities in 43 states. |
Best Value
EdrawMax Lifetime Plan
Unlimited access & lifetime free upgrade
Lifetime Plan
Annual Plan
2. SWOT Analysis of Panera Bread
The Panera Bread SWOT analysis can find out the strategies that can help the company to strengthen its position and maximize revenue. It identifies the effects of competition and weaknesses as per the culture and organizational structure. The company has the scope to develop its actions and consider opportunities. At the same time, the company must work on business diversification to gain long-term stability in the market.
2.1. SWOT Analysis of Panera Bread in Detail
Strength:
In SWOT analysis, 'S' actually stands for strength. It is always essential to determine the strength of Panera Bread. It helps in boosting up the company's motivation towards success. Companies must know what their strengths are for stable growth:
Marketing Strategy: Panera follows data-driven strategies. The company has technological superiority, which performs innovatively to cope with the 21st century;
Service Quality: It uses E-Commerce facilities more effectively. It offers various options on its menu. It does not include artificial ingredients and uses all healthy products. It has reformulated 122 ingredients to ensure no artificial flavors, colors, sweeteners, sodium benzoate, and sodium nitrate.;
Service Strategies: It follows a robust social media marketing model, and attracts a consumer demographic ranging from 25 to 44 years. Panera focuses on its customer-centric strategies. During this pandemic, Panera has started free delivery services.
Weakness:
For any company, it is pretty common to have some weaknesses. The companies need to find strategies that can remove those weaknesses. When a company is in a competitive market, any weakness can impact its growth against its competitors. The company can plan some long-term plans to change those weaknesses into their strengths. Panera Bread also has some weaknesses. For example:
Product Diversity: The company has faced criticism for its lack of diversification and its small niche;
Limited Market: It has its competitor like Starbucks, which operates globally, unlike Panera, whose business primarily focuses on U.S.A and Canada;
Lawsuit: There are controversial lawsuits which damage the company's reputation. More so, franchising may bring down the company's profitability.
Opportunities:
A company must consider the opportunities that they can get to survive the high market competition. They must set their policies as per those opportunities to ensure their growth in the future. They should also consider the condition of the market while working on their opportunities. Here are some opportunities for Panera Bread:
Globalization: The company should focus on global expansion to attract a deeper pool of potential customers;
Diversity: It has opportunities to increase its growth and revenue. Diversity in its offering can help;
New Customers: It can work on expanding the target food service market. It may add groceries that would cater to all age groups;
Free Service: Panera has started a free coffee subscription service where customers can enjoy unlimited coffee throughout the day at a minimal rate.
Threats:
All the companies that survive in a competitive market must have some threats that can stop their growth. Other competent opponents' market conditions change of taste of the customers can be prevalent threats. Similarly, a famous brand like Panera Bread also has some threats:
Unemployment: The threats of Panera bread are severe concerns that one must not undermine. Threats cause several barriers to a company's future success and disrupt performance. The recent pandemic and global recession have caused massive unemployment. The operation of the company is in jeopardy for the same;
Sustainability: Climate change has resulted in food scarcity. It has difficulty purchasing fresh farm products which it needs as raw materials;
Global Recession: Albeit it has survived the global recession in 2008, it has not enough capability to do so in the future;
Fierce Competition: It has competitors like Starbucks, McDonald's, Dunkin's Donuts, and Chipotle. Panera's market share suffered because of them;
Profits and Revenue: The recent lockdown measures have caused enormous losses for the company. The persistence of the pandemic may affect its profit and revenue.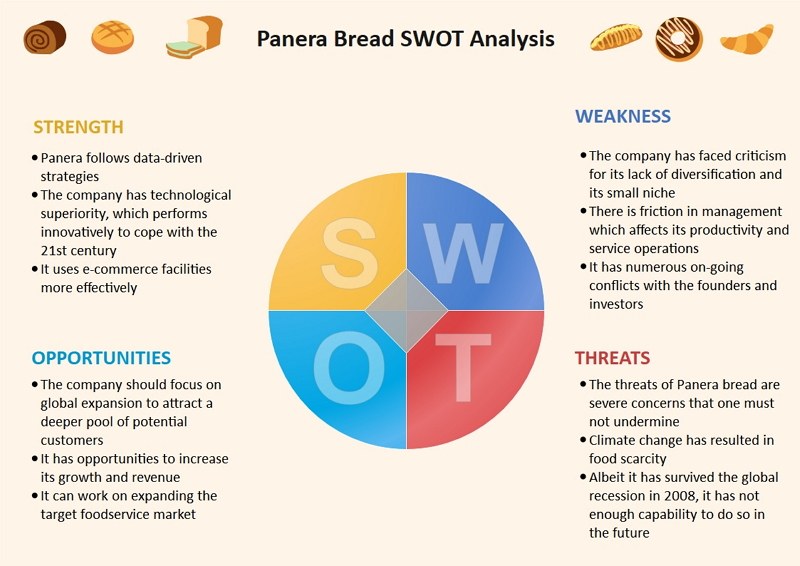 Source:
EdrawMax Online
3. Key Takeaways
The Panera Bread SWOT analysis points out the fact that the company has numerous scopes to perform better. Undoubtedly, the company is one of the most revered names in the fast-casual industry in the U.S.A. Still, Panera bread can maintain its success in the financial sector by adopting a few measures:
Panera should aim to enter into the European and Asian markets to increase its geographical presence. This strategy will eventually lead to its revenue and income generation. Besides, it can offer job opportunities to the unemployed;
It may drive through-to-go options and think of organic products to cater to the new demand.
Use EdrawMax Online to create a SWOT analysis diagram, or create any other diagram with ease! There are massive SWOT templates and symbols to choose from, and creating a SWOT analysis diagram could be really simple. Also, you can find substantial SWOT templates in our template community to have a quick start.