Whole Foods SWOT Analysis
An In-Depth SWOT Analysis of Whole Foods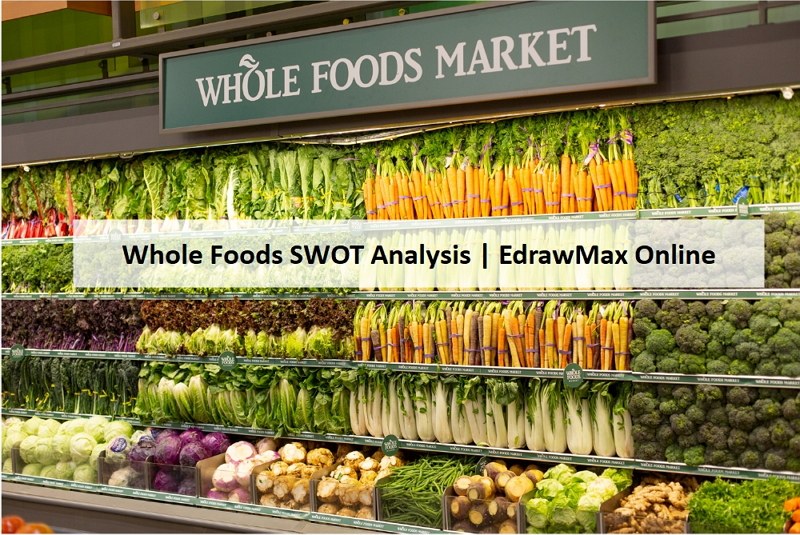 1. Background of Whole Foods
1.1. General Overview of Whole Foods
| | |
| --- | --- |
| Company Name | Whole Food market |
| CEO | John Mackey |
| Company Type | Public |
| Year Founded | 1980 |
| Number of Employees | 91,000 |
| Annual Revenue | US $245 million |
| Founders | John Mackey, Renne Hrady Lawson, Mark Skiles, Craig Weller |
| Area Served | The United States, Canada, London, The United Kingdom. |
| Headquarters | Austin, Texas, U.S.A |
1.2. Introduction to Whole Foods Market
Whole Foods is a reputed American supermarket of natural and organic food. Even this company has a Multinational supermarket chain as well. They mainly sell hydrogenated, fat-free products with no artificial colors flavors, flavors, and preservatives. In fact, in the USA, this company has also been recognized as USDA Certified Organic grocery. Moreover, this chain is said to be an organic selection.
Whole Foods Market is one of the most recognized and largest organic and natural food supermarkets in the United States of America. It is a Multinational Corporation. Competitions in every sector of business are at their peak in today's market. Since sustaining their same position for an extended period in the global market has become very important.
1.3. Development Timeline of Whole Foods Market
| | |
| --- | --- |
| 1978 | John Mackey and Renee Lawson first open a small store of natural foods named SaferWay. |
| 1980 | Lawson and Mackey made a partnership with Craig Weller and Mark Skiles. They merged Safeway with Clarksville Natural Grocery, and this opens the Whole Foods market. |
| 1981 | Due to the flood, the market got significant damage, and many equipment types got damaged. It incurred around $400,000 loss. |
| 1984 | Expansion of the market took place. The market first launched a store in Houston and Dallas. |
| 1989 | The market expanded to West Coast as well. And launch their stores as well. |
| 1997 | The brand purchased Allegro Coffee company. |
| 2002 | They spread their business in North America as well. |
| 2005 | They launched a store of 80,000 sq ft. in downtown Austin. |
| 2008 | Opening of Southeast distribution center in Braselton, Georgia, named "green distribution center." |
| 2017 | The opening of the second store in Western New York in Amherst took place this year. |
2. SWOT Analysis of Whole Foods Market
In this world of competition, it has become tough to hold their present position. Moreover, many companies of the same sector are present in this international market of competition. Therefore, a proper and distinguished analysis is required to determine the company's strengths and weaknesses. Even it is essential for a company to understand their scopes for expansion and their fear of declinations. For this, Whole Foods SWOT analysisb is essential.
2.1. SWOT Analysis of Whole Foods SWOT analysis in Detail
Strength:
Analyzing the strength of any company is a very significant part of their SWOT analysis. The company must be well aware of its strengths as those features have helped them earn its name in the market. The company must keep in mind that they must not neglect their strengths when working on their weaknesses and new opportunities. Like most other brands, The Whole Foods Market also has some strengths:
A brand image is essential for any company. Customers mainly opt for those companies, which have a very high brand image. This company holds a solid brand image. Even on the Reputation Institute, the brand ranked in the third spot in 2015 based on retails' most trusted companies. In return, this has made the company more popular, and they create an attractive ever-growing base of customers;
●Quality is a primary factor while selling any product. This company never compromises its products' quality. Whole Foods provides a high quality of products. It also helps to expand their customer base. Since the company delivers high-quality products, they have a chance to increase their products' prices. Even the well-educated and upper-middle-class people are willing to pay the same for the products' high quality.
Weakness:
For any company, it is pretty common to have some weaknesses. The companies need to find strategies that can remove those weaknesses. When a company is in a competitive market, any weakness can impact its growth against its competitors. The company can plan some long-term plans to change those weaknesses into their strengths. Whole Foods Market also has some weaknesses. For example:
The biggest weakness of this company is its over-dependence on the American Markets. It turns to be the most vulnerable at the time. Due to some unpredictable concerns of the world's economy, the economy of America gets collapsed. At this point, the company cannot sustain its position. Even another hit of recession can damage the company drastically;
The product price is over-priced, which led to another problem for the company. Because of over-charging, the company started experiencing less growth in sales, which becomes an alarming situation. According to the customer's perception, the company is selling expensive products. They even earned the "Whole Paycheck" title. It suggests the prices of products are equivalent to a consumers' entire salary—leading to a declination of the brand image.
Opportunities:
A company must consider the opportunities that they can get to survive the high market competition. They must set their policies as per those opportunities to ensure their growth in the future. They should also consider the condition of the market while working on their opportunities. Here are some opportunities for Whole Foods Market:
To tackle the trouble that occurred due to expensive products, they have launched a new store (365), consisting of low price items. 365 store mainly concerned on the items which are healthy and pocket-friendly as well. This diversification has made the customer base again;
The company expanded its business on an international basis as well. They launch their stores in UK, Canada, Europe, and Asia as well;
They allied with Amazon. Amazon purchased their products and made those available on their site.
Threats:
All the companies that survive in a competitive market must have some threats that can stop their growth. Other competent opponents' market conditions change of taste of the customers can be prevalent threats. Similarly, a famous brand like Whole Foods Market also has some threats:
For overcharging in their products, the company has faced negative publicity, and also a backlash from media has fetched bad publicity. Even there are many complaints against this company that declined the company's growth;
The company has terrible competition with Walmart. Even Walmart tried to take off the company in 2018. Intense competitions with Target and Walmart work as a threat for the company.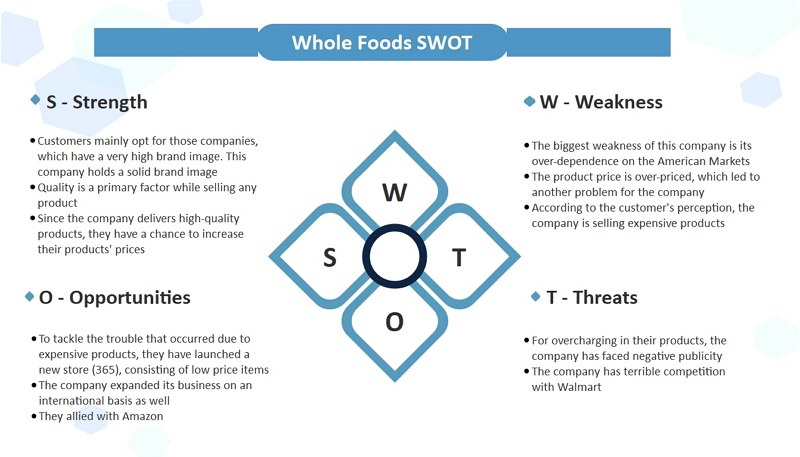 Source:
EdrawMax Online
3. Key Takeaways
Based on the Whole Foods SWOT analysis, few recommendations that can help the company to grow in the future are there below:
The company should follow a pricing strategy. Lower products price would fetch many customers, and the company can even provide some discounted offers on some special occasions;
The company should maintain its high-quality products. For this, they should have a regular quality check-up;
The best-skilled employees should handle proper PR management.
Use EdrawMax Online to create a SWOT analysis diagram, or create any other diagram with ease! There are massive SWOT templates and symbols to choose from, and creating a SWOT analysis diagram could be really simple. Also, you can find substantial SWOT templates in our template community to have a quick start.