Spotify SWOT Analysis
An In-Depth SWOT Analysis of Spotify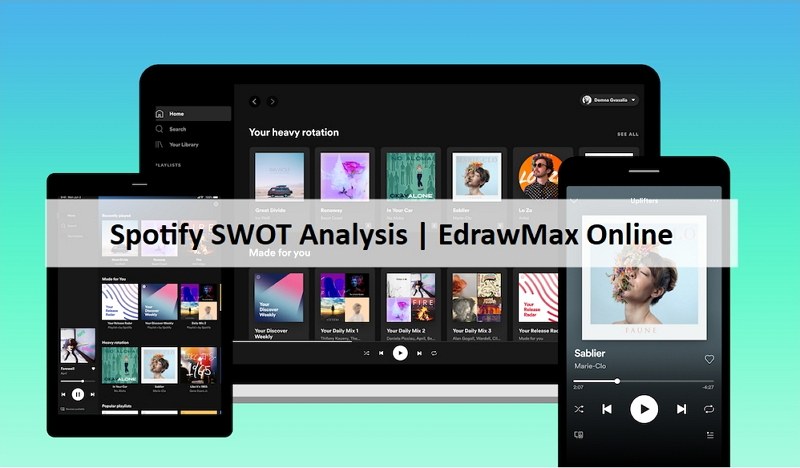 1. Background of Spotify
1.1. General Overview of Spotify
| | |
| --- | --- |
| Company Name | Spotify Technology S.A |
| CEO | Daniel EK |
| Company Type | Music streaming service |
| Year Founded | 2006 |
| Number of Employees | 5,584 (2020) |
| Annual Revenue | 7,800 (2020) |
| Founder | Daniel EK & Martin Lorentzon |
| Headquarters | Stockholm, Sweden |
1.2. Introduction to Spotify
One has to dig into the past to know how a small start-up is making millions now. Spotify made its humble beginning in Stockholm, Sweden, with a name that was a misheard pronunciation, and it clicked. Spotify first came to the scene to deal with the problem of piracy in music. With their dedication, the small venture is now a streaming giant used in 61 countries with 159 million active users and a stunning 35 million song library.
1.3. Development Timeline of Spotify
| | |
| --- | --- |
| 2006 | Daniel EK & Martin Lorentzon founded Spotify. |
| 2008 | Launched their product but only in Europe. |
| 2009 | Spotify launched its mobile app. |
| 2011 | Entered US marketing |
| 2012 | Integrated with Facebook |
| 2013 | It became a web-based player. |
| 2014 | Introduction of student plan |
| 2015 | New feature added: discover weekly. |
| 2017 | Integrated with Uber, and add new features: daily mix. |
2. SWOT Analysis of Spotify
SWOT stands for Strengths, Weaknesses, Opportunities, and Threats analysis. Even companies like Spotify that have made their mark in the music industry bringing about a change need this analysis to understand its strengths and weaknesses for better growth. Companies cannot afford to be stagnant with their ideas and development; they need to mold themselves as per the users' demands and requirements. Here is a detailed Spotify SWOT analysis shows below.
2.1. SWOT Analysis of Spotify in Detail
Strength:
In SWOT analysis, 'S' actually stands for strength. It is always essential to determine the strength of Spotify. It helps in boosting up the company's motivation towards success. Companies must know what their strengths are for stable growth:
Brand name: Spotify carries a reputable brand name with positive feedback due to its stability, consistency, and vast song library. The market can even label it as the leader of the music streaming industry;
Values user's preferences: It fulfills the user's need to share music without being engaged in piracy. It helps users share links and their playlist through its collaboration with social networking sites such as Facebook;
Brought a change: The Company aims to end the problem of piracy in the music industry. They have been successful thanks to the various subscription-related flexible offers, personalized services that made the users feel valued.
Weakness:
For any company, it is pretty common to have some weaknesses. The companies need to find strategies that can remove those weaknesses. When a company is in a competitive market, any weakness can impact its growth against its competitors. The company can plan some long-term plans to change those weaknesses into their strengths. Spotify also has some weaknesses. For example:
Connectivity: Music streaming in Spotify requires internet connectivity. The content-first needs to be downloaded from the library before the users can download it on their device and listen to it. Those with poor connectivity and no Wi-Fi may find it challenging to use the app;
No uniqueness: Several music-streaming apps in the market are giving Spotify tough competition. The problem lies in the fact that Spotify is similar to other apps in their service and subscription plans. Thus, there is growing competition;
Pushing for subscription: The app spends most of its revenue paying for the songs' license. Thus for steady revenue, Spotify continually pushes the users, who are satisfied with the free trial, to become paid members.
Opportunities:
A company must consider the opportunities that they can get to survive the high market competition. They must set their policies as per those opportunities to ensure their growth in the future. They should also consider the condition of the market while working on their opportunities. Here are some opportunities for Spotify:
Ever-expanding music industry: Owing to the brand name, Spotify has many opportunities in the music industry. New business strategies could be the key to success in the coming years;
Video streaming: The app has already experimented with video streaming which has proven to be successful. New concepts and ideal in this regard can prove to be beneficial for Spotify;
Partnership: Artist endorsement is another key for expansion and growth. Artists promoting the platform can ensure better revenue and user engagement.
Threats:
All the companies that survive in a competitive market must have some threats that can stop their growth. Other competent opponents' market conditions change of taste of the customers can be prevalent threats. Similarly, a famous brand like Spotify also has some threats:
Rivals: The Company's main rival came into the scene in the year 2025: Apple Music. SoundCloud, YouTube Music, and few other names are also mention-worthy. Some of these companies are tech giants. Spotify must come up with effective strategies to cope with the rivals;
Dispute with artists: The journey has not been very smooth since there have been ups and downs along the way. There have been disagreements with artists in terms of pay and royalty claims;
Insufficient revenue: Since the company is focused more on growth and less on revenue, it hardly makes any profit. They pay label, their producers, the writers, the copyright holders, and many more.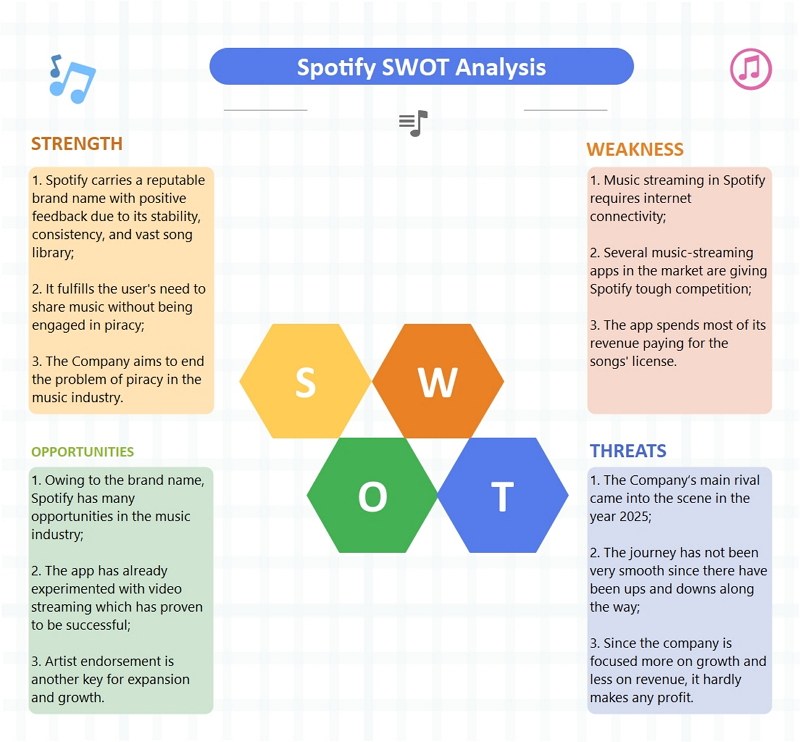 Source:
EdrawMax Online
3. Key Takeaways
Therefore, the Spotify SWOT analysis gives an internal analysis report on this ever-growing yet top-rated music streaming app, called Spotify. Now, keeping in mind the SWOT analysis report, the following recommendation can help the company in future growth and development:
The company can seize the opportunities and explore those areas unexplored by the other music streaming apps. It can give them a competitive advantage that other firms in the market may lack;
The company should also focus on their strength and try to gain advantages from them. In doing so, they should also make some changes in their corporate structures, which will help the organization grow further;
The company should also address its weaknesses so that apart from the growth, they also generate revenue. For example, they can develop innovative ideas that will make them the game-changer in the industry;
The firm should focus on generating revenue and not just on its growth. Only then its survival, in the long run, is something that will be possible and feasible. Also, they should work hard to make their relationship better with the artists. If needed, they should develop a new agreement that will offer a win-win situation to both parties.
Use EdrawMax Online to create a SWOT analysis diagram, or create any other diagram with ease! There are massive SWOT templates and symbols to choose from, and creating a SWOT analysis diagram could be really simple. Also, you can find substantial SWOT templates in our template community to have a quick start.