Toyota SWOT Analysis
An In-Depth SWOT Analysis of Toyota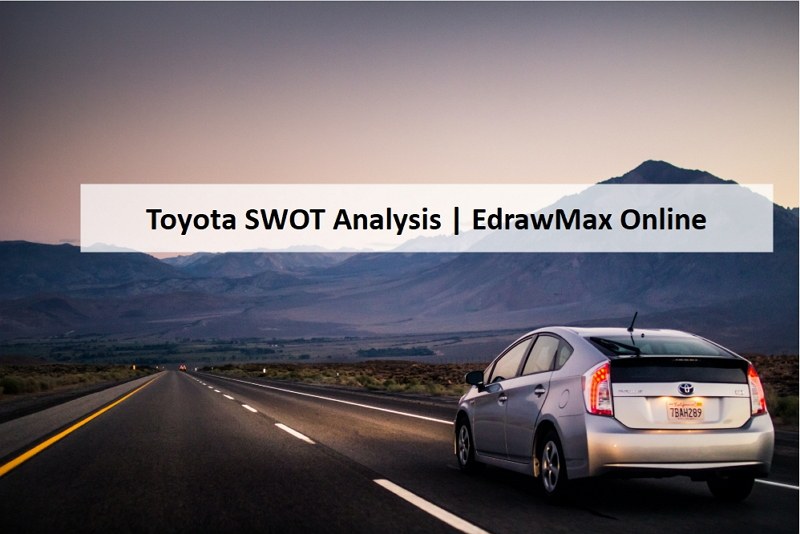 1. Background of Toyota
1.1. General Overview of Toyota
| | |
| --- | --- |
| Company Name | Toyota Motor Corporation |
| CEO | Akio Toyoda |
| Company Type | Automotive |
| Year Founded | 1937 |
| Annual Revenue | The U.S. $ 275.4 billion |
| Competitors | Ford, VW, Hyundai, General Motors, Maruti Suzuki, Nisaan |
| Headquarters | Toyota City, Japan |
1.2. Introduction to Toyota
For the Toyota SWOT analysis, it is crucial to know about its past and future planning. The Toyota Motor Corporation is a multinational automaker company founded in Toyota, Aichi, Japan. It started its journey back in 1937, and by 2017, it had 364,445 employees worldwide. As of 2019, it is the 10th largest company in the world by revenue. After Volkswagen, Toyota is the second-largest automotive manufacturer in the world. It is the largest listed company by revenue and market capitalization in Japan, as of 2014.
1.3. Development Timeline of Toyota
| | |
| --- | --- |
| 1953 | Production of small lift trucks by Toyota Automatic Loom |
| 1957 | Launch of towing tractor model |
| 1960 | Toyota shovel loader model |
| 1987 | Industrial equipment Europe established in France |
| 1988 | Industrial equipment in Columbus, Indiana, U.S.A. |
| 1993 | Industrial vehicle export in the U.S.A. |
| 1996 | Launch of internal combustion and electric counterbalanced lift truck |
| 1999 | International trade and industry prize of 30th Machine Industry Design Award |
| 2001 | Electric reach trucks, Toyoda Automatic Loom Works |
2. SWOT Analysis of Toyota
The Toyota's SWOT analysis can find out the strategies that can help the company to strengthen its position and maximize revenue. It identifies the effects of competition and weaknesses as per the culture and organizational structure. The company can take decisions for its betterment by considering opportunities. At the same time, the company can look for business diversification to earn long-term stability in the market.
2.1. SWOT Analysis of Toyota in Detail
Strength:
Analyzing the strength of any company is a very significant part of their SWOT analysis. The company must be well aware of its strengths as those features have helped them earn its name in the market. The company must keep in mind that they must not neglect their strengths when working on their weaknesses and new opportunities. Like most other brands, The Toyota Market also has some strengths:
Toyota's biggest strength is to indicate that the firm is capable of retaining its reputation and good name as one of the top-notch auto manufacturers in the world;
No doubt, Toyota has a strong brand image;
The brand has one of the most extended global supply chains, which enable market-based risk minimization and resilience;
➢Toyota has its ambition for development and research. The brand's core strategy and organizational culture are to build rapid innovation capabilities.
Weakness:
For any company, it is pretty common to have some weaknesses. The companies need to find strategies that can remove those weaknesses. When a company is in a competitive market, any weakness can impact its growth against its competitors. The company can plan some long-term plans to change those weaknesses into their strengths. Toyota also has some weaknesses. For example:
The weakness point of Toyota is to possible inefficiencies within the organization. By pointing weaknesses, the company can determine the internal strategic factors that stand as obstacles to business growth;
Toyota has its global hierarchical organizational structure that stands as the impediment of regional operations' maximum flexibility;
It maintains secrecy in its corporate culture, and as an effect, it shortens the response times to address the emerging problems. The recall of Toyota in 2009 consumed its business capacity, which could save instead for product distribution;
Opportunities:
A company must consider the opportunities that they can get to survive the high market competition. They must set their policies as per those opportunities to ensure their growth in the future. They should also consider the condition of the market while working on their opportunities. Here are some opportunities for Toyota:
Toyota's opportunities are based on economic and technological trends. The opportunities part includes various external strategic factors based on its economic and technological trends;
Toyota's Smart Car, flying car project, nanomaterial, big DATA, A.I. technology, and Cloud are its assets;
Toyota has large growing markets in developing countries that showcase that it can further increase its revenue by penetrating the markets;
The world is witnessing a rising interest and demand for higher fuel-efficient automobiles. Toyota can work on this trait and focus on innovative techniques;
There is a trend of growing interest worldwide in advanced electronic vehicles;
Japanese Yen is weaker than the U.S. Dollar. It can lead to higher competitiveness of components and products and a rise in Japan's export to the U.S.A.
Threats:
All the companies that survive in a competitive market must have some threats that can stop their growth. Other competent opponents' market conditions change of taste of the customers can be prevalent threats. Similarly, a famous brand like Toyota also has some threats:
The threats of Toyota are there in its competitive landscape. The SWOT analysis model can assess the potential hazards;
The company has quite a few competitors, making it challenging for Toyota to make strong feet in the automotive market;
The raw materials are expensive, and they increase the cost of the end product;
The Dollar-Yen exchange rates are a crucial factor. The profit becomes lower when sent to Japan in comparison to other countries;
A no-deal Brexit and COVID-19 are factors to take into account for the potential economic crisis.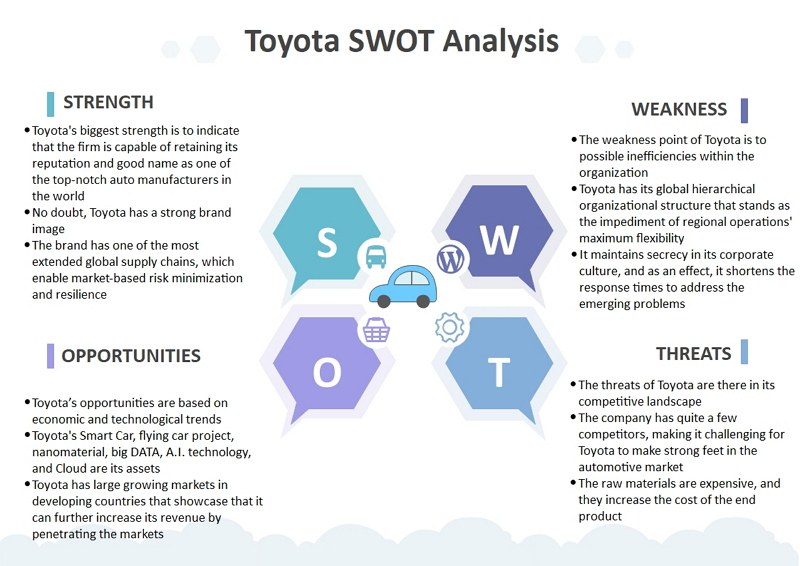 Source:
EdrawMax Online
3. Key Takeaways
The Toyota SWOT analysis points out the fact that the company has numerous scopes to perform better. No doubt, the brand is one of the most desired brands in the automotive industry, but by adopting a few measures, Toyota can maintain its success in the auto industry.
Toyota needs to maximize the competitive advantage based on its innovative capabilities;
The Toyota Company can also adjust its structure and culture to optimize its flexibility in problem-solving and decision-making procedures;
Toyota has scope to improve through minor adjustments;
There is room for Toyota to emphasize innovation and market penetration.
Use EdrawMax Online to create a SWOT analysis diagram, or create any other diagram with ease! There are massive SWOT templates and symbols to choose from, and creating a SWOT analysis diagram could be really simple. Also, you can find substantial SWOT templates in our template community to have a quick start.