Disney SWOT Analysis
An In-Depth SWOT Analysis of Disney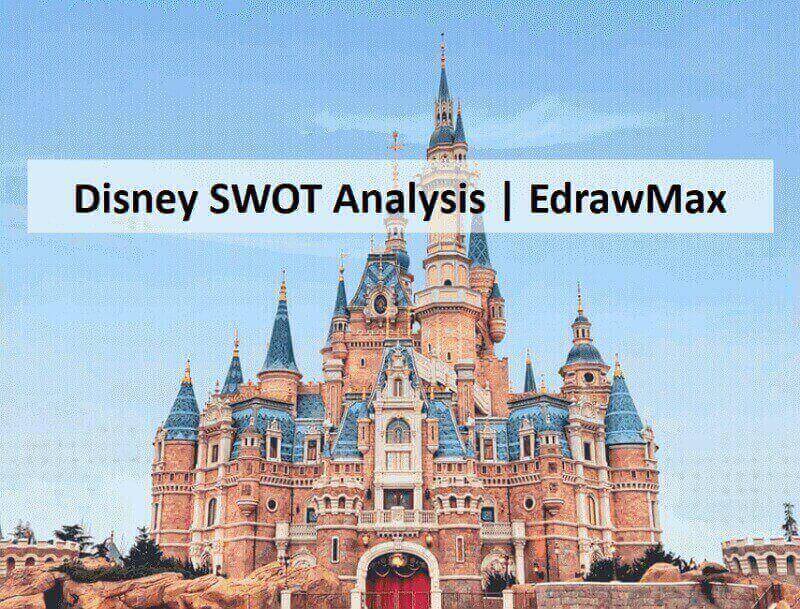 1. Background of Disney
1.1. Overall Overview of Disney
| | |
| --- | --- |
| Company's Name | The Walt Disney Company |
| Company's Former Names | Disney Brothers Cartoon Studio, The Walt Disney Studio, Walt Disney Productions |
| CEO | Bob Chapek |
| Company Type | Public |
| Year Founded | 1923 |
| Number of Employees | 223,000 (2019) (approximately) |
| Annual Revenue | US$ 69.570 billion (2019) |
| Founder | Walt Disney, Roy O. Disney |
| Area Served | Worldwide |
| Headquarters | Burbank, California |
| Operating Income | US$ 14.868 B (2019) |
1.2. Introduction to Disney
For the Disney SWOT analysis, it is essential to note some important facts about the company. The Walt Disney Company, aka Disney company, is an American multinational mass media and entertainment company headquartered in California. The company owns ABC Broadcast network and several other cable television networks, including Disney Channel, ESPN, FOX, National Geographic, and more. They also offer other products like merchandise, publications, music, theatres, theme parks, Disney parks, etc.
1.3. Milestones/ Development Timeline of Disney
| | |
| --- | --- |
| 1923 | Walt signed a contract to produce Alice Comedies, a date considered as the beginning of Disney Company |
| 1924 | Release of Alice Comedies |
| 1926 | Disney moves to a new studio at Hyperion and named as Walt Disney Studio |
| 1927 | Releases first Oswalt the Lucky Rabbit cartoon |
| 1930 | Mickey Mouse comic strip begins |
| 1932 | Flowers and the Trees, first full-color cartoon, Academy Award winner |
| 1937 | The premiere of the first full-length animated film Snow White and the Seven Dwarfs |
| 1949 | Formation of the Walt Disney music company |
| 1950 | Premiere of Treasure Island, first completely live-action feature |
| 1950 | One Hour in Wonderland first television show |
| 1955 | The first program of the Mickey Mouse Club House TV series |
| 1965 | WED Enterprises joins as a subsidiary |
| 1965 | MAPO incorporated |
| 1970 | Establishment of Walt Disney Archive |
| 1971 | Opening of Walt Disney World |
| 1982 | Opening of EPCOT Center |
| 1983 | Disney Channel starts broadcasting |
| 1987 | The First Disney store opened |
| 1988 | Acquisition of the Wrather Corp and Childcraft |
| 1990 | Hollywood Records started operations |
| 1993 | Miramax Film Corp. acquired |
| 1994 | Disney Interactive formed |
| 2007 | Club Penguin acquired |
| 2009 | Launch of Disneynature label |
| 2018 | Launch of ESPN+ |
2. SWOT Analysis of Disney
Disney SWOT analysis can show how the company uses its strengths and opportunities to retain its top position in a highly competitive market. The way they use their strengths decreases the impacts posed by their weaknesses. From the Disney SWOT analysis, it will be easy to decipher their plans.
2.1. SWOT analysis of Disney in detail
Strength:
To ensure growth, a company needs to know what are its strong points. They can later use those strong points while sorting out opportunities for their development. As a famous broadcasting media company, Disney has many strengths that help them get to the top rank.
Disney has a strong brand reputation, and its name and logo are easily recognizable. Their brand name became powerful than before after the acquisition of other reputed companies like 21st Century Fox.
The company has a robust cash flow system that helps them to invest in high-quality and high-budget projects. It is one of the reasons the company has many highly praised productions.
The company is associated with the best suppliers who provide high-quality raw materials. The company also keeps quality in mind while buying their raw materials.
Disney creative team has many reputed artists, story scriptwriters, and graphic designers, which is one of their most substantial areas.
Weakness:
Though a company has many strengths, several weaknesses impact the company's growth. It is always a challenge for companies to negate their weaknesses. As a top-rated company, Disney may have some weaknesses, but their strengths can help them get rid of their weaknesses very quickly.
The company spends an enormous amount of training. It can be a significant weakness for a company like Disney.
Disney is suffering because of their poor financial planning. There was a report that the company is suffering a loss of more than $1 billion.
The company spends a lot on their merchandise and other products. The demand for these products varies with market conditions. Therefore, the company needs to plan its manufacturing unit based on the demand obtained from market research.
The company does not engage in proper marketing and promotional activities. It can be a significant weakness of a company that needs to survive in a highly competitive market.
Opportunities:
Sorting out opportunities and planning them properly while aligning it with the strengths can benefit the companies and support their growth. For Disney, there are several opportunities that they can use for their development –
Disney can bring in new technologies in the market. Innovation attracts everyone, and this can be a trump card for the company. Since they have financial stability, they can use it to invest in it.
Since Disney is a recognized brand, it can be a perfect branding source that any business can use for their promotion.
Disney has a strong team of artists, scriptwriters. Hence, they can work on their online streaming service, namely Disney+, which is an excellent opportunity for the company to challenge other services like Amazon and Netflix.
The company is financially stable and well-equipped. Therefore they can improve their marketing techniques, which will support their growth.
Threats:
In a competitive market, a company must face threats posed in their way of growth. Even big companies can suffer because of these threats if they fail to execute the cushioning plans. There are a few threats for top-rated companies like Disney, but they can easily remove them by proper planning.
The economic bubble collapse can lead to a fall in price, causing severe effects on investment. It is a significant threat to the company.
The company has a problem with its core competency and hence fails to use their resources properly.
Disney only has play stores in developed countries. The company should not underestimate the buying capacity of the developing countries, especially Asian countries.
The main threat to the company is its non-specificity. They are a jack of all trades and master of none. It makes it difficult for them to work on their different ranges of products. They need to bring in new products and technologies to retain their position in the competitive market.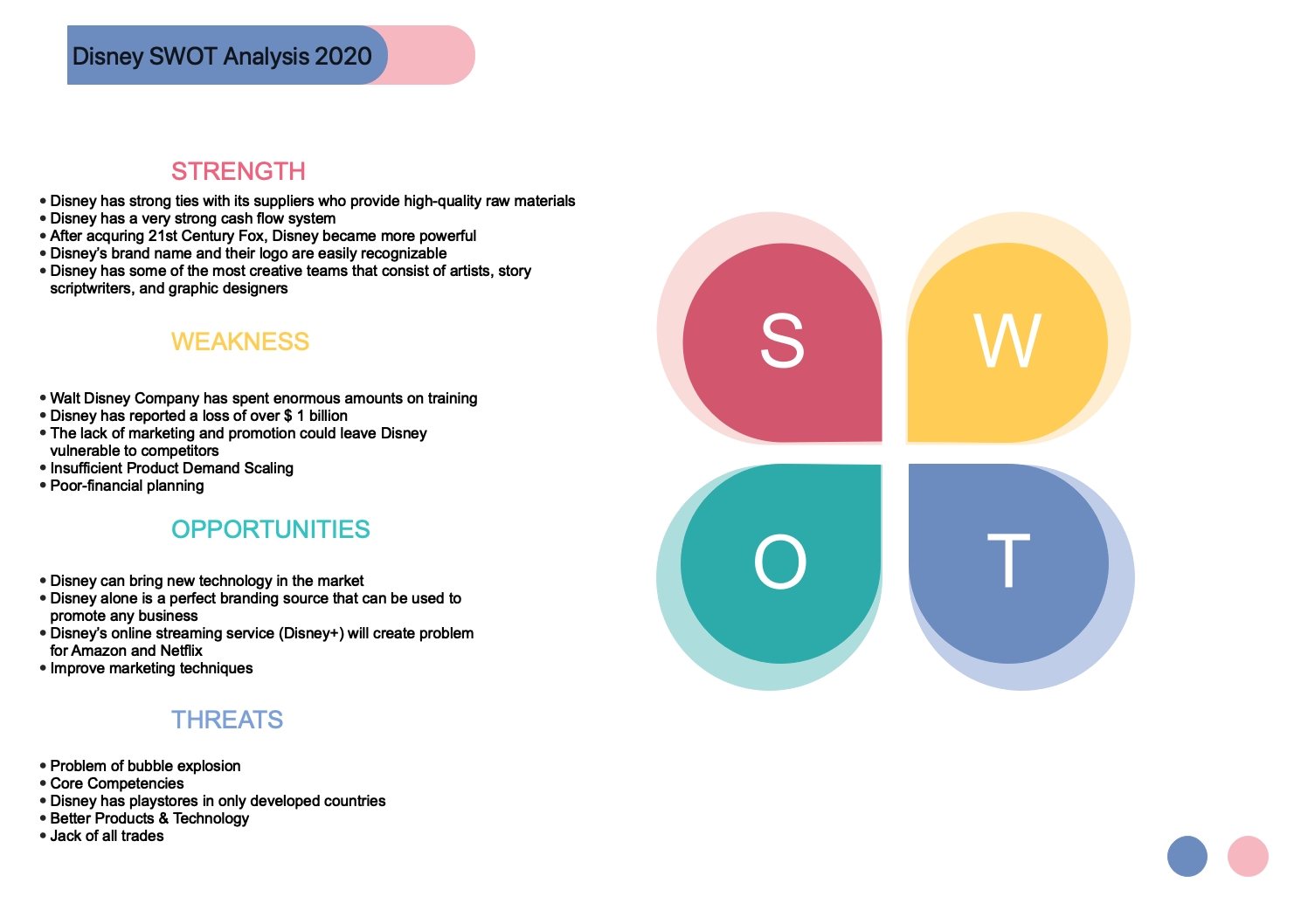 Source:EdrawMax
3. Key Takeaways
Disney SWOT analysis shows that Disney can plan its expansion only by working on their threats. They have some weaknesses, but planning can help the company prevent its weakness from impacting its growth. Here are some recommendations for the company –
The company should focus on bringing in new concepts and technological use in their online streaming platform. Since these platforms are currently high on demand, they can earn a good market for themselves.
Disney needs proper financial planning so that they can invest in technology and marketing. If the company can do appropriate publicity, it can emerge as a more powerful entity.
Disney needs to expand their play stores in progressing countries that have an emerging economy. This expansion can be very fruitful for the company when it comes to competition with other similar companies.
Use EdrawMax to create a SWOT analysis diagram, or create any other diagram with ease! There are massive SWOT templates and symbols to choose from, and creating a SWOT analysis diagram could be really simple.