Healthcare Value Chain
Detailed Value Chain of Healthcare Industry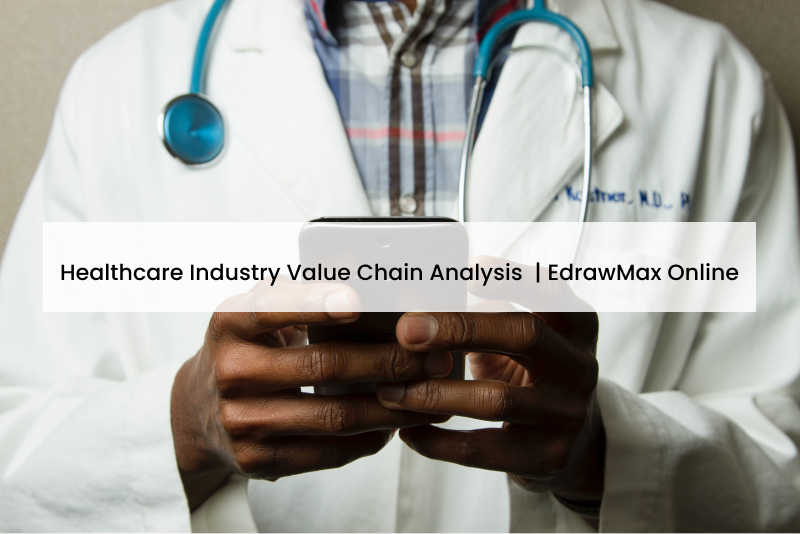 1. Introduction
The Value chain Analysis is an assessment tool created by Harvard Business School professor Michael Porter, and it allows addressing successful business processes to determine where in the chain of their activities, they are capable to add value, reduce costs and achieve competitive advantage against similar enterprises disputing a market niche or opportunity. When we consider the process of transforming raw material into finished goods to obtain revenue, we think of it as a chain of activities. The Value Chain Analysis even allows us to locate weak and strong spots in the succession of processes, to find out how they can be addressed with tactics or rebalanced with the general management strategy. Some industries have their particular Value Chains in constant change and development. One of those is the healthcare industry. In this article, we are going to specifically assess the Healthcare Value Chain.
2. Background of Healthcare Value Chain
The Healthcare industry is a very complex articulation of subjects, organizations, entities, and businesses, all of them competing or collaborating for shares and market opportunities. As the trade object is nothing less than human health, it has very particular features and processes. One can identify several subjects acting together or separately, collaborating or competing. There are pharmaceuticals, equipment manufacturers, insurance companies, employers, big technology providers, intermediaries, private and public entities, NGO's, service providers, and several branches of government, all of them involved in healthcare services and facilities, and because of that, the Healthcare Value Chain could be not as easy to assess as other industries.
3. Primary Activities in the Healthcare Value Chain
The first step to conduct a proper Value Chain Analysis is to study the Primary Activities in the process to transform raw material into finished goods. Therefore, we are going to address each one of them: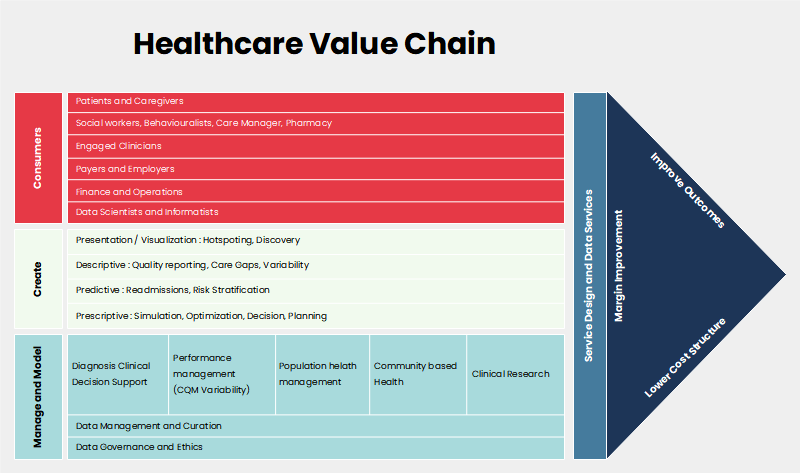 Source: EdrawMax Online
Inbound Logistics:
As the Healthcare Value Chain is not a conventional product-driven one, it could be complex to identify inbound activities because many actors could have different inputs and they could be working on materials at different levels, or could simply be working with human necessities. However, some subjects as pharmaceuticals, equipment manufacturers, private and public health centers, still have a conventional supply chain, where they are looking for cheap raw material and low-cost suppliers, they need storage and efficient inventory management. Therefore, technology and automation can play a key role in this area.
Operations:
In the healthcare value chain operations are vital to add value, reduce costs and achieve competitive advantage. Bad management could lead to a health sector crisis and bad service delivery at the end of the chain. However, the operation field will always be one vital sector to improve the value chain through strategic management and planning, no matter how different the goals of the subjects could be. Likewise, technology can play a big role in adding value to this sector of the chain, assisting the subjects with software and apps, automation, or equipment.
Besides that, Zara runs three different and independent business lines: men, women, and children, with an accent on the women's clothing side of the business. These also guarantee that each line can quickly react to market changes and implement solutions without asking permission from another department.
However, procurement, sales, design, and marketing exist for each one of these lines and it's done differently on each one.
Outbound Logistics:
Like in any other industry, healthcare providers need to improve their outbound logistics to be as efficient as possible. Distribution of supplies in agreement with actual necessities and requirements is one vital element to be considered, as well as redistribution of unused supplies, equipment, and drugs, to avoid expirations and obsolescence which translate as gross money and investment loss and could affect the users and payers at the end of the chain. Automation and technology could play a role to improve logistics but, still, a huge portion of the decision making needs to stay linked to rational thinking, based on different kinds of requirements as patients, number of patients, the incidence of diseases, centers capacities, and a huge amount of related data.
Marketing and Sales:
Maybe the sector of the Healthcare Value Chain that could need fewer adjustments and intervention, as the demand for health-related services will always remain more or less steady and in most cases, marketing will respond more to branding and positioning of determined products and the fight for pre-established and almost undisputed market niches. As occurs with other value chains this sector is benefiting a lot from technology and the embracing of E-commerce sales models, as supplies, services, equipment, and other related goods can be announced, bargained, and purchased online.
Service:
In the Healthcare Value Chain, the service can be subject to several strategies and improvements using a wide diversity of tools, and playing in articulation with other support and primary activities as Human Resources Management and Technology Development, to add value and achieve competitive advantage. This kind of service is being constantly and heavily influenced by technology advances, research and studies, and huge changes due to patients requirements and government policies, so, there is a need to stay ahead with avant-garde solutions, practices, and products to remain competitive.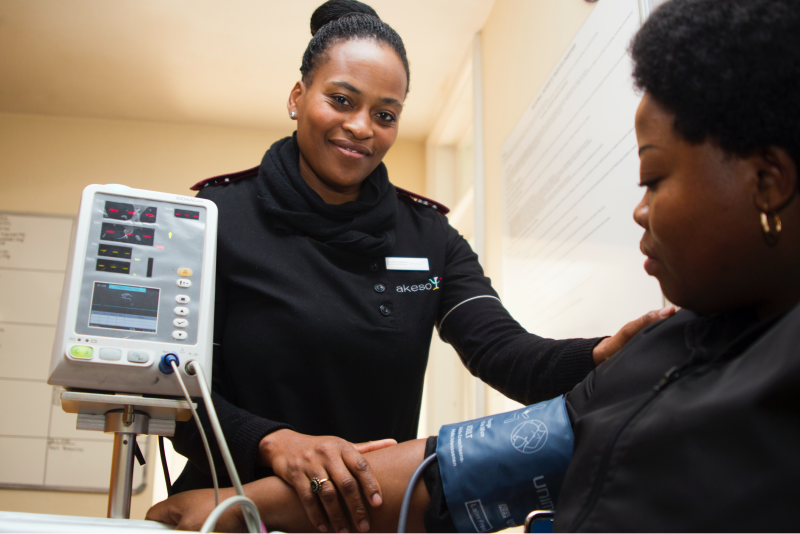 Source: unsplash.com
4. Support Activities in the Healthcare Value Chain
Infrastructure:
There is no doubt that firm and organization infrastructure within the Healthcare Value Chain is highly influenced by the kind of service or product they are offering. In this case, the different subjects on the field could have their distinctive business model's organization charts. Insurance companies will be acting through carriers and intermediaries, pharmaceuticals will be modeled to sell drugs, and equipment suppliers to sell equipment. What may remain common to all of them will be the customers: private and public entities and finally, patients and customers. The key to adding value while reducing cost is the optimization and improvement of such models to take advantage of the opportunities and market niches that could suddenly open due to fast changes in the industry or health governance policies.
Human Resource Management:
This could be one of the most important aspects in any Value Chain within the industry, no matter if it is a firm, NGO's, private entity providing health services, or any other subject. Healthcare services almost always will need to recruit and maintain very specialized and premium human resources to remain competitive and therefore, specific strategies and tactics to achieve that objective are of vital importance. Subjects need to act and move in a range near to zero complaints, malpractices, or adverse reactions, and brand experience acquires relevance. The technology could be used as an assistance tool, but the core of the activity will still need human assessment for a while, even though artificial intelligence could start to play a role.
Technology Development:
As aforementioned, this support activity could become of vital importance and displace other support and primary activities very fast as healthcare science and research advance in parallel. New diagnosis methods, new treatments, new equipment, and even paradigmatic revolutions like molecular biology, telemedicine, laser surgery, and others, are around the corner, and therefore if there is a certain way to achieve competitive advantage in this industry is through technology research and development.
Procurement:
This is an activity within the value chain that will grow in relevance as technology development and research advances, because new methods, new equipment, and treatments will demand more specialized, customized components and supplies to properly provide those advanced services. Networks, partnerships, and even new methods of association and collaboration could be explored as a way to add value, reduce costs and achieve competitive advantage without increasing production budgets and in the end, increasing final services and product prices. However, traditional procurement will also benefit from technology advances and related business models to locate and secure new low-cost inputs and supplies.
5. Key Takeaways
The Healthcare industry is a very complex model in which several subjects are acting at the same time and disputing very scarce growing margins and market opportunities. Healthcare Value Chain could therefore be in some aspects very different from other industries, but at the same time, it keeps many aspects of other industries. Technology research and development will surely grow in relevance for the whole chain in the future as science advances and new methods come to the spotlight. Constant, deep, and thorough addressing of the value chain could make the difference to stay competitive and gain an advantage.
We hope this article was helpful to unveil Healthcare Value Chain features and particular aspects. Even though, if you want to conduct deeper and specialized Healthcare Value Chain analysis and include diagrams and graphics, don't forget to use EdrawMax Online. EdrawMax Online is a very versatile all-in-one draw software, with more than 280 templates ready to use in your research and publications. Also, you can find substantial value chain templates in our template gallery to have a quick start.
6. References
Clark, E.; Singhal, S., and Weber, K. (2021) "The Future of Healthcare: Value Creation Through Next Generation Business Models". McKinsey and Company. [online] Available at: https://www.mckinsey.com/industries/healthcare-systems-and-services/our-insights/the-future-of-healthcare-value-creation-through-next-generation-business-models (Accessed 22 August, 2021).

Dudovskiy, J. (2021) 'Tesla Value Chain Analysis', Business Research Methodology, [online]. Available at: https://research-methodology.net/tesla-value-chain-analysis-2/ (Accessed 13 August, 2021).

Porter, M. (1998) "Competitive Advantage". Free Press Editorial.

USAID PSP One (2017) "Applying the Value Chain Framework to the Health Sector". Concept Note. [online] Available at: https://banyanglobal.com/wp-content/uploads/2017/05/Applying-the-Value-Chain-Framework-to-the-Health-Sector-1.pdf (Accessed 23 August, 2021).