Nike Value Chain Analysis
Detailed Value Chain Analysis of Nike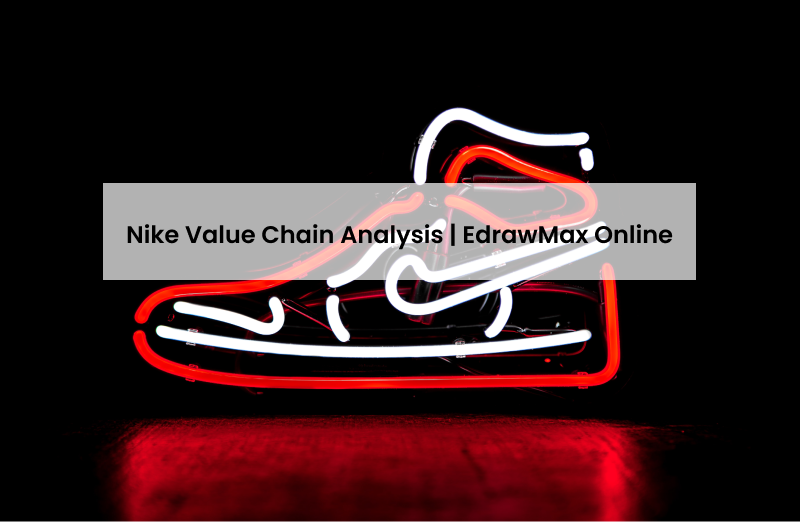 1. Introduction
Value chain Analysis is a visual tool to analyze a company's business activities to create a competitive advantage. Value chain analysis can help a company find out which activities or services add value to gain maximum profit. The main goal of the business is to increase the value of doing business by exceeding the costs of running. For example, Nike's value chain analysis shows that the company is a global brand that maximizes its profit through an efficient supply chain, inbound logistics, marketing, and operations.
Michael Porter first introduced value chain analysis in the 1980s. He proposed to divide the business model into primary and support activities.
2. Background of Nike
Nike, Inc. started as Blue Ribbon Sports in 1964. It is an American sportswear company based in Beaverton, Oregon. It was founded by Bill Bowerman, a field coach at the University of Oregon, and his student Phil Knight. In 1978, they rebranded the company as Nike Inc. it is a global business with retail outlets and distributors in more than 170 countries.
From the late 1980s, Nike diversified its portfolio widely through numerous acquisitions. It acquired Cole Haan, Converse, Inc. shoe companies, and Canstar Sports Inc., a sports equipment producer. They ventured into products for extreme sports, sports technology products, along sportswear.
3. Nike Primary Activities
Primary activities in Nike value chain analysis are directly related to the creation of delivery of products. According to Porter's model, they can be grouped into five main categories: inbound logistics, operations, outbound logistics, marketing and sales, and service.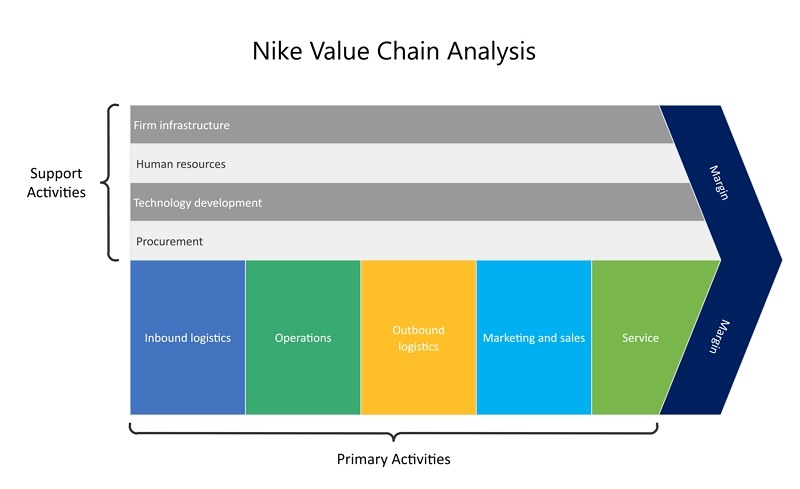 Source: EdrawMax Online
Inbound Logistics:
Quality and sustainability are the foundation of Nike's success, so ultimately, they reflect the same in the inbound logistics. Nike has a supply chain that encompasses suppliers, transport, internal delivery, quality check to deliver up-to-the-mark goods and services. There are 567 factories globally in 42 countries manufacturing Nike products.
Nike also has a particular focus on environmental safety and pollution reduction. They prefer suppliers with the same principle strategy and concern for the environment, quality, and sustainability. Most of the products by Nike are manufactured by independent contractors. The manufactured products, after strict quality examination, are sold through different regional offices and distribution centers.
Operations:
Operations include the manufacturing, assembling, packing, and testing the products, but it also covers equipment repair and maintenance. Nike's value chain analysis shows the importance of operational activities in value creation and gaining a competitive advantage in the market.
Operations include both product manufacturing and services. The emphasis in operations analysis is on improving productivity, efficiency, and value creation such that the cost incurred is less than the revenue earned. This is an excellent foundation for achieving competitive advantage along with other activities.
Outbound Logistics:
Outbound logistics in the Nike value chain analysis include all the company's activities to store and distribute the products to customers. As we already discussed, there are around 567 factories in 42 countries that manufacture Nike products. The products are then delivered to the regional offices and distribution centers for sending into the retail market. The chain of regional distribution channels makes sure that the products are available to the customers as soon as they are released. The biggest distribution center is based in Tennessee. Another center covers the European logistics center and is based in Belgium.
Marketing and Sales:
Though Nike's quality, distinctive features, and brand identity attract many returning customers and new sports enthusiasts, the importance of marketing and sales strategy cannot be ignored in Nike's value chain analysis. Nike's marketing and sales activities are based on salesforce, promotional activities, advertising, pricing, and channel selection.
Nike uses effective and wisely integrated marketing activities employing all marketing channels, including Television, physical marketing, paper, and social media. Nike is a master of marketing by sensitive and touching storytelling, connecting with the customers, and relating celebrities with the Nike products.
Service:
Pre-sales and after-sales services play an essential role in customer retention and a better consumer experience. The result is a broad base of loyal customers. Nike also runs many programs to keep its customers engaged. For example, Nike's loyalty program had more than 100 million customers registered in 2017. These precious loyal customers spent three times more than the newcomers on the website. This speaks volumes about the success of rewards programs by Nike.
Customer signing up for a membership is also a part of the services aspect of Nike's value chain analysis. Nike keeps its fan base connected and engaged through follow-up emails as well.
Nike also uses a matrix for analyzing the trends in the market, level of customer satisfaction, engagement, and the success of its strategies. Examples of such matrices are trend analysis, attribution analysis, journey analysis, and customer retention analysis.
Source: unsplash.com
4. Nike Support Activities
Secondary activities support the primary activities to achieve the goals of the company. They play a significant role and are common to many organizations. Most of these support activities cover all aspects of primary activities to provide a basic foundation.
Infrastructure
The firm infrastructure is a broad category of activities, including quality management, legal matters handling, financing, accounting, planning, and strategic management. Firm infrastructure activities in the Nike value chain allow the company to optimize the complete chain. These activities provide efficiency, cut overhead costs, and keep the overall working of the system in check.
Human Resource Management
Nike is a global company with its manufacturing plants, distribution centers, and retail outlets spread worldwide. Therefore, human resource management is a critical activity in the Nike value chain analysis. Nike has more than 70,000 employees globally, working in different capacities. The company provides a healthy environment for working and helps the employees to use their talents and identify with the company culture of diversity and inclusion. Rewards programs for employees are another incentive for employees to stay with the company. Nike is featured as America's best employer for diversity on Fortune.
Technology Development
Technology development and product quality play a critical role in the Nike value chain analysis because Nike markets itself as the leader in innovative sportswear. Nike has focused on using research and technology for product development and its equipment, machinery, manufacturing practices, and waste control.
Procurement
The procurement in the Nike value chain analysis involves the processes and practices involved in purchasing the raw materials, equipment, packing materials, machinery, and other stuff to manufacture products and run the overall system. Nike's Global Procurement team manages the procurement process. They select the suppliers with the best quality material at the optimum cost and those who believe in the same principles of sustainability and environmental safety.
5. Key Takeaways
The application of the Porter Value Chain model develops a clear understanding of how a business is conducted. Nike's value chain analysis is a complex study because of its broad portfolio and global business model. It is always a good idea to divide and rule when the model becomes so huge. Developing a global value chain analysis with child analyses diagrams for regional Nike systems helps to understand the processes clearly. EdrawMax Online is an excellent tool for creating drawing in less time with accuracy. You can even use the premade value chain templates available at to make the foundation for your drawing. This way, you will be able to highlight areas where Nike and any company is successful in creating maximum value.
6. References
Doing Business with NIKE, Inc. Nike News. Accessed August 26, 2021. Available at: https://about.nike.com/pages/doing-business-with-nike

Templates Gallery | EdrawMax. Accessed August 26, 2021. Available at: https://www.edrawmax.com/templates/