Microsoft SWOT Analysis
An In-Depth SWOT Analysis of Microsoft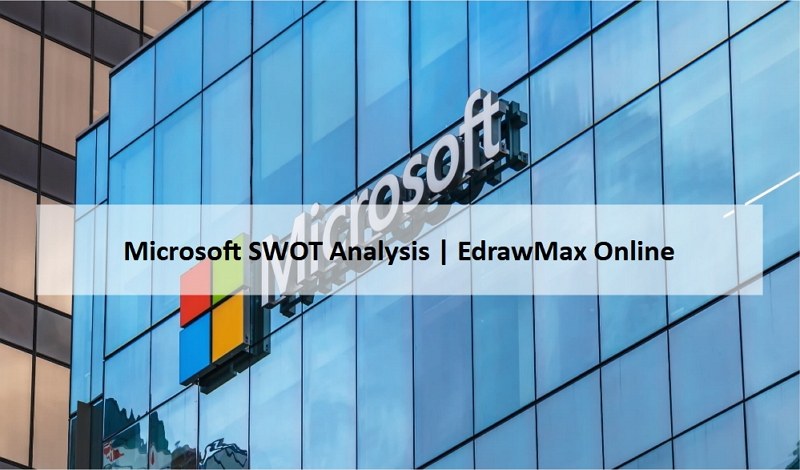 1. Background of Microsoft
1.1. General Overview of Microsoft
| | |
| --- | --- |
| Company Name | Microsoft Corporation |
| CEO | Satya Nadella |
| Company Type | Public |
| Number of Employees | 1,66,475 (2020) |
| Year Founded | 1975 |
| Annual Revenue | US$143 billion (2020) |
| Founder | Bill Gates, Paul Allen |
| Headquarters | Redmond, Washington, US |
1.2. Introduction to Microsoft
It is essential to know about the company to do a Microsoft SWOT analysis. It is an American technology company headquartered in Redmond, Washington. The company has its consumers worldwide who have helped it to earn a name. Based on its revenue Microsoft got the 21st rank in the 2020 Fortune 500 rankings.
1.3. Development Timeline of Microsoft
| | |
| --- | --- |
| 1975 | Bill Gates and Paul Allen founded Micro-soft. |
| 1981 | Microsoft released MS-DOS to run on IBM personal computers. |
| 1985 | Microsoft released their 1st version of the operating system, Windows 1.0 |
| 1995 | Microsoft released Windows 95 and Windows Explorer. |
| 1998 | The company released Windows 98. |
| 2001 | They released Windows XP and a video gaming brand, namely, Xbox. |
| 2007 | Microsoft released Windows Vista. |
| 2009 | The company released windows7. |
| 2015 | Microsoft released Windows 10. |
| 2016 | The company bought LinkedIn for $28.2 billion. |
Best Value
Perpetual Plan
Annual Plan
2. SWOT Analysis of Microsoft
The Microsft SWOT Analysis will not just focus on the brand's strengths but also on its weaknesses. It will also help the readers to know about the possible opportunities that the firm can seek for its overall growth and development. Simultaneously, it will also highlight the threats the organization can face in the current scenario. Based on this analysis, there can be recommendations on the company's future growth and development that will allow the firm to gain a competitive advantage in the market, ensuring its extended stay in the market.
2.1. SWOT Analysis of Microsoft in Detail
Strength:
Each company must have some strength that has helped the company to earn a name. The company must know its best features and strengths to keep them intact while working on its weaknesses. Like most other companies, Microsoft also has some strength. They are:
The company has earned wide recognition for its high-quality products. Simultaneously, the company's office software products are user-friendly and of high-quality standards, making them the favorite of many people;
The company is the fourth largest company based on its market value and shows exponential growth compared to other similar brands;
The company offers its service worldwide and has users in more than 190 countries, making it a crucial brand for growth;
The brand is one of the world's most valuable brands with a vast loyal customer base. Its brand strength has helped it earn the ranking of the 4th most valued brand (Interbrand).
Weakness:
The brands should be well aware of their weaknesses as well. If they know about their weaknesses and work on them, they can gradually eliminate them while improving their overall service. Though Microsoft is one of the biggest companies, they have some weakness:
The technology company is very vulnerable to cyber-attacks. They have been the target of hackers several times;
The brand is also lacking in innovations when it comes to computers and mobile surfaces. Other brands like Google, Apple are giving tough competition to the brand;
Microsoft has tried to expand its business by certain acquisitions. However, the lack of successful acquisition has become their weakness. These failed acquisitions include names like WebTV, LinkExchange, Massive, and Danger;
The company is more dependent on their PC market, which quickly gets affected by the vendors' change in price, currency fluctuation, and other such things.
Opportunities:
Since the number of users is increasing every day, the technology market has a chance of growth. A company can consider the opportunities while making their policies to work on their growth to survive in the competitive market. Here are some opportunities for Microsoft which they can work on for their growth:
The company's cloud-based services have seen high popularity in the last few years. Therefore, the company can work on them and add some more innovative features to earn more customers;
The company can get into more alliances and strategic business partnerships. They must think about their compatibility with the brand they are considering for partnering to avoid failure;
The smartphone and tablet devices have more sales with time. The company can also capitalize on working on its services to make it mobile-friendly with more features and safety. It can earn them a large number of customers. Microsoft can also try to grow their business in AI and gaming fields as they are also offering emerging business markets to the companies.
Threats:
Irrespective of the size of a company, each company has to work under some threat. The company should know about them so that they can cushion those beforehand. Some threats that can impact the growth of the company are:
The most significant threat for the company is the high-end competition that it can face. Its strong competitors like Google and Apple are working to bring in innovations to ensure their growth;
The rising threats of cybercrime are the biggest threat to Microsoft's network and make the customer change their preference on occasions;
The company has faced criticism for its imbalance in the workforce with significantly fewer women and minority employees;
Their prejudiced notions about content have been at the point of a hit for a long. The gay controversy in Xbox has affected them severely.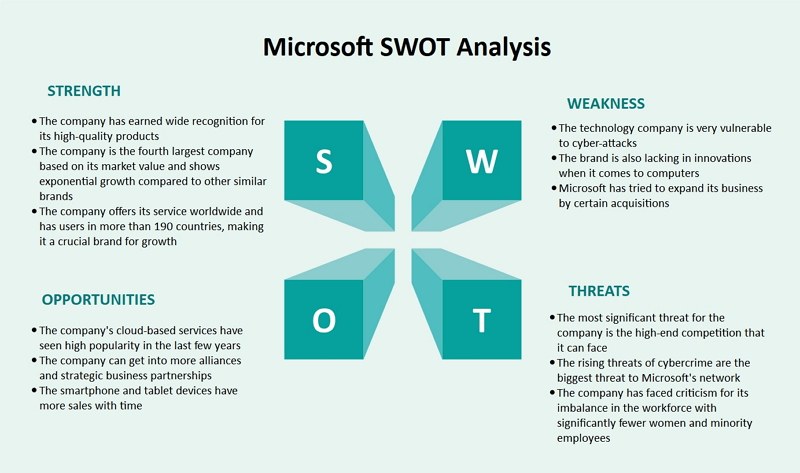 Source:
EdrawMax Online
3. Key Takeaways
The Microsoft SWOT analysis can show the opportunities and threats while analyzing their strengths and weaknesses. Here are some recommendations the company can work:
The company should work hard to strengthen its security system to avoid cyber-crime;
They can decrease their price to prevent the piracy of illegal use of their software;
The company needs to strategically consider making partnerships or form alliances to expand its business.
Use EdrawMax Online to create a SWOT analysis diagram, or create any other diagram with ease! There are massive SWOT templates and symbols to choose from, and creating a SWOT analysis diagram could be really simple. Also, you can find substantial SWOT templates in our template community to have a quick start.
EdrawMax Online
Create 280+ types of diagrams online
Access diagrams anywhere, anytime
Everything in desktop + Templates Community
Team management and collaboration
Personal Cloud and Dropbox Integration