Starbucks Value Chain Analysis
Detailed Value Chain Analysis of Starbuck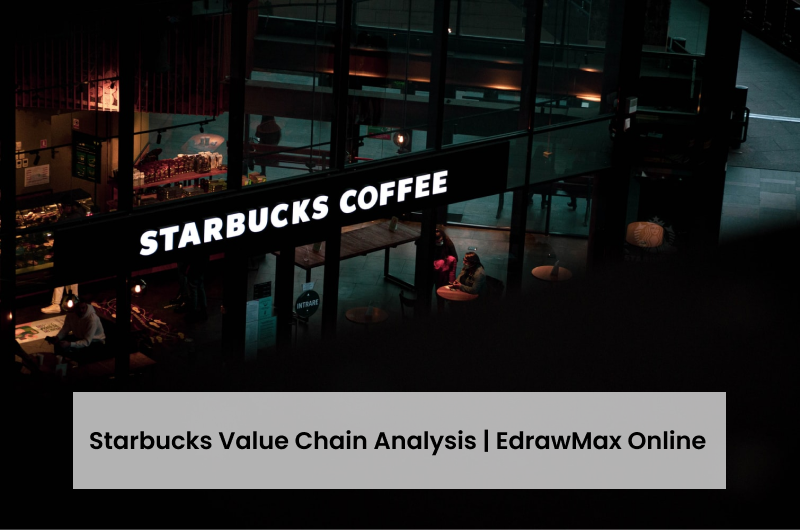 1. Introduction
When we talk about international beverage stores, Starbucks has to be one of the first names that come to our minds. Though, if you want to know more about the primary and secondary activities of the company, then you can simply do its value chain analysis. It will help you identify the value provided by the brand on different channels, giving it a competitive edge. Here, I will do a detailed Starbucks value chain analysis, helping you understand its operational and logistical advantages.
2. What is a Value Chain Analysis
In a nutshell, value chain analysis provides a contemporary analysis of the business model of any company to identify its efficiency. In this, we analyze various activities that are undertaken during all kinds of primary and secondary processes by a company.
While the primary activities deal with the overall working of the company, the supportive activities are about enhancing its overall process to get a competitive advantage. To undertake value chain analysis, we simply work on these three steps:
Identifying primary and secondary activities.
Determining the cost, effectiveness, and relationship in activities.
Understanding activities to identify any competitive advantage and extracting other details.
3. Background of Starbucks
Before we do an in-depth value chain analysis of Starbucks, let's get to know a few vital things about the company. It was founded in 1971 by the famous trio, Jerry Baldwin, Gordon Bowker, and Zev Siegl in Seattle.
The company founders shared their love of coffee and gradually opened three stores in Seattle in 1980. Later, Howard Schultz helped the brand to expand in different parts of the country (and worldwide). Today, the company operates in more than 32 thousand stores globally and has a wide range of products (from beverages to baked goods) on its menu.
| | |
| --- | --- |
| Company Name | Starbucks Corporation |
| Founders | Gordon Bowker, Zev Siegl, and Jerry Baldwin |
| Founded in | 1971 |
| Present CEO | Kevin Johnson |
| Headquartered at | Seattle, Washington |
| Outlets | 32,600+ |
| Operates in | 80+ countries |
| Revenue | $26.50 billion |
| Operating Income | $4.07 billion |
| Number of employees | 349,000 (approximately) |
4. Starbucks Value Chain Analysis
Tip: In the Porter model of value chain analysis, we will study five primary activities - Inbound Logistics, Operations, Outbound Logistics, Marketing and Sales, and Service
From the procurement of coffee beans to the distribution of its products, Starbucks has undertaken so many activities in its business model. Therefore, to perform our Starbucks value chain analysis, let's have a look at its primary activities first.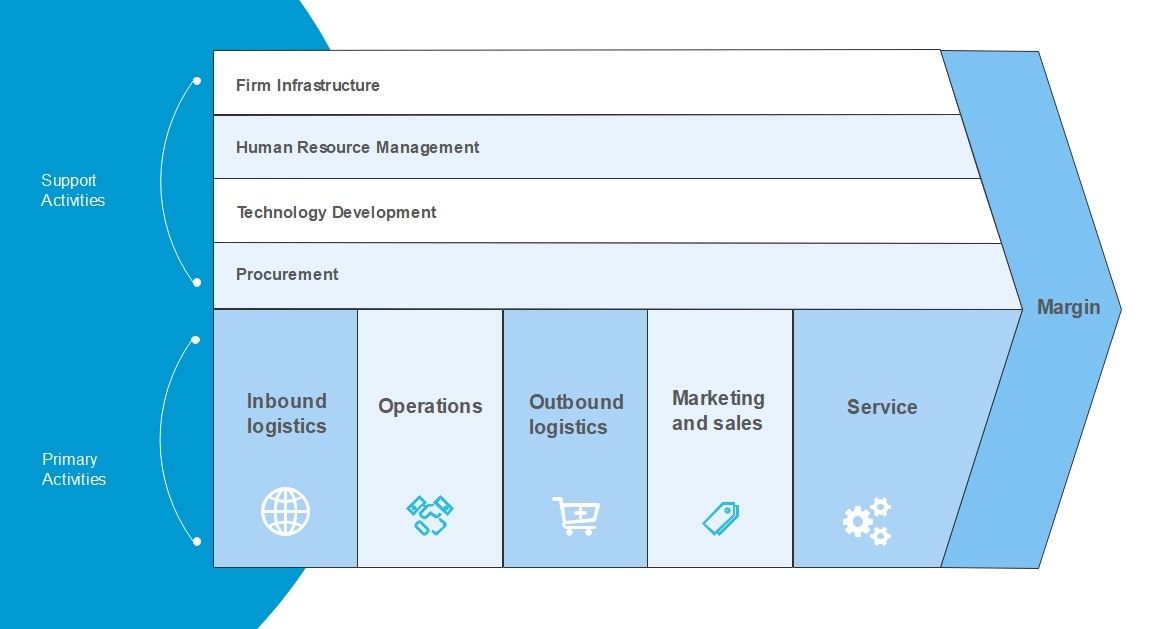 Source: EdrawMax Online
Inbound Logistics:
To do a value chain analysis of Starbucks, you first have to consider the logistics for its coffee beans and other products. Most of the unroasted coffee beans come from Starbucks-owned farms from Asia, Africa, and South America.
The coffee beans are carefully picked from the farms and are transported to the Starbucks facility for storage and refinement. They undergo a proprietary roasting technique by Starbucks that increases the shelf life of beans. After that, the beans are packed and are sent to distribution. To maintain the quality of coffee beans, the company relies on its native suppliers and does not involve any third-party vendors as of now.
Operations:
Unlike other popular beverage or fast-food outlets, Starbucks does not support a franchise system. This means, all the Starbucks outlets are either owned by the company or are monitored by it.
As of now, the company has more than 32 thousand stores in around 83 countries worldwide. It has been noted that around 80% of revenue in Starbucks is generated by company-owned stores and the remaining part comes from its monitored facilities and sister brands.
Outbound Logistics:
When we consider the overall Starbucks value chain analysis, we won't find much in its outbound logistics. This is because Starbucks does not have a leading B2B model in which the brands distribute its products or franchises.
Most of the products offered by Starbucks are sold via its stores worldwide. Though, a while back, Starbucks came up with options to sell single-origin coffee beans in the US. Apart from beverages, one can also get all kinds of snacks, baking items, and company products (like mugs or tumblers) in their stores.
Marketing and Sales:
Starbucks is known to have one of the most aggressive marketing strategies in the industry. A substantial amount is invested by the company to maintain the highest standard of customer satisfaction in sales.
Apart from on-ground marketing, Starbucks also has a significant online presence on various social media platforms. It keeps coming up with dedicated marketing plans for product launches, new establishments, and other events.
Service:
As per the company reports of Starbucks, the brand has mentioned the following objective:
"To be the leading retailer and brand of coffee in each of our target markets by selling the finest quality coffee and related products, and by providing each customer a unique Starbucks Experience."
Needless to say, the company has certainly lived up to its brand statement by providing the highest level of customer experience – which has now become a USP for the brand. Apart from its high-quality beverages, the brand also invests in the service training of baristas as they provide a unique experience to customers while making and serving their drinks.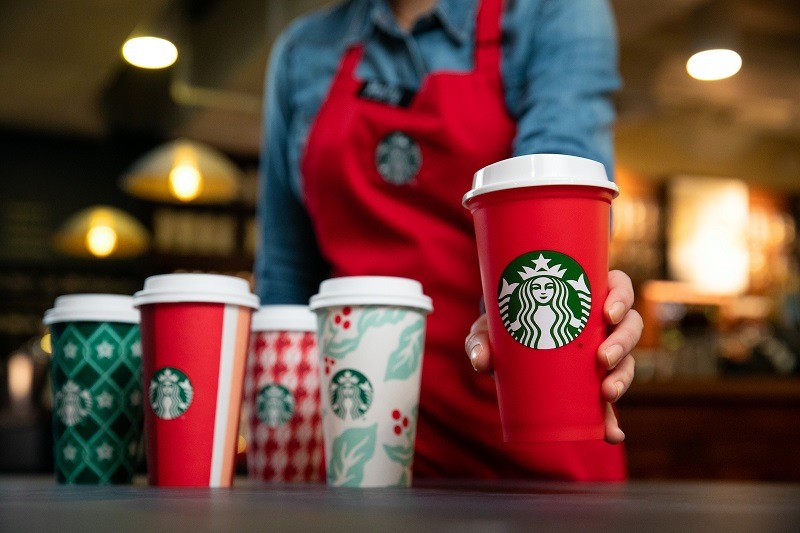 Source: Oregon Live
5. Starbucks' Support Activities
Tip: The value analysis of a brand can be done by exploring its support activities like Infrastructure, Human Resource Management, Technology Development, and Procurement.
Now when you know about the primary activities of the company, let's continue our value chain analysis of Starbucks by exploring its secondary or support activities.
Infrastructure
Since Starbucks has been around for almost 5 decades, it has a strong infrastructure in almost every department like finance, management, marketing, and so on. The main corporate office of Starbucks is in Seattle, but the company has several other regional corporate offices worldwide.
Besides its backend management, the company also has a seamless customer service and employee management infrastructure.
Human Resource Management
Starbucks has over 349,000 employees worldwide that includes its baristas, brewing staff, corporate employees, and so on. According to a recent survey done by Hewitt Associates, Starbucks has an employee satisfaction rate of 82 percent, which is one of the highest in the food and service industry.
The company is widely known to have a pleasant working environment and takes care of its employee with friendly policies. Their human resource management team has also worked on elevating its culture and improving the retention rate by keeping its staff motivated.
Technology Development
Starbucks has kept up with the ongoing technological advancements in the foods and beverage industry. The company uses the best-in-class techniques to make the process of selecting coffee beans and brewing drinks in different locations.
Besides that, all the Starbucks stores provide facilities like high-speed WiFi that helps its customers work from their coffee shops. Furthermore, Starbucks also has a unique rewards program and lets us place our orders from its connected stores via numerous food delivery apps.
Procurement
You might already know that procurement involves various activities undertaken for obtaining the goods and services in a company. When we consider the Starbucks value chain analysis, most of its procurement comes from in-house sources.
As listed above, Starbucks doesn't buy coffee beans from third-party sources. From the production of coffee beans to their packaging, everything is handled in-house. Not just that, the brand does not give franchises and all the stores and directly or indirectly controlled by Starbucks.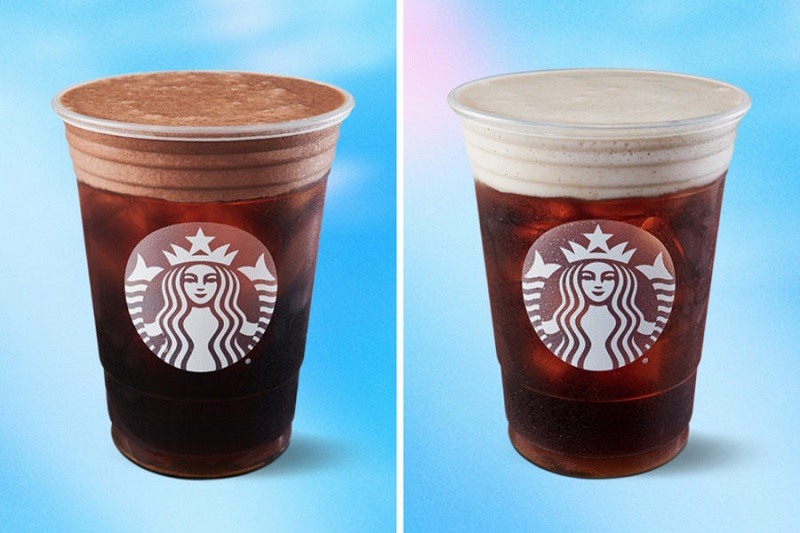 Source: Food Business News
6. Key Takeaways
As you can see from our value chain analysis of Starbucks that the company follows a unique operational plan. Since the brand controls everything from production to sales, it yields substantial profit generation. A lot of experts even say that this has given Starbucks a competitive edge, making it a prime contender in the industry.
Just like the Starbucks value chain analysis, you can also analyze the overall working of any other brand. To do this, you can simply take the assistance of EdrawMax Online. You can get a quick strat with the value chain analysis examples. EdrawMax is a complete diagramming tool that has an extensive library to work on more than 200 different diagrams. You can also find readily available value chain analysis templates that you can easily customize to analyze any other brand's functioning on the go.
7. References