Nike PESTEL Analysis
Detailed PESTEL Analysis of Nike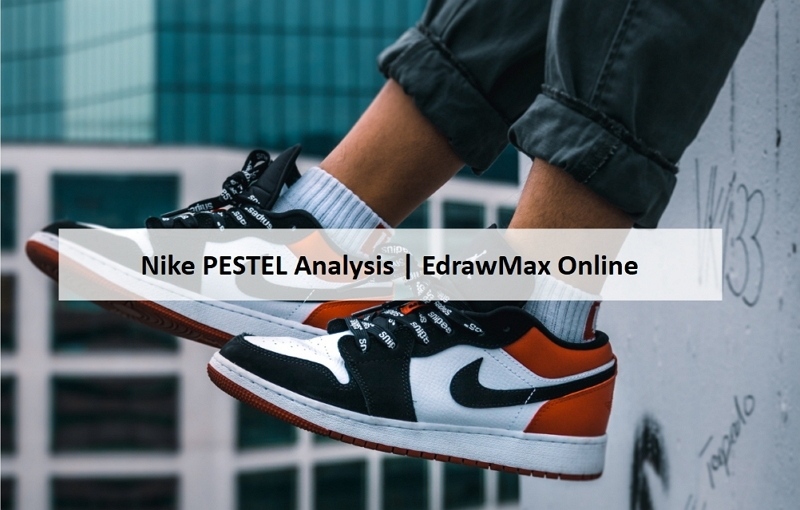 1. Introduction
The growth of a company is measurable through its performance. With the use of PESTEL analysis, people can map the future scope of development of an organization. Multiple factors affect the expansion of a company in the business field. Business owners can use PESTEL analysis to understand the impact of different socio-economic aspects on a company's growth. Marketing strategists can plan future actions by noting the possible threats and avenues of growth. Hence, PESTEL analysis is vital for drafting a suitable action plan that will help in expanding any business organization.
Nike is a well-known American sports brand that is known for its athletic footwear and clothing. As a multinational company, it enjoys worldwide popularity for its novel designs of apparel and accessories. PESTEL analysis Nike can reveal the issues that can affect the prospects of this company.
2. Background of Nike
It is vital to know the essential details of Nike before diving into a PESTEL analysis of Nike. The background information of Nike will in developing a better idea regarding the scope of this company.
Nike, Inc. is an American-based multinational company that exclusively deals with sports gear and apparel. It is famous as the world's largest supplier of sports shoes. The high brand value of Nike made it the most valuable sports brand in 2020.
2.1 Basic Information of Nike
| | |
| --- | --- |
| Company Name | Nike, Inc. |
| Company's Former Names | Blue Ribbon Sports, Inc. |
| CEO | John Donahoe |
| Industry | Beverage |
| Company Type | Public |
| Year Founded | Year Founded |
| Number of Employees | 75,400 (2020) |
| Area served | Area served |
| Area served | Annual Revenue US$ 26.50 Billion (2019) |
| Founder | Bill Bowerman Phil Knight |
| Headquarters | Beaverton, Oregon, U.S |
| Operating income | US$3.12 billion (2020) |
3. Nike PESTEL Analysis
A PESTLE analysis provides an outline of the aspects that can affect the progress of a company. External influences are pretty powerful and can affect well-established organizations. The PESTLE analysis is done to chart the impact of multiple external conditions on the future development of a company. The company can take note of the problems or threats that can hinder the company's growth and develop appropriate strategies to counter those problems.
Political Factors:
Favorable political situation provides a boost to a company. A suitable business environment is possible politically stable areas. Political factors that can affect the expansion of Nike are:
The stability of the American economy provides ample scope for the growth of Nike with its favorable international tax agreements.
Manufacturing laws and tax regulations are bound to change. Thus, affecting the growth of Nike.
The worldwide operation of Nike involves the export and import of goods. The political issues in other countries can affect the customs process that can hamper smooth operation.
Economic Factors:
This aspect directly deals with the sales and profit margin of the company. Nike is less prone to economic issues due to the affordability and popularity of its products. The probable economic factors that can affect Nike are:
Financially, Nike can target markets that are emerging across the globe. With a succinct marketing strategy, Nike can amplify their reach through new markets.
The production cost of products is slowly rising due to the development of economically backward countries from where the production of Nike products took place.
Market crashes or availability of cheaper products is a problem for brands like Nike as low-cost, decent products are often preferable.
Social Factors:
Social conditions are known to affect the sales of any business. PESTEL analysis is beneficial for mapping the social conditions that can affect the sales of the company :
Consumers in different countries are mostly adopting a health-conscious approach. Lifestyle changes also impact health. Nike has ample opportunity to promote its brand among health-conscious people.
Work stress is a common issue that propels people to find some leisurely activities. Nike can use this opportunity to forward their strategies in the product development avenue that aids leisure activities.
Nike needs to refine their production practices and make them safer so that consumers don't have to worry about the safety of their products.
Technological Factors:
For Nike, technology is vital for streamlining its product innovation. The PESTEL analysis Nike show how technology has catalyzed the expansion of Nike :
Nike can use data available from technological sources to build vantage points that will help in increasing profits.
Nike has made excellent use of social media to increase its brand value. Interaction with potential clients is also possible through social media. But overusing social media platforms can be counterproductive.
Ecological Factors:
Ecological factors are vital because of the growing concern regarding environmental problems causing climate change. The environmental issues that can affect the business of Nike are:
Production of nature-friendly products and reaction of waste are promises made by Nike to curb environmental pollution. They have to devise an innovative waste management plan that doesn't impact the environment.
The factories owned by Nike are known to cause both air and water pollution. This factor can cause an uproar by environmentalists.
Legal Factors:
Legal issues are always essential for a company. PESTEL analysis Nike helps to identify those possible legal problems that can crop up are:
The case of false discounts offered by Nike is a legal issue that also deteriorates the relation of the company with its valued customers.
Tax evasion is another vital legal issue that the company should urgently rectify.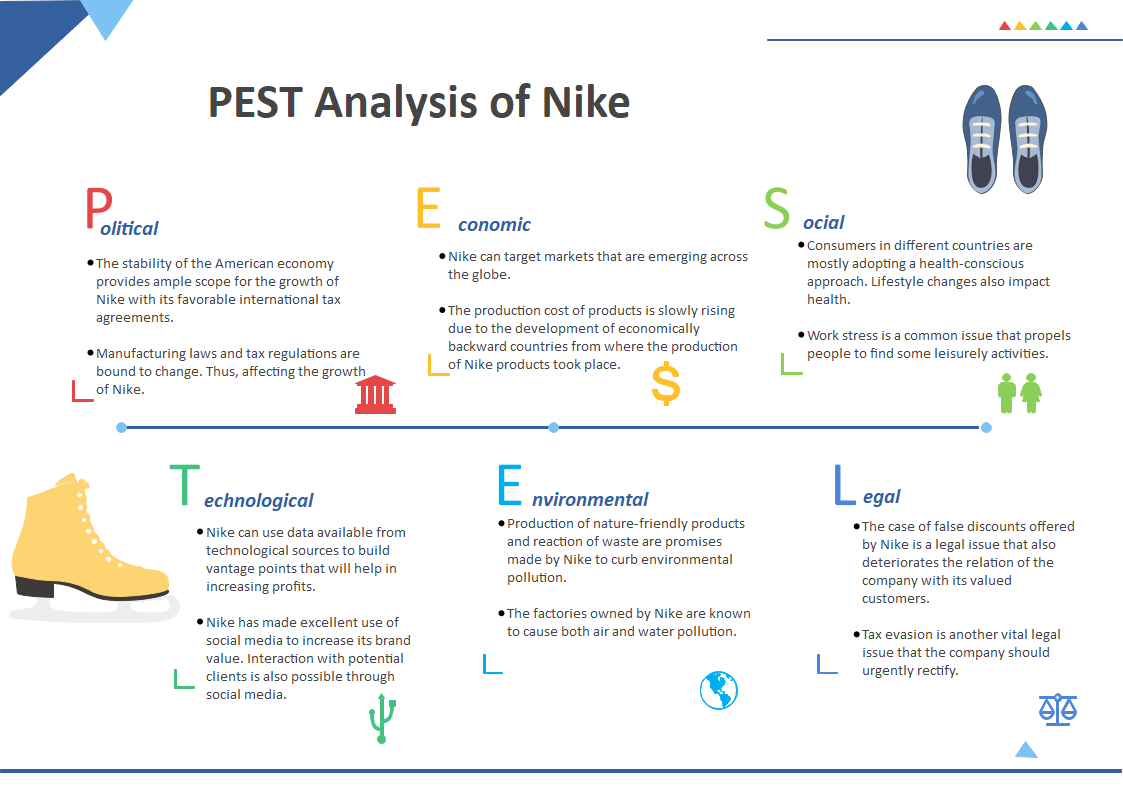 Source:EdrawMax Online
4. Key Takeaways
The PESTEL analysis Nike shows the crucial factors that can potentially disturb the expansion of the business. The company has to take both the threats and opportunities into account for developing a better strategy. The company is already in a good position as it is making a considerable profit. People appreciate their brand a lot. They can further work on their product designs to make sportswear comfortable and trendy. They should refrain from indulging in immoral practices for the sake of profit. They should also be alert about cheaper products that enter the market.
Use EdrawMax Online to create a PESTEL analysis diagram, or create any other diagram with ease! There are massive PESTEL templates and symbols to choose from, and creating a PESTEL analysis diagram could be really simple. Also, you can find substantial PESTEL templates in our template community to have a quick start. If you want to know more about how to make a PESTEL analysis diagram in EdrawMax Online, just check this PESTEL guide, it may help you to create diagrams without efforts.
EdrawMax Online
Create 280+ types of diagrams online
Access diagrams anywhere, anytime
Everything in desktop + Templates Community
Team management and collaboration
Personal Cloud and Dropbox Integration
5. References
Bush, T., 2021. 'A PESTLE Analysis of Nike', PESTLE Analysis, [online]. Available at: https://www.edrawmax.com/article/nike-swot-analysis.html (Accessed 18 June 2021).

En.wikipedia.org. 2021. 'Nike, Inc. - Wikipedia', PESTLE Analysis, [online]. Available at: https://en.wikipedia.org/wiki/Nike,_Inc. (Accessed 18 June 2021).

Panmure Institute. 2021. 'Nike Inc. PESTEL/PESTLE Analysis & Recommendations - Panmure Institute', PESTLE Analysis ,[online]. Available at: http://panmore.com/nike-inc-pestel-pestle-analysis-recommendations (Accessed 18 June 2021).